The Film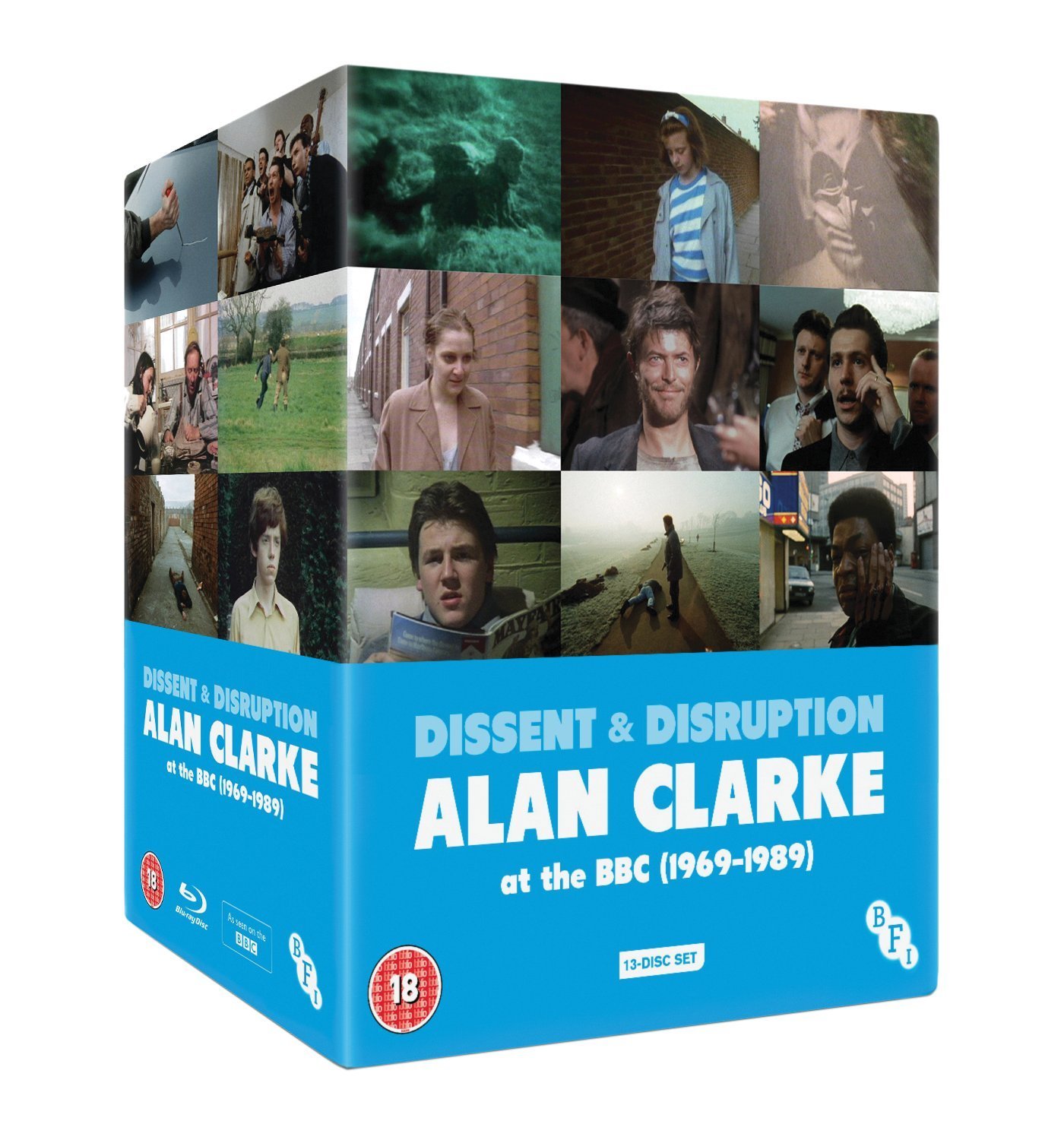 BFI is releasing the highly ambitious and anticipated Dissent and Disruption: Alan Clarke at the BBC. There is a choice of the following:

- Dissent and Disruption: Alan Clarke at the BBC (1969-1989) - a 13 disc set of 11 Blu-rays and 2 DVDs.
- Alan Clarke at the BBC Volume 1: Dissent (1969-1977) - a 6 DVD set.
- Alan Clarke at the BBC Volume 2: Disruption (1978-1989) - a 6 DVD set.

Due to the massive amount of the content, the set will be covered in 13 separate reviews, which later will be combined into a singular review after the completion of all 13 reviews.

Of the 13 discs in the "Dissent and Disruption" set, DISC THIRTEEN is exclusive to the 1969-1989 boxset, which includes Clarke's earliest directorial work - for the television series "Half Hour Stories".

This review covers DISC THIRTEEN of the "Dissent and Disruption" set.

"Half Hour Story" (1967-1968)

"Half Hour Story" was an 38 episode anthology television series that was first broadcast between 1967 and 1968, produced by Rediffusion. Each episode was an individual piece of work - different stories, different characters, different settings, without weekly continuity. Alan Clarke directed 10 episodes of the series with only 7 of them currently surviving. Of the 7 episodes, the 6 surviving black and white episodes are presented on DISC THIRTEEN (DVD) while the single remaining color episode "George's Room" is presented on DISC ONE (Blu-ray).

"Shelter" was broadcast on the 16th of May, 1967. Pouring rain outside, a woman walks into a conservatory to dry off for the time, where the only other patron is a man looking for some conversation. She is not interested at all in chatting, while he finds her intriguing that she is not willing to speak in light conversation. But when the conversation starts to take form, what seemed to have started as friendly chit chat becomes an intense confrontation of words, class, gender, and secrets.
"The Gentleman Caller" was broadcast on the 13th of June, 1967. Two brothers are visited by a social security inspector who is checking their status for unemployment. The younger brother just wants to get his money to pay off the older brother, but the inspector sees the younger brother's unemployment issue being plain laziness rather than someone looking for actual work. With the inspector about to leave saying that they will not get any money from social security, the brothers try to convince the inspector to change his mind - through brute force.
"Goodnight Albert" was broadcast on the 3rd of April, 1968. Young adult Albert works as a miner and lives with his gran. He likes going out with his mates to the pub, chasing girls, and staying out late. She is very conservative, doesn't even turn on the TV since the licence hasn't been paid, and is concerned about Albert's safety both at work and that he stays out very late. As different as they are in generation and way of thinking, there is a family bond that is strong between them, which they express to each other verbally all through the night.
"Stella" was first broadcast on the 19th of June, 1968. Stella is now living the single life after a two year relationship, cutting off ties with her ex-boyfriend completely. But when he shows up at her flat unexpectedly begging for her to come back, things become awkward, embarrassing, and also threatening.
"The Fifty Seventh Saturday" was broadcast on the 3rd of July, 1968. A middle aged man has an affair with a young girl in her twenties. Every Saturday, he goes to her place, they have a fling, and this weekend is their 57th meeting together. Always indoors at her place, never outside where other people can see. The girl wishes one day to have an actual date with him in the West End, though he wishes to keep things indoors, saying he doesn't want his wife to have any suspicion. With differing ideals, how much longer can they last together?
"Thief" was broadcast on the 24th of July, 1968. A professional thief does something very unlikely by thieving standards - returning something stolen. He tells the woman he stole from that he was captivated by her and came to her place. But what are his real intentions?

Of the 6 productions directed by Alan Clarke presented here, three were written by Alun Owen ("Shelter", "Stella", and "Thief", two were by Roy Minton ("The Gentleman Caller" and "Goodnight Albert") and one by William Trevor ("The Fifty Seventh Saturday"). In addition, Owen also wrote the episode "George's Room" (available on DISC ONE).

The Owen written pieces all share similar themes - there are only two characters in each, and they are always one male and one female character. Within the 30 minute time spans, the role of sadist and masochist is continuously flip-flopped. In "Shelter" the man (played by Colin Blakely) annoys and bothers the woman (played by Wendy Craig) which causes her to become emotionally distraught. But when he asks for a cigarette and she refuses to give him one, the power is in her hands while the man has to beg like a dog for a fag - and she enjoys getting her vengeance. "Stella" starts with the woman (played by Geraldine Moffat) is absolutel in power while her ex (played by Ray Smith) begs and pleads like a fussy child to try to win her back, but is only more powerful than her when he has to use physical force. In all of Owen's plays presented here, it's always left ambiguous to who is the real "winner" of the arguments. Is there really a winner? Should there be? The two plays by Minton are very different in tone and style - with "The Gentleman Caller" starting off as quite comical with the interaction between the tough older brother Clack (played by Mike Pratt) and dumb younger brother Ged (played by Tony Selby). When the inspector (played by George Cole) arrives it is like a comedic trio with the inspector being the straight man trying to make sense of the laziness of Ged and the stubbornness of Clack. But once Clack starts to physically threaten the inspector it becomes no laughing matter, and the tone completely shifts in the second half. "Goodnight Albert" on the other hand is quite a heartwarming story between a concerned grandmother (played by Gwen Nelson) and her grandson Albert (played by Victor Henry. Each story has a similar theme - separation. Whether it's separation by social class, by gender, by generation, by ideals, or by morality, the tension caused by the themes foreshadow much of the later Clarke directed works.

Even with different actors and differing writers for the individual episodes, Clarke's visual style is very distinctive. Extreme close-ups are consistently used in intense dialogue scenes while extremely low camera angles are used in threatening scenes. Unlike many other televised stage productions using singular camera setups with many two shots to focus on actors reacting, Clarke uses extreme close-ups of faces of the talker, rarely cutting to the listener, and with the rapid fire dialogue spoken the editing is extremely fast paced to go along with the talking. "Half Hour Story" is a type of television series that is not commonly seen anymore. Anthology series can be expensive and time consuming to make, having to cast stars for each episode and not being able to rely on past storylines. The simplicity of "Half Hour Story" - using a single set, two or three actors, and a short runtime saved a lot on the budget but considering modern audiences, may not intrigue the masses for the 21st century. But for ones interested in vintage television as well as the early career of Clarke, these teleplays are must-see productions.

Note this is a region 2 PAL DVD which can only be played back on region 2 and region free DVD and Blu-ray players with PAL format playback

Video


DISC THIRTEEN of the "Dissent and Disruption" set is a standard DVD. BFI presents the "Half Hour Story" episodes in the original broadcast ratio of 1.33:1 (non-anamorphic) in the PAL format. Since these were made for PAL broadcast in the 25fps format, there is no issue of speedup or speed-down. These black and white productions are not going to set any restoration standards as they are not coming from original source materials. Early television broadcasts were not recorded and stored on videotape for the most part - but instead used a process of pointing a film camera to a television monitor directly. The "Tele-recording" process was the method used for PAL recordings, filming at the same speed of 25 frames per second - identical to the PAL video signal. (Kinescope was used for NTSC).

"Shelter", "The Gentleman Caller", and "Stella" were transferred to HD from the 16mm tele-recording prints, while "Goodnight Albert" and "The Fifty Seventh Saturday" were transferred to HD from the 16mm tele-recording negatives. The film always looks ever so slightly askew especially while watching the credit sequences where names are not fully centered - due to the calibration of the tele-recording camera and the monitor not aligned exactly. There are other errors such as dust, debris, slightly out of focus shots, and overall weakness in quality. "Thief" was a further generation down, coming from a videotape of the tele-recording, so there are video errors such as the bottom area of the frame having distortion, and looking the weakest in definition compared to the rest of the productions here. Though imperfect, knowing these are the only sources known to exist and that three of the Clarke directed episodes are considered lost, we should be grateful that the works are in a pretty watchable state.

There is one issue with the episode of "Shelter" - it seems there may be a missing element. Right around the 11:42 mark when Wendy Craig cries out after Colin Blakely talks about her husband, Blakely's character is suddenly out of his chair looking out the window and Craig's crying stops. All other episodes have a "part 1", "part 2" title card, but "Shelter" doesn't. Possibly was supposed to be placed there but was missing from the tele-recording print?

The runtimes for the episodes are as follows:
- "Shelter" (1967) (26:48)
- "The Gentleman Caller" (1967) (24:55)
- "Goodnight Albert" (1968) (25:57)
- "Stella" (1968) (25:10)
- "The Fifty-Seventh Saturday" (1968) (25:57)
- "Thief" (1968) (26:11)

There is no "Play All" option for the episodes.

Audio


English Dolby Digital 2.0 mono
The original mono tracks are presented in Dolby Digital. The audio is surprisingly good for the most part, with dialogue sounding quite clear with no major trouble with hisses pop and cracks. The episode of "Thief" is the weakest, with certain portions sounding very hissy near the beginning. Luckily it doesn't last long. Overall, the audio is quite pleasing considering the source materials.

There are optional English HoH subtitles available for all episodes in a white font. With the amount of working class slang and specifically English terms used by many of the characters, it is a very thankful addition.

Extras


DISC THIRTEEN comes with no extras. Since the thirteenth disc is a bonus disc exclusively available in the larger 1969-1989 boxset, the entire disc's contents could be considered a bonus.

Packaging


The "Dissent and Disruption" 13 disc set includes a 200 page booklet with essays, photos, credits, and film information. First is a foreword by Clarke's daughter Molly Clark followed by an introduction to Clarke's work by novelist and journalist Danny Leigh. The booklet follows Clarke's work chronologically, so the "Half Hour Story" contents are presented first, with essays on "Shelter", "The Gentleman Caller", "Stella", "The Fifty Seventh Saturday", and "Thief" by David Rolinson (writer of Alan Clarke (2005)), "George's Room" and "Goodnight Albert" by BFI curator Lisa Kerrigan.

Overall


The "Half Hour Story" episodes are some of Clarke's earliest surviving works. Though visually very different from the latter works in his career, the themes explored in the stories would resonate throughout the rest of his career. BFI's work on the thirteen disc "Dissent and Disruption" (1969-1989) set is nothing less than an amazing collection of works by one of the most controversial and influential directors who pushed the boundaries of broadcast television. Absolutely recommended.
| | | | | |
| --- | --- | --- | --- | --- |
| The Film: A | Video: C | Audio: B | | Overall: B |