Dear Ruth
R2 - United Kingdom - Simply Media
Review written by and copyright: Matthew Crossman (1st June 2016).
The Film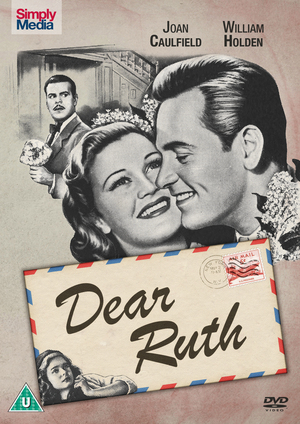 It is 1944 in a suburb of New York City. The first character we meet is Miriam Wilkins (Mona Freeman). She is trawling through her neighbourhood, knocking on doors hoping people will sign her petition so that the Government will allow women will be drafted so that they can help in the war effort. She is rebuked by one of her neighbours and returns home dispirited in time for breakfast with her family. There we meet her Father Judge Harry Wilkins (Edward Arnold), her Mother Edie Wilkins (Mary Philips) and finally her Sister Ruth Wilkins (Joan Caulfield). Ruth tells her Mother about a disagreement she had with her boyfriend over her smoking habit. Ruth's boyfriend, Albert Cummer (Billy DeWolfe) is concerned for her health. The family have breakfast and Ruth and Miriam leave for work and school respectively. Shortly afterwards there is a knock on the door and when it is answered the remaining family are introduced to Lt. William Seacroft (William Holden). William is a bombardier serving in the United States Army in Italy. He tells Harry and Edie that he hates flying but because of his pen pal relationship with Ruth he took it up so that after twenty five missions he could get a couple of days leave and he could then finally meet Ruth in person. Harry explains to William that Ruth has just left for work at the bank where she is a clerk and will return at 5.30 pm that day. William is clearly smitten, despite only having ever 'talked' to Ruth through letters and promises to return later that day. Ruth arrives home that evening and tells Harry and Edie that she plans to get married. Harry and Edie assume that Ruth is talking about William and despite it being rather quick they are happy for her. It is only later when Harry mentions William and Ruth does not know who he is that it transpires that Miriam has been writing to William all along using her Sister's name and picture in an effort to comfort him whilst he is away fighting for his country. This puts the family in a difficult position and they decide that when William returns they will let him down as gently as possible. However, when William returns Ruth agrees to go to a dance hall with him with the intention of telling him the truth later on. Ruth does not tell William the truth and stays out with him until 1 am in the morning, much to the chagrin of her fiancée Albert. Whilst on their evening out Ruth was touched by William's charm and asks Miriam to show her the letters that William had written. The next day William sends Ruth some candy and flowers and what was once a simple misunderstanding starts to spiral out of control as Ruth has now got some difficult decisions to make in regards to her romantic future.

'Dear Ruth' originally started out as a stage play on Broadway and was such a hit that it was adapted for film. The cast are uniformly excellent to the best performers being Edward Arnold and Mary Philips as Ruth's parents. The script sparkles, especially between those two, and the conversational by play is funny as well as extremely touching. William Holden plays the part very straight laced but has a personable sweetness about his character that is easy to like and helps the story along as we have to believe that Ruth would fall for someone in such a short space of time. Mona Freeman as the precocious sixteen year old Sister of Ruth does an excellent job here too. Such was the success of the Paramount film that two sequels were produced in a short space of time after 'Dear Ruth's release in 1947 and these were 'Dear Wife' in 1949 and 'Dear Brat' in 1951. The cast and crew returned for the two sequels which helped their success too. All three of these films are rarely seen these days so it is a tribute to Simply Media that they have taken the chance on releasing the first one on DVD. Thankfully the film still stands up well today and it is genuinely funny and touching in many places and well worth a look.

Video


'Dear Ruth' is presented on DVD in it's original ratio of 1.37:1 The picture has had no restoration work done to it and consequently it exhibits the usual wear and tear you would expect from a film of this age. There is grain present and at times it can be quite heavy. Scratches are fairly abundant as are 'cigarette burn' type blemishes on the print. I probably make it sound far worse than it actually is and underneath all that the picture is perfectly respectable. The blacks are a little too near the side of grey on the scale for my liking but overall the picture quality does not detract from a fun film too much.

Audio


The English only soundtrack is presented in dual mono and this is the only option available. As expected all the sound is centred but it's clear throughout. It does have a hollow feel to it but once again this is perfectly usual from movies of this era and is to be expected. No restoration has been undertaken on the soundtrack but even so it is perfectly acceptable. There are no subtitles available on this disc.

Extras


There are no extras available on this disc.

Overall


'Dear Ruth' is a funny, charming film that is as light and frothy as your first cappuccino of the day. The cast are excellent and the script just sparkles with with and humour. Of course everything is rather 'stagey' but that is part and parcel of watching a film from the late 1940's. I applaud Simply Media for releasing 'Dear Ruth' and I for one would not object if they were to release the two popular sequels either.
| | | | | |
| --- | --- | --- | --- | --- |
| The Film: B+ | Video: C | Audio: C+ | Extras: F | Overall: B- |

---
DVD Compare is a participant in the Amazon Services LLC Associates Program and the Amazon Europe S.a.r.l. Associates Programme, an affiliate advertising program designed to provide a means for sites to earn advertising fees by advertising and linking to amazon.co.uk, amazon.com, amazon.ca, amazon.fr, and amazon.de.