The Film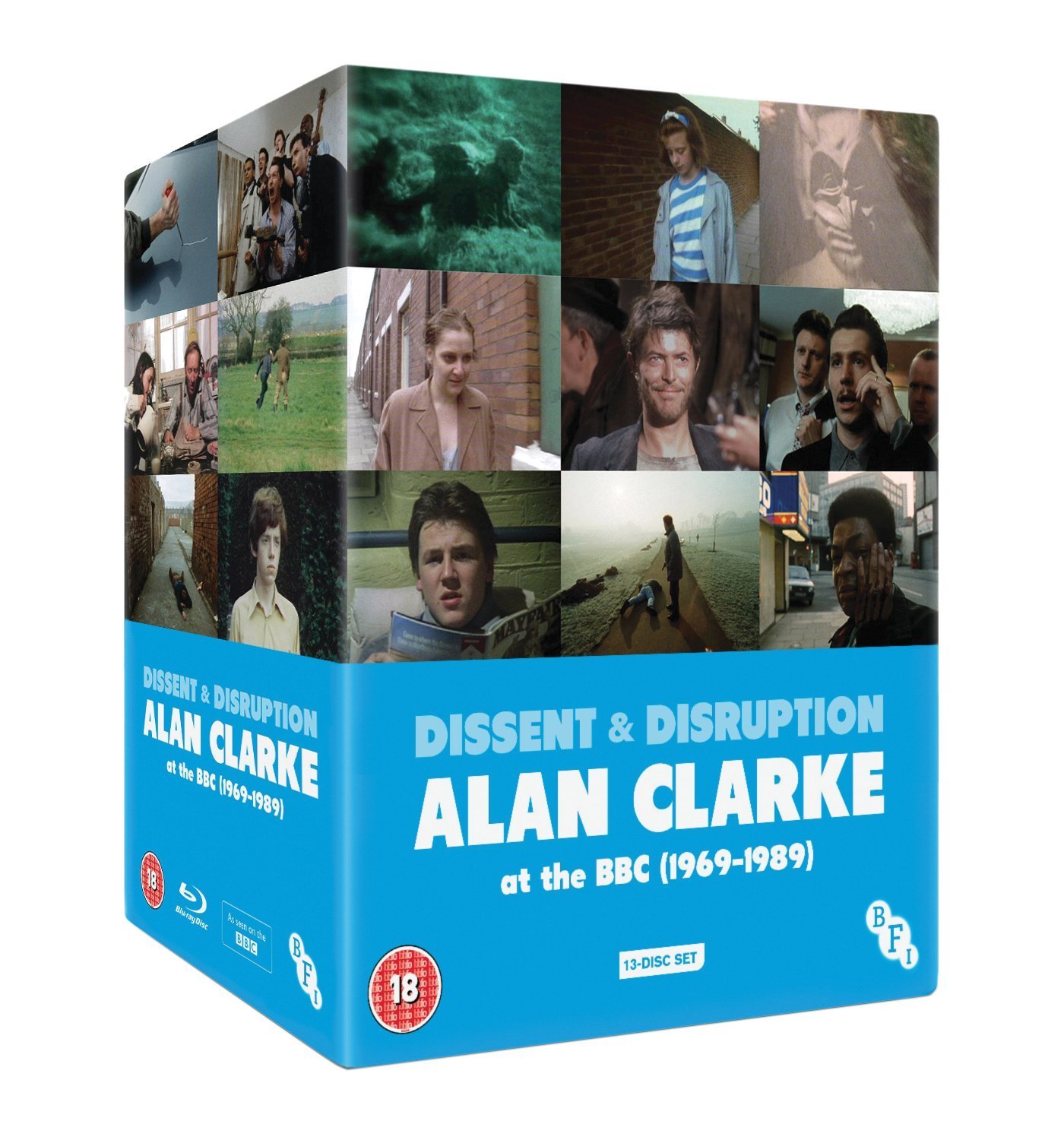 BFI is releasing the highly ambitious and anticipated Dissent and Disruption: Alan Clarke at the BBC. There is a choice of the following:

- Dissent and Disruption: Alan Clarke at the BBC (1969-1989) - a 13 disc set of 11 Blu-rays and 2 DVDs.
- Alan Clarke at the BBC Volume 1: Dissent (1969-1977) - a 6 DVD set.
- Alan Clarke at the BBC Volume 2: Disruption (1978-1989) - a 6 DVD set.

Due to the massive amount of the content, the set will be covered in 13 separate reviews, which later will be combined into a singular review after the completion of all 13 reviews.

This review covers DISC ONE of the "Dissent and Disruption" set.

"George's Room" (1967) (24:10)

A mannered gentlemen (played by John Neville) visits the home of a young widow (played by Geraldine Moffat) answering about a room for rent. The room in question is her late husband's study room, where she hasn't entered at all since her husband passed a year ago, and only the maid who periodically cleans it enters. What seems like a simple story of real estate transaction is something more than meets the eye. The young widow at times seems to be slightly off center - she frequently repeats herself, she doesn't seem to hear the man's questions or comments well, and yet when he says something as slight as "Ahh", she misinterprets his reactions completely. The man plays it straight as a gentleman. Though he thinks she is slightly strange in her mannerisms, he is polite and does not show any form of frustration - he is more intrigued by her quirkiness rather than irritated by it.

"George's Room" starts off as an awkward comedy with many portions filled with laughs. But later on when the man starts questioning her real reasons behind not entering the room herself, and what her husband and the marriage meant to her, deeper and darker suppressed emotions start to unravel. It's a brilliant piece of writing from Alun Owen, and like his other "Half Hour Story" episodes directed by Clarke, it's a simple one on one in a single setting. Though this time there is no battle of the sexes - it is about the woman's awakening and realization. "George's Room" was first broadcast on September 30th 1967 as an episode for "Half Hour Story". Clarke's direction of the episode is actually not the highlight of the piece. The framing is pretty standard with close-ups, the operators sometimes have trouble keeping the figures in focus leading to awkwardly framed shots and editing-wise, the timing is off paced in cutting. The performances however, are the highlights.

"Half Hour Story" was an 38 episode anthology television series that was first broadcast between 1967 and 1968, produced by Rediffusion. Each episode was an individual piece of work - different stories, different characters, different settings, without weekly continuity. Alan Clarke directed 10 episodes of the series with only 7 of them currently surviving. Of the 7 episodes, the 6 surviving black and white episodes are presented on DISC THIRTEEN (DVD) while the single remaining color episode "George's Room" is presented on DISC ONE (Blu-ray).

"The Last Train Through Harecastle Tunnel" (1969) (76:03)

It's the weekend and Fowler (played by Richard O'Callaghan), a young man who is a trainspotter is using the time to take the last train scheduled to pass through Harecastle Tunnel, which is scheduled to close. While on the train, he meets an assortment of people taking the same journey, but not for the same purpose. Some find his hobby as dumb, like his coworkers. Some find his hobby fascinating such as Mrs. Dyson (played by Noel Dyson) and her husband (played by Victor Platt. Although Fowler originally envisioned his journey to be a one-man trip, it becomes a journey filled with people from all walks of life.

Originally broadcast on October 1st 1969 as an episode of "The Wednesday Play", "The Last Train Through Harecastle Tunnel" is drastically different from Clarke's previous television productions with "Half Hour Story", with the length and scale increased. The cast of characters are of a theatrical film's worth, with the main character of Fowler encountering a large number of people throughout - with each of them being slightly offbeat. The soldiers he encounters are more interested in arguing and making fun of their commander than anything else. Retired train engineer Mr. Coulson (played by Joe Gladwin) is a train fanboy's dream come true to meet, but he is bitter with comments toward black people as well as being disappointed with his flamboyantly gay son Jackie (played by Griffith Davies). Fowler is also in awe meeting Judge Grayson (played by John Le Mesurier), but awkwardly confused by his hippie daughter Beatrice (played by Angela Pleasance). But with a full 76 minutes to show, the characters get enough room to shine in their scenes, leaving a memorable mark. There is much in common with the tone of Wes Anderson films with their strangely off-center characters. His films such as "The Darjeeling Limited" (2007) also mostly takes place on a train, and "Rushmore" (1998) deals with a loner that is in his own little world.

Clarke also worked in a differing format for "The Last Train Through Harecastle Tunnel" - on video. Most of the production was shot on PAL video format - the studio norm for many BBC productions at the time (though minor exterior shots were shot on film). Visually the format may look different but the qualities and techniques of his previous television productions with extreme close-ups and low angle shots being there, but as it was shot on video cameras which didn't have the freeing movements available with film cameras, shots are quite still for the most part - something that would change with his following production for "The Wednesday Play".

"Sovereign's Company" (1970) (76:34)

Andrew Cantfield (played by Gareth Forwood) and other young recruits enter a military academy and are ready for training. The young recruits are put to the test everything from details such as shoe polishing and shower washing, as well as getting along together in the barracks. But what seems to be a standard fare in militarism is everything but that - with fellow cadets starting arguments, fights breaking out, and very little in terms of camaraderie.

Unlike Clarke's previous films which were filled with occasional humor that led to emotional outbursts, "Sovereign's Company" has very little humor and is more about the breaking point between people. It essentially becomes a war film but without the war. The intensity between the cadets leads to intensely uncomfortable situations, and sometimes leads to terrible violence. The production includes a vast array of at-the-time young actors including Forwood, Clive Francis, Larry Dann, and Oliver Cotton, and Clarke directs the production in the color film format with handheld cameras, rather than the stilted video cameras in his previous production. With it, the intensity of the freeflowing camera movements and in some scenes a documentary-like quality are reproduced. The characters are rather flat compared to the characters in previous Clarke productions, but overall the production's theme is not about the characters but criticism on class differences, generational expectations, and a change in the youth view of war in a post- WWII and Korean War environment bordering on the increased negative reactions toward the Vietnam War.

The three productions featured on DISC ONE are as different as you can get - with "George's Room" being a short production with one man and one woman, "The Last Train Through Harecastle Tunnel" being a work of one young man meeting an array of slightly weird characters, and "Sovereign's Company" being a serious and critical production, foreshadowing what Clarke was to explore in depth a lot more in the years to come.

Note this is a region B Blu-ray which can only be played on region B or region free Blu-ray players

Video


BFI presents the productions in 1080i 50hz in the original televised aspect ratio of 1.33:1 in the AVC MPEG-4 codec. As these were UK TV productions broadcast in the 25fps PAL format, the films are transferred in the 50hz signal to preserve the PAL runtime.

Unlike the six episodes of "Half Hour Story" on DISC THIRTEEN, "George's Room" was restored from the 35mm color negative - a drastic step above the other productions. The color photography is very heavy on pinks and browns with no particular deep or detailed color, most likely due to the stock used. Skintones are pale and colors such as blues and reds are not reproduced well. On the other hand the film has been cleaned up and there are no troubles of dust, specs, or debris in the image. The image is always stable and clear - with the exception of the aforementioned out of focus moments.

"The Last Train Through Harecastle Tunnel" was restored from two sources - the videotape portions were mastered from the telerecording 16mm negative, and the film portions were mastered from the 16mm original negative. For the most part the production looks very good. The telerecording negative looks much better than the "Half Hour Story" telerecording prints, with no major problems of videotape error, and no major problems of film artifacts such as dust or specs. The 16mm film portions look great with the black and white photography looking pin sharp.

"Sovereign's Company" was restored from the re-run 1971 16mm transmission print - the better element as the original 1970 16mm transmission print was much more faded, though the original credits were taken from the 1970 print as the 1971 rerun had differing credits. Like "George's Room" the colors look a bit faded with pinks and browns looking fine but other colors such as the green uniforms lacking. Film grain is much more visible being a 16mm source, but in terms of image quality, it looks very good with the image cleaned and errors corrected.

Audio


English LPCM 2.0 mono
The original mono tracks are presented in lossless mono sound. The audio sounds very good with no troubling instances of hisses or pops. Dialogue is always clean and clear, but considering the low budget sources, there are the usual echoey sounds and limited definition.

There are optional English HoH subtitles in a white font for the three productions.

Extras


"Alan Clarke at the Questor's Theatre" (1962-1966) image gallery (33 pages)
In this manual gallery, programs and stills of Clarke's early stage productions are available.

"Alan Clarke: Out of His Own Light" documentary (Part 1) (30:59)
The newly created 270-minute documentary on Alan Clarke has been divided into 12 parts with each part covering the productions reflected on the first 12 discs of the "Dissent and Disruption" boxset. Part 1 covers the three productions on DISC ONE as well as his early life and his work in theatre. The entire 270 minute documentary is comprised of interviews with 50 people who worked with Clarke, knew Clarke, and looked up to Clarke. The interviews come from wildly differing sources. Some are slighty old 1.33:1 standard def video, some are hi-def 1.78:1 video. Some are lit too brightly, some are a bit dark. Some have clear dialogue, some sound echoey. It's very inconsistent in how it looks and sounds edited together, but presentation wise, it is top notch.
in 1080i 50hz AVC MPEG-4, in 1.78:1, in English LPCM 2.0 with no subtitles

Packaging


The "Dissent and Disruption" 13 disc set includes a 200 page booklet with essays, photos, credits, and film information. For "George's Room" there is an essay by BFI curator Lisa Kerrigan, "The Last Train Through Harecastle Tunnel" has an essay by BFI web producer Alex Davidson, and "Sovereign's Company" has an essay by BFI senior curator Mark Duguid. Also listed are full film credits, extras credits, and restoration information.

Overall


As stated before, the three productions featured on DISC ONE are as different as you can get, but are equally important in comparing Clarke's work in the film and video formats as well as differing styles. BFI's work on the thirteen disc "Dissent and Disruption" (1969-1989) set is nothing less than an amazing collection of works by one of the most controversial and influential directors who pushed the boundaries of broadcast television. Absolutely recommended.
| | | | | |
| --- | --- | --- | --- | --- |
| The Film: A | Video: B | Audio: A- | Extras: A+ | Overall: A- |