The Film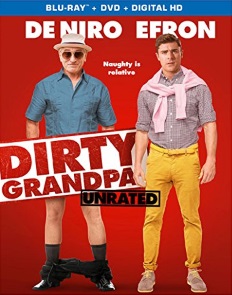 His future apparently set professionally with a position at father David's (My Best Friend's Wedding's Dermot Mulroney) firm and romantically with an impending marriage to co-worker Meredith (Rock of Ages' Julianne Hough), straight-laced lawyer Jason (High School Musical's Zac Efron) is about to have his life turned upside down when he agrees to take his grandfather Dick (1900's Robert De Niro) – who has lost his license – on the annual trip to Florida for a round of golf, a trip he usually took with his wife who just passed away after a ten year battle with cancer. Having grown apart from the close relationship he had with the older man back when Jason wanted to be a photographer and travel the world, Jason is shocked to walk in on his grandfather vigorously masturbating to porn (or "taking a number three" as Dick calls it). Stopping at a roadside diner for breakfast, Jason and Dick cross paths with Jason's high school photography partner Shadia (Beautiful Creatures' Zoey Deutch) with her Lenore (Scott Pilgrim vs. the World's Aubrey Plaza) and Brad (Grave Encounters 2's Jeffrey Bowyer-Chapman) on their way to Daytona. Dick charms Shadia and Lenore and heaps a whole bunch of homophobia on Brad (the least offensive of which is to "try not to join the cast of Rent on the way back" when he storms away), passing Jason off (despite his "Abercrombie fucked Fitch" threads) as a Time Magazine photographer to appeal to Shadia and himself as a professor when he learns that Lenore needs one to complete her fucking trifecta (a student, an alumni, and a professor). Jason reluctantly agrees for a side trip to Daytona for Dick to mack on Lenore and shove him into close contact with Shadia only to meet the girls' surprisingly preppy fratboy douchebag boyfriends Cody (The Way Way Back's Jake Picking) and "Brah" (Face's Michael Hudson). Eager to loosen up in front of Shadia, Jason gets drunk, naked, and does the Macarena (it's never coming back, so why…). After he inadvertently smokes crack provided by "Daytona's Most Vibrant Drug Dealer" Tan Pam (Neighbors' Jason Mantzoukas), Jason ends up in jail in blood- and semen-stained clothing provided by his jailers (MADtv's Mo Collins and The Wolf of Wall Street's Henry Zebrowski) who are understandably unwilling to listen to a crackhead quote legal precedent. Dick bails him out, but at this point Jason is no longer willing to put up with his antics, taking him to the rest home to visit army buddy "Stinky" (Lethal Weapon's Danny Glover) before planning to return to Virginia in time for the wedding rehearsal. Upon learning that Stinky – who assails Jason with a barrage of lesbian insults ("Leave me your beautiful lesbian grandson so he can blowjob me to death") – has little time left, a deflated Dick confides in Jason that he needs to feel young again (and that means boinking Lenore). Jason relents and they head back to Daytona where Dick gets them into more trouble with drug deals, rappers, and the cops while Jason and Shadia dance around their mutual attraction. When the truth about Jason's buttoned-down life is inevitably exposed, Jason must decide on whether he wants a safe and predictable future with increasingly shrewish Meredith under the thumb of his overbearing father or to pursue his long-suppressed ambitions with Shadia.


Dirty Grandpa – from director Dan Mazer (I Give It A Year) and writer John Phillips (tellingly the writer up the upcoming Bad Santa 2) – sets out to be a crass and vulgar comedy and achieves it, but with much desperation and little satisfaction for the sober viewer. The hypersexual geriatric has been a background fixture in comedy for years but never has it seemed such a career embarrassment as it does for De Niro who probably makes the same amount phoning it in on one day assignments on Grindstone Entertainment quickies. Although the actor seems to get a thrill out of vulgarity, he proves no more successful than any of the film's supporting cast of comedians – among them Adam Pally (so funny on Happy Endings) and Mantzoukas (so not funny on Parks and Recreation) – at the filmmakers' practice of letting comedians toss out joke after joke hoping something sticks, with said comedians revealing a paucity of imagination as they get raunchier but no more creative. All of the film's attempts at comic transgression are draped over the skeleton of a romantic comedy scenario that foregrounds the outrageous supporting comic relief character over the dull protagonist who is endlessly manipulated by his grandfather who at one point appeals to his sympathies by acknowledging his mortality in service of his libido and then later spins his lies all having stemmed from his desire for his grandson not to end up like his own buttoned-down son (who resents him for putting his army career before his family). This all seems hard to swallow when Dick spends most of the film calling Jason variations cock-blocker when he's not calling him a girl for taking Meredith's pink sports car (or "tampon mobile"), a lesbian, or "the keynote speaker at a butt-fucking convention" (although he saves most of the homophobia for Brad and lacrosse jocks Cody and Brah). Efron and Deutch are uncharismatic leads but the relationship seems obligatory and the actors called upon – like the sleepwalking Hough – to contort their characterizations to suit the contrivances of the script. Plaza comes off best, ably balancing the kittenish and the crude. Prosthetic penises, penis swastikas, and bestiality abound in the film's unrated version, which is probably the way to go if this is your type of film.

Video


This digitally-photographed film gets a typically slick MPEG-4 AVC 2.40:1 widescreen encode from LionsGate with daylight scenes and bright beach scenes looking sharp, detailed, and colorful while the night exteriors look a tad less crisp owing to the nature of the shoot (I honestly could not care less how the film might benefit from a 4K release).

Audio


The main audio option is a DTS-HD Master Audio 5.1 track that is almost constantly active in all channels, especially in the Daytona spring break scenes full of crowd noises, ADR voices, music, and pyrotechnics. A Dolby Digital 2.0 stereo mix optimized for late night viewing is also included. Optional English, English SDH, and Spanish subtitles are also included.

Extras


The film is accompanied by an Audio Commentary by "Filthy Filmmakers Who Have No Shame" (or talent, it seems). Cheap shot, I know, but nothing I have to say about this track (which I scanned through without gleaning much of interest) will deter anyone who is already sold on the main feature. The Making-of (9:50) is your standard talking heads featurette in which the actors make diplomatic remarks about the film and try not to seem too embarrassed while "Daytona Heat" (3:47) features more unfunny riffing from the cop characters. Exclusive to the Blu-ray side of the package are the additional extras "Lessons in Seduction" (3:13) from Lenore, "I've Got Nothing to Hide: A Look at Dayton's Most Vibrant Drug Dealer" (5:58) with more riffing from Mantzoukas, and a Gag Reel (1:39) in which the only laugh comes from Hough's fresh reaction to slideshow being projected behind her.

Overall


Dirty Grandpa sets out to be a crass and vulgar comedy and achieves it, but with much desperation and little satisfaction for the sober viewer. Prosthetic penises, penis swastikas, and bestiality abound in the film's unrated version, which is probably the way to go if this is your type of film.