Dragnet [Blu-ray]
Blu-ray B - United Kingdom - Fabulous Films
Review written by and copyright: Samuel Scott (8th June 2016).
The Film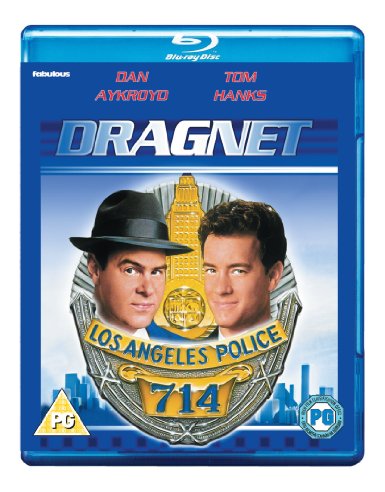 ***This is an A/V and Extras review only. For reviews on the movie from various critics, we recommend visiting HERE.***

This is the city... and only Dan Aykroyd and Tom Hanks can save it in this hilarious box-office blockbuster that pays homage to the famed original police drama of the 50's and 60's.

Aykroyd is at his comedic best as the namesake nephew of Detective Sgt. Joe Friday. Like his uncle, he's a blue suited, by-the- rules cop who reluctantly joins forces with his footloose partner Pep Streebek (Hanks) to rescue the City of Angles from the machinations of a power-mad Reverend and corrupt Police Commissioner.

And those are "just the facts" of this hysterically funny action-comedy.

Video


Independent British distributor Fabulous Films continue with their spurt of Universal licensed Blu-ray releases with eighties comedy "Dragnet" which they released on DVD just a couple of months previously. Fabulous Films have provided a 1080p transfer in the original aspect ratio of 1.85:1. The feature uses an AVC MPEG-4 encode.

As with several of these recent Fabulous Films releases of Universal owned titles (King Ralph, The Pink Panther Returns), this is once again an off-the-shelf older master that was likely originally used for the now dated Universal DVD release of which Fabulous' was a direct port. However, this doesn't mean a particularly bad release, and I once again get to say "this is the best I have ever seen this film look, but there is certainly room for improvement". The level of clarity in smaller details is slightly inconsistent. Whilst often strong in external scenes, some internal scenes are unfortunately a little clunky, with details that should be noticeable - such as the pattern in the wallpaper at 29:45 - turning into a bit of a messy blob. Colours are good, with skin tones passable, if a little soft and dull. Blacks are okay, with some crush, but generally no cause for concern, with the scene in which Hanks and Aykroyd visit the pagan gathering at 34 minutes at least looking satisfactory (though far from reference quality). There is some light damage to be found throughout with various instances of minor specks of dirt and the occasional and barely noticeable scratch. The damage is nowhere near bad enough to disrupt the viewers' enjoyment though. This is essentially the definition of a mediocre transfer, though do note that some scenes look little better than an upconversion from a standard definition source.

The feature is uncut and runs 105:49.

Audio


Fabulous Films have provided a single English DTS-HD Master Audio 2.0 Stereo track for this release, a major plus over the other available release at time of writing from Italy, which included lossy audio only. Separation does appear to be minimal and not utilised as much as the DVD release, though that may simply be down to the fact that this lossless track does sound centrally fuller and more in-depth throughout the soundstage. Dialogue is fine and volume levels are generally consistent, though the scene at ~59 minutes with the speech at a charity dinner appearing ever so slightly quietly than the rest of the feature, at least to my ears. There are no obvious signs of damage, and no causes for concern.

Unfortunately, no subtitles have been included, despite Fabulous including them on their DVD release.

Extras


A basic selection of extras are included, and they are self-explanatory.

Production Notes
Cast and Crew Biographies:
- Dan Aykroyd
- Tom Hanks
- Christopher Plummer
- Harry Morgan
- Alexandra Paul
- Dabney Coleman
- director Tom Mankiewicz
Theatrical Trailer (1:29)

Overall


This release from Fabulous Films won't exactly set the world alight, but for fans of the film, it is easily the best I have ever seen it look.
| | | | | |
| --- | --- | --- | --- | --- |
| The Film: C+ | Video: C- | Audio: C+ | Extras: E | Overall: C |

---
DVD Compare is a participant in the Amazon Services LLC Associates Program and the Amazon Europe S.a.r.l. Associates Programme, an affiliate advertising program designed to provide a means for sites to earn advertising fees by advertising and linking to amazon.co.uk, amazon.com, amazon.ca, amazon.fr, and amazon.de.