Casual: Season 1
R1 - America - Lions Gate Home Entertainment
Review written by and copyright: Eric Cotenas (9th June 2016).
The Show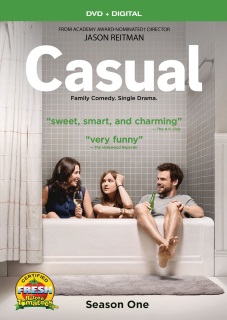 Executive producer Jason Reitman (Juno) and creator Zander Lehmann put a funny and poignant spin on an overfamiliar sitcom setup. After catching her unemployed husband Drew (Vicky Cristina Barcelona's Zak Orth) in bed with a twenty-two year old, therapist Valerie (In a World…'s Michaela Watkins) moves herself and teenage daughter Laura (The Darkness' Tara Lynne Barr) in with her bachelor younger brother Alex (The Escort's Tommy Dewey). However enlightened Valerie's attitudes towards her daughter's sex life – she has had her on the pill since she was twelve and is annoyed but less shocked than Alex when she learns that Laura was having sex with boyfriend Emile (Awkward.'s Evan Crooks) in the pool at night – she has yet to move on despite prodding encouragement from Alex and her receptionist Leia (General Hospital's Julie Berman). A computer programmer turned tech mogul who has skewed the algorithm of his up-and-coming dating app towards his womanizing needs, Alex creates a dating profile for Valerie and sets her up on a double date (at separate tables) with disastrous results as the siblings' codependent practice of trash-talking others alienates both of their dates. With the introduction of Alex's and Valerie's narcissistic parents Dawn (Six Feet Under's Frances Conroy) and Charles (Silk Stalkings' Fred Melamed), the defense mechanisms the siblings have formed in response to their "open" lifestyle become more apparent while also proving potential stifling and destructive to their emotional growth. Laura's own growing attraction to her photography teacher (Frances Ha's Patrick Heusinger) seems as much the search for a replacement for her unfaithful father Drew (Vicky Cristina Barcelona's Zak Orth) as well as Emile who she catches with another girl at a house party.

While the first season surveys Valerie's first dips into the dating scene and casual sex, it also follows the recent trend of rehabilitating and emotionally maturing the vain womanizer character; however, Casual does so in the case of Alex with surprising sensitivity even as it lampoons his actual cluelessness (he unintentionally fat shames a female blogger after sleeping with her when he tries to explain to her his personal epiphany of being able to connect to the personality of a woman to whom he would not otherwise be sexually attracted). Whereas Alex's own profile tailored to hook as many fish as possible sets him up with easy conquests, the honest profile he keeps hidden from general view finally matches him up with a single user who turns out to be the sexually adventurous and "open" Emmy (Happy Endings' Eliza Coupe) who comes across as genuinely appealing and surprisingly supportive and caring (not to mention recognizably human as she listens with visible discomfort at Charles relating the childhood story of Alex's "night bottles") even as the audience realizes that she is ultimately incapable of meeting Alex's maturing sense of his emotional needs (often expressed through his friendship with Valerie's first one night stand Leon [Narcopolis' Nyasha Hatendi] who he befriends to give him the benefit of his sexual advice). At first, all jaded Joel McHale-isms and Charlie Sheen libido, Dewey does not quite come into his own by the end of the first season but becomes more personable without being pitiable while Watkins manages to remain personable as more flaws become apparent with her deteriorating sense of superiority. Conroy is an old hand at playing awful maternal figures, but the show at least shows her character capable of insight into Valerie's life choices now matter how horrible she can be otherwise ("Just because no one has loved you yet doesn't mean you're unlovable," she tells Alex). The first season opens with a prophetic dream that has its bookend with a scene that seems to resolve some issues the siblings have with their parents, so it will be interesting to see what they deal with in the second season (already on Hulu).


Season One Episode Breakdown:

1.01: "Pilot" (25:15) – Alex sets newly-divorced Valerie up on a date using his website.

1.02: "Friends" (26:32) – Alex makes a project out of Valerie's one night stand Leon while Valerie is encouraged by her receptionist and younger friends to hit on a twenty-something waiter. Laura attends a house party that gets raided.

1.03: "Animals" (25:34) – When Valerie starts house hunting, Alex adopts a puppy to guilt her into staying. Laura sets her sights on her photography teacher.

1.04: "..." (27:07) – Valerie tries to extend a one night stand. Alex is interviewed about his website, but his more candid discussion with a female blogger has unexpected results.

1.05: "Mom" (25:19) – When Valerie's mother learns of the divorce and her living situation, she comes to stay and dispenses questionable advice to Laura while driving her own children up the wall.

1.06: "Biden" (26:17) – Valerie and Drew find closure while Alex's secret (honest) profile gets its first match and a sex tape of Laura and Emile goes viral.

1.07: "Home" (27:18) – Alex and Emmy have a foursome and Laura moves out after she discovers her mother in bed with Michael.

1.08: "Bottles" (25:11) – A spiteful Laura brings uninvited guests Drew, his much younger girlfriend (The Lovely Bones' Nikki SooHoo), and Alex's and Valerie's parents to Thanksgiving dinner resulting in hurt feelings and broken dishes.

1.09: "Mars" (28:04) – After the Thanksgiving massacre, Alex and Valerie plot to give their parents a taste of their own medicine at their rehearsal dinner.

1.10: "Dave" (27:04) – Feeling betrayed by Valerie, Alex turns to Leon for support while Laura contemplates a permanent vacation.

Video


LionsGate splits the first season's ten episodes between two dual-layer discs, the brevity of the episodes - along with the one special feature - allowing for adequate compression.

Audio


The sole audio option is a Dolby Digital 5.1 track which is responsive to the show's settings, being front oriented for much of the dialogue scenes and more expansive for the club, bar, and school settings. Optional English SDH and Spanish subtitles are provided.

Extras


The sole extra is "Creating Casual" (8:22) on the first disc. Amidst the usual talking head comments from the cast and crew, Reitman discussing the difference between writing alone on a feature and with a team on a series while Lehmann discusses how influential Reitman's direction of the first episode was in setting the tone and look of the rest of the series. The first disc also has previews for other shows. There are no extras on the second disc.

Overall


Executive producer Jason Reitman (Juno) and creator Zander Lehmann put a funny and poignant spin on an overfamiliar sitcom setup.


---
DVD Compare is a participant in the Amazon Services LLC Associates Program and the Amazon Europe S.a.r.l. Associates Programme, an affiliate advertising program designed to provide a means for sites to earn advertising fees by advertising and linking to amazon.co.uk, amazon.com, amazon.ca, amazon.fr, and amazon.de.