The Film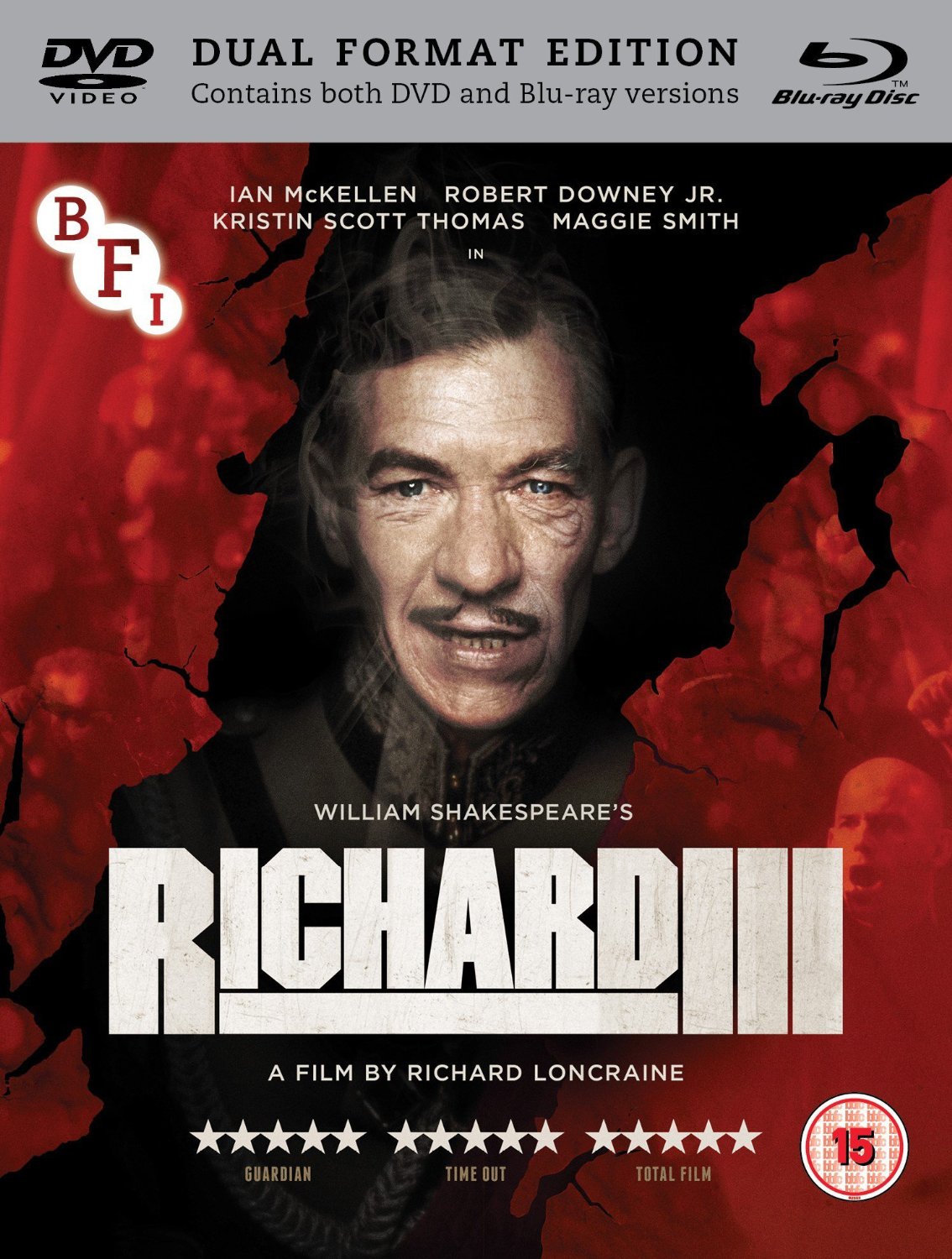 "Richard III" (1995)

William Shakespeare's play of "Richard III" was written in circa 1592, over 100 years since the death of King Richard III in 1485. It was Shakespeare's second longest play after "Hamlet" and although is one of the most performed of his plays, it is one that is rarely performed in its full length. To say "based on a true story" is quite a stretch, as Shakespeare was not a historian and his plays of historical figures were written as forms of entertainment rather than factual recreations. With that, the image of the actual Richard III has been overshadowed by the Richard III character from the play - tyrannical, ruthless, despicable, disfigured, and utterly fascinating. True that the real Richard III's rise to the throne in which he occupied for 2 years was surrounded by questionable circumstances such as the mysterious disappearance of 12-year old Edward V, who was to be crowned King in 1483 after the death of Edward IV. Though no evidence was ever found, the deaths of Edward IV and V are connected with Richard III's rise to power in the Shakespeare play. In the play, Richard is portrayed as deformed and it was finally confirmed in 2012 with the discovery of his bones that he was not the grossly deformed character of the play, but he did in fact have scoliosis and a slightly curved spine. Again, Shakespeare was more about theatricality and the image of Richard's deformity is still strong in the public mind, even with the truth being discovered.

Since the dawn of cinema - more than 400 years after the play was first written, there have been various adaptations of "Richard III" in film. Silent short films such as "Richard III" (1908) and "Richard III" (1911) are the earliest examples. The earliest surviving feature length American film happens to be "Richard III" (1912). The most well known and celebrated cinema adaptations is "Richard III" (1955) directed by and starring Laurence Olivier. In glorious technicolor, vast sets, beautiful costumes, and an epic 2.5 hour runtime, Olivier's retelling was a definitive cinematic version of the play. Shakespeare film adaptations had a resurgence in mainstream cinema following 1989's critical success of "Henry V" directed by and starring then-28 year old Kenneth Branagh. Other Branagh films such as "Much Ado About Nothing" (1993), "Hamlet" (1996) and others such as the acclaimed "Othello" (1995) starring Laurence Fishburne and Kenneth Branagh, the iconic and lavish "Romeo+Juliet" (1996) directed by Baz Luhrmann were highlights of the period. 1995 and 1996 saw a one-two punch of "Richard III" - in 1995 with the Ian McKellen starring film, and in 1996 with Al Pacino's documentary "Looking for Richard" in which he examines the character and the play itself.

"Richard III" (1995) places the story in an alternate 1930s - in which England is a fascist state mirroring the Third Reich. Horses are replaced with Jeeps, sword battles and stabbings are replaced with guns and shootings. Ian McKellen plays the title role of Richard - hunchbacked and with a deformed arm that can barely move. Sporting a moustache and speaking with a powerful voice that echoes without the aid of microphones, the performance certainly evokes that of Adolf Hitler. (Note that McKellen played Hitler in the television production of "Countdown to War" in 1989) McKellen plays the role by breaking the fourth wall and talking directly to the camera in various scenes - with monologues only the audience can hear. Granted Olivier also did so in the 1955 film, it was not a common form used in the 1990s Shakespeare films. Known for his stage work and his television acting since the 1960's in the UK, "Richard III" marked his first starring role in a feature film at the age of 56 - considering the real life counterpart died on the battlefield at the age of 32, McKellen's portrayal and the film's setting were far from the historical fact. The supporting cast is an incredible assembly - John Wood and Annette Bening plays King Edward IV and his wife Queen Elizabeth, Maggie Smith plays Richard's mother The Duchess of York, Dominic West in his film debut as Earl of Richmond, Robert Downey Jr. plays Lord Rivers, Kristen Scott Thomas as Lady Anne, Jim Broadbent as The Duke of Buckingham, Nigel Hawthorne as The Duke of Clarence - the list is an impressive and eclectic cast from both sides of the Atlantic, with the American actors playing as Americans, interestingly.

Although credited as "A film by Richard Loncraine", the film should be equally "A film by Richard Loncraine and Ian McKellen". Loncraine has stated that he was not at all a Shakespeare buff but knew about shooting film and television as a director. McKellen knew Shakespeare and scripted the adaptation based on the stage production by Richard Eyre. The production was an epic in size and scale, but miniscule considering the very small budget of £5 million. The extravagant locations were all existing places - the Battersea and Bankside Power Stations, St. Pancras railway station, as well as using Shepperton Studios for many of the interiors. With the actors, costume and set designs, the epic war scene for the finale, and large locations would seem to cause budget problems and it certainly did - as they ran out of money during production and had to find financing quickly to secure the completion. Luckily things worked out in favor of the filmmakers and the film was finished and released in 1995 to critical acclaim. The film was nominated for an won various awards around the world, including 2 American Academy Award nominations for set design and costume design, a Golden Globe nomination for Best Actor for McKellen, nominated for 5 BAFTAs and winning 2 - for Best Production Design and Best Costume Design. McKellen's performance did not win the majors listed above, but sparked a new career push for him with his leading and captivating performance. His career in film would get busier than ever with high profile performances in high profile movies. He often says that if there was no "Richard III" there may not have been a Magneto or a Galdalf on his acting resume.

Note this is a region B Blu-ray which can only be played back on region B or region free Blu-ray players

Video


BFI presents the film in 1080p in the theatrical 2.35:1 ratio in the AVC MPEG-4 codec. For the 400th anniversary of Shakespeare's death in 2016, a number of retrospectives, film remasters, and events are being held and conducted by Shakespeare Lives. "Richard III" has been remastered in 2K from the original 35mm negative and the results look great. The bold red colors of the Nazi-inspired emblems, the dark greys of the uniforms, and skintones look exceptional. The image has been cleaned while grain left intact. Stability is always fine and there are no major defects seen. Some portions such as the opening sequence with credits overlayed and the final composite fire scene look a little weak due to optical processing, but that is to be expected. Overall it is a wonderful transfer from the BFI.

The film runs uncut with a runtime of 104:09.

Audio


English DTS-HD Master Audio 5.1
English LPCM 2.0 stereo
There are two lossless audio tracks, both remastered from original elements, with the 5.1 being the original and the 2.0 being a downmix. The 5.1 track is an especially lively one. The opening scene with the tank, destruction, and the gunshots are loud and clear with directional panning through the speakers. The war finale is also especially loud with the explosions and gunfire. There are no problems of hisses, dropouts, or cracks in the audio. Another great job by the BFI.

There are optional English HoH subtitles in a white font for the feature.

Extras


BFI presents the film in a dual format Blu-ray + DVD set. All the extras on the Blu-ray are offered on the DVD copy while the DVD includes additional DVD-ROM content.

Blu-ray Extras

Audio commentary by actor Sir Ian McKellen and director Richard Loncraine
In this 2016 recorded commentary, McKellen and Loncraine reminisce together about making the 21 year old film. They talk about recreating the 1930s, the specific locations, when they ran out of money, and much more. Loncraine also serves as a moderator to McKellen, asking him specific questions about the characterization, the play itself, and about cutting the original dialogue down to about half that of Shakespeare's original words. They bring up how the reactions were varied around the world - the Arab word saw parallels to Saddam Hussein, Italians saw parallels to Benito Mussolini, and when McKellen brings up "Trump", Loncraine says how he doesn't even want to discuss that. Overall a very informative and enjoyable banter between the two filmmakers.
in English Dolby Digital 2.0 with no subtitles

"Playing the Devil - Making Richard III" featurette (6:10)
In this 2016 featurette, Ian McKellen talks about the leading part, and his love for Shakespeare. Richard Loncraine is also interviewed, and talks about not being a Shakespeare buff, and about the miniscule budget of the film. For a making-of, this plays way too short and is more like 2 edited down conversations.
in 1080p, in 1.78:1, in English Dolby Digital 2.0 with no subtitles

"Shakespeare on Stage, Screen and Elsewhere with Ian McKellen" documentary (78:32)
Recorded live at the BFI Southbank on April 6th 2016, Ian McKellen makes a presentation/speech/conversation on stage about Shakespeare in general. He asks the audience questions, talks about old memories, gives some insight into Shakespeare's plays, the characters, and a lot more. It's a very freeform style of presentation and not a lecture. It is also well lit, well shot, and well edited with multiple cameras. The sound is also great, coming from the soundboard rather than camera mics. The only problem may be that one wishes it would have lasted even longer than the already long runtime, with McKellen's reciting of the dialogue as well as his personal stories being so enticing.
in 1080p, in 1.78:1, in English Dolby Digital 2.0 with no subtitles

"Ian McKellen and Richard Loncraine in Conversation" featurette (21:27)
This on-stage conversation was simulcast in theaters on April 28th 2016, with Ian McKellen and Richard Loncraine joined by a moderator asking questions including ones from fans via tweets. The Q&A is specific to "Richard III", as they talk about the three week shoot, losing money, and how Loncraine was almost shot by a crazy farmer who was not a fan of the filming near his property.
in 1080p, in 1.78:1, in English Dolby Digital 2.0 with no subtitles

2016 Trailer (1:26)
The reissue Park Circus trailer is offered here, with a slightly darker transfer than the film presented.
in 1080p, in 2.35:1, in English Dolby Digital 2.0 with no subtitles

DVD Extras

As stated, the Blu-ray extras are also present on the DVD copy (coded region 2 PAL), while the DVD additionally offers the following:

DVD-ROM: Complete annotated screenplay with full credits - PDF download

Booklet
The booklet is one of the most valuable portions of the set - with a lengthy 31 page essay written by Ian McKellen about the production, about the characterization, the filming, and much more. Some material repeats itself with other extras, but it is presented in a different focus, making it an essential read. Also included are still photos, notes about the presentation, and acknowledgements.

The extras curated by the BFI for this release is both great and slightly disappointing. The wealth of information is deep and very intriguing with an entire set of newly created extras. The disappointment comes with the fact that nothing older has been included - no behind the scenes materials from the original 1995 shoot, no original trailer, no EPK materials. Maybe it had to do with rights issues, but regardless of the slight negative aspect, the new extras are quite welcoming and rewarding. There is a Blu-ray release in the US from Twilight Time which does include the original trailer along with an isolated score, but does not include the featurette found on some of the older DVD releases.

Overall


"Richard III" retold in a fascist pre-WWII environment shows that although Shakespeare's words are more than 400 years old, the themes are relevant and timeless showing how the written word can transcend time. Ian McKellen's career changing performance as one of the most villainous leads of all time is one to behold as a benchmark role - as disgusting as he is both physically and psychologically, you cannot keep your eyes off him. BFI's Blu-ray release gives the film new life with a stellar transfer and many new extras. My kingdom for a horse indeed!
| | | | | |
| --- | --- | --- | --- | --- |
| The Film: A | Video: A | Audio: A | Extras: B+ | Overall: A |