The Film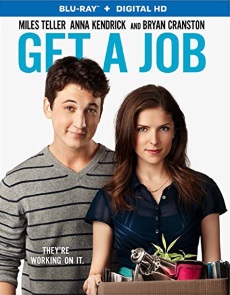 Just out of college, Will Davis (Whiplash's Miles Teller) has snagged a full-time job with the web department of L.A. Weekly after several summers as an unpaid intern, a position he informs his hard-working middle management father Roger (Breaking Bad's Bryan Cranston) is just a stepping stone towards building his brand. He discovers, however, that "shit rolls downhill" when he learns from boss (Harold & Kumar Go to White Castle's John Cho) upon arriving for his first day of work that there is no job for him due to cutbacks. Suddenly, the career choices of his corporate sellout girlfriend Jillian (Pitch Perfect's Anna Kendrick) as junior sales analyst ("the junior will be gone by Christmas," she haughtily informs Roger) and roommate Luke (Tropic Thunder's Brandon T. Jackson) starting with Top Deck Securities ("I start clerking next month. If I kick ass, I'll be making trades by December") are not looking so bad. Even Will's other two other "loser" roommates are able to make rent: stoner Charlie (The Perks of Being a Wallflower's Nicholas Braun) has gotten a job as a middle school chemistry teacher and Ethan (Kick-Ass' Christopher Mintz-Plasse) has developed an app called ISearchU that can get an exact GPS reading of a call recipient's whereabouts – hence the nickname "IStalkU" – which he plans to use to approach potential investor Warren Buffett ("You're gonna end up in iJail getting iRaped"). Will, having blown the money Roger gifted him for graduation on a seventy-inch television, cannot make his quarter of the rent and takes to the want ads. His first minimum wage job at a sleazy motel is short-lived when the boss scapegoats him when the cops raid the place and discover pimp Skeezy D (Ride Along's Jay Pharoah) – who changed vocations after Borders went out of business – and his girls turning tricks overnight. Forced to ask his father for more money and dreading another speech, Will is shocked to learn that Roger has lost his job, having streamlined the business to the point that his own job is obsolete. While Roger hits the streets with his resume in hand, Will hits the strip club for the free buffet where a stripper (Open Water 2: Adrift's Cameron Richardson) suggests that he look for corporate video work since he loves making videos for YouTube. Father and son separately find their way to placement agency Wilheimer where Roger is advised to try to look younger and urged to buy their thirty-thousand dollar image consult Platinum Package while Will desperately but successfully sells himself to the man himself Wilheimer (Willard's Bruce Davison) as a viable candidate for videographer. Will starts his job – after a comic incident involving substitute urine for mandatory drug testing (what with Will hitting the bong with his buddies nightly) – with the goal of innovating the standard boilerplate only to have his flashy approach shot down by ruthless Vice President of Client Services Katherine Dunn (The Mist's Marcia Gay Harden). Eager to keep a job he hates, Will shapes up and Katherine offers him the position of Vice President of Corporate Communications after using her finely-honed leadership skills to clean house. Will finds little sympathy from his father who has set up office in the corner of a Goth café with free Wi-Fi and cannot be bothered with his son's complaints that this boss expects to act in a professional manner. When his YouTube interview with Skeezy D goes viral, he gets an offer from rabidly eccentric Sweat Body Spray CEO Lon (Cedar Rapids' Seth Morris) to head up his company's internet and viral marketing. Will is ready to quit Wilheimer until Jillian reveals that she has been laid off ("I'm $90,000 in debt. And I spent $779 on a pair of shoes"), and he finds himself having to step up as demoralized Jillian starts spending her days with Ethan – who works from home – playing video games and taking hits off the communal bong. While Roger has killed at a Xerox interview, he is going stir crazy not hearing back from them. The one lesson he has taken from (actually two since he tried to dye his hair with laughable results) is to skip the middle men and meet with "The Decision Maker" James Gentry (David Carey Foster); and his latest Twitter post sets off red flags for Will and his friends. Will feels trapped in Katherine's claws but the passion with which he sees his father pursuing a corporate job has him questioning whether he should be looking for a job for which he feels the same passion.


Directed by Dylan Kidd (Roger Dodger) from a perhaps autobiographical screenplay by first-timers Kyle Pennekamp and Scott Turpel, Get a Job is a rather uneven comedy, the resonance of its theme of the clash between a generation of adults raised with a sense of entitlement being sent into a job market where job security is no longer a given is muddled by the film's attempts for easy laughs. Teller is reasonably engaging, with Will's obnoxious entitlement more pronounced than that of Jillian or his other friends but Kendrick, Mintz-Plasse, Braun, and Jackson – all interesting-seeming actors – are given much less with which to work in terms of their comic relief subplot threads with Jillian going from driven to stoner in a blink, Luke undergoing various initiation rituals like downing deer sperm to fit into the macho world of securities traders, Ethan stalking Warren Buffett (a voice in a bathroom stall) to prove his app works, Charlie's chemistry experiments consisting of students making him munchies before being assigned to coach the school's terrible basketball team and making the connection between his lack of ambition and the "everybody wins" culture of participation trophies. Besides dependable work from Cranston's beleaguered dad, Harden's wicked witch, and Davison's clueless horndog executive in roles that could perhaps have been just as engagingly essayed by lesser knowns, much of the supporting cast feels desperately stunt-casted to elicit laughs by association: Cho's L.A. Weekly boss who is the first to inform Will, "I don't owe you shit," Pharoah's Borders cashier turned pimp, John C. McGinley channeling his Scrubs character more so than any of his other character roles as Luke's hardass boss, Mad Men's Alison Brie as an Aubrey Plaza-like saucy nympho co-worker, Greek's Aaron Hill and Meet the Patels' Ravi Patel as trash-talking traders, Ally McBeal's Greg German as Wilheimer image consultant Fernando (pronounced Fernahndo), and most gratuitously Lost's Jorge Garcia as a mystic janitor who cryptically helps and guides Will during his tenure at Wilheimer. The film has quite a few common elements with the independent comedy Wet Behind the Ears in which a college graduate hedges all her bets on landing a job at an advertising company owned by a family friend but is too inexperienced. She eventually finds her "brand" – after a plot to pirate the latest The 40 Year Old Virgin (Judd Apatow) movie – in making commercial videos (the ending twist is also the same). The end result is an amusing but forgettable work.

Video


LionsGate's 1080p24 MPEG-4 AVC transfer is framed at 1.85:1 while trailers for the film were framed at 2.35:1 (the aspect ratio listed at IMDb). Comparison of frames from the film and trailer suggest that the scope version is matted and the feature opened up rather than cropped. The framing does not seem to make a difference (perhaps it makes Teller look a bit taller when his hair skirts the top of the 2.35:1 matte). The color correction veers from the naturalistic during scenes set in Will's house to harsher contrasts and washed out colors of the sleazier motel and strip club settings to the less saturaturation-sapped flourescent-lit office scenes.

Audio


The sole audio option is an English DTS-HD Master Audio 5.1 track is active throughout be it background atmosphere, video game bombast, or the film's underscore. The usual LionsGate array of English, English SDH, and Spanish subtitles is provided.

Extras


Extras are rather skimpy, consisting of Video Resume Outtakes (2:58) in which the actors appear in character, and "Where It All Began: The Casting of Get A Job" (6:58) in which the actors discuss the theme of the film. Previews of other titles are also included but not a trailer for the film itself.

Overall


Get a Job is a rather uneven comedy with its more poignant aspects muddled by the film's attempts for easy laughs.