Never Say Goodbye
R2 - United Kingdom - Simply Media
Review written by and copyright: Matthew Crossman (2nd July 2016).
The Film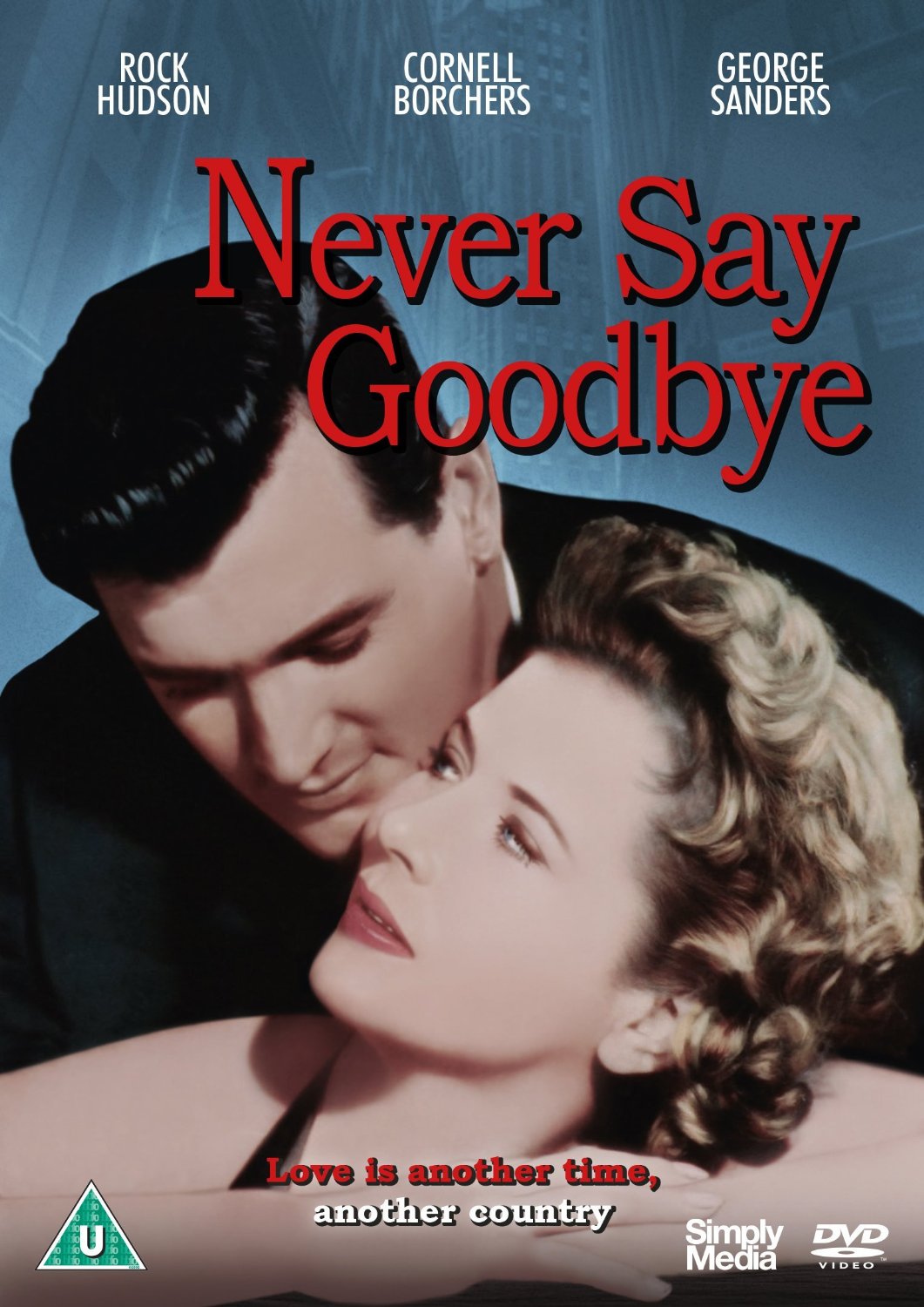 Doctor Mike Parker (Rock Hudson) is about to depart for a medical conference in New York. Before he leaves he spends some time with his young nine year old daughter Suzy (Shelley Fabares) Whenever they part they have a tradition of never actually saying 'goodbye'. Mike is a hit at the conference and some of his colleagues take him to a bar to celebrate and arrange for better funding for his work. When they arrive Mike goes to a telephone to call Suzy whilst his colleagues take a table. Once seated they meet a regular at the bar, a man named Victor (George Sanders) who goes around the room doing caricatures of the patrons. He is accompanied by a woman on the piano, her name is Lisa (Cornell Borchers). Mike comes back from making the telephone call and is introduced to both Victor and Lisa. Immediately Lisa leaps from the table and rushes outside with Mike in pursuit. In her rush Lisa runs in front of an oncoming taxi and is badly injured. Mike goes to the hospital where is assists in the operation and it becomes apparent that Lisa is in fact Mike's Wife, whom Mike believed to be dead. Whilst waiting for Lisa to be taken from the recovery room to her hospital bed Mike begins to reminisce. The time is 1945 and the place is Vienna in Austria. Mike is a medical Captain in the army and one evening, with friends, he attends a bar. At that bar is a man doing caricatures called Victor who is accompanied by a lady pianist called Lisa. During a break in their act Lisa stumbles and falls and injures her ankle. Mike takes a look at it and then drives Lisa to the hospital to have an x-ray. Her ankle is only sprained by Mike is already falling in love with Lisa. Over the next week the pair meet on a regular basis and at the end of the week Mike asks Lisa to marry him. She agrees. Mike then leaves the army and becomes a trainee doctor learning a speciality. Money is tight for the couple but soon they have the happy news that they are expecting. Mike's one weakness is that he is prone to fits of jealousy and deeply unsure of Victor's relationship with Lisa despite Victor being much older. Mike and Lisa have their baby, a girl they call Suzy. Suzy is shown growing up through to her second Birthday. On the night of their third anniversary Mike over hears some gossip in the local cafe about a woman who meets a strange man on the corner every Tuesday and Friday. As Mike over hears this gossip he sees Lisa meeting a man on the corner and then getting into his car and Mike realises that the malicious gossip is about Lisa. Mike has arranged a surprise party for Lisa but cancels it when his Wife comes home accusing her of having an affair. Lisa slaps Mike and runs out the door. In a fit of rage and jealousy Mike takes Suzy and leaves Lisa a note saying that he has taken their daughter and she will never find them. Lisa returns home and sees the note and then travels to her Father's house which is in the Soviet controlled sector of Vienna. Her Father calms her down and she stays the night. When she goes to leave she finds the border between the sectors have been closed due to spies working against the Soviets. Waiting until nightfall Lisa and her Father then try to cross the border but they are captured by the Soviets and arrested as Spies. The next morning Mike returns home full of regret for his rash, impulsive decision only to find Lisa missing. Over the coming weeks Mike searches for Lisa and employs the help of an army colleague in the hope of finding her. A couple more weeks pass and the army colleague informs Mike that Lisa is probably dead and Mike should return home to the United States of America with Suzy, which Mike does. Back in the present Lisa is wheeled in after her operation and once she has recuperated she intends to try and re-form the bond with her Daughter Suzy, a Daughter who has thought her Mother has been dead for the past seven years, but will Suzy believe that Lisa is really her Mother?

'Never Say Goodbye' is a full blown weepy and those that have enjoyed films such as 'An Affair to Remember' and 'Casablanca' will enjoy this one just as much. The cast are uniformly excellent. Rock Hudson is superb as Doctor Mike. Gentle, kind and charming one moment and then raging with an unnatural jealousy the next. George Sanders as Victor plays the Rick roll from Casablanca. Victor has plenty to lose and has had Lisa as his partner for many years but when the times comes he makes the sacrifice for the good of his friend despite the personal cost. Cornell Borchers as Lisa is stunningly beautiful with a mournful look about her and plays the full range of emotions. The cast really are excellent. The first half of the film plays out as a romantic mystery and the story really does a great job in drawing you in to see how it ends. A romantic dramas go 'Never Say Goodbye' is up there with the best. Also, for all you Clint Eastwood fans the great man himself appears in an early scene in this film. Enjoy his 30 seconds of screen time.

Video


This DVD from Simply Media is presented in it's original anamorphic aspect ratio of 2.00.1 The picture is solid if unspectacular but thankfully has very little print damage. There is a few minor scratches that appear in the middle of the third reel but this a very fleeting. The colours are not overly vibrant but I suspect, giving that much of the film takes place in war torn Vienna, this may be deliberate. The image is quite sharp and I was pretty happy with it. Sadly the disc I received from Simply Media there is one major problem. The disc ends, and returns to the menu screen, at the 1.30.04 mark. This happens at the denouement of the film some 6 minutes short of the end of the film. I hope that mine is just a one off but it's certainly something that Simply Media will want to check.

Audio


The soundtrack presented is the English language dual mono one. It's a strong soundtrack but obviously with little bass but that's fine as this is a wordy drama anyway. Conversation between the characters is clear throughout and the musical side of the soundtrack is perfectly balanced and sits nicely in the background. There are no subtitles available on the disc.

Extras


None.

Overall


Many romantic dramas of this type can be over saccharine but 'Never Say Goodbye' avoids that trap (with the exception of the conclusion to the film perhaps, but by then we welcome it). Rock Hudson is good as the lantern jawed Doctor Mike but the real stars of the show are George Sanders and especially Cornell Borchers as Victor and Lisa. It's a fine, evolving story which really does pull at the heart strings and only starts to lose it's way during the last twenty minutes when a certain amount of belief of the viewer is asked to be suspended by the film makers. If you're idea of a good night in is a movie that will have you reaching for the Kleenex then 'Never Say Goodbye' is the movie for you.

Before buying, please read video section of this review about an anomaly with the check disc we received.
| | | | | |
| --- | --- | --- | --- | --- |
| The Film: A- | Video: B+ | Audio: B+ | Extras: F | Overall: B+ |

---
DVD Compare is a participant in the Amazon Services LLC Associates Program and the Amazon Europe S.a.r.l. Associates Programme, an affiliate advertising program designed to provide a means for sites to earn advertising fees by advertising and linking to amazon.co.uk, amazon.com, amazon.ca, amazon.fr, and amazon.de.