Lone Hand (The)
R2 - United Kingdom - Simply Media
Review written by and copyright: Matthew Crossman (2nd July 2016).
The Film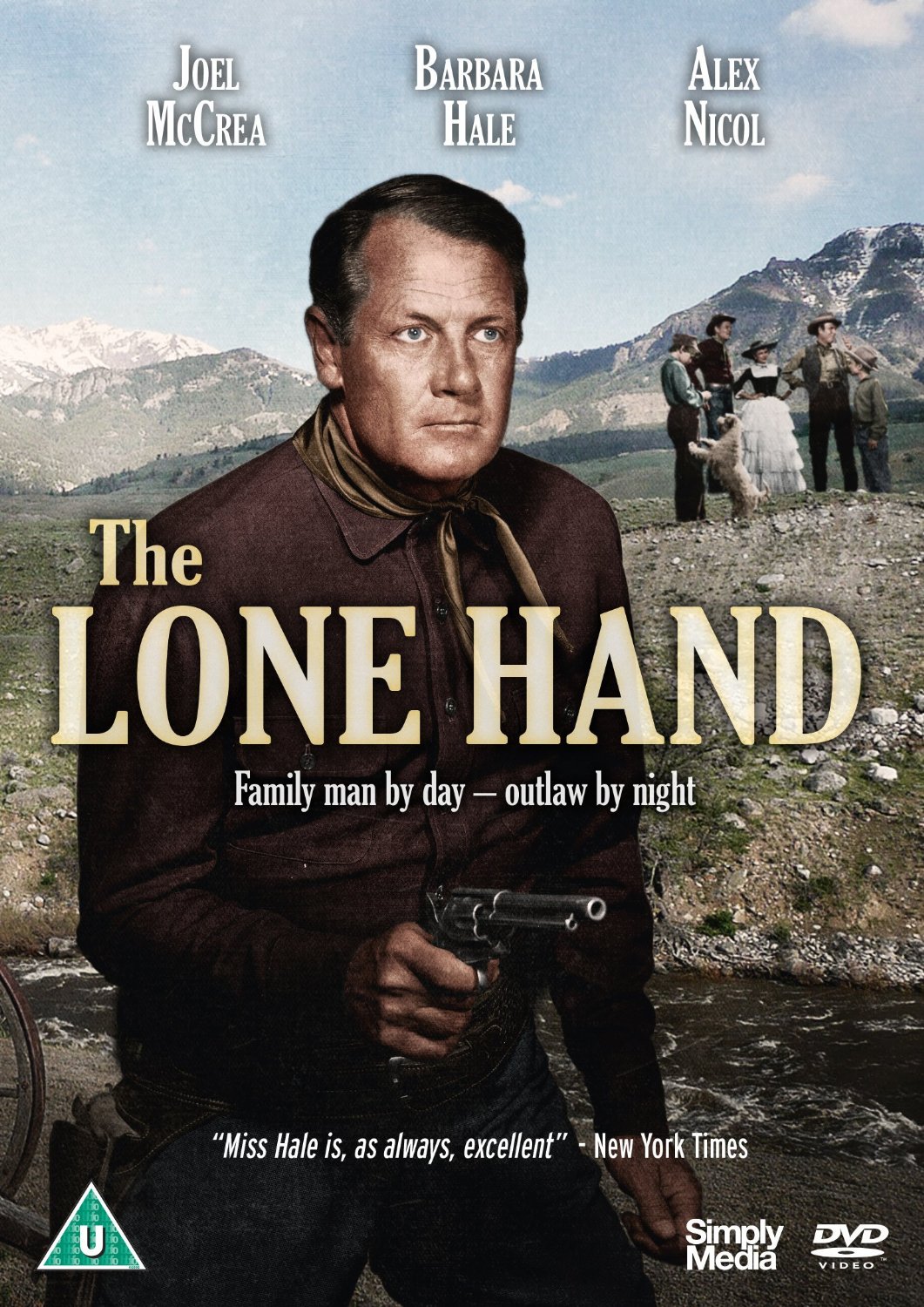 Joshua Hallock (Jimmy Hunt) and his Father Zachary (Joel McCrea) are searching for a farm they can buy and call home. The Hallocks have left Kansas after the death of Zachary's Wife and come across a town called Timberline. Zachary goes to the bank to see if they have any property for sale and as luck would have it they have an old, run down farm available. Whilst Zachary is in the bank a robbery takes place which is witnessed by Joshua. A shoot out occurs and the Sheriff is killed but not before Joshua notes a red star on the boot of one of the killers. Apparently these robbers have been terrorising the town and the surrounding areas for some time and now with the Sheriff dead the folks of Timberline will have to look out for themselves. After the robbery Zachary and Joshua go and see the farm they are thinking of buying. It comes at a cheap price and that is because the place is rather dilapidated but as Zachary does not have much money they decide to buy it. Zachary and Joshua work hard in fixing up the farm and one morning Zachary suggests to his Son that he is thinking about buying two riding horses, one each, once they have reaped their first harvest. Joshua is excited at the news and wants to go over and pick out the horses now. Zachary agrees. Once at the horse ranch they meet George Hadley (Charles Drake), the owner of the ranch. Hadley agrees to let Zachary and Joshua take the horses they want now and to pay Hadley in grain after their first harvest. Zachary and Joshua ride the horses back and when they get back to the farm Joshua realises that his dog could not have kept up with them on the ride and goes back to retrieve his dog. Joshua finds his dog but as he does so he witnesses a murder. Two men murder another man and Joshua recognises one of the killers by the red star on his boot. Joshua runs back to inform his Father of the murder but is witnessed doing so by one of the murderers. Zachary accompanies Joshua back to the site of the murder and then tells his Son that he is not to tell anyone about this. Zachary just wants a quiet life on his farm and Zachary feels that by telling anyone about it will bring danger to his door. Joshua now thinks that his Father is a coward. Later that evening Hadley arrives with a posse. The posse are the regulators who are in charge of keeping Timberline safe. They have discovered the corpse of the man Joshua saw murdered earlier that day and want to know if either Zachary or Joshua heard anything. Zachary tells the men that neither he nor the boy heard anything and Joshua's contempt for his Father grows. A few days later and Zachary and Joshua attend a church meeting. After the meeting Zachary asks Sarah Jane Skaggs (Barbara Hale) to marry him and she agrees. Some weeks later Zachary and Joshua's first grain crop is ready and Zachary loads up the grain they owe Hadley for the horses onto the wagon for Joshua to deliver. One the way to Hadley the two murderers from earlier shoot at Joshua's horses scaring them and causing the wagon to overturn and the grain to be ruined. Back at the farm Zachary is crestfallen. With the loss of grain he will have to give the riding horses back and now he also has no wagon nor working horses. He is so broke that he is going to struggle to keep himself and Joshua from starving not to mention Sarah. He offers to end it with Sarah but she rebukes him and tells him she is happy to wait to marry him until he feels he can financially afford it. Later that evening Zachary is visited by the two murderers, brothers named Jonah and Gus Varden. They tell Zachary that because neither he nor Joshua told the regulators about the murder they are willing to make him an offer. They have heard about how the grain was ruined and if Zachary is willing he can join up with them to do a bank robbery. If they are successful the robbery will net Zachary enough money that he won't have to worry about farming for a year and he will be able to marry Sarah Jane immediately. Zachary agrees to help them but not everything is what it seems to be.

'The Lone Hand' is not your common, 'garden variety' of Western and that is what makes it so appealing. What seems like a relatively straight forward story takes an excellent turn during the final act of the movie and the pay off is well worth the wait. The story is narrated by Joshua and he indicates from the very beginning that it's the story of how his Father, Zachary turns bad. Considering Zachary is played by the amiable Joel McCrea one finds this hard to believe and that was enough to keep me watching. McCrea plays his character like he plays every character and that's not such a bad thing. Clint Eastwood and John Wayne basically had pretty much one style of acting and, like them, you know exactly what you're getting with McCrea. As seems to be the case in plenty of McCrea's westerns his love interest looks far too young for him but if you can overlook this minor matter 'The Lone Hand' is a pretty good western with a slightly unusual twist. George Sherman directs with a capable hand and the scenery is put to good use with plenty of sweeping meadows and imposing mountains.

Video


Simply Media present 'The Lone Hand' in it's original aspect ratio of 1.37:1 The picture is a little soft especially in long shots and the colours are most definitely faded. Whilst the film has had little or no restoration work done on it the print is in pretty good shape. There are one or two minor blemishes visible, noticeably 'cigarette burn' type marks but otherwise it is generally free from scratches and dirt. There is a small amount of grain visible but nothing too distracting.

Audio


The soundtrack is available in English language Dolby dual mono only. Whilst it lacks any real punch it's perfectly acceptable and dialogue is clear throughout. There are no subtitles of any kind available on the disc.

Extras


None.

Overall


'The Lone Hand' is an enjoyable western with a unusual plot turn in the final twenty minutes. Whilst not exactly unique is does make the movie stand out from the usual western fare of the 1950's. Joel McCrea is, as always, solid and dependable in the main starring role and Jimmy Hunt who plays Joshua (and who also starred in 'Invaders From Mars') is capable foil for his screen Father and the rest of the cast are good with no bum notes standing out. An enjoyable film if westerns are your shot of whiskey.
| | | | | |
| --- | --- | --- | --- | --- |
| The Film: B+ | Video: C+ | Audio: C+ | Extras: F | Overall: C+ |

---
DVD Compare is a participant in the Amazon Services LLC Associates Program and the Amazon Europe S.a.r.l. Associates Programme, an affiliate advertising program designed to provide a means for sites to earn advertising fees by advertising and linking to amazon.co.uk, amazon.com, amazon.ca, amazon.fr, and amazon.de.