The Film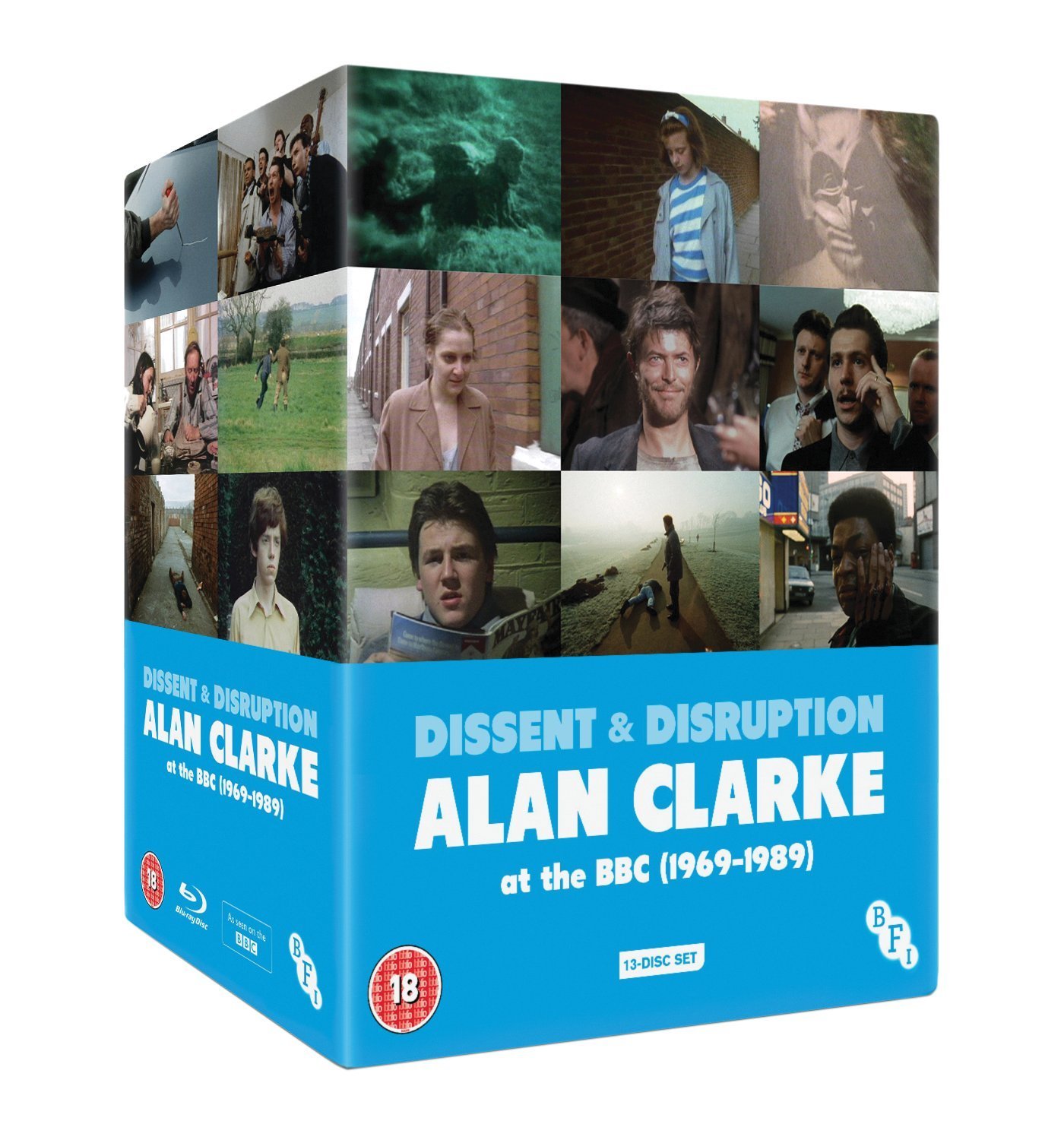 BFI is releasing the highly ambitious and anticipated Dissent and Disruption: Alan Clarke at the BBC. There is a choice of the following:

- Dissent and Disruption: Alan Clarke at the BBC (1969-1989) - a 13 disc set of 11 Blu-rays and 2 DVDs.
- Alan Clarke at the BBC Volume 1: Dissent (1969-1977) - a 6 DVD set.
- Alan Clarke at the BBC Volume 2: Disruption (1978-1989) - a 6 DVD set.

Due to the massive amount of the content, the set will be covered in 13 separate reviews, which later will be combined into a singular review after the completion of all 13 reviews.

This review covers DISC FIVE of the "Dissent and Disruption" set.

"A Follower For Emily" (1974) (63:39)

Emily (played by Betty Woolfe) talks about how in her youth she had many "followers" - male suitors here and there, something to brag about but the years have passed on. She got married, had kids, and now a few decades later she lives along many other nursing home residents and among them is Harry (played by Herbert Ramskill). Emily and Harry occasionally sneak a bit of whiskey, have small talk, and are the talk of the nursing home to the other residents there. The two of them decide to take their innocent and quaint relationship one step further - by getting married which makes everyone in the nursing home - residents and nurses alike, extremely delighted.

"A Follower For Emily" was shot in an actual nursing home with a large cast of characters, with Alan Clarke directing and written by Brian Clark. The production plays like a Steven Soderbergh multi-angle movie on a miniscule scale - there are multiple subplot stories of the many residents of the nursing home - talking of their past, their families, and some losing their minds to dementia such as poor Mrs. Brown (played by Jeanne Doree). But the production is one that surprisingly falls flat due to its realistic stance. Playing like a documentary, nothing especially exciting or dramatic plays out in the production and while the audience waits for increased drama, there is not much to be had. Did we cut into a feed of the CCTV of a nursing home? The static cameras and standard lighting makes it seem so. With other geriatric themed films such as Pixar's "Up" (2009) or the underrated animated film "Wrinkles" (2011), where the essence of aging alone and the friendship bond of the elderly are very central to the emotional core, "A Follower For Emily" is too much surface and not enough core. You barely feel for the characters as they cut back and forth every few minutes to other characters in unnecessary and uninteresting plots - possibly to pad out the runtime. In a positive note, there is a sense of sadness that this is where the audience will eventually lead their lives to - and it's not pretty, exciting, and quite scary to think in realistic terms. But other productions like the aforementioned "Wrinkles" do a much better job with real heart and soul (even if it is animated).

"A Follower For Emily" aired as part of the "Play for Today" series on BBC on July 4th, 1974, and reactions were quite mixed. Audiences felt that it was more like a documentary and not a drama at all. Some felt it was simply boring or uninteresting. Considering the career of Alan Clarke and his work, it is an interesting point to see him doing work completely different from the last in terms of storytelling and visual style - in which this production had not much at all in visuals. It certainly is a creatively low production, and a lower point for the collection.

"Diane" (1975) (96:31)

Diane Weaver (played by Janine Duvitski) is a teenage girl living with her single father. She is an awkward girl with is picked on a bit by the local boys, though there is one particular boy who sees her through romantic eyes. Jim (played by Paul Copley) is nice to her, innocently asks her for kisses, but is a church youth who does not want to take things further because of his faith. He asks Diane to watch him play soccer with his team and also to go the church with him, but she is not keen on him as much as he is to her. Diane's father (played by Frank Mills) is a stern, angry, and bitter old man with a bad combover. He often yells at the boys in the area and he is very stern with his only daughter. Diane has a deep secret in which she doesn't know how to reveal or who to reveal to, but in turn would change many of the lives around her.

"Diane" was originally a two-part production but was condensed into a single production due to a strike and with production schedules. Although much of the dialogue and central elements were kept by director Alan Clarke, the writer Jonathan Hales was displeased with the result to have his name removed from the final credits and replaced with "David Agnew" - the "Alan Smithee" of BBC productions. "Diane" was a production that dealt with a very disturbing subject rarely mentioned or thought of in filmed productions. (Warning that it is impossible to discuss the rest of "Diane" without a major spoiler point and the rest of this paragraph will be with spoilers throughout.) "Diane" deals with the disturbing topic of incest. The image of Diane and her father having a relationship beyond that of a traditional parent and child is horrifying to say the least, and to add to that is she becomes pregnant with his child whom she gives birth in secret, but the baby is stillborn. The reveal is not like a modern Lifetime Movie of the Week, but is done in a very restrained way that it makes you question the previous scenes just watched. Why was the father so mean towards other boys? Why did Diane get so angry at Jim calling him names? What did she throw away in the dumpster? - The answer to the last question is disturbingly obvious. Nothing is shown in graphic detail, and when Diane describes about what happened to the pastor Terry (played by Tim Preese), she is absolutely innocently nonchalant. She is not disturbed, she is not angry. She is more confused that something seemed wrong to the eyes of others. She is a young girl with a messed up moral compass due to her upbringing and like many other real victims, is not sure because that is how they were raised.

"Diane" was first broadcast on July 9th, 1975 as part of the "BBC2 Playhouse" series. Even if the writer wanted his name off the credits, "Diane" was a fascinating, disturbing, and amazing piece of work. Janine Duvitski was 22 during the production while playing a teenager, and even if she did look a little older, she does an amazing job with a girl going through unfathomable circumstances. Paul Copley was 30 and looked his age, so playing a love interest to a teenager is a bit disturbing on the physical side, but leave that to suspension of disbelief. Besides the great performances, it was Alan Clarke's direction that started to mature further. Being shot on film, the camera had freedom with movement, but Clarke used both moving camera shots along with still shots - for extremely long periods. Some static shot scenes last for a very long 5 minutes or so with the actors continuously playing, like on stage. "Diane" is one of the more disturbing and upsetting productions in Clarke's works and that is fascinating considering how non-graphic it is visually and with only the implied facts.

Very fascinating to see that the two Clarke productions on this disc present a mirror opposite - one being a creatively low video production dealing with the disenchanted elderly and the other being an amazing emotional film production dealing with a broken youth.

Note this is a region B Blu-ray which can only be played on region B or region free Blu-ray players

Video


BFI presents the productions in 1080i 50hz in the original televised aspect ratio of 1.33:1 in the AVC MPEG-4 codec. As these were UK TV productions broadcast in the 25fps PAL format, the films are transferred in the 50hz signal to preserve the PAL runtime.

"A Follower For Emily" was transferred from a digibeta copy of the original 2" PAL transmission tape and it is one of the worst looking productions in the set. True the production looks incredibly plain with flat colors and production values, the video source has its problems. There is constant analogue snow on the image and the video source seems a generation removed compared to some of the other video transfers. The usual problems of video are evident, with color bleeding, faded colors, and limited clarity.

"Diane" was transferred in HD from the 16mm transmission print and looks good. Granted it was not a very colorful production with lots of browns and greys mirroring the bleak subject, there are no problems with dust, specs, or scratches on the print. Gatehairs are non existent and film grain is always present. A very good transfer of the film.

Audio


English LPCM 2.0 mono
The original mono tracks are presented in lossless mono sound. The audio sounds very good with no troubling instances of hisses or pops. Dialogue is always clean and clear, but considering the low budget sources, the audio sounds very good. "A Follower For Emily" has some fidelity issues and tinny audio in scenes but there are no major issues with clarity of dialogue. "Diane" has some background noise prevalent in almost all scenes, but this is essentially how the audio sounded on location.

There are optional English HoH subtitles in a white font for the productions.

Extras


Audio commentary on "Diane" with Janine Duvitski and Richard Kelly
Writer Richard Kelly moderates actress Janine Duvitski in this newly recorded commentary. Duvitsky talks about how she was much older than the character, the rehearsal process, the long takes used, and how she loved working with Clarke. Duvistski never got to play in another Clarke production, but when Clarke needed a young boy in "The Firm" (1988), they called Duvitski who had a young son, and he was cast as little Sammy.
in English Dolby Digital 2.0 with no subtitles

"Alan Clarke: Out of His Own Light" documentary (Part 5) (8:13)
The newly created 270-minute documentary on Alan Clarke has been divided into 12 parts with each part covering the productions reflected on the first 12 discs of the "Dissent and Disruption" boxset. Part 5 covers the two productions on DISC FIVE. Discussed is how filmmakers - both directors and actors were able to make productions of differing genres and styles very easily. Duvitski is also interviewed on camera about "Diane", though much of the information is already partially covered in the commentary track. The entire 270 minute documentary is comprised of interviews with 50 people who worked with Clarke, knew Clarke, and looked up to Clarke. The interviews come from wildly differing sources. Some are slighty old 1.33:1 standard def video, some are hi-def 1.78:1 video. Some are lit too brightly, some are a bit dark. Some have clear dialogue, some sound echoey. It's very inconsistent in how it looks and sounds edited together, but presentation wise, it is top notch.
in 1080i 50hz AVC MPEG-4, in 1.78:1, in English LPCM 2.0 with no subtitles


Packaging


The "Dissent and Disruption" 13 disc set includes a 200 page booklet with essays, photos, credits, and film information. "A Follower For Emily" has an essay by BFI curator Lisa Kerrigan and "Diane" has an essay by Lizzie Francke, a Senior Production and Development Executive at the BFI's Film Fund. Also listed are full film credits, extras credits, and restoration information.

Note the extras score of B represents this disc only and not for the entire set and the overall score of A+ is for the entire set.

Overall


BFI's work on the thirteen disc "Dissent and Disruption" (1969-1989) set is nothing less than an amazing collection of works by one of the most controversial and influential directors who pushed the boundaries of broadcast television. Absolutely recommended.
| | | | | |
| --- | --- | --- | --- | --- |
| The Film: D+ | Video: C | Audio: C | Extras: B | Overall: A+ |