Melvin and Howard
R2 - United Kingdom - Simply Media
Review written by and copyright: Matthew Crossman (4th July 2016).
The Film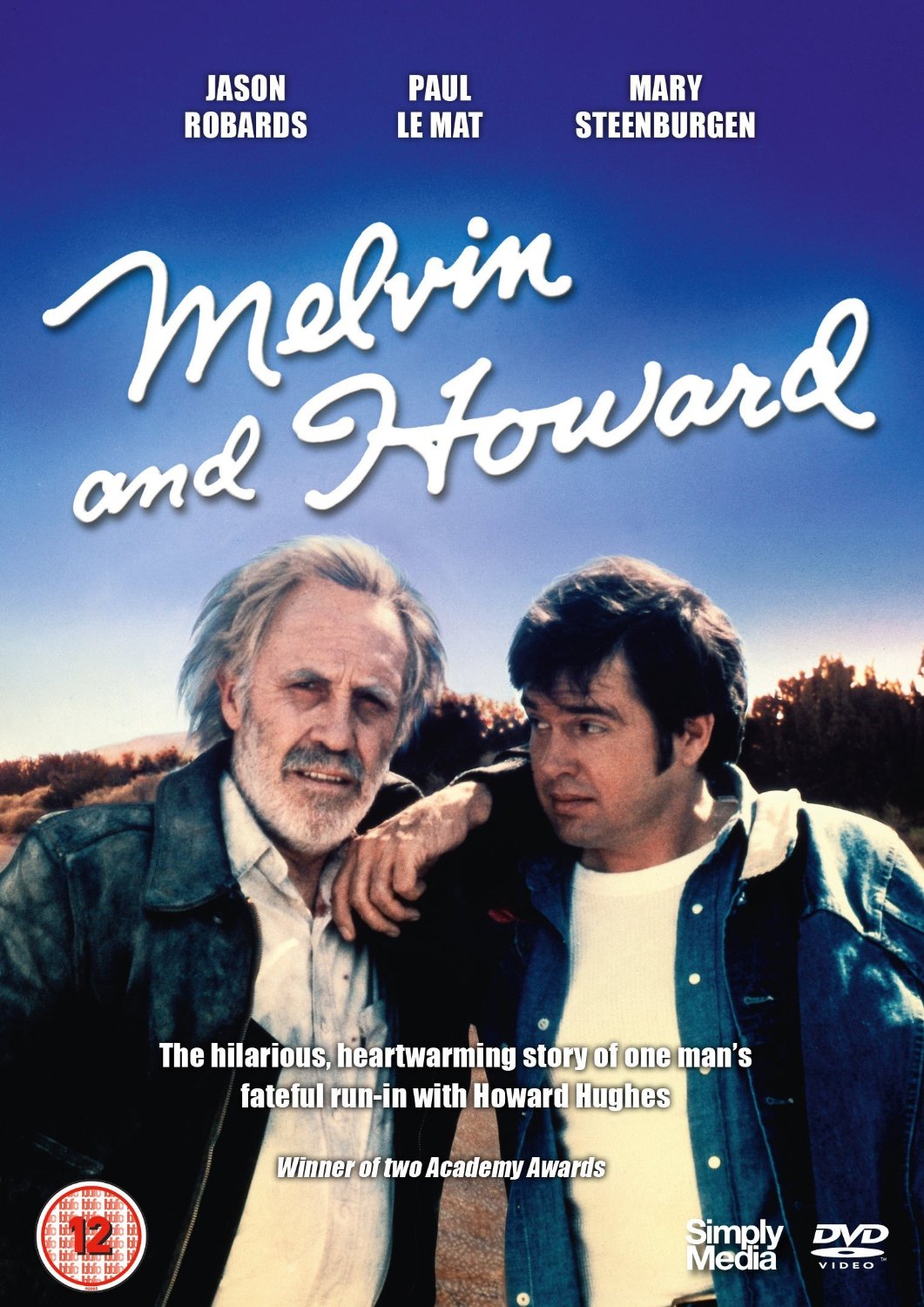 Melvin Dummar (Paul le Mat) is driving home through the Nevada desert after doing a nights work at a magnesium mine. Melvin stops briefly to urinate and as he gets back into his truck he sees a figure lying prone on the floor. It's an old man whom he helps into his truck. The old man tells Melvin that his name is Howard Hughes (Jason Robards). Melvin does not believe him but the two pass the time in Melvin's truck by singing some songs, much to Howard's annoyance but having to as the other option is walking. Howard asks Melvin to drop him off in Las Vegas which Melvin does before going home. Home for Melvin is a ramshackle trailer where he lives with his Wife Lynda (Mary Steenburgen) and his daughter Darcy (Elizabeth Cheshire). As Melvin sleeps his truck is repossessed and for Lynda this is the last straw. She leaves Melvin taking Darcy with her. The man Lynda runs away with later beats her and leaves her in a motel room. Lynda realises she has to get a job but Darcy misses her friends and her Father. Lynda puts Darcy on a bus back to her Father and gets a job as a stripper. Melvin manages to track Lynda down to the strip club in Reno where she is working and after creating a scene Melvin gets thrown out of the club and Lynda is fired. Lynda then manages to get another job as a waitress in another strip club but is fired from this job too when Melvin once again turns up and creates a scene by handing her divorce papers. Some months later Lynda telephones Melvin. She is heavily pregnant and Melvin tells Lynda he wants to re-marry her. This they do and soon after Lynda gives birth to a Son. Melvin now works as a milkman and is successful at it but still the couple are living on the boundaries of poverty and Melvin and Lynda's car is repossessed. Melvin then has the idea that Lynda could go on the game show that the family always watch called 'Easy Street' with the hope that Lynda could win them thousands of dollars. Lynda performs a tap dancing routine. Despite being initially booed by the audience, the same audience that will decide who wins the grand prize, Lynda wins them over and wins the top prize of a piano, some living room furniture and $10,000. Despite Lynda's best attempts to control the families finances in check Melvin squanders the money on a new car and boat. Lynda then leaves Melvin for the second time taking both children with her. Melvin is comforted by the payroll clerk, at the diary where he works and the two eventually end up getting married. Melvin and his new Wife then take to running a gas station and then one day a mysterious man driving a limousine stops by the station and after buying a packet of cigarettes leaves and it is only then then Melvin realises that the man has left behind an envelope which is marked 'The Last Will and Testament of Howard Hughes'.

Directed by Jonathan Demme (Silence of the Lambs) in 1981 'Melvin and Howard' went on to garner a raft of critical acclaim. Not only did Mary Steenburgen win Best Supporting Actress at the Oscars but the film also won National Society of Film Critics Award for Best Film. Robards and Steenburgen would also go on to receive many nominations for their performances, and in Robards case this was for little more than a cameo. Despite Howard Hughes name taking up one third of the words of the title Hughes played by Robards features very little. Instead this film is all about Melvin and the ups and downs of his life. Paul le Mat is very good as Melvin. He portrays the titular character as a simple soul but an honest and hard working one. At the conclusion of his meeting with Hughes at the start of the film Hughes asks Melvin if he has any money. Melvin has very little, a few coins and nothing more but he offers it up to Hughes without a second thought such is his generosity. It's even more telling that as Melvin pulls away from the kerb in the truck that is soon to be repossessed Hughes tosses the coins into the street. The film, is has to be said, is slightly odd. The scenes are often played out as episodic in nature and time passes in the film, sometimes months, without barely a mention. Steenburgen's character goes from being a waif like stripper in one scene and then next time we see her she is eight months pregnant but in many ways this is the charm of the film. Nothing is spelt out for the audience and we have to have a fair degree of concentration to follow it's relatively simple story line. The cast is well rounded out with familiar faces (even if the names do escape you, names such as Martine Bestwick and Joe Spinell) and the production overall is to a high standard. The film struggles to settle down to a defined drama, and that's not such a bad thing. Not quite kitchen sink drama, although there are moments of it, and not quite comedy either although there are some humorous portions but nothing laugh out loud. 'Melvin and Howard' is certainly not a bad film but it never quite hits the lofty heights for which you feeling it was aiming for either.

Video


Simply Media's DVD of 'Melvin and Howard' presents the film in it's original anamorphic aspect ratio of 1.85:1. The picture quality is certainly not stellar, with a light grain present throughout and a rather soft image in many places. The colours presented are a little on the dull side and whilst this DVD is a step up from VHS quality it's not a huge leap by any stretch of the imagination.

Audio


The soundtrack provided is Dolby Digital stereo. The dialogue is nice and clear throughout with hardly any hiss discernible during the more quite moments of the film. Their are some decent songs on the soundtrack from around the era that the film portrays (such as The Rolling Stones (Can't Get No) Satisfaction) and these come through very nicely. There are no subtitles available on this disc.

Extras


None.

Overall


One hesitates to use the word 'quirky' when describing movies but 'Melvin and Howard' definitely has a quirky feel to it. This is not a bad thing and reminds me of a time when Hollywood would occasionally take a chance on a slightly offbeat subject rather than just regurgitating the same old rubbish through a series of sequels to a vaguely popular film. This is an actor's film and shows in the performances and is well worth a look.
| | | | | |
| --- | --- | --- | --- | --- |
| The Film: B | Video: C | Audio: B | Extras: F | Overall: B- |

---
DVD Compare is a participant in the Amazon Services LLC Associates Program and the Amazon Europe S.a.r.l. Associates Programme, an affiliate advertising program designed to provide a means for sites to earn advertising fees by advertising and linking to amazon.co.uk, amazon.com, amazon.ca, amazon.fr, and amazon.de.