The Film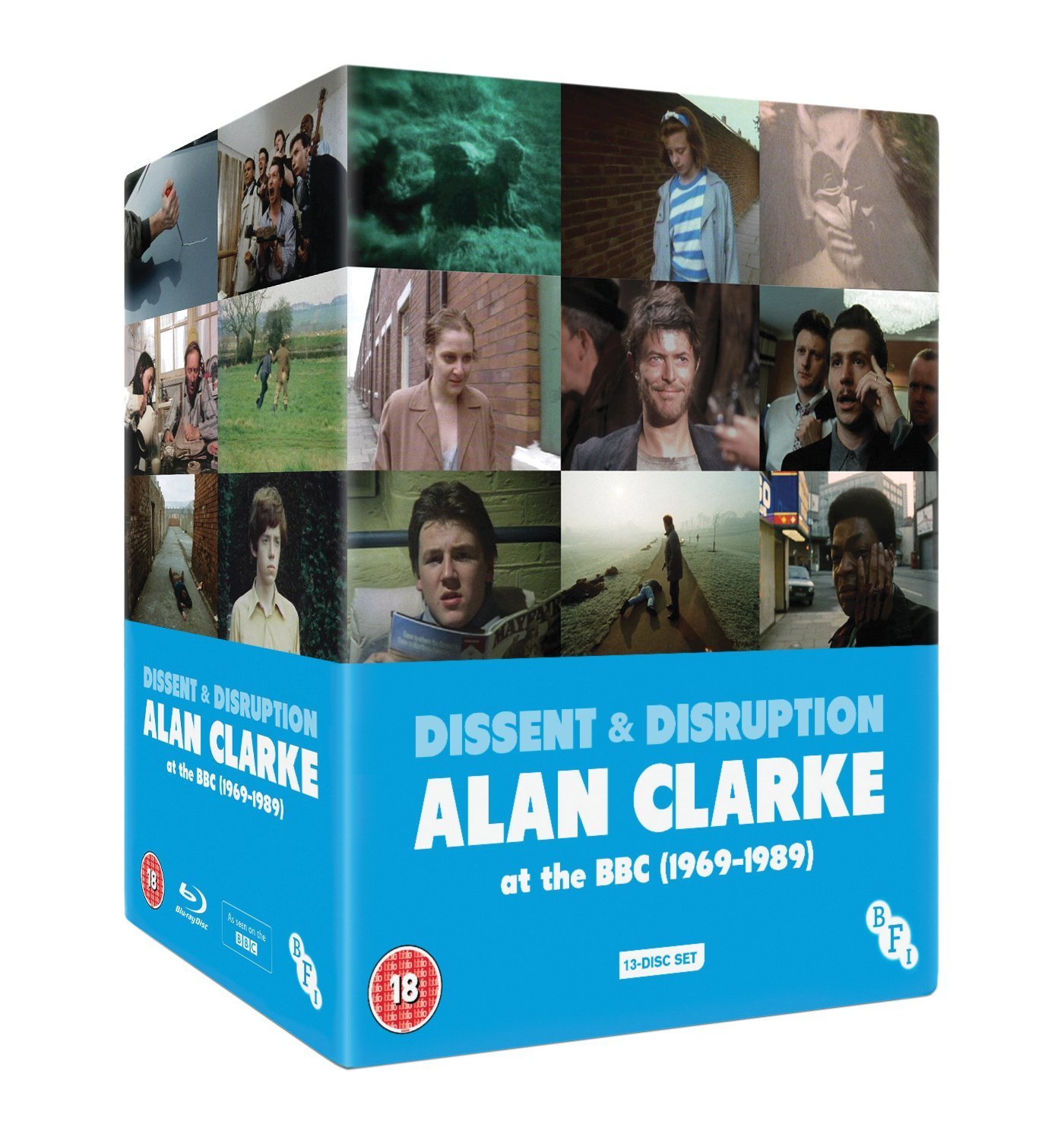 BFI is releasing the highly ambitious and anticipated Dissent and Disruption: Alan Clarke at the BBC. There is a choice of the following:

- Dissent and Disruption: Alan Clarke at the BBC (1969-1989) - a 13 disc set of 11 Blu-rays and 2 DVDs.
- Alan Clarke at the BBC Volume 1: Dissent (1969-1977) - a 6 DVD set.
- Alan Clarke at the BBC Volume 2: Disruption (1978-1989) - a 6 DVD set.

Due to the massive amount of the content, the set will be covered in 13 separate reviews, which later will be combined into a singular review after the completion of all 13 reviews.

This review covers DISC NINE of the "Dissent and Disruption" set.

"Psy-Warriors" (1981) (73:08)

Three people are brought into a military prison following a bombing that killed six people. Stone (played by John Duttine), Turner (played by Rosalind Ayres) and Richards (played by Derek O'Connor) are the suspects that go through torturous interrogation and humiliation and not given any basic rights the average prisoner would receive. They are constantly yelled at by the guards during every little step, barely given time for sleep, their heads frequently covered with a black cloth bag, and constantly in bright white environments. The prisoners are reluctant to give out information to the guards who do not tell them much information - as to where they are and what would happen to them. But when a breaking point comes near, a huge revelation comes that they are not in fact suspects for the bombing at all…

"Psy-Warriors" was written by David Leland in his second writing collaboration with director Alan Clarke. Partially a critical look at military interrogation from the stories of interrogation in the Vietnam War as well as the IRA in Northern Ireland, the production was visceral, unflinching, and shocking. The white-walled area is not the usual dirty prison but similar to that of a hospital setting, and the cleanliness and brightness make a stark clash with the horrifying torturous acts.

Spoilers are to follow from here
It's hard to discuss "Psy-Warriors" without revealing the twist halfway through - that the prisoners are not in fact prisoners but they are fellow soldiers having been put through an experiment in psychological warfare. The "The Manchurian Candidate" twist is not a complete surprise, but how the soldiers interrogate using techniques seen or heard about at Guantanamo Bay and Abu-Ghraib are absolutely disturbing, especially for a television production. Even footage of the public execution of Nguyễn Văn Lém being shot in the head is also shown in full.

It's very strange to think that Clarke's "Scum" was banned by the BBC in 1977 but "Psy-Warriors" which was way more violent and disturbing was allowed to air. To add to the controversy, the production aired on October 12th, 1981 as part of the "Play for Today" series the day IRA prisoner Francis Hughes died following a hunger strike. He was the second of the prisoners to die - the first being Bobby Sands following a 66 day hunger strike a week before. Whether good or bad timing, the production did receive fair attention from critics praising the work and viewers disturbed with the content being so timely. It's one of Clarke's most visceral works and one that will give nightmares.

"Baal" (1982) (63:34)

Baal (played by David Bowie) is an artist, a poet, a musician, a womanizer - a man of "anti-society". Though he rejects the bourgeois society, it is they who want to publish his work. But fuck that! Baal does not care for the rich to get richer from his work, but instead he lives his life the way he wants and acts accordingly. Constantly with a scruffy bears, yellowed teeth, dirty clothes, and raggedy hair, he finds happiness by performing his poetry and music for the commoners of the town at the local pub and getting trashed more than anything else. Though many find his lifestyle morally decrepit and disgusting, he also feels that he has not had a true brush with happiness…

Based on the play written by German writer Bertoldt Brecht in 1918, Clarke's English language rendition of "Baal" was an experiment in theater and television. The sets are designed like stage plays - the rich bourgeois homes are decorated with beautifully fine details while the home of Baal and the pub are grimy and nasty with its details. The visuals are mostly static but the standout portions of the production are the splitscreen interstitials. Clarke had discussed using splitscreen for his production of "Danton's Death", but only came fully realized with "Baal". But rather than the visual style, the most talked about point of the production was the casting of David Bowie as the titular character. Bowie was at a crossroads in his career. As a musician Bowie's last studio album was 1980's "Scary Monsters", which was commercially and artistically fairly successful. At the time Bowie's manager was Tony Defries, who sneakily made Bowie sign a contract that would give management 50% of the royalties. In an order of defiance, Bowie made albums that were artistically creative but commercially unviable. His biggest hit at the time was the collaboration with Queen "Under Pressure" (1981), in which he didn't make a penny as he gave up all his rights to the song (for spite against Defries?). For acting, he was also not looking for commercial viability but an artistic one, which comes to "Baal". As there were similarities to Bowie's real life as a musician that went against convention, the substance abuse that led to a personal downfall, and his standard for anti-commerciality are like mirror images. But as for the play and the language, Bowie owns it. His performance as Baal is dirty, sexy, and soulful while being able to use his vocal chops for song performances and interstitials. Though real life would prove much different later - as the character of Baal would die alone in the woods unknown while Bowie would die at the age of 69 earlier this year with millions mourning his passing.

In addition to the production airing on March 2nd, 1982 on BBC, Bowie also released an EP of compositions entitled "David Bowie in Bertolt Brecht's Baal" a month prior, with very good reviews for both the televised production and for the 5-track EP, even though the EP had no particular "hits". Bowie was able to add yet another uncommercial disc to his discography, and it almost seemed like this was planned. The following year in 1983, his contract with manager Defries expired, which gave him the option to move to a better recording contract. He settled with EMI records and released "Let's Dance" that year, which became Bowie's biggest selling album to date with multiple hit singles and resurgence in his career finding a new pop audience. Some called it "selling out to the masses" while Bowie probably saw it as a big middle finger to his former manager thinking "You're not getting any of this!"

For years "Baal" was one of the rarest pieces in Clarke's and Bowie's filmographies. The EP was easily obtainable but most people who bought the record were not familiar with the television play that accompanied it. Thankfully with rights negotiated it is finally able to be seen on home video with the release of the "Dissent and Disruption" collection.

Following the disappointing works on the previous disc, the ninth disc in the set contains some of Clarke's best works, and least seen.

Note this is a region 2 PAL DVD which can only be played back on region 2 DVD or Blu-ray players or region free DVD or Blu-ray players.

Video


BFI presents the productions in the original televised aspect ratio of 1.33:1 in the PAL format. As these were UK TV productions broadcast in the 25fps PAL format, these presentations are the most accurate in timing. First of all, yes this is a DVD disc. The 13-disc collection is made of 11 Blu-ray discs and 2 DVDs. The ninth disc in this collection is a standard DVD which may irk some purchasers as to why this was relegated to DVD and not Blu-ray like the other productions. Considering that both productions were shot on standard definition PAL video format, upgrading the standard definition productions to high definition would not necessarily increase the quality that much, and so these have been relegated to a standard DVD.

"Psy-Warriors" and "Baal" were both transferred from digibeta copies of the original 2" PAL transmission tapes. There are the usual video tape troubles of color bleeding and minor errors. The white walls of "Psy-Warriors""Baal" look very good considering the sources. "Baal" is ever so slightly windowboxed with think black lines on the top and bottom.

Audio


English Dolby Digital 2.0 mono
The original mono tracks are presented in lossy Dolby Digital mono sound, unlike the Blu-ray discs which had lossless LPCM tracks. Regardless, the audio sounds very good with no troubling instances of hisses or pops. While there are a lot of scenes of yelling and screaming in the first production, there are no instances of mic errors or distortion, thankfully. Some may lament that David Bowie's voice is not available in lossless audio, the Dolby tracks actually sound quite fine, if nothing special.

There are optional English HoH subtitles for the main features in a white font.

Extras


"Alan Clarke: Out of His Own Light" documentary (Part 9) (19:08)
The newly created 270-minute documentary on Alan Clarke has been divided into 12 parts with each part covering the productions reflected on the first 12 discs of the "Dissent and Disruption" boxset. Part 9 covers the two productions on DISC NINE. David Leland gives some insight into the "Psy-Warriors" and the controversy while playwright Simon Stephens gives his thoughts on "Baal"/ Stephens claims that Clarke's rendition of the Brecht play is arguably the best version he has seen, with the hard-to-translate dialogue being done very poetically with the impeccable performance by Bowie in the lead. The interviews come from wildly differing sources. Some are slighty old 1.33:1 standard def video, some are hi-def 1.78:1 video. Some are lit too brightly, some are a bit dark. Some have clear dialogue, some sound echoey. It's very inconsistent in how it looks and sounds edited together, but presentation wise, it is top notch.
in PAL, in 1.78:1, in English Dolby Digital 2.0 with no subtitles

That's all. No commentaries, no other extras on this particular disc.

Packaging


The "Dissent and Disruption" 13 disc set includes a 200 page booklet with essays, photos, credits, and film information. "Psy-Warriors" includes an essay by BFI curator Mark Duguid and "Baal" has an essay by film critic and programmer Ashley Clark. Also listed are full film credits, extras credits, and restoration information.

Note the extras score of C- represents this disc only and not for the entire set and the overall score of A+ is for the entire set.

Overall


BFI's work on the thirteen disc "Dissent and Disruption" (1969-1989) set is nothing less than an amazing collection of works by one of the most controversial and influential directors who pushed the boundaries of broadcast television. Absolutely recommended.
| | | | | |
| --- | --- | --- | --- | --- |
| The Film: A | Video: B | Audio: B | Extras: C- | Overall: A+ |