The Film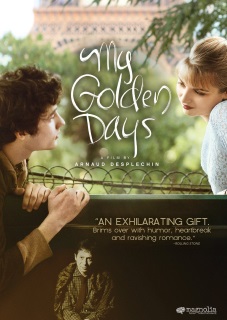 After more than a decade of self-exile from his native France, anthropologist Paul Dédalus (The Lines of Wellington's Mathieu Amalric) makes his return from Tajikistan to work in the Ministry of Foreign Affairs. Upon his return to France, he finds himself summoned by the Secret Service (personified by Tell No One's André Dussollier) to clarify the existence of another Paul Dédalus with the same birthday and place of birth, an Australian resident who applied for an ID card at the consulate in Tel Aviv some time after a theft claim for his passport was filed with Russian authorities in Paul's handwriting. This discovery leads him to recall his high school trip to Minsk in which his teenage self (Quentin Dolmaire) and his then-best friend Marc Zylberberg (Elyot Milshtein) delivered at sachet of money and documents to a group of "refuseniks" (Russian Jews refused permission to emigrate to Israel) and he faked a mugging and the theft of his passport in order to allow young Nathan (Kheifets Gregory) means of getting out of the country. Although the matter is apparently cleared up, correspondence from a former friend soon has Paul poring over the letters documenting the great love of his life and triggering the film's lengthiest flashback. Paul has started studying anthropology at a university in Paris but comes home to Roubaix to visit and finds his younger brother Ivan (Raphaël Cohen) having narrowed the scope of his once precociously boundless knowledge to the Bible while also planning a bank heist with his "cousin" Mehdi (The Night Watchman's Yassine Douighi), his sister Delphine (Quantum Love's Lily Taieb) a perpetual wallflower, cousin Bob (Among the Living's Théo Fernandez) looking to rebel against his parents, old friend Kovalki (Pierre Andrau) brooding more so than ever, and Delphine's friend Pénélope (Clémence Le Gall) still carrying the torch for him even though he only has eyes for their alluring classmate Esther (Lou Roy-Lecollinet). Although the girl is purported to be easily attainable, Paul's own lack of aptitude as a "pick up artist" prevents him from realizing that she finds his interpersonal awkwardness charming and his above-her-head intellectualizing fascinating. After getting beat up by one (out of three) of her boyfriends after walking her home from a party one night, Paul returns to Paris to pursue his studies more seriously by transferring schools and attempting to charm his way into a kinship anthropology course taught by Professor Behanzin (Eve Doe-Bruce). Although he does not get in right away, he is up to the challenges she sets for him and even finds his way into Esther's bed or, rather, they find their way into his father's (Midnight in Paris's Olivier Rabourdin) bed the next time he visits home. Although Paul and Esther write each other faithfully when he is away, the distance takes a toll on them with Paul falling into bed with intellectually-stimulating Gilberte (Metamorphoses' Mélodie Richard) – to which Esther ascents, and Esther going out with various men and compulsively sleeping with Paul's cousin and broody best friend which fuels Paul's rage.

A loose assemblage of narratives, My Golden Days is ostensibly a prequel to director Arnaud Desplechin's My Sex Life... or How I Got Into an Argument (1996) but it really is just another gorgeously-photographed – by Irina Lubtchansky (Around a Small Mountain), daughter of cinematographer William Lubtchansky (La Belle Noiseuse) and editor Nicole Lubtchansky (Va Savoir) – and -cast enactment of the young French intellectual embroiled in an amour fou with the usual French embellishments – cafes, coffee, cigarettes, youth hostels, couch-surfing, garret apartments, and Paris with the Eiffel Tower in the background of virtually every two shot of the lovers – to romanticize a rather dreary narrative. Esther is drawn in by Paul's empty intellectualism – he compares her alternately to the nurturing Venus and the vengeful Diana and himself to Acteon torn apart by her dogs – while Paul seems to secretly bask in Esther's depressive states when she is without him in somewhat the same manner in which he avoids his father while blaming him for his depressive state at being unable to get over the death of his wife, a woman so unhinged Paul lost any sort of affection for her by age eleven and transferred all of his motherly affection to his grandmother ('s ) and subsequently his professor. Performances are engaging, but a certain unevenness in direction and casting is evident. Both Dolmaire and Antoine Bui, the actor who plays the adolescent Paul during the first and shorted segment of the film, give surprisingly assured but very "directed" performances while Amalric gives a more free-wheeling interpretation (having played the character in a younger form though not quite so young as Dolmaire's). It is also hard not to notice that Bui shares strikingly similar facial features to Amalric while Dolmaire (dreamy as he is) does not look remotely like either; however, Dolmaire occupies the screen for most of the time accompanied by third person narration so it is easier to accept that he is Paul. If Roy-Lecollinet seems like a fleshy cipher, then it is perhaps appropriate because we see her from Paul's perspective and interpret her letters through him even though they are read by her; that said, the young cast as a whole are impressive with what they have to work with and one can almost sense that they are all being groomed to become tomorrow's French stars. The film ultimately takes us nowhere new as far as messed-up stories of first love, but Paul's rambling assessment of his relationship with Esther (directed at a grown-up version of Kovalki played by Place Vendôme's Eric Ruf) cannot be too definitive perhaps since the film precedes My Sex Life…. The length of the film allows Desplechin to indulge in a number of cinematographic flourishes from sliding panels to an optical of an old-fashioned camera iris turning long shots into pseudo-close-ups or -medium-shots by blocking out the periphery to the camera which keep the imagery varied and eye-catching, while the epistolary nature of the plot often has Paul and Esther reciting their letters directly to the camera rather than in voice-over. My Sex Life…'s Esther Emmanuelle Devos (Read My Lips) makes no special appearance here, but she and Almaric had already reunited in Sophie Fillières's If You Don't, I Will.

Video


The progressive, anamorphic 2.40:1 widescreen image is given a fairly strong encode considering the length of film and other disc content. While there is a certain moody softness to the image, subtle facial imperfections under make-up are evident in close-ups on the younger actors and Amalric's features are just as lived-in as ever.

Audio


For such a dialogue-driven movie, the French Dolby Digital 5.1 track that keeps its surround field active with source music, score, pouring rain, and urban atmosphere. Optional English, English SDH, and Spanish subtitles are included.

Extras


Extras include Casting Session: Paul & Esther (4:23) in which Dolmaire and Roy-Lecollinet act out a scene from My Sex Life... or How I Got Into an Argument in front of a video camera. Two Pauls and Three Esthers: Meeting the Cast of My Golden Days (12:23) finds the two young actors discuss the process of finding their characters, with Dolmaire observing that Amalric was directly mimicking Desplechin and Roy-Lecollinet looking not only at Devos' version of the character in the earlier film but also other female characters in Desplechin's filmography. In A Conversation with director Arnaud Desplechin (14:23), the director discusses the structure of the film as three short films and how he felt he could best work with young actors through scripted dialogue rather than a more improvisational method like Larry Clark (Kids). The film's theatrical trailer (2:08) and previews for other Magnolia titles round out the package.

Overall


A loose assemblage of narratives, My Golden Days is ostensibly a prequel to director Arnaud Desplechin's My Sex Life... or How I Got Into an Argument but really just another gorgeously-photographed and -cast enactment of the young French intellectual embroiled in an amour fou with the usual French embellishments.