The Film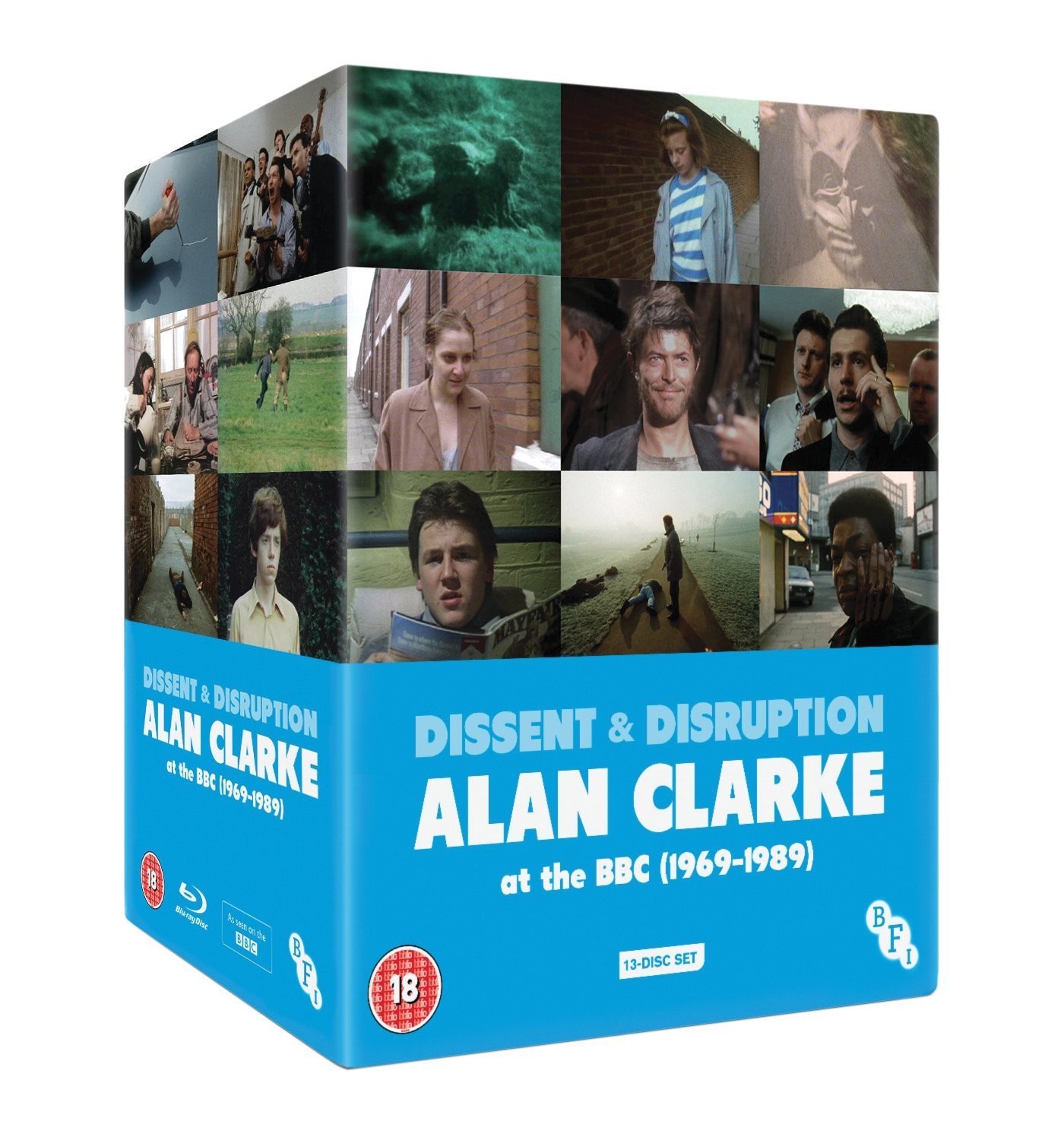 BFI is releasing the highly ambitious and anticipated Dissent and Disruption: Alan Clarke at the BBC. There is a choice of the following:

- Dissent and Disruption: Alan Clarke at the BBC (1969-1989) - a 13 disc set of 11 Blu-rays and 2 DVDs.
- Alan Clarke at the BBC Volume 1: Dissent (1969-1977) - a 6 DVD set.
- Alan Clarke at the BBC Volume 2: Disruption (1978-1989) - a 6 DVD set.

Due to the massive amount of the content, the set will be covered in 13 separate reviews, which later will be combined into a singular review after the completion of all 13 reviews.

This review covers DISC ELEVEN of the "Dissent and Disruption" set.

"Christine" (1987) (51:18)

Christine (played by Vicky Murdock), Eddie (played by Kelly George), Ben (played by Mark Harvey), Jessie (played by Joanne Mapp), and Eric (played by Anthony Smith) are average teens living in English suburbia. They get together, watch TV, listen to music, shoot up heroin, and talk about the usual and the casual. Wait… heroin? As nonchalantly described above, the kids do drugs on a normal basis just as casually as anything else and the film is an unflinching look at the behavior - the scenes of drug use are shown in detail: the boiling, the tapping of needles, the injections into the arms - nothing is left off screen. The most shocking aspect of "Christine" is that it doesn't do anything particular to shock. Other drug films like "Requiem for a Dream", "Trainspotting", and "The Panic in Needle Park" show the mental, physical, and emotional downfalls of the characters and consequences, with some visceral scenes using special effects, editing techniques, and disturbing audio envelop and shock audiences. "Christine" does nothing of the sort. There is never any serious drama between the characters and without consequence. Parents are never seen but mentioned on one or two occasions. Editing is very minimal with Steadicam shots lasting incredibly lengthy periods without cuts. Music is only used as background on whatever is playing on the kids' stereos.

Visually "Christine" is an incredible piece with freedom of the 360 degree movement of the camera, following characters inside and outside of their homes, showing both technical skill and a sense of true environment in the suburban town. The actors play their parts with minimal dialogue that only concerns with their thoughts of then rather than a structural story, like a documentary rather than a scripted teleplay. Alan Clarke directed the production and co-wrote with Arthur Ellis and certainly has a similar feel to his later production "Elephant" (1989) - with long tracking shots and minimal dialogue, and also with his previous production of "Stars of the Roller State Disco" (1984) - with again long tracking shots and the youth atmosphere. The production does not give explanation or answers. Where are the kids getting the drugs? Where are the parents? Why isn't anything being done? These are not things the short production preaches, but it is something that is embedded into the minds of viewers. Drug use by the middle class was rising in the 1980s and "Christine" reflects it head on. The main characters are not given enough background for audiences to particularly know or care for them, but like in reality if we don't really know these kids - do we really care what happens to them? It may only be a telefilm, but it's equally a wakeup call to society. "Christine" first aired on BBC as part of the anthology series "Screenplay" on September 23rd, 1987.

"Road" (1987) (62:30)

Dramatist/writer Jim Cartwright's first stage play "Road" was produced in 1986 - a story of various underprivileged people in an unnamed northern English town. It was an unflinching look into a life of poverty, drug use, depression, yet with a hint of hope for the characters. The production seemingly had a neverending cast of characters but in actuality they were played by actors in multiple roles, with the story flowing from one environment to another. An interesting mix of argumentative confronting dialogue and inner thought monologues, the play was a critical success winning various awards and subsequently adapted into a telefilm by director Alan Clarke the following year.

Rather than filming on soundstages or in a theatrical environment, "Road" was shot on location giving a realistic look at the environment and characters, along with something that the theatrical version could not employ - the use of space with Steadicam shots. The production is almost entirely shot on constantly moving Steadicam, following characters inside and outside in 360 degree freeflowing shots with many of them lasting for extremely long periods of time in one shot one take. The Steadicam shots also had a multitude of walking shots following characters for long distances while they spoke to each other, or spoke directly into the camera by monologue. The fourth wall is constantly being broken, with characters speaking their thoughts directly into camera - things that they truly feel but not able to directly to the people that surround them. The cast assembled was truly astounding with many of them continuing on in the acting world including Mossie Smith, David Thewlis, Jane Horrocks, and Lesley Sharp, with some of them having experience with the source material from the original stage production. As for the music, what seems like coincidence more than anything, many of the musicians featured on the soundtrack died at a far young age. Gene Vincent died at the age of 36 from a stomach ulcer. Mel Appleby of the sister duo Mel & Kim died at the age of 23 from pneumonia. Bernie Nolan, lead singer of the sister group The Nolans died of cancer at 52. With director Alan Clarke's death from cancer at the quite young age of 54, it really is nothing but a coincidence, but that's life. Shit happens. Artists will one day pass away but their art lives on. "Road" was broadcast as part of the anthology series "Screenplay" on October 7th 1987 to critical acclaim, commenting on visuals, the acting, the adaptation, and the originality. There were negative reactions from people with the use of language, the disturbing visuals like the puking, the starvation scene, and its depiction of the poor. Regardless, the production was for Clarke yet another controversial work that caused discussion between people and including many memorable moments through artistic integrity.

The two productions of "Christine" and "Road" are a fascinating double feature - one of highly privileged young people destroying themselves intentionally without care while the other is of underprivileged young people destroying themselves because they seemingly have no other choice.

Note this is a region B Blu-ray which can only be played back on region B and region free players

Video


BFI presents the productions in 1080i 50hz in the original televised aspect ratio of 1.33:1 in the AVC MPEG-4 codec. As these were UK TV productions broadcast in the 25fps PAL format, the films are transferred in the 50hz signal to preserve the PAL runtime.

"Christine" was transferred in HD from the 16mm transmission print. Colors are quite bright and pale in palette, damage is extremely minimal, and grain is visible throughout yet not distracting. Overall it looks great.

"Road" was transferred in HD from the 16mm A/B roll negatives. The opening credits look a little soft with the overlayed credits but soonafter looks clearer and better with colors and depth. There is one particular scene near the end which the colors look like it was bleached out, which does not look intentional but possibly with damaged materials. There is no mention on it in the transfer credits in the booklet. There is slightly more damage visible in this production than the last, but still looks very good.

Audio


English LPCM 2.0 mono
The original mono tracks are presented in lossless mono sound. "Christine" is almost entirely dialogue based with minimal amounts of music for background and sounds very clear with no damage to the soundtrack. "Road" has a lot of dialogue and monologues and lots of music used throughout. The music cues sound great, but sometimes the location recorded dialogue has some hiss that apparently could not be removed. But most of the dialogue sounds fine.

There are optional English HoH subtitles in a white font for the productions.

Extras


Audio commentary on "Christine" with Corin Campbell Hill and Sam Dunn
First assistant director Corin Campbell Hill is joined by the producer of the boxset Sam Dunn for the commentary track. Hill talks about the making of the production, from the use of Steadicams, the background, the realism presented, along with the removal of heavy drama expected from a narrative work. He also talks about the man himself Alan Clarke and the involvement in the posthumous retrospective airings of his work on television.
in English Dolby Digital 2.0 with no subtitles

Audio commentary on "Road" with Corin Campbell Hill, Stuart Walker, and Sam Dunn
First assistant director Corin Campbell Hill and designer Stuart Walker are moderated by Sam Dunn for this commentary. Again, the use of the Steadicam is discussed along about the use of music, colors, minimal editing, plus some tidbits on Clarke.
in English Dolby Digital 2.0 with no subtitles

Optional David Leland Introduction on "Road" (2:31)
David Leland's introduction for "Road" for the television broadcast post Clarke's death is not only an intro to the production but also a plea from the public to support BBC programming for original and daring work that was starting to disappear from the tube.
in 1080i 50hz AVC MPEG-4, in 1.78:1, in English Dolby Digital 2.0 with no subtitles

"Open Air: Road Discussion" TV broadcast (26:28)
In this BBC One broadcast from October 7th 1987 following the broadcast premiere of "Road", host Eamonn Rhodes of BBC moderates calls between viewers phoning in along with actress Mossie Smith, director Alan Clarke, co producer Andrée Molyneux, and two young viewers. Calls have positives and negatives leading to very interesting discussions.
in 1080i 50hz AVC MPEG-4, in 1.33:1, in English Dolby Digital 2.0 with no subtitles

Deleted Scene from "Road" (2:11)
It's a shame that the audio is lost during Moya Davis and David Thewlis' deleted scene. I'm wondering why they couldn't provide captions via script pages.
in 1080i 50hz AVC MPEG-4, in 1.33:1, in English Dolby Digital 2.0 with no subtitles

"Alan Clarke on Location" image gallery (159 pages)
A large stills gallery in HD with location photos of "Christine", "Road" and "The Firm".

"Alan Clarke: Out of His Own Light" documentary (Part 11) (22:15)
The newly created 270-minute documentary on Alan Clarke has been divided into 12 parts with each part covering the productions reflected on the first 12 discs of the "Dissent and Disruption" boxset. Part 11 covers the two productions on DISC ELEVEN. Highlights include actress Vicky Murdock recalls her experience on "Christine" playing the title role and gives some tidbits on production such as how the realistic effects of the injection scenes were done, actress Lesley Sharp talks about the extremely long walking and talking scene done for "Road", and more. The entire 270 minute documentary is comprised of interviews with 50 people who worked with Clarke, knew Clarke, and looked up to Clarke. The interviews come from wildly differing sources. Some are slighty old 1.33:1 standard def video, some are hi-def 1.78:1 video. Some are lit too brightly, some are a bit dark. Some have clear dialogue, some sound echoey. It's very inconsistent in how it looks and sounds edited together, but presentation wise, it is top notch.
in 1080i 50hz AVC MPEG-4, in 1.78:1, in English LPCM 2.0 with no subtitles

Both productions on this disc get a wealth of extras including informative commentaries for each. One of the better set of extras in the entire set.

Packaging


The "Dissent and Disruption" 13 disc set includes a 200 page booklet with essays, photos, credits, and film information. "Christine" has an essay by writer and "Out of the Shadows" documentary producer Allan Bairstow and "Road" has an essay by the writer of "Alan Clarke" Richard T Kelly. Also listed are full film credits, extras credits, and restoration information.

Note the extras score of A represents this disc only and not for the entire set and the overall score of A+ is for the entire set.

Overall


BFI's work on the thirteen disc "Dissent and Disruption" (1969-1989) set is nothing less than an amazing collection of works by one of the most controversial and influential directors who pushed the boundaries of broadcast television. Absolutely recommended.
| | | | | |
| --- | --- | --- | --- | --- |
| The Film: A | Video: B | Audio: B | Extras: A | Overall: A+ |