The Film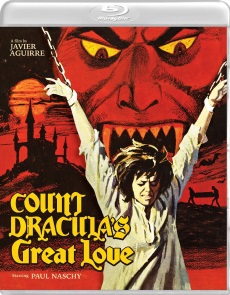 Busty German quartet – sensible Karen (La Collectionneuse's Haydée Politoff), catty Senta (Frankenstein's Bloody Terror's Rosanna Yanni), fearful Elke (Dr. Jekyll versus the Werewolf's Mirta Miller), and Marlene (Murder Mansion's Ingrid Garbo) – meet Hungarian charmer Imre (Vengeance of the Zombies' Vic Winner) in Bistritz, Transylvania, and decide to take a sightseeing trip to the Borgo Pass where Jonathan Harker stopped on his way to Castle Dracula. Imre tells them that Dracula really existed, and that he may still hold sway over the area since the luxurious medical clinic nearby was abandoned after it was discovered that a number of patients died under Dr. Kargos' bloodletting experiments and he was hung by vigilantes (only for his body to disappear shortly after). When their carriage loses a wheel and the coachman is killed by the spooked horses, the quintet have no choice but to seek shelter in the old clinic which has been recently purchased by aristocratic Austrian doctor Wendell Marlow (Werewolf Shadow's Paul Naschy). With lovers Karen and Imre meeting up for secret trysts and Marlow conveniently absent during the day (supposedly checking his traps), the other three women explore the clinic and come across a book by Professor Van Helsing which reveals that Dracula is immortal and reincarnates himself each time his "carnal body" is destroyed, and that it is only when a woman falls in love with him in a "natural way" that he can attain his full power. After Imre is bitten by one of the ill-fated porters (A Bullet for the General's José Manuel Martín) and spreads vampirism to his lover Marlene (in an ironic touch since they were so concerned that they would be separated at the end of the week when she returned to Munich), and she to one of her friends. Senta gets to have her way with Wendell, but it is obvious even to her that he only has eyes for Karen. Wendell defends Karen from attacks by the vampires until she returns his love for her, whereupon he emerges as Count Dracula and spirits her away to his plane of existence where everyone walks in slow motion and speaks in voiceover. Imprisoned in the catacombs of the clinic, Karen is to participate in a ritual where her blood will be mixed with the blood of a virgin to resurrect Dracula's cruel daughter Rodna.

Although the love story aspect of vampire films, especially Dracula films, has become not only de rigueur but incredibly tiresome, Count Dracula's Great Love is so far removed from the recent trend of emo vampires and the overblown Coppola film. Grindhouse-bound with sexy vampire women, ragged throat wounds, whippings, impalings, and bloody décolletage, the script by actor Naschy (credited for writing under his real name Jacinto Molina) takes a decidedly different approach to the romantic aspects as well with Dracula physically and psychically weakened by his love for a human being to the point where he is disrespected or unrecognized by his vampire ilk. Once Karen returns his love, Dracula dons his red-lined cape, finally drinks some blood, and reveals that her blood had been prohibited from the others in order to serve as his nourishment and to bring back his daughter. Naschy's Dracula only half-heartedly takes part in some of the film's sexualized violence at this point, but it seems that Karen's love still has a hold on the human side of him. During this section of the film, the experimental filmmaking touches of director Javier Aguirre (The Killer Is One of Thirteen) become the world of the film, with Dracula and the trio of vampire gals moving through forest mists to attend their nocturnal cravings in a manner distinct from the slow-motion romps of the vampire and zombie characters in the works of Naschy collaborator Leon Klimovsky (The Vampires' Night Orgy) or those of Amando de Ossorio's Night of the Sorcerers. The heavy dependence on reverberating explository voice-over prevent the film from becoming quite the dark romance intended – at least in concert with the English-dubbing – but it still a Dracula film that delivers the goods in a very singular manner.

Video


Released stateside theatrically in 1974 by International Amusement Corporation and then reissued in 1979 on the coasts by Motion Picture Marketing and Midwest by Mid-America Releasing as Cemetery Girls, Count Dracula's Great Love has had an erratic track record on home video. MPI's VHS release on the Gorgon Video line warned of nudity and graphic violence but turned out to be a cropped TV print running roughly seventy-two minutes. A letterboxed release became available to American viewers through a Canadian company but that version titled Dracula's Virgin Lovers turned out to be a PAL conversion of a sixty-six minute BBFC-edited tape release through Iver Film Services (another British company released the film under Count Dracula's Great Love but that longer version was also subjected to BBFC cuts) while a cropped but uncut Dutch-subtitled release from Sunrise Tapes was unwatchably dark due to their usual transfer and reproduction practices. On the American grey market, Something Weird Video gave us a fullscreen transfer of the short Dracula's Virgin Lovers edit while Sinister Cinema finally gave us an uncut version from a reasonably colorful 16mm print. The latter transfer has appeared on various unauthorized DVD releases but has started looking worse for wear but Shout! Factory gave us what appeared to be a newer transfer of that source as part of their Elvira's Movie Macabre line that wedded uncut transfers of their features to Elvira's TV segments. The American rights to the film were in the hands of Films Around the World who had promised a DVD release from their materials from their Video Kart label. This release never came to fruition but their materials were utilized for a BCI double-feature release with cirio H. Santiago's Vampire Hookers in an anamorphic transfer that restored the film's intended framing and sported mostly superior color and detail but otherwise left much to be desired with some shots devoid of all color and others solarized in the shadows (and we're not talking about the scenes intentionally printed in negative). This double bill was reissued by Code Red using the same transfers while adding a commentary to the co-feature.


Working from Films Around the World's interpositive, Vinegar Syndrome has produced a new restoration from a 2K scan for their 1080p24 MPEG-4 AVC 1.85:1 Blu-ray that is a massive improvement on all that has come before (and will likely be for some time until the company marketing HD masters of the film and other Naschy films in the Victory Films catalogues wants to whip out their master and measure it up against Vinegar Syndrome's ). The image is generally brighter while the overbrightness in other scenes seems to be down to the original cinematography of Raúl Pérez Cubero (The National Mummy). Where the previous anamorphic transfer solarized in the dark shadows and lightning flashes, the image is generally more stable and undistorted. Close-ups are much more lifelike, the vampire make-ups of the male converts now more than ever anticipate some of those in Salem's Lot, and the reds of gushing throat wounds have much more pop. The enhanced resolution allows better appreciation of the clinic's murals and architectural accents, couching the film in a more gothic atmosphere where once the derelict setting seemed as though the filmmakers were making-do with an available location. The presentation does reveal some of the photography's rough edges, however, with a couple shots at first looking to possess a 16mm-like softness revealed to be poorly-focused shots photographed with a zoom lens (for instance, a long shot of Imre and Marlene walking through the woods in search of the wagon wheel is soft long before they share a kiss).

Audio


Unlike other Vinegar Syndrome releases with subtitle tracks, this one has an audio and subtitle selection sub-menu in the extras. The English-dubbed soundtrack is offered up in DTS-HD Master Audio 2.0 mono. It is clean enough to allow enhanced appreciation of avant-garde scoring of Carmelo A. Bernaola (Cut-Throats Nine) but also to remind us of how terrible the voice casting is for the film. The Spanish track is included in Dolby Digital 2.0 from a less-than-optimal source that is generally more muffled-sounding and missing portions where not present in the Spanish version of the film. Optional English SDH subtitles are provided for the English track, English subtitles for the Spanish track, as well as Spanish subtitles.

Extras


Extras start off with an audio commentary by director Javier Aguirre and writer/actor Paul Naschy which was recorded last decade when a DVD release of the film looked like a possibility (Naschy had also recorded commentaries for The Hunchback of the Morgue as well as Blue Eyes of the Broken Doll and Horror Rises from the Tomb with director Carlos Aured around the same time). They start off by discussing the romantic aspect of the film and how it predates the likes of Dan Curtis' 1973 adaptation, John Badham's 1979 version, and more recently (well, back then), Coppola's overblown film, as well as Naschy recalling being told he was too "corpulent" to play Dracula. Aguirre discusses his anti-cinema and experimental touches from the title sequence to the negative and reverse-motion sequences, and they both elucidate plot points far more clearly and satisfyingly than the film. He and Naschy also discuss their co-stars, the film's reception at Cannes along with its companion Hunchback at the Morgue, and the difficulty of striking a home video deal for the Dracula film in its native Spain since they kept the rights to Hunchback while the rights to this film were last with its production manager Francisco Lara Polop (of whose Murder Mansion they speak favorably). They also discuss Naschy's female co-stars (as well as actress Julia Peña who had been just been released from prison for political opposition when Naschy cast her), Spanish self-censorship of the nude scenes, and an accident with toxic mold that two of the actresses violently ill during their onscreen death throes. The track is in Spanish with optional English subtitles (therefore, you can toggle your audio and subtitle options via remote to watch the film with the English soundtrack and read the commentary subtitles is so desired).


Spanish Fear's Elena Anele provides an interview with actress Mirta Miller (8:22) in which she discusses work as a model in Buenos Aires before her extended vacation in Spain and her transition to acting. She has mostly vague remarks about working with Naschy and how the long hours often provoking laughing fits during shooting, although she does make the claim that Aguirre was more detail-oriented a filmmaker than Klimovsky. The interview is in English with both optional English and Spanish subtitles. The long-unseen U.S. theatrical trailer (3:04) appears to be a Spanish export assemblage with the U.S. distribution company logo at the head. It is a neat find with the narrator incorporating lines from Van Helsing's book in the film into the narration and some fun onscreen hyperbole like "A tremendous romantic story of vampires." The disc also includes a still gallery (2:16), reversible cover (the reverse of the cover has artwork that looks derived or incorporated into some of the international art for Jess Franco's Female Vampire). Latarnia's Mirek Lipinski provides an eight-page booklet discussing Aguirre's uncompleted sequel as well as descriptions of some other eroticism purportedly shot for the film but left out of even the export versions.

Overall


Although Count Dracula's Great Love falls short of dark romance, it still delivers the goods - babes, breasts, blood, and a little visual poetry - in a very singular manner.