The Film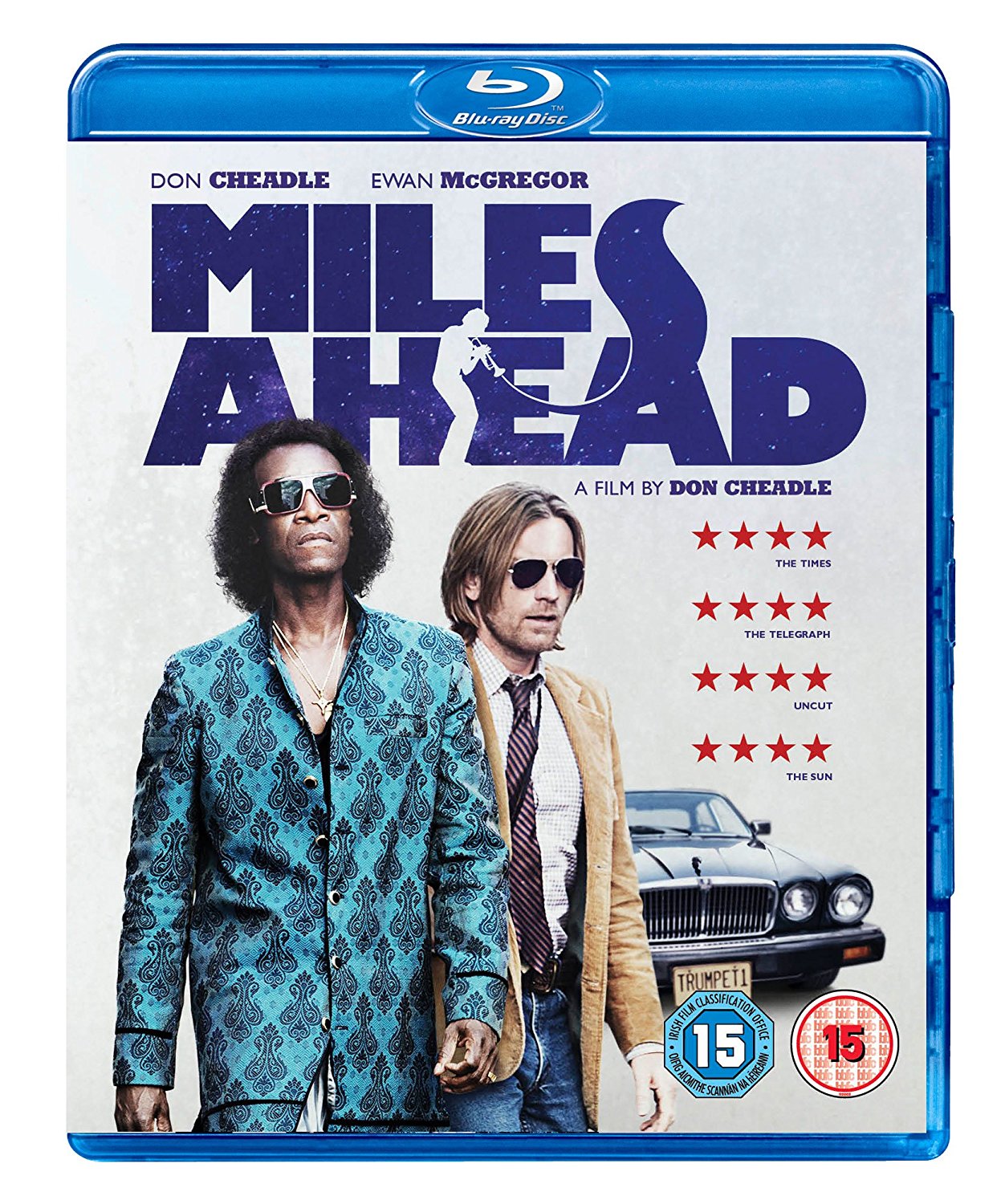 "Miles Ahead" (2015)

After nearly 3 decades continuously challenging the jazz music genre to both critical and commercial success, Miles Davis (played by Don Cheadle) suddenly decided to go into a self-imposed exile in 1976. It's been 5 years and Miles' label Columbia Records is pushing for him to release some new music - especially since they paid for a session a while back and the session tape is in Miles' possession. Miles gets an uninvited guest - Dave Braden (played by Ewan McGregor) from Rolling Stone magazine who barges his way in to the mansion. David claims that Columbia Records sent him to the mansion to help write and chronicle a "comeback" story - a word that Miles despises more than anything at the moment.

Miles is going through an existential crisis - he has lost his creativity, has a drug problem, and his memories of his former wife Frances Taylor (played by Emayatzy Corinealdi) are remembered frequently. Frances was the love of his life - a ballet dancer who was about to break out in the dance world touring around the world. Gracing the cover of Miles' album "Someday My Prince Will Come", their relationship was full of love and full of trouble - his troublesome and controlling attitude, his jealously, and the emotional and physical distress caused her to leave him, which was always on Miles' conscience as the one that got away.

David is willing to help Miles get back into form while writing about the method to the madness, but he finds Miles a hard nut to crack - one that does not trust anyone, and has mentally unstable and controlling issues to push. But when Columbia Records manager Harper (played by Michael Stuhlbarg) gets his hands on Miles' session tape, it's up to the unlikely duo of the junkie jazz has-been and the bumbling Scotsman journalist to get the session tape back - and Miles is not afraid to pull out some guns in the process, literally.

"Miles Ahead" takes place during the real Miles Davis' exile period which happened between 1979 and 1981, where he seemingly disappeared from the music scene altogether, and Columbia Records was churning out greatest hits compilations and live recordings to appease the fans. But they didn't want that - they wanted Miles to come back. Since the 1940s, Miles was a true groundbreaker of the jazz music scene, challenging traditions, moving the genre forward, sideways, and every direction possible. The compilation of his 1949/1950 sessions for Capitol Records "Birth of the Cool" (released in 1957) is still considered one of the finest examples of post-bebop jazz music. 1959's "Kind of Blue" is one of the best selling and most influential jazz albums of all time - built on modality and not from the freeform fast styles of his previous works. The subsequent "Sketches of Spain" (1960) and "Someday My Prince Will Come" (1961) were also huge hits, dabbling in Spanish Flamenco and pop standards respectively. Always changing and never interested in looking back, Miles drifted towards new territory again in the late 1960s with the 1969 album "In a Silent Way" and the 1970 double album "Bitches Brew" which experimented in rock, funk, and jam session experimentation that may have alienated older jazz fans but found new success with younger rock fans. The early 1970s recordings were the most experimental yet, as he started looking away from jazz for inspiration and in the process making music that were precursors to hip hop, drum & bass, and electronica. But none of that equaled critical or commercial success as critics scratched their heads to what it all was and fans were confused by 30 minute long weird jam sessions or fast paced noise rock and electronics. But he certainly was "Miles Ahead" of everything else. "Rated X" sounds like a precursor to Aphex Twin or Squarepusher's work in the 90s. "Calypso Frelimo" sounds like it certainly inspired the underground levels in the first Super Mario Brothers video game from 1985. Yet Miles was doing these things back in the early 1970s.

But from 1974, Miles became the Howard Hughes of music, becoming a seldom seen recluse and with no new musical output, with Columbia Records issuing live albums, compilations albums, and ones of unreleased tracks. But when Miles re-emerged he transformed himself yet again with 1981's "Man with the Horn", incorporating the new wave sound of the early 80s, with synthesizers, electronics, and a more traditional based trumpet sound rather than the abstract. He gained new fans in pop music circles and again alienated his previous ones. Always an innovator and never looking back, his music has undeniably shaped all genres of music and art for the decades he was active, all the way until his posthumous final 1992 album "Doo Bop", which was mixed in reception but innovative in its fusion of hip hop, R&B and jazz.

After his death in 1991, there were always rumors of a biopic development. His first wife Frances Taylor even signed off on biopic developments. There were rumors of Don Cheadle to play the part of Miles in a biopic. Cheadle had experience playing the sax so he was musically inclined, and also had played real life counterparts in biopics before to acclaim in "The Rat Pack" as Sammy Davis Jr. and in "Hotel Rwanda" as Paul Rusesabagina in which he received an Academy Award. Following Miles' induction to the Rock & Roll Hall of Fame in 2006, Cheadle met with Davis' family with ideas about a Miles Davis biopic but the most interesting pitch was by Cheadle who did not want to do a traditional story of a life story of Miles, but having a fictional gangster / heist story involving Miles Davis, the reclusive hermit during the mysteriously blank five year period of inactivity. The family was on board with the non-traditional idea - as they felt Miles would have hated a straight up boring true story and would have loved more guns, car chases, and humor in the mix, even if it was fictional. With the amount of Miles David myths out there of people's accounts meeting him, talking to him, and seeing him - why not print the legend and have people guess whether it was true or not? Cheadle knew that he couldn't wait for people to get together with pre-production and funding - he had to do it himself if he wanted to get this off the ground. Cheadle became co-writer/producer/director/main actor, had partial funding via IndieGoGo, and the support of the Davis family for the production. Multitasking at its fullest, the biggest challenge was actually becoming Miles Davis - and Cheadle nailed it to the ground. The raspy voice that spit out curse words over and over, the way he moved on stage while playing, his particular mannerisms, and badass attitude - in some ways a caricature of Miles while others invoking a ghostly spirit of Miles. Even musicians Wayne Shorter and Herbie Hancock who appear in the finale as themselves - were astonished how it seemed like Miles was there on stage with them. The mental and physical anguishes are also portrayed - with Miles' increasingly bizarre hermit life, standoffish and untrustworthy attitude, plus the hip injury causing chronic pain. Cheadle was actually playing and fingering the trumpet during the film precisely as Miles would have, although the actual sound was redubbed by Keyon Harrold later on. This is not the fake looking music playing like "Beyond the Valley of the Dolls" - the musicianship is utterly convincing for people who look at finger movements. The other equally star name attached to the project was Ewan McGregor who played the fictional Rolling Stone journalist who sets the ball rolling on Miles' comeback. His role is both the straight man in a comical sense, and occasionally the comic relief in varying scenes, playing a great counterpart to the eccentric Miles character. McGregor plays the role in his native Scottish accent which audiences haven't heard in a role for quite some time and only makes us anxious for the upcoming "Trainspotting" sequel currently in production. Emayatzy Corinealdi as Miles' first wife appears in flashbacks showcasing some of Miles' best and worst times in his life and her role is quite essential in the shaping of the Miles character - both in personal actions and musical directions. Michael Stuhlbarg seems to be on a role in biopics - like he cannot escape playing real life people: "Lincoln", "Hitchcock", "Pawn Sacrifice", "Steve Jobs", and "Trumbo" - but in this film he is playing a fictional role as the manager at Columbia.

As stated, "fictional" - most of the events of the film did not actually happen. The stealing of a session tape, the Rolling Stone editor writing the story, the boxing ring shootout, the car chases, the hip injury caused by the domestic fight - all fictional accounts. But there was a lot of truth to be told: Miles' life as a hermit for nearly 5 years, Miles getting beat up and arrested by the police outside a club he just played at - these are all true accounts. The story really is a melding of fact and fiction - an original take that writer/director/producer Don Cheadle wanted to play with and for people looking for the true story of the ups and downs of Miles Davis' life will be thoroughly be misled. On the other hand cinematically it is closer to say "Citizen Kane" in certain structure and content. Kane was based on a true figure and mixed fact and fiction like "Miles Ahead" and both showed a rise and fall of a great in flashback form. Though a large difference would be that Miles Davis' family approved of this story rather than what happened with William Randolph Hearst and "Citizen Kane". As stated, the flashbacks are similar to that of Kane as the film cuts back and forth between past and present with various cinematic techniques - sometimes happening within the same frame and cut, others with montage mirroring the past and present. It's mostly linear but the past comes back to haunt at various times. Structurally interesting, the music fantastic, good performances, but the one thing lacking was the actual story being rather on the standard side. A heist movie on a retrieval of a stolen MacGuffin, the buddy-movie of two unlikely partners - these are not exactly new and original. Predictable yet interestingly watchable, "Miles Ahead" is a winner for Davis fans. And what can be said about the film without mentioning the music? Cuts like "Solea" from "Sketches of Spain", "So What" from "Kind of Blue" are iconic on their own, cuts from "Agartha" and "On the Corner" are wonderful to hear, plus new compositions by composer Robert Glasper and Don Cheadle are excellent to compliment the score. The ending theme song "Gone 2015" with vocals by Pharaohe Monch seems out of place for the time period - like that of the ending theme to "Selma" - why is a modern sounding rap song closing off a period film?

Completed on a shoestring budget of less than half a million dollars, the film never feels small in size. Cincinnati doubling for New York in the 1970s is sometimes noticeable without shots of tall buildings, but it's a minor concern if not at all. The film was released in 2016 to fairly good acclaim - praises especially for Don Cheadle's directing debut and for his performance as Miles. Others were at times critical of the fictional aspect of the story rather than respecting the truth. But if you want Miles - expect the unexpected. And don't call it jazz!

Note this is a region B Blu-ray which can only be played back on region B and region free Blu-ray players

Video


Icon Home Entertainment UK presents the film in 1080p in the theatrical 2.40:1 aspect ratio in the AVC MPEG-4 codec. Shot on 16mm film, the film has a constant grainy structure which is to be expected and certainly fits the time frame of the period. Colors are especially good with Miles' colorful clothes popping out and the browns and golds of his trashed mansion looking… good? Considering it is a new film there are no troubles to report of. An excellent transfer by Icon.

The runtime on the Blu-ray is 100:26.

Audio


English DTS-HD Master Audio 5.1
English LPCM 2.0 stereo
There is a choice of lossless 5.1 and 2.0 audio options. The 5.1 channel is excellent in reproducing the music of Miles in surround sound, the sounds of gunfire during the occasional shootouts, and dialogue is almost always centered to the middle. There are times that the music sounds "too" clear if supposedly coming from 1970s speakers, but that can be let go. The final concert scene also sounds excellent, even if it's no exactly "classic Miles". The 2.0 option also sounds good but is on the weaker side compared to the 5.1.

There are optional English HoH subtitles for the main feature in a white font.

Extras


"The Truth: Becoming Miles Davis" featurette (20:32)
This featurette includes interviews with Don Cheadle, Erin Davis (Miles' son), Robert Glasper, Vince Wilburn (Miles' nephew), and Keyon Harrold. Individually filmed and edited together, they talk about the genesis of the project, the decision to make a fictional biopic, the IndieGoGo campaign, the casting, and a lot more. It is filmed in harsh black and white with Miles' music throughout, with some scenes from the film edited in. Quite an artistic looking and informative piece to accompany the film as an extra.
in 1080p AVC MPEG-4, in 1.78:1/2.35:1, in English LPCM 2.0 stereo with no subtitles

"Sundance Film Festival Q&A" (21:49)
The first part is an introduction to the film prior to the screening at Sundance, with Don Cheadle on stage while later post-screening, he is joined by Emayatzy Corinealdi, Keith Stanfield, and Ewan McGregor.
in 1080p AVC MPEG-4, in 1.78:1, in English LPCM 2.0 stereo with no subtitles

Gallery (1:37)
An HD slideshow gallery of photos with "Miles Away" by Tim Garland for BGM.
in 1080p AVC MPEG-4, in 1.78:1, in LPCM 2.0 stereo

Start-up Trailers<.b>
- "A Hologram for the King" (2:00)
- "The Nice Guys" (1:34)
The trailers play before the main menu and can't be selected from the menu
in 1080p AVC MPEG-4, in English LPCM 2.0 stereo with no subtitles

The film has been released on Blu-ray elsewhere such as the United States by Sony Pictures. This UK release has the same commentary and same featurettes but adds the Gallery extra as an exclusive. Though note the US release also includes the Sony Pictures theatrical trailer while the UK omits it. One extra that would have been amazing as an extra but unavailable here or elsewhere is an isolated score. It's a good yet basic selection of extras but an isolated score would have easily made it a huge grade up in "score"… I guess pun is intended there.

Overall


"Miles Ahead" is an excellent entertaining piece from multi-tasker Don Cheadle paying homage to one of the greatest artists of the last century. Though it falls a bit flat in the story's originality, Cheadle's directing and the performances are greatly entertaining, the extras are good, and the iconic and brilliant music is undeniably amazing and timeless. Recommended.
| | | | | |
| --- | --- | --- | --- | --- |
| The Film: B | Video: A | Audio: A | Extras: B | Overall: B+ |