The Film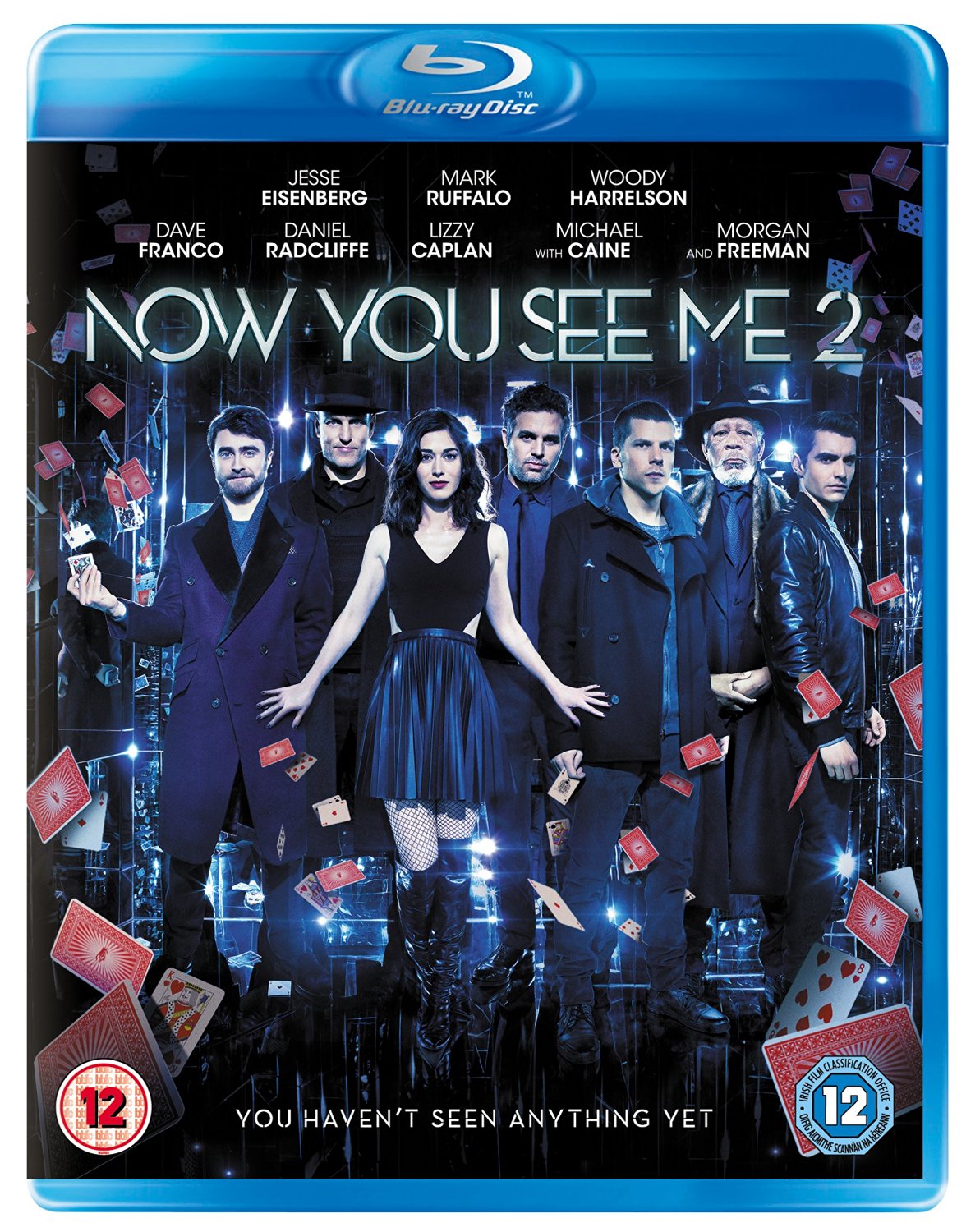 ***This is an A/V and Extras review only. For reviews on the movie from various critics, we recommend visiting HERE.***

You haven't seen anything yet.

Jesse Eisenberg, Woody Harrelson and Dave Franco return to reprise their roles as criminal illusionists in this comedy crime drama. A year on from their last daring heist, The Four Horsemen emerge from hiding to expose the unethical practices of a corrupt tech magnate. Unfortunately for them, they instead find themselves blackmailed into stealing a powerful piece of technology by businessman Walter Mabry (Daniel Radcliffe).

Their quest to steal the decrypting device - known as 'The Stick' - takes magicians Danny (Eisenberg), Merritt (Harrelson), Jack (Franco) and their new partner Lula (Lizzy Caplan) across the globe as they try to pull off another elaborate life-or-death illusion, with help from their FBI insider Dylan Rhodes (Mark Ruffalo).

Video


Entertainment One present sequel "Now You See Me 2" in the original aspect ratio of 2.40:1. The feature is 1080p and receives an AVC encode. Shot on digital, the transfer is solid, but not perfect.

As to be expected for a big budget Hollywood blockbuster with an all-star cast, there are a lot of special effects and intricate shots involved here. For the most part, they all look superb, but on occasion I did notice one or two things which could have been improved upon. Contrast levels were occasionally inconsistent during nighttime scenes, and I spotted some infrequent noise in lighter backgrounds. Whilst fine detail is often astonishing, and shadow delineation at the top end of the spectrum, there was some very minor loss of detail to light crush (magic shop for one). Overall though, "Now You See Me 2" is a great viewing experience and the issues I have described are minor in both frequency and strength (many will likely not spot any). There are some truly magnificent looking moments throughout, especially during Jesse Eisenberg's magic trick where he halts the rain.

The feature is uncut and runs 129:13.

Audio


The following options are available:
- English Dolby Atmos 7.1.4
- English Dolby Digital 2.0 stereo (optimised for late night viewing)
- English Descriptive Audio Dolby Digital 2.0 Stereo

For my viewing, I obviously opted for the English Dolby Atmos track, and whilst the film was disappointing in comparison to the first, the audio track was - quite simply - exceptional. Channel separation (including overhead speakers) is very well done, whether it be crowd noise, rain drops falling, or during the more intricate scenes such as getting past security. Dialogue is clear and concise throughout, and volume levels are consistent, with action never overpowering the dialogue or vice versa. The score roars through the surrounds with ferocity at all the right moments, and the LFE channel is used to great effect too. There are no issues that I noticed. No drop outs, crackles, pops, scratches, or background hiss. Dare I say it, this is a reference quality audio track!

Optional subtitles are included in English for the hard-of-hearing.

Extras


The extras start with a solo audio commentary with director Jon M. Chu. This is a decent solo effort with hardly any dead spots. Chu goes into great depth about various technical aspects, with the most interesting being the editing, and also takes times to tell some stories from the set. I thought it was a shame that this was a solo effort considering the talent involved. It would have been nice to get some sort of cast inclusion, especially from the new additions Daniel Radcliffe, and Lizzy Caplan.

"The Art of the Ensemble" featurette (21:10) looks at the cast that was assembled for the feature. It's a pretty standard talking heads style promotional fluff piece, but it is always nice to hear these little soundbites at least once. Don't go expecting anything juicy or particularly in-depth though.

The "You Can't Look Away" featurette (17:12) is more of the same, but this time looking at the locations and settings featured in the movie. Another talking heads promotional fluff piece, it adds the make-up and hair designer, art director, cinematographer, and, most importantly, the visual effects designer to proceedings. Unfortunately, whilst slightly interesting, nobody gets in-depth enough to really make it worthwhile.

The final featurette is entitled "Bringing Magic to Life" (16:08) and is easily the best of the bunch even if similar in set-up. I do agree with my colleague Eric Cotenas in his review of the USA release that this is a bit pretentious in substance, but it was more insightful than the other two put together and I really enjoyed listening to how cast members practised. David Copperfield is also present in this featurette.

There are also some start-up trailers:
- "Arrival" (0:59)
- "A Monster Calls" (1:36)
- "The BFG" (2:06)
- "David Brent: Life on the Road" (0:32)

Overall


The film was disappointing after the very enjoyable first one, but not a complete waste of time as the sheer extravagance and set pieces are worth watching alone. Adding Daniel Radcliffe and Lizzy Caplan to the cast was a great idea too. The transfer is solid, and the extras a welcome inclusion, but praise must be given to the awesome Atmos audio track.
| | | | | |
| --- | --- | --- | --- | --- |
| The Film: C | Video: B+ | Audio: A+ | Extras: B- | Overall: B- |