The Film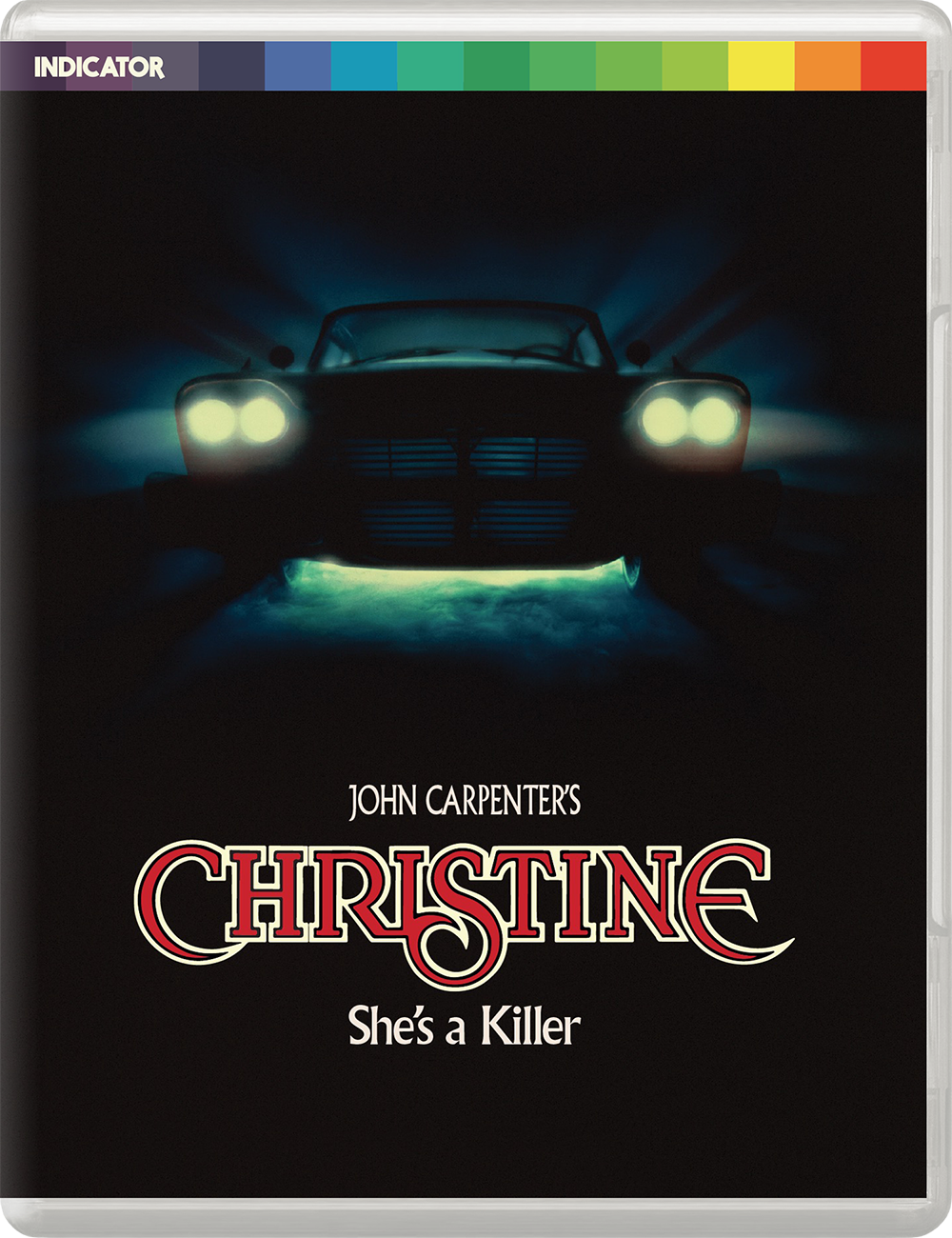 ***This is an A/V and Extras review only. For reviews on the movie from various critics, we recommend visiting HERE.***

She's a killer.

She was born in Detroit ... on an automobile assembly line. But she is no ordinary automobile. Deep within her chassis lives an unholy presence. She is CHRISTINE – a red and white Plymouth Fury whose unique standard equipment includes an evil, indestructible vengeance that will destroy anyone in her way. She seduces 17-year-old Arnie Cunningham (Keith Gordon) who becomes consumed with passion for her sleek, rounded, chrome-laden body. She demands his complete and unquestioned devotion and when outsiders seek to interfere, they become the victims of Christine's horrifying wrath.

Video


Newcomers to the scene Powerhouse Films have presented the classic John Carpenter horror "Christine" on to Blu-ray for the first time in the United Kingdom using the original aspect ratio of 2.35:1. The feature is 1080p and receives an AVC MPEG-4 encode. To get straight to the point, it is one of the best looking eighties titles I know of.

Sony restored Christine at 2K several years ago, and it has been released by themselves around the world, as well as in the USA by Twilight Time. Powerhouse have used the same transfer for this release, and utilised the ever reliable David Mackenzie to do a superb job encoding the main feature. Colours are very well replicated, with blacks deep and inky, and lighter background colours during daytime external scenes popping really well - especially lush greens and the various reds (check out the high school jumper, and dusty Christine when Arnie first decides to buy the car). There is no noticeable crush in the darker scenes, and shadow details are often exquisite - one example being when Arnie drives Christine into the workshop at 23:12. Details in general are at the upper end for eighties catalogue titles. Facial close-ups show every contour of the skin, whilst strands of out of place hair and intricate clothing and mechanical details are also easy to spot. The transfer features no compression issues and I thought contrast levels were excellent. Sony's 2K source is very clean with virtually nothing in the way of damage. I didn't spot any edge enhancement or aliasing, and there is no digital noise reduction at play here. It's an absolute corker and I imagine the only improvement that could be made now, would be an actual 4K Ultra HD release.

The film is uncut and runs 109:59.

Audio


Powerhouse have included two audio options for the main feature:
- English DTS-HD Master Audio 5.1
- English LPCM 2.0 Surround

For my viewing, I jumped between the two to compare and found that the DTS-HD Master Audio 5.1 remix was actually pretty good compared to what I was expecting. As soon as the feature starts, the audio showcases what to expect. The sound of an engine roaring utilises the surrounds and channels some low rumblings from the LFE as the opening credits appear. Some of the more subtle environmental effects such as the rain in the 47th minute helps add to the atmosphere of that particular scene well. Volume levels are consistent throughout and dialogue is clear and concise. It's not quite reference quality, but it is extremely close with the aggression of Christine is captured perfectly. There are no signs of damage such as scratches, pops, or dropouts, and I noticed no background hiss.

Optional English subtitles for the hard-of-hearing have been included.

EDIT - Please note some people have reported issues with the 5.1 track in which there is no stream to the rear left channel on the 5.1 mix. This was not an issue on the review copy received.

Extras


The main extra here, is an audio commentary by director John Carpenter and actor Keith Gordon. This is the commentary that first appeared many moons ago on the older DVD releases, but it is a very informative track and I enjoyed listening to it again over ten years later. Carpenter and Gordon don't mess around here and spend the time wisely talking about various technical aspects including special effects and particular shots. This is all well interspersed with some anecdotal segments too.

Next up is an Isolated Score (LPCM 2.0). This is basically the movie playing, but without dialogue and special effects. John Carpenter has received much critical praise for some of his scores, but this one does pale a little in comparison to "Assault on Precinct 13". Still, as Carpenter is also the director, it gives him the advantage of being able to get the tone of the music exactly how he imagined it, rather than trying to convey his hopes to a third party.

When it comes to the Deleted Scenes (26:01), you can generally see why they were deleted. The majority of them are pretty dull extensions to scenes from the final version of the film which if kept in, would have probably felt a little weary and not suit the pacing. These are a welcome addition to the package out of curiousity, especially those with Leigh and Dennis, but they were rightly given the chop in my opinion!

"Christine" documentary:
- Play All (48:03)
- "Ignition" (11:51)
- "Fast and Furious" (28:53)
- "Finish Line" (7:17)
The first part, "Ignition", has producer Richard Kobritz talk about how he got the rights to "Christine" from Stephen King after turning down "Cujo" and working on "Salem's Lot". John Carpenter then talks about how he got involved after the criticism he received for "The Thing" which was, at the time, a box office disappointment. Also talked about is how they adapted the book to a film, and the casting. The second part, "Fast and Furious", looks at the overall production of the film and features interviews from the same participants as the first part, as well as several cast members (Keith Gordon, John Stockwell, and Alexandra Paul), and stunt coordinator Terry Leonard. It looks at various aspects including locations, the characters, and of course, the car! The final part, "Finish Line", starts off by looking at the music featured in the film (every chapter of the book starts with a quote from a rock and roll song), and then moves on to how John Carpenter was embarrassed by how many times his name was on the poster (thought people would thing he was "an arrogant piece of shit" despite it all being standard contractual placements).

The Image Gallery (35 pages) is a pretty basic selection controlled by pressing the chapter skip buttons on your remote.

There are also some self-explanatory Trailers and TV Spots:
- Play All (3:28)
- Trailer #1 (0:58)
- Trailer #2 (1:29)
- TV Spot #1 (0:33)
- TV Spot #2 (0:33)

A 24-page booklet with a new essay by Jeff Billington and a 1996 article on Carpenter's cinematic 'guilty pleasures' is also included.

Overall


Powerhouse jump into the Blu-ray scene feet first with an all round impressive release that Carpenter fans will adore and cherish. A cracking debut to make their mark.
| | | | | |
| --- | --- | --- | --- | --- |
| The Film: B+ | Video: A | Audio: A- | Extras: B+ | Overall: B+ |