The Film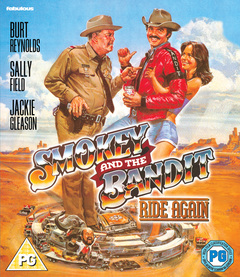 ***This is an A/V and Extras review only. For reviews on the movie from various critics, we recommend visiting HERE.***

The Bandit is back and better than ever!

Burt Reynolds, Sally Field and Jackie Gleason team up again with an all-star cast as a raucous political race results in the comeback of the wild ways of the Bandit (Reynolds).

Once again, he's pursued by arch-enemy Sheriff Buford T. Justice (Gleason), who is still madly obsessed with apprehending him. But this time the loot is even bigger - a pregnant elephant.

And the risks riskier, the action wilder and the stakes for the winner infinitely higher!

Video


Independent British distributor Fabulous Films have released "Smokey and the Bandit Ride Again" AKA "Smokey and the Bandit 2" on to Blu-ray in what is the feature's worldwide format debut. They have presented the film in the original 1.85:1 aspect ratio using an AVC MPEG-4 encode. As has come to be expected from Fabulous' licensing deal with Universal, it is a mixed bag.

When it comes to major studios licensing out their catalogue titles, none strike as much fear as Universal, who have become renowned for their dated masters and digital noise reduction - whilst Sony, Fox, and MGM make huge strides - Universal seem to neglect even their most popular movies. Whilst "Smokey and the Bandit 2" looks alright, it does seem to be another title that Universal have decided isn't worthy of being remastered, as this appears to have been struck from a dated master that was probably used for the DVDs over ten years ago. The print has a little damage here and there, though nothing major. A few specks, and occasional minor scratches are noticeable, but not overly intrusive. Details are a mixed bag. Some shots use stock footage, and these are the worst looking moments, often of a standard I would associate with a mediocre DVD. Internal scenes are a little dark, and some details in backgrounds not as sharp as they should be, but items in the forefront look good, and facial close-ups can be impressive. The transfer is at its best during external scenes which take place during daylight, with more minute details coming to fruition, and colours more vivid and lively. Blacks are generally deep, but exhibit light crush here and there. I did spot some light edge enhancement in places, and I have no doubt that some minor digital noise reduction has taken place as their is an occasional waxy look in the odd close-ups (though very minor compared to other Universal catalogue releases). Despite all these issues, none of them are bad enough to avoid the release. I compared the disc to the US Universal Franchise Collection DVD and there is certainly a solid improvement on what has been available before, but there is still a lot of room for an upgrade. Fans will be relatively happy if they keep their expectations moderately low.

The feature is uncut and runs 100:33.

Audio


Fabulous Films have provided a single English DTS-HD Master Audio 2.0 Mono track for this release, which is distinctly average. The track is generally flat and although everything is clear, it doesn't have that razor sharp clarity we have come to expect from the format. At 51:10 - in the scene where the cop car gets stuck on a bridge that is opening up after failing to clear it - the dialogue is ever so slightly out of sync, and this issue seems to re-appear a couple of times for short periods. It is worst during the music performance at 72:10 though. The roar of the Bandit's engine sometimes comes across a little muddled, though other effects do fare better. There are no issues with drop outs, pops, or scratches, and I didn't notice any background hiss.

No subtitles have been included.

Extras


A theatrical trailer (2:30) makes up the extras package here. This is unfortunately no surprise as that is all Universal included on their DVD releases.

Overall


"Smokey and the Bandit 2" is a mediocre sequel on a mediocre no frills disc. However, at time of writing, this seems to be the best way to watch this movie and with Universal's track record, I wouldn't expect a magical new transfer to be licensed out to third party companies like Fabulous Films any time soon.
| | | | | |
| --- | --- | --- | --- | --- |
| The Film: C | Video: C+ | Audio: C- | Extras: E | Overall: C |