The Film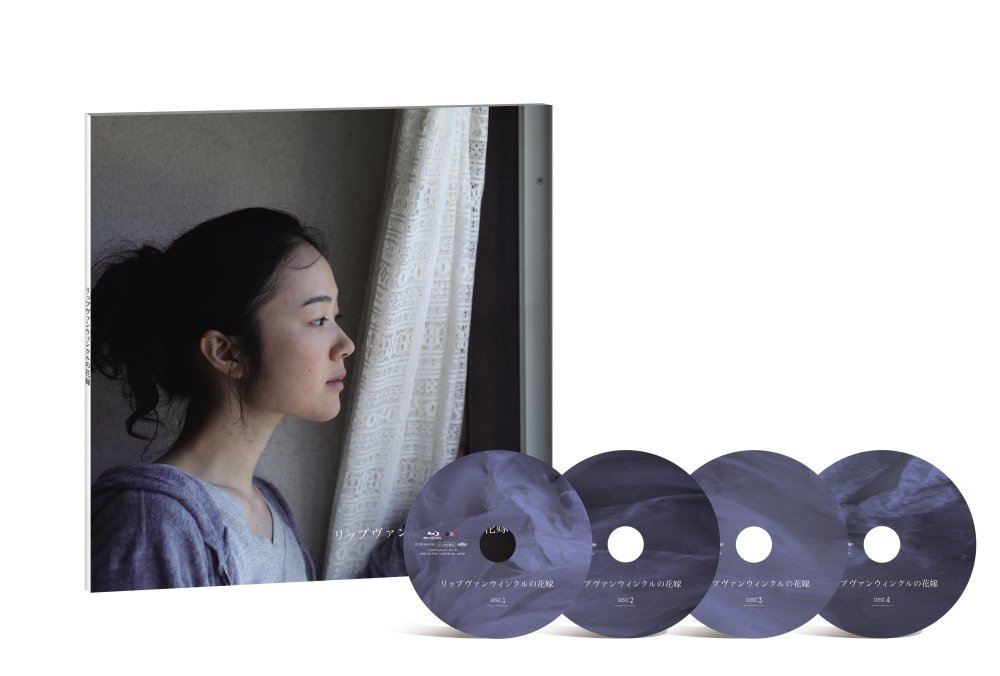 "A Bride for Rip Van Winkle" 「リップヴァンウィンクルの花嫁」

Nanami (played by Haru Kuroki) is young woman who is getting married soon and that is cause for celebration, but not all is happy in her life. She is a part time teacher at a junior high school, but isn't taken seriously by the students with her soft spoken voice. She is concerned that her unhappily married parents will cause some issue with her engagement to Tetsuya (played by Go Jibiki) and further with the fact that her family is very small and relatives are distant - so the wedding is looking uneven with the groom's and bride's side. Through her anonymous online posts at the site social networking site Planet concerning her personal issues, she is referred to a jack of all trades who calls himself Amuro (played by Go Ayano). He introduces one of his many unusual services which is hiring actors to play relatives at a formal event including wedding ceremonies. From this decision, Nanami's life is about to change completely in a downward spiral.

The biggest incident that follows is Nanami discovering a woman's earring inside their home. She thinks Tetsuya might be cheating and to find information, she calls on Amuro for help. Luckily Amuro also has a service for private investigator work, and he is willing to help her with a slightly discounted but still expensive fee. Things start to get especially complicated when Tetsuya's mother finds out the entire wedding guest list for Nanami's family was fake and she also suspects that Nanami is the one that is having an affair and with evidence that she had met with a man at a hotel. There are false accusations and blackmail that eventually leads to the severely confused and depressed Nanami having to leave and go off on her own. But with no home, no family to return to, no job, and no hope, she must somehow pick up the pieces, and who better to help her than the mysterious Amuro? But what are his real intentions?

"A Bride for Rip Van Winkle" is the first feature length live action Japanese film in 12 years from acclaimed director Shunji Iwai - not to say that he hasn't been busy over the last decade. Becoming one of the most highly regarded filmmakers in the 90s and early 2000s to connect with young adult Japanese audiences with films such as "Love Letter" (1995), "Swallowtail Butterfly" (1996), and "All About Lily Chou Chou" (2000), Iwai also became one of the first Japanese filmmakers to break the cultural barrier with neighboring Asian countries, with his films becoming commercial and critical successes in Taiwan, South Korea, and Hong Kong - at a time when most Japanese entertainment was mostly prohibited from theaters or television with minor exceptions. When he was interviewed for television in South Korea while visiting, he had no idea that he suddenly became the first Japanese interviewed Japanese speaking person on South Korean television - as South Korea had an effective ban on Japanese to be spoken on broadcast media. In addition his films appeared in the west in the United States and in the United Kingdom to high acclaim, though for some reason his popularity in the rest of Europe remains to be very limited. Following 2004's feature length film "Hana and Alice", Iwai directed a documentary on one of the greatest Japanese filmmakers of all time with "The Kon Ichikawa Story" (2006), screenwriting the music film "Bandage" (2001), delve into animation writing and producing "Baton" (2009) and also directing "The Case of Hana and Alice" (2015) and also directing an English language film "Vampire" (2011). In addition he made short films, television commercials, and music videos to keep quite busy. With "A Bride for Rip Van Winkle", Iwai made quite a project for himself. He wrote the novel, wrote the screenplay, filmed the production as both a theatrical feature and as a multi-part TV miniseries.

As with many of his previous films the protagonist is a female lead - and a typical one as that. Nanami is not entirely a confident woman, not very emotionally happy with her life, and leads a pretty ordinary life at that. Her failures begin with trying to fix the problems, but with every step she takes into bettering herself, it seems everything backfires negatively. Her students make fun of her softspoken voice so they jokingly put a microphone at her desk. To play back to the students she actually picks it up and speaks into it during the class, hoping to get some better appreciation. But this only leads to trouble from the principal who scolds her for giving into the students prank, and effectively costing her chance to renew
the job contract for the following semester. After she tries to impress her in-laws with the wedding turnout by hiring actors to play her distant relatives, the mother in-law finds out about the incident -which leads to trust issues and embarrassment. As for when she tries to find out more about the supposedly cheating husband, her encounter with the man at the hotel is found out about by the mother in-law effectively leading to Nanami being the accused - even though she was the one being blackmailed. With Nanami's character literally losing her way in life, the turmoil and hard downfall of the innocent young woman is like that of a character in many classic films of Kenji Mizoguchi or Mikio Naruse. But unlike the many other female characters in her life, she didn't make a hugely bad decision to tempt her fate. Former classmate Nitadori choses not to become a teacher and become a club hostess catering to sleazy men. Her mother is promiscuous, crazy, outspoken, divorces her husband, and runs off with another man. Her mother in-law keeps a sharp eye and control over her son - who still calls her "mama". Mashiro's life is the ultimate lesson in regret and pain, even though she does not show her true emotions on the outside.

To talk about the film without discussing the character of Mashiro (played by singer Cocco) is impossible. Nanami and Mashiro are like night and day - one is quiet and innocent. The other is outgoing and outspoken. But somehow they balance each other's lives out with Nanami calming Mashiro and becoming an actual friend - something that Mashiro desperately wants but cannot come to say. Mashiro helps Nanami break free and feel happiness during the most depressing time in her life. Their friendship is not the usual BFF scenario, nor is it a lesbian relationship, but an emotional necessity rather than a traditional relationship or marriage usually is. For the character of Nanami, Iwai wrote the character with actress Haru Kuroki in mind after meeting her at a commercial audition in 2012, with tweaks to the dialogue and characterization to fit the image of her as much as possible. In many ways it seems naturalistic and documentary-like rather than the usual Japanese dramatic performances that are over the top and fake. Rather Kuroki plays things subtly and realistically. Iwai was already a fan of Cocco in her music career, but for acting it was a stage performance that made him decide to cast her in the role of Mashiro and she exemplifies the manic pixie dream girl role with high flying gusto. The character of Amuro is a mysterious one. His true intentions are never fully known as he is a figure that seemingly never tells the truth but you feel that he is. Was Nanami's Planet friend actually him the whole time? Did he intentionally or inadvertently break up Nanami and her husband? Was he hired to do so? Why does he help her so often and what is he really interested in? There are moments where his true heart and feelings come out but even when it does the audience senses some skepticism as he is the one with the least amount of trust. Go Ayano plays the role with a sense of charm, wit, and likeability which is easy to digest in both good and bad ways.

To say "A Bride for Rip Van Winkle" is a bleak film is only a small part. The film has genuine laughs with some of its awkward scenes and the dark humor, and there are many moments that will make you smile. Of course these come gradually, as it is the second half where things emotionally start turning brighter.

"A Bride for Rip Van Winkle" has two separate versions available. There is the 180 minute theatrical cut, also dubbed as the "Director's Cut" which screened theatrical in March 2016 in Japan. There is also a "Serial Version" - which divides the story into 6 episodes at 40 minutes each with a runtime of 240 minutes. This was the version broadcast on cable TV as a mini-series. One would think that the 4 hour version is just the 3 hour theatrical cut with 1 hour of extended scenes, but in actuality the two versions are very different in filmed content. There are many scenes in the theatrical version which are exclusive - the first encounter between Nanami and Tetsuya is the opening of the theatrical version while in the serial version the opening starts at school and the theatrical opening completely excised. The scene of "the wedding night" and the next morning before Nanami awakens is in the theatrical version and missing from the serial version. The lengthy stripping/crying scene with Mashiro's mother is in the theatrical version but completely missing from the serial version. There are many instances such as these but at the same time, there are many lengthy scenes that are exclusive to the serial version. Nanami's former classmate that she meets at the convenience store and has dinner with - the scene is much longer in the serial version with the classmate talking about regretfully making an adult video. The "fake family" introductions and mingling is much longer in the serial version. Other changes include different angles and different takes in certain scenes. Notable is that in the theatrical version we never see the student that Nanami is tutoring on Skype and we only hear her voice as well as her mother's. But in the serial version the Skype screens are shown and the student and mother's faces are visible. Even with a 1 hour runtime difference there are probably about 2 hours of actual differences altogether in comparison.

As for the story itself, the outcome is the same and the story is basically the same as they chronologically both run sequentially. There are no alternative endings or plot changes. Basically the serial version is NOT an extended version at all but an alternate version of the story. As for a preference it will be a personal choice. The director places the theatrical version as his "Director's Cut", but there are fans of the serial version - myself included. The theatrical version - as long as it is at 3 hours, seems to cram quite a lot into the allotted time, while the 4 hour version gives it a little more breathing room and pacingly flows well with each part being exactly 40 minutes each. As for the excised scenes like the stripping/crying scene - this was one incredibly awkward and uncomfortable moments in the theatrical version, and when watching the serial version without it, it possibly worked better excised. But again, personal choice completely.

So why the title with "Rip Van Winkle"? It is revealed that it is the character of Mashiro's screenname on the site Planet, but there really isn't any explanation about the choice. Does she want to go to sleep for a long time and wake up in an unknown time? Does she feel estranged from everyone around her? It easily could be taken either way. As for the film itself, whether you watch the 3 hour version or the 4 hour version it is an emotionally heavy experience but overall, neither feel extremely long due to the excellent editing and shooting. "A Bride for Rip Van Winkle" is an excellent return to the Iwai formula but not at all repeating the same old thing. Unusual for a Japanese film, the theatrical version was released in Hong Kong and Taiwan theatrically before the Japanese premiere, being released on March 8th 2016 and March 11th 2016 respectively. For Japan it premiered on March 26th 2016 theatrically to strong reception but a 3 hour film was a hard sell and Toei distributed with little promotion and limited theatrical distribution. The 6 part serial version was shown on BS SkyPerfect TV from April 1st 2016 in addition to streaming, but unfortunately it did not register with a wide audience like the director's previous works. As a special program for the 29th Tokyo International Film Festival in late October and early November 2016, Iwai was one of the directors given a retrospective with five of his films including "A Bride for Rip Van Winkle" for a special theatrical re-release.

For home video, Pony Canyon has released two versions in Japan:

- Standard Edition - a single Blu-ray disc in a keep case with the 3 hour version plus a teaser and trailer as extras.
- Special Edition - a 4 disc Blu-ray set in a 12"x12" laserdisc sized special case with both 3 hour version and the 4 hour version, a teaser and trailer plus a 90 minute documentary. The first disc is identical to the standard edition.

Note this is a region ALL Blu-ray which can be played back on any Blu-ray player worldwide

Video


Pony Canyon presents the film in 1080p in the AVC-MPEG-4 coded, in the original 1.78:1 aspect ratio. The production was shot entirely digitally and the transfer is wonderful. The bright colors, bleak depressing colors all look natural with no issues of compression or errors. Detail is sharp when necessary but note that the cinematographer used very narrow focal length on many scenes so it does get blurry from time to time in backgrounds and foregrounds intentionally. Both the theatrical 3 hour version and the serial 4 hour version come from the same digital source so the transfer quality is virtually identical for both versions.

The two versions of the film are divided in the set as follows:

DISC ONE
* The Film - Theatrical Version (179:23)

DISC TWO
* The Film - Serial Edition (with Play All) (120:03)
- Part 1 "Promise" (40:01)
- Part 2 "Marriage" (40:01)
- Part 3 "Divorce" (40:01)

DISC THREE
* The Film - Serial Edition (with Play All) (120:03)
- Part 4 "Family" (40:01)
- Part 5 "White Mansion" (40:01)
- Part 6 "Bride" (40:01)

Note about playback issues:
When playing the theatrical version on my home set-up, around the 1 hour mark the picture started to stutter and the audio as well. Fastforwarding fixed the issue for a short while but it later returned. Skip to the final chapters and they became nearly unwatchable due to the stuttering image and sound. I've tried two different players and the same issue happens with both players. I could not find any information of others with disc issues so this may be an isolated incident. As of now, I received and tried two replacement discs - all with the same results. All other discs played without problems.

Audio


The theatrical version and the serial version have differing audio options:

Theatrical Version
Japanese Dolby Atmos
Japanese Dolby TrueHD 2.0 stereo (KISSonix 3D)
Japanese LPCM 2.0 stereo

Serial Version
Japanese Dolby TrueHD 5.1
Japanese LPCM 2.0 stereo

This is the first Japanese film to utilize Dolby Atmos and is the first Japanese production on Blu-ray to include an Atmos track. For a film that is very quiet and spacious, the Dolby Atmos track seems unnecessary, but considering that the film uses classical compositions such as Bach's "Orchestral Suite No. 3 in D major" among others, the Dolby TrueHD track does it justice. The serial version loses a few channels but the Dolby TrueHD 5.1 track is also great to hear spacially. Cocco's slightly broken rendition of the 1976 song by Yuming "Nani mo nakatta youni" ("As if nothing happened") at the karaoke restaurant is also wonderfully reproduced. Most of the dialogue is center heavy but the surrounds make use of the additional mutterings of students in classrooms, restaurant chatter, and other sounds.

Most readers must be wondering, "What is KISSonix 3D?" KISSonix is a Japanese audio company that is experimenting with surround sound capability with two channel audio. As they have put, the two channel Dolby TrueHD track mixed by KISSonix is made especially for two channel playback to recreate surround sound in a 3D environment. The theatrical disc also includes a standard two channel LPCM stereo track for comparison. The result? The KISSonix track has a little bit more echo to certain sounds and voices compared to the LPCM track so there is a little bit of "space" created. But overall I felt a bit disappointed in the result. Especially considering that the disc already incorporated a Dolby Atmos track for discrete surround sound and when switching back and forth, the Atmos track stood up high and wide while the 2.0 tracks paled.

And another thing many people will have issues with: There are no subtitles offered on the film or the extras. So if you don't understand Japanese, you're out of luck with this release. Fortunately, there currently are releases with English subtitles. In Hong Kong the 3 hour version and the 4 hour version have been released on Blu-ray but in two separate editions. The Hong Kong releases also lose the Atmos track, but is an alternative to English speaking audiences for now.

Extras


The extras are divided as follows:

DISC ONE

Teaser (0:38)
The teaser features Cocco's song "Cosmology", a list of actors and the director but no information on what the story is.
in 1080p AVC MPEG-4, in 1.78:1, in Japanese Dolby Digital 2.0 with no subtitles

Theatrical Trailer (1:21)
The trailer features the same song, snippets of dialogue and scenes from the film but is still very cryptic.
in 1080p AVC MPEG-4, in 1.78:1, in Japanese Dolby Digital 2.0 with no subtitles


DISC FOUR

"Days with Rip Van Winkle - The Making of A Bride for Rip Van Winkle" documentary (91:28)
This lengthy documentary features behind the scenes footage and interviews with the cast and crew during production. Iwai talks about how many of the themes and happenings came about through stories he heard, personal happenings, the reason for casting choices, and how loose the film was in shooting for many of the lengthy scenes. The actors talk about their work and their characters, the themes presented, and more. It's not the most in-depth documentary but it is more like a lengthy journal entry.
in 1080p AVC MPEG-4, in 1.78:1, in Japanese Dolby Digital 2.0 with no subtitles

Packaging


As stated the special edition is packaged in a 12"x12" laserdisc or vinyl sized gatefold packaging. Opening the gatefold, the four discs have individual hubs for storage with the disc art matching the background. Here are pictures of the packaging along with a comparison in size next to some vinyl soundtrack albums:


Overall


"A Bride for Rip Van Winkle" is a return for director Shunji Iwai and is an emotionally draining yet uplifting film. The Japanese special edition includes both the 3 hour version and 4 hour version with a lengthy documentary but without any subtitles and the expensive list price, non-Japanese fans may want to get the Hong Kong releases or wait for other editions.
| | | | | |
| --- | --- | --- | --- | --- |
| The Film: A | Video: A | Audio: A | Extras: C | Overall: B+ |