The Show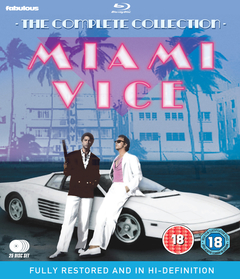 ***This is an A/V and Extras review only. For reviews on the show from various critics, we recommend visiting HERE.***

The pulse and the rhythm of a glamorous resort is juxtaposed against the steamy haunts of the drug underworld in this groundbreaking action series now fully restored and in high definition on Blu-ray. Two cops from different backgrounds - street-smart New Yorker 'Rico Tubbs' (Philip Michael Thomas) and stubble-faced southerner 'Sonny Crockett' (Don Johnson) – team up to take on Miami's underworld. Enjoy all 111 episodes from all 5 seasons of this ground-breaking series, with an array of guest stars including Michael Madsen, Jimmy Smits, Bruce Willis, Keith Szarabajka, Glenn Frey, John Tuturro, Ving Rhames, Pam Grier, Gene Simmons, Michael Bay, Frank Zappa, Bianca Jagger, Ted Nugent, Frankie Valli, Phil Collins, Eartha Kitt, Emo Philips, Leonard Cohen, Little Richard, Helena Bonham Carter, Melanie Griffith, Jeroen Krabbe. Liam Neeson, Willie Nelson, Bill Paxton, Brad Dourif, Benicio Del Toro, Annette Bening, George Takei, Viggo Mortensen, Laurence Fishburne, Lou Diamond Phillips, Steve Buscemi, Wesley Snipes, the 'Godfather of Soul' James Brown, Sheena Easton, Stanley Tucci, Xander Berkeley, Harry Shearer, Alfred Molina, Isaac Hayes, Chris Rock, Ian McShane, Julia Roberts, Ben Stiller, Amanda Plummer and more...

Video


Over the last few years we have been spoiled for choice on Blu-ray when it comes to vintage television appearing on the format from various countries around the world: The Persuaders (1970-71), Battlestar: Galactica (1978-80), Star Trek (1964-69), Space: 1999 (1974-76), The Prisoner (1967-68), The House of Cards Trilogy (1990-95), Miss Marple (1984-92), UFO (1969-70), Thunderbirds (1964-66), Buck Rogers in the 25th Century (1979-81), Columbo (1968-2003), Agatha Christie's Poirot (1988-2013), Star Trek: The Next Generation (1987-94), The X-Files (1993-2002) amongst others.

Fabulous Films in the UK have secured the rights to several classics from the Universal TV back catalogue: Knight Rider (1982-86), Magnum P.I. (1980-88), The A-Team (1982-86), The Incredible Hulk (1977-82) and perhaps the most eagerly awaited Anthony Yerkovitch's seminal Miami Vice (1984-89). I know plenty of pals who'll be chuffed as hell that this has finally made the upgrade to HD and joined other fondly remembered gems from our childhood. So how does this ground breaking police procedural drama shape up on Blu-ray?

Miami Vice was shot on 35mm film and as such is a perfect fit straight out of the vault for HD; just high quality, high resolution film.....and I'm happy to report that it looks extremely good! Yerkovitch was given the brief by studio head Brandon Tartikoff of MTV Cops and Yerkovitch was keen on using the sun drench Miami Florida locations as the backdrop. Once Michael Mann (and his company) came on board the visual distinction the series became famous for was assured. Mann had been a writer fro US TV for quite some time and had many scripts produced, but after directing the TV movie The Jericho Mile (1979) had graduated to theatrical features with the superb Thief (1981). His interest in authentic detail of criminals and police would be carried over to Yerkovitch's pet project.

Enough of the background, back to the discs.

Bold, bright, colourful images that hold up nicely with solid colours, generally good black levels and plenty of detail, especially in well lit sequences; I occasionally saw some mild black crush, usually in night scenes but nothing too worrying. I checked every single episode (112 in all) both visually and aurally and they all look great. I didn't see any signs of damage or artifacts; no mosquito noise, no aliasing and no evidence of poor encoding. These discs hold between 4-5 x 45-48 minute episodes each and are all BD50s with duel layers. The only downside is that these are most likely aged masters dating back some years, possibly 1-2K in resolution so some softness is to be expected. Also, as an added bonus on the checkdiscs I received the episode One-Eyed Jack is the uncut version with the 9 seconds of cock-fighting previously missing from UK versions in place.

Picture perfectionists will probably pick fault with these transfers (don't they always online?) but for the vast majority of punters and fans these transfers will be the business.

1.33:1 / 1080/24p / MPEG-4 AVC

Audio


English DTS-HD Master Audio 5.1

All five seasons are presented in English DTS-HD Master Audio 5.1; the original 2.0 stereo tracks having been given a major boost. These tracks are loud, and robust but are obviously not going to have the explosive effect of a modern 5.1 blockbuster track, but they are lossless and that is a good thing. You get plenty of bang for your buck with these and I found them so loud that I had to turn the sound down. One of the main strengths of this series is it's use of electronic and contemporary popular music tracks; these are very well served by the 5.1 tracks. Surrounds are fairly active, especially during action moments.

The US Mill Creek set had some sound issues; two episodes with phasing problems and two episodes with only 2.0 stereo and no 5.1. Sadly the first season episode Heart of Darkness has the phasing issue running on and off throughout. In the first fifteen minutes I noticed the problem thus:
- 2'31" "you just got off the bus from Nebraska line" only is affected.
- 3'11" Crockett's line only.
- Between 10'24" and 15'06" solid.

I gave up on that one at that point. Faulty and annoying; sounds like you're watching in a large church hall. Lets hope that Fabulous correct the fault and repress Disc 1 before the set is released.

It's a shame that the original 2.0 Stereo track has not been included (as on the Mill Creek set) for the purists; that said, I don't think most will miss it.

Alas, there are no subtitles.

Extras


Not much, but then this is a budget release as regards these kind of things, so at least we have the brief featurettes ported over from the DVD sets. All date from the early-mid 2000s. All extras are on disc 25.

The Vibe of Vice (5:12) - Overview of the series discussing the series' $1.3 million per episode budget, the cultural impact, the casting, the use of music and more. Features Anthony Yerkovitch plus vintage interviews with the actors and other members of the crew. Trivia: Michael Mann dictated no earth tones on the set.m season one was nominated for fifteen Emmy Awards.

Building the Perfect Vice (7:51) - This one delves into more details about the creation specifically the influence of MTV and studio input. Features Yerkovitch and casting director Bonnie Timmerman.

The Style of Vice (5:59) - this featurette deals with the clothing and general approach to the famous style of the show; it's influence on men's dress specifically. Costume designer Jodie Tillen features.

The Music of Vice (6:46) - Jan Hammer on the scoring, the influence of MTV and of executive producer Michael Mann.

Miami After Vice (2:24) - The influence of the real city of Miami on the production of the series is discussed with interviews snippets with locals and shots of Miami today. Fleeting and superficial with soundbite interviews.

Overall


Fabulous Films have done a great job bringing this off the shelf release to the fans; don't expect a detailed, lavish, expensive, curated release and or brand new transfers in 4K and you'll be pleased. This is a welcome addition to the HD TV cannon and is likely to be THE definitive release of the series to date as Mill Creek's set seems to be less discs and is more compressed as a result (and extras free).

This is a classic slice of TV of the kind that makes people who were there very happy with a warm glow of nostalgia and it's nice to see the series looking so good, like it was shot yesterday. This series is seminal in that it influenced the look of cop shows and action films to come, and also introduced a welcome layer of grit and realism to US TV. It's expensive (list price £174.99) but deals online will be available. Get it preordered.
| | | | | |
| --- | --- | --- | --- | --- |
| | Video: B+ | Audio: B | Extras: C | Overall: B |