The Show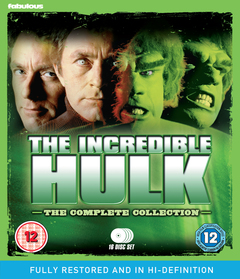 ***This is an A/V and Extras review only. For reviews on the show from various critics, we recommend visiting HERE.***

"Don't make me angry. You wouldn't like me when I'm angry."

Mild-mannered research scientist David Banner (Emmy® nominee Bill Bixby) finds he must offer this heroic warning after exposure to gamma radiation transforms him into the terrifying and enraged Hulk (Lou Ferrigno). Bursting from the Marvel comic book pages into this fully restored and in high definition 16-disc Blu-ray set, The Complete Collection of The Incredible Hulk boasts every episode from all 5 seasons and includes the two original feature-length films and some awesome bonus material.

Video


Vintage TV on Blu-ray has been well served in the last few years with promises of more to come. Fabulous Films in the UK have secured the rights to several classics from the Universal TV back catalogue: Knight Rider (1982-86), Magnum P.I. (1980-88), Miami Vice (1984-90), The A-Team (1982-86) and speaking personally the most eagerly awaited: Kenneth Johnson's The Incredible Hulk (1977-81). This was one of those series that all the family used to watch, and it's most definitely not Marvel's Hulk. At the time there was no way a feature film much less a TV series would have been able to tackle the kind of action and SPFX we've subsequently seen in Hulk (2003) and The Incredible Hulk (2008). Johnson wasn't interested in making an a true adaptation in any case, so he took his inspiration from Les Miserables (1862) and The Strange Case of Dr. Jekyll and Mr. Hyde (1886).

The Incredible Hulk was shot on 35mm film and as such is a perfect fit straight out of the vault for HD; high quality, high resolution film, and I'm very happy to report that it looks a terrific! If anyone reading this has other US TV shows like The A-Team or Knight Rider on Blu-ray then you'll know what I mean. This was shot, assembled, edited and post-produced entirely on film and therefore doesn't require an expensive rebuild ala Star Trek: The Next Generation or The X-Files.

Bold, bright images that hold up nicely with solid colours, good black levels and plenty of detail, especially in well lit sequences. Being a US TV series of this era it's shot in a fairly bright, flat style; the better for TVs in poor reception areas to get a clear image. I checked all 82 episodes and the transfers are impressive. I didn't see any signs of damage or artefacts; no crush, no mosquito noise, no aliasing and no evidence of poor encoding. These discs hold between 4-7 x 48-50 minute episodes each and are all BD50s with duel layers. The only caveat is that these are almost certainly aged masters dating back some years, so some softness is to be expected; especially on discs holding six or seven episodes of which there are several.

Perfectionists will pick fault with these transfers but for the vast majority of purchasers these transfers will be a major upgrade on the DVDs. All of the episodes are in the uncut original broadcast versions; no edited syndication variations on this set. The feature-length pilots The Incredible Hulk, Death in the family (first broadcast as a TV movie as The Return of the Incredible Hulk) (both 1977) and the season two opener Married (1978) are uncut.

I'm happy to report that Kenneth Johnson's "anti-comic book" adaptation has no major failings like Fabulous' previous TV sets, although I think that an extra disc or two with no more than five episodes on each might have been better. Also, the three TV movie followups are not included: The Incredible Hulk Returns (1988), The Trial of the Incredible Hulk (1989) and The Death of the Incredible Hulk (1990). Perhaps Fabulous are planning on a followup Blu-ray set?

1.33:1 / 1080/24p / MPEG-4 AVC

Audio


All five seasons are presented in the original English DTS-HD Master Audio 2.0 Mono. These tracks are very strong and dialogue is always clear, but are obviously not going to have the explosive effect of a modern 5.1 track, but they are lossless and that is a good thing. You get plenty of bang for your buck with these and I found them so loud that I had to turn the volume down.

Had the money been available this would have been a shoe-in for a total 5.1 upgrade; however, Fabulous Films have very limited budgets and they've done a bang up job with this release so I'm not complaining.

Alas, there are no subtitles.

Extras


Not much, but all of the material found across the five seasons on DVD has been ported over bar preview episodes.

Audio commentary tracks with Kenneth Johnson on The Incredible Hulk (1977), Married (1978) and Prometheus (1980) - Johnson's commentary tracks are legendarily good; warm, witty, unpretentious And very personable. He fills the time with massive amounts of detail, trivia, insight into his methods and enthusiasm. These feel like avuncular lectures and are very well prepared with no dull moments.

Creating an Iconic Character: The Hulk (9:50) - Cast and crew reminisce about how the show was created with lots of input from Kenneth Johnson who went on to create "V" (1983-85) and Alien Nation (1989-90 / 1994-96).

Remembering The Incredible Hulk: An American Classic (17:33) - An informative overview of the show, it's popularity and historical significance; a mixture of vintage and then (2008) contemporary interviews.

Behind the Scenes: The Story of the Incredible Hulk (18:19) - Behind the scenes vignettes about the making of the series with cast and crew; a mixture of vintage and then (2008) contemporary interviews.

Gag Reel (6:04) - Some amusing outtakes from the production taking from vintage videotape sources.

Lou Ferrigno Intro (3:54) - A brief interview with the actor who plays the Hulk.

Overall


Fabulous Films have done a great job bringing this of the shelf release to the fans; don't expect a detailed, lavish, expensive, curated release and or brand new transfers in 4K and you'll be pleased. This is a welcome addition to the HD TV cannon and is likely to be THE definitive release of the series as of this time there have been no announcements of a release anywhere else. That said, I'd be very surprised if Mill Creek in the USA don't have one planned.

This is a classic slice of vintage telefantasy and it's nice to see the series looking so good, like it was shot yesterday. It's expensive (list price £149.99) but deals online will be available and it'll knock the spots off the cheaper US release as regards quality. Well worth preorder.
| | | | | |
| --- | --- | --- | --- | --- |
| | Video: A | Audio: A+ | Extras: C | Overall: A |