The Film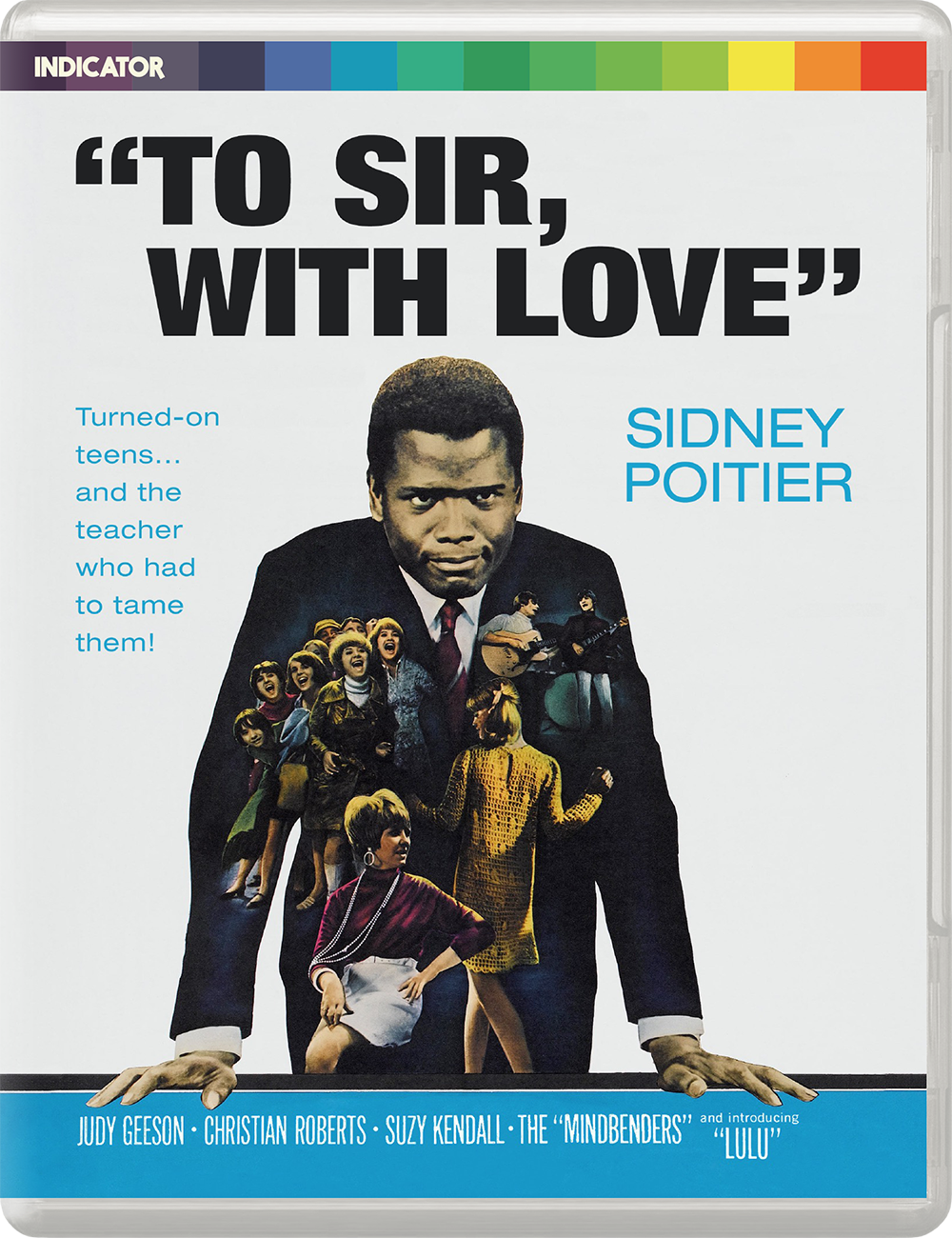 ***This is an A/V and Extras review only. For reviews on the movie from various critics, we recommend visiting HERE.***

A story as fresh as the girls in their minis. . .and as tough as the kids from London's East End!

Sidney Poitier gives one of his finest performances as Thackeray, an out-of-work engineer who decides to try his hand at teaching, only to be faced with a class full of unruly teens (including Christian Roberts, Judy Geeson, Suzy Kendall and Lulu) intent on breaking his spirit. But Thackeray, no stranger to hostility, meets the challenge by treating the students as young adults.

When offered an engineering job, Thackeray must decide if he wants to stay.

Video


Powerhouse Films have released To Sir, with Love on to Blu-ray for the first time in the United Kingdom, and it's a strong release the film deserves. The film is presented in its original aspect ratio of 1.85:1 and uses an AVC codec. Presented in 1080p, it utilises a 2K restoration licensed from Sony.

As to be expected from a Sony licensed source, this feature looks very natural and has avoided any sort of edge enhancement or digital noise reduction, as evident by the consistent noticeable light grain structure throughout, which is ever so slightly stronger during the opening and ending credits. The encode is excellent with no instances of compression problems, with compressionist David Mackenzie once again living up to his extremely high reputation. Colours are instinctive and give a real feel of a deprived inner-city London public school from the sixties, especially the drab classroom and old school desks. However, the brighter colours associated with the era are also replicated well, offering a splash of colour where required (usually with clothing on the female characters - particularly Lulu's). Blacks are deep and do not suffer from any crush, and shadow details in the depressingly dingy environments are strong. In fact, detail in general is typically at the higher end for a film of this age, with facial close-ups showing every contour in the skin, and even minor details in the backgrounds of the classroom looking quite sharp. There are no major signs of damage at all, but occasional specks are visible. When compared to the previous UK DVD release from Columbia TriStar Home Entertainment, this transfer is a revelation. It's not reference quality, or as good as the transfer found on Powerhouse's other Poitier film Guess Who's Coming to Dinner, but nobody should be coming away from a viewing less than pleased.

The feature is uncut and runs 105:02.

Audio


Powerhouse Films have included a single audio track for this release; English LPCM 1.0. This is a dialogue driven film for the most part, but there are several moments where the track is a bit more 'busy'; the school dance, unruly students ignoring the teacher in the classroom, and the market. These scenes are handled well, and have reasonable depth despite the mono limitations. Dialogue is always clear, and volume levels are consistent. Particular praise has to go to the songs in the film, which sound as good as they probably did fifty years ago. There are no causes for complaint with this track. I noticed no signs of scratches, drop outs, pops, or background hiss.

Optional English subtitles are included for the hard-of-hearing.

Extras


Audio commentary with actress Judy Geeson, and Twilight Time's Julie Kirgo and Nick Redman - Redman and Kirgo are quite legendary and highly respected when it comes to their audio commentaries, and including actress Judy Geeson into the mix ends up with a great result. There are zero dead spots in this commentary, and there is a very good balance of anecdotal stories and background information, not just for the film, but for the British school system during the era. Informative and enjoyable, this is a must.

Audio commentary with author E. R. Braithwaite and author Salome Thomas El - This is a bit of a strange commentary in comparison to the previous one, but is informative all the same. It does appear that both participants recorded individual efforts separately, which were then spliced together, and although it is noticeable, it is effective as both authors have been teachers during different periods, but it becomes clear that similarities in the systems between London and America exist. This focuses more on teaching and social aspects than the film itself, but is still worth listening to.

Isolated Score (LPCM 2.0) - I didn't listen to this in its entirety, but did have a quick look through several scenes. In the scenes I checked, Ron Grainer's remains subtle but fitting. The 2.0 lossless audio is a little more lively than the mono of the actual film.

Interviews:
- "Those Schoolboy Days" (23:31) - This is a newly filmed interview for this release with actor Christian Roberts who played the rebellious Denham. He talks about a variety of topics from how professional and considerate Sidney Poitier was, how he opened a restaurant in Barbados and Lulu turned up, how this was his first professional job and the excitement that ensued. The bit that made me laugh the most here was how he says he phoned up his father to tell him he got the job, and when he told his Dad he was getting paid £75 a week, his father told him it was a "ridiculous amount of money" (the equivelant of over £1000). Although Roberts stutters and stalls a little at the start of the interview, he soon gets into the swing of things.
- "Look and Learn" (10:57) - Another newly shot interview, this time with art director Tony Woollard. He is quite open with how he got a hard time at the start of production from the producer, because he was so young at the time, but how his mind was quickly changed when he saw his work, eventually bcoming great friends. This is an informative if short interview that generally focuses on the locations, and the buildings of the sets.
- "E.R. Braithwaite: In His Own Words" (23:42) - This interview just goes to show how much of exceptional man Braithwaite is, and what an interesting life he has led. He talks about how he became a teacher after the second world war, his relationship with his students, and how he had no plans to be either a teacher, or a writer.
- "Lulu and the B-Side" (5:01) - Lulu not only had a supporting role in the feature, she also sang the theme song which was successful in both the UK and America (reaching number 1). Here she talks about the deal her agents made and how Columbia had originally sent her an awful song which she hated to the point that she worked with Marc London who ended up writing the successful song that was eventually used in the end product. There is also a soundbite from Michael des Barres included. I always like it when an interviewee is so honest.
- "To Sidney with Love" (5:14) - This is an interview with Sidney Poitier's former agent Marty Baum who discusses the troubles encountered in getting the film released and the sacrifices that were made, with Clavell and Poitier working for a % of gross rather than an upfront fee, and with a $750,000 budget.
- "Principal El: He Chose to Stay" (10:58) - Teacher and author Salome Thomas El talks about inner city schools and the challenges of teaching less fortunate children who are disillusioned. He talks about the impact of the film on his life and the importance of working with these types of students and winning them over.

"Miniskirts, Blue Jeans and Pop Music" featurette (15:19) looks at the culture of London during the sixties, and how Clavell captured the music and clothes well. The featurette mainly revolves around Lulu and her experiences, some of which is a retread on what she spoke about in her interview. However, there is plenty to enjoy here about Clavell and how he encouraged a lack of discipline with the cast in order to capture the way the students act against Poitier in earlier scenes.

There is also an Image Gallery (20 pages), a Theatrical Trailer (3:17), a DVD Copy and a 16-page booklet with a new essay by the BFI's Tega Okiti.

Overall


Powerhouse have released a great disc here, giving the feature a solid A/V presentation and the most impressive slate of extras the film has seen to date. A solid purchase.
| | | | | |
| --- | --- | --- | --- | --- |
| The Film: B+ | Video: B+ | Audio: A- | Extras: A+ | Overall: B+ |