The Film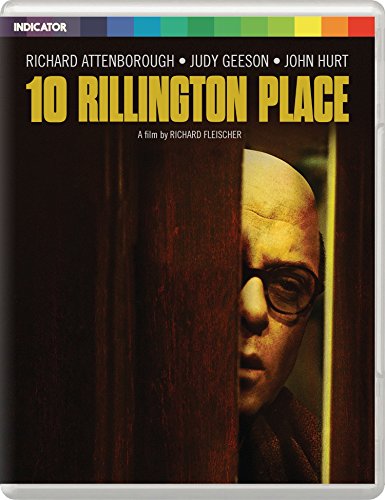 ***This is an A/V and Extras review only. For reviews on the movie from various critics, we recommend visiting HERE.***

What happened to Ena and Geraldine and Beryl and Muriel and Rita and Ethel at 10 Rillington Place?

This classic British chiller is the horrifying true story of serial killer John Christie, played to unnerving effect by Richard Attenborough. When Timothy Evans (John Hurt) and his wife (Judy Geeson) rent a tiny room in Christie's terraced house, they are unaware that they have sealed their fates and that they will fall foul of Christie's perverse and murderous scheme.

Shot in the original street where Christie's crimes were perpetrated, Richard Fleischer's stark, unsensational depiction uses exteriors from the actual house as part of its grim recreation of the events.

Video


Ten years into the format, and we finally get British classic 10 Rillington Place on Blu-ray, courtesy of new label Powerhouse Films. To be blunt, it has been worth the wait! Powerhouse have licensed the recent 4K remaster from Sony for this release, and present the film in the original aspect ratio of 1.66:1. The feature receives an AVC codec, and is 1080p.

Now 10 Rillington Place is not just a very dark film in tone, but also in appearance. I have to admit to being a little skeptical at first due to being disappointed with even recent Hollywood films suffering from poor black levels and underwhelming levels of shadow detail. Well, my fears were very quickly put to bed, as there are no causes for concern here. Blacks are deep and without crush, and minute details show clarity in the drab shadowy settings in the various rooms of the house. Details are veritably excellent throughout, from the intricate patterns on the decor of the era such as curtains, through to clothing and facial close-ups. The occasional shots with more going on in the background also impress, particularly in the pub. The various browns and greys look great distinct, and skin tones natural. Contrast levels are fine and there are no compression issues. There is a natural layer of film grain throughout, and there has obviously been no digital noise reduction. There is no noticeable damage in the print, and I didn't detect any issues with banding, aliasing or edge enhancement. This is an all-round excellent transfer, and I'd be extremely surprised if it could be bettered on the format.

The feature is uncut and runs 110:57.

Audio


Whilst the sound stage may be narrow, the single English LPCM 1.0 track included here is flawless and manages to do what other films with more robust 5.1 tracks don't; create an atmosphere. In keeping with the tone of the film, minor effects such as creaking floorboards, slamming doors, and footsteps all help to add a bit of depth to the track. This is mainly a dialogue driven film within tight settings, but the occasional wider/'busier' scene has a noticeable uptick in activity (crowd noise in the pub for example). John Dankworth's score is sparse, but certainly tense and creepy at all the right moments. There are no issues to speak of here such as mumbled dialogue, scratches, pops, drop outs, or background hiss. This is a reference quality original mono track.

Optional subtitles have been included in English for the hard-of-hearing.

Extras


Audio commentary with actress Judy Geeson, screenwriter Lem Dobbs, and film historian Nick Redman -
Although only Geeson is mentioned in the menu, rest assured this is a group commentary. I always like having a mix of people in a commentary as having someone who worked on the film answer questions from people familiar with the industry and film in general helps things ticking along nicely. Right from the start, this is a cheery and informative affair, with Geeson talking about her experiences and memories, whilst Dobbs (who first saw the film aged 12) and Redman talking more about the story aspects and the features position in cinema.

Audio commentary with actor John Hurt - As much as I like John Hurt as an actor, I wasn't sure how Hurt would be as a solo commentator having never got around to listening to the track from the previous DVD release this has been lifted from. Not for the first time on this release, my fears were unwarranted though. Hurt presents an intelligent commentary talking in considerable depth about the original crimes that inspired the film. I would actually say I prefer this commentary of the two, although there are some short dead spots in this one here and there.

Isolated Score Track (presented in LPCM 2.0 Mono) - As I stated in the audio section, John Dankworth's score is sparse, but certainly tense and creepy at all the right moments. Unfortunately, it is so sparse, there are a lot of dead spots in this isolated score. I did not view this extra in it's entirety, but the parts I sampled sounded as good as they did during the actual feature.

Introduction by actor Richard Attenborough (1:28) - Exactly what it says on the tin. Star of the film takes a minute to introduce to the film whilst saying it is one of the films he has done that he has very clear memories of and how it ranks highly out of the films he has been involved with.

Interview with actor Richard Attenborough (22:34) - This interview features chapter stops between each section. Attenborough covers a wide range of topics, from how he got involved due to a friend who was against capital punishment, his recollections on actual events, creating his character, the realisation of the role, Fleischer, Rehearsals, retrospective thoughts on the shoot (he found the role unpleasant and disconcerting to play due to the tough nature of the murders), and police protection. This is an in-depth account of Attenboroughs thoughts and experiences and he is a joy to listen to.

"Being Beryl" interview with actress Judy Geeson (22:08) - Filmed by Fiction Factory, this interview has Geeson talk about her role, and how it was the first time she played a character that wasn't a happy 'hippy chick', the case on which the film is based and how she researched the case, the screenplay, and more. This is a welcome addition to the package, though not as informative as the Attenborough interview.

The extras finish with an Image Gallery (31 pages), a Theatrical Trailer (3:20), a DVD copy, and a booklet with a new essay by Thirza Wakefield and archival reprints.

Overall


10 Rillington Place gets a release it deserves. Reference quality A/V and a great stack of extras. An essential purchase.
| | | | | |
| --- | --- | --- | --- | --- |
| The Film: A- | Video: A+ | Audio: A+ | Extras: A | Overall: A |