Skiptrace [Blu-ray]
Blu-ray A - America - Lions Gate Home Entertainment
Review written by and copyright: Eric Cotenas (8th December 2016).
The Film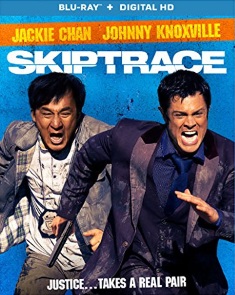 Helmed nondescriptly by former blockbuster director Renny Harlin – whose downhill slide began with re-making Paul Schrader's middling Dominion: Prequel to the Exorcist into the disaster that was Exorcist: The Beginning – the latest Jackie Chan vehicle Skiptrace is somewhat of a Rush Hour-redux (the Shanghai Noon films having long since been forgotten) with fast-talking smartass Knoxville replacing Chris Tucker – while also replacing intended co-lead The Rundown's Seann William Scott – and a performance of Adele's "Rolling in the Deep" by Chan, an uncredited but amazing Catherine Jiahan Cai, and an entire Mongolian camp replacing "War." Ten years after the murder of fiancιe as well as his partner Yung (Infernal Affairs' Eric Tsang), police detective Benny Chan (guess who?) has been trying to prove that philanthropist Victor Wong (Eat Drink Man Woman's Winston Chao) is actually notorious Hong Kong drug kingpin "The Matador." He finds himself on leave and possibly being forced into retirement by Captain Tang (Legacy of Rage's Michael Wong) after involving junior colleagues Leslie (Shi Shi) and Esmond (Dylan Kuo) on an unsanctioned sting on Wong's right-hand man Handsome Willie (Jeong-hun Yeon) that of course goes disastrously wrong in Jackie Chan action set-piece fashion resulting with the leveling of a fishing village which collapses like a row of dominoes. On the run from Russian mobster Dima (Die Another Day's Michael Gor) after apparently impregnating his daughter Natalia (Sara Maria Forsberg), American gambler/conman Connor Hicks (Bad Grandpa's Johnny Knoxville) arrives in Macau and soon becomes a witness to murder when he evades Dima's men by stealing casino manager Samantha's (X-Men: Days of Future Past's Bingbing Fan) pass card and gaining access to the casino's penthouse. Turning tail, he runs right into the arms of his Russian pursuers – including badass Dasha (WWE Raw's Eve Torres) – and is dragged back to Siberia. Because her card was used by Connor, casino owner Victor Wong charges Samantha with getting Connor back or to be responsible for the million dollars he apparently cheated the casino out of (with no mention of the murder). Samantha, as it turns out, just happens to be Benny's goddaughter who – much to Benny's consternation – infiltrated the casino to gather intael on Handsome Willie and Victor Wong. When she appeals to Benny to help her find Connor, he leans on smitten Leslie to find Connor's location and is soon off to Siberia. Arriving in time to rescue Connor from a very particular kind of shotgun marriage, Benny plans to take him back to Macau. As they cross Russia and Mongolia to the Chinese border chased by the Russian mafia and Handsome Willie, Connor tries to use the murdered woman's phone as a bargaining chip for his own freedom, both unaware that Samantha has been betrayed by someone Benny thought he could trust for his safety.

To call Skiptrace an identikit action film would be suggesting that Chan's previous triumphs were any less cookie cutter. Reuniting Chan and Harlin (who replaced Paranorman's Sam Fell) from the shelved 2001 project "Nosebleed", there is a sense of cheapness wrought by the undistinguished compilation soundtrack – with several tracks by rockabilly singer Deke Dickerson (who had previously recorded a track for Knoxville in Jackass 3D) – that kicks into gear every time our heroes even move a little quicker than walking – and Red Epic cinematography that looks less "cinematic" than drone travelogue (funny bits involving oversized Russian nesting dolls and a Taser and a spilled fishtank make up for some terrible CGI shots). The film is at its best like all Jackie Chan films during the action set-pieces, and Harlin and Chan's stunt crew do not skimp here even if the editor seems to be working at odds with the action's momentum in an attempt to crosscut simultaneous fight scenes. Knoxville's Jackass-ery is of a very different style of "stunt work" than Chan's, with the former more convincing in his willingness to eat goat testicles with gusto than the various setpieces that seem to require him tightly bound and unable to move more for his own safety as the stunt choreography works around him. The chemistry between Chan and Knoxville feels more forced than the love interest angle, which is perhaps a good thing since the pairing of Chan with increasingly younger female leads is getting ridiculous. Skiptrace is entertaining enough on its own, but will probably leave seasoned Chan fans pining for the days of Drunken Master II or Police Story, and more casual viewers for the likes of Rumble in the Bronx or Supercop (or even at the very least First Strike). The film is dedicated to camera operatorKwok Hung Chan who drowned in 2014 on production of this film.

Video


LionsGate's 1080p24 MPEG-4 AVC 2.40:1 widescreen shows off the Red digital cinematography to its best, looking strong in close-ups, bright sunny exteriors, and some beautifully-lit night scenes. The CGI and digital effects do look a little flatter and faker, but this is the fault of the production not the the encoding.

Audio


The sole DTS-HD Master Audio 5.1 is busy throughout with dialogue as well as directional and surround effects prioritized over the music during the body of the film (just as well). Optional English, English SDH, and Spanish subtitles are also provided (Mandarin dialogue is translated with subtitles on the print).

Extras


The first of the two extras is an audio commentary by director Renny Harlin in which he discusses working with Chan and Knoxville, shooting overseas, and reveals that they shot the "Rolling in the Deep" sequence but found in post-production that it would have to be cut since the producers felt that there would be no way they could secure the rights. Harlin appealed to a British colleague in music production to get an in with Adele. He sent her the scene and a letter asking for her permission to use the song, which she granted (he also reveals that Chan's "Rolling in the Deep is a classic" line got quite a few laughs at screenings). "When Jackie Met Johnny" (5:03) is a press kit puff-piece highlighting the personalities of the two stars.

Packaging


Skiptrace is entertaining enough on its own, but will probably leave seasoned Chan fans pining for the days of Drunken Master II or Police Story, and more casual viewers for the likes of Rumble in the Bronx or Supercop (or even at the very least First Strike).

Overall




---
DVD Compare is a participant in the Amazon Services LLC Associates Program and the Amazon Europe S.a.r.l. Associates Programme, an affiliate advertising program designed to provide a means for sites to earn advertising fees by advertising and linking to amazon.co.uk, amazon.com, amazon.ca, amazon.fr, and amazon.de.