The Film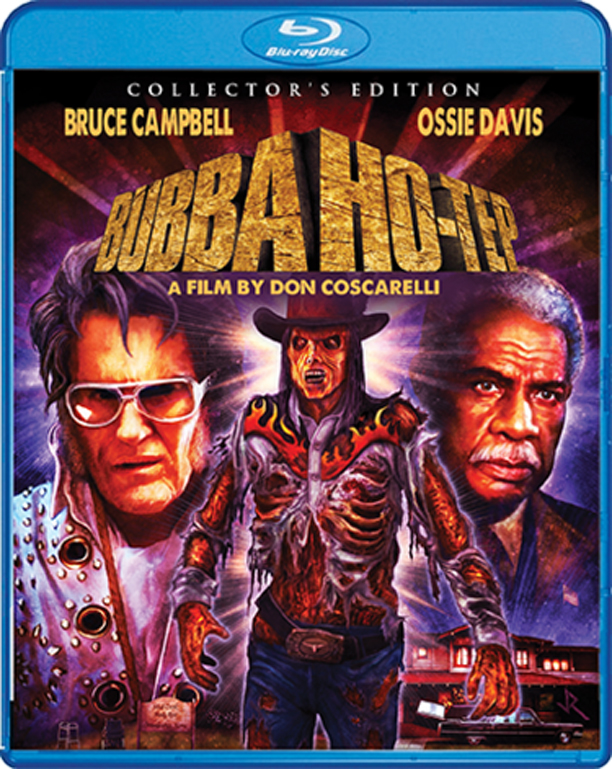 Bruce Campbell, the man, has almost always been on par with Bruce Campbell, the actor; a scenery-chewing, larger-than-life sarcasm machine who is able to command the attention of all in his presence. Anyone who has ever attended a convention where he has done a Q&A can attest to this – the man can magnetize an audience like few others. So, it would only stand to reason that someone would come along and give the man a meaty, spotlight-shining part that allows him the harness the entirety of his comedic chops. That man is director Don Coscarelli, and that part is none other than The King himself, Elvis Presley. The film, "Bubba Ho-Tep" (2002) is ostensibly about an aging maybe-Elvis fighting an ancient mummy hell-bent on harvesting souls from the old and infirmed. But, really, this is a vehicle for Campbell the turn his personality up to eleven and devour every on-screen moment. If anything, the mummy plot line slows down the momentum built entirely upon Campbell's performance, with a little bit of solid assistance from Ossie Davis.

Elvis Presley (Bruce Campbell) sits in a nursing home, lying beside a dying roommate, with a growth on his pecker. Life is a far cry from his prime of lovely ladies, gyrating hips, and sequinned jumpsuits. The staff knows him as Sebastian Haff, an Elvis impersonator who slipped, broke his hip and wound up in a coma here at The Shady Rest Retirement Home in Texas, but that's only a partial truth… or is it? According to Sebastian/Elvis, he made a deal with The King years ago, wherein he – Elvis – swapped places with Sebastian- his spitting image imitator – in order to get away from the glitz and glamour of the music business. Their arrangement gave Elvis a clause that would allow him to resume his former life at any moment, should he choose to do so, but a trailer park explosion blasted away all the official paperwork. No matter; Elvis is happy enough right where he's at.

What he isn't happy about is aging. And losing his mobility. And he definitely isn't down with the thousands-year-old mummy that's been forcibly removing the souls from his equally-decrepit housemates. At first it starts out as just a "bug problem", with Bubba Ho-Tep's scarabs attacking sleeping residents, but when the dead man himself shows up to terrorize the elderly, Elvis and his one buddy, JFK (Ossie Davis) – alive after his assassination attempt and dyed black to cover the evidence – hatch a plan to defeat this "undead sack of sh*t".

Your enjoyment of this film will depend entirely on your enjoyment of Bruce Campbell and, really, I can't imagine why anyone would watch this film unless they were down with "The Chin". While he'll always be known as Ash, Campbell's turn as an aging Elvis might be the best bit of actual acting he's ever achieved. His Elvis is a world weary soul, still full of piss & vinegar… though now it's mostly piss and he has to drain it in a bedpan. The cancerous growth on his pecker isn't doing much to brighten his spirits either. He spends his days laid up in a sweltering, austere room reminiscing about the old days and lamenting his lack of penile functionality. Crippled and considered a fraud, he has seemingly resigned himself to waiting for death. But once that old mummy comes around Elvis gets a fight in him and Campbell juices up the role with a sense of urgency and purpose. All of this character development is excellent, but let's not be remiss of the fact Campbell does a damn fine Elvis impersonation. He's genuine and, most importantly, respectful; this isn't some satire of The King.

Campbell is so good, in fact, that the actual plot of the film feels like it's subservient to his performance. The mummy doesn't properly show up in late into the picture (nearly 40-something minutes in) and any of the moments when it is onscreen, menacing senior citizens, the film feels like it's dragging. Luckily those moments are scant but still, the fact they seem to slow the picture only underscores how valuable Campbell is being in almost every scene. The KNB crew handled the mummy effects, charging Coscarelli for materials only because the budget was so low, and their work here is… fine. It works. It's about as simple and effective as it gets for a Texas mummy. Personally, I've never quite liked the design but, then again, how much can you do with a mummy? It's a dude covered in rags.

There isn't much for a supporting cast outside of Ossie Davis, who completely nails the role of a blackface JFK who was unceremoniously dumped at this retirement home by LBJ. Davis perfectly toes the line between vacant headspace and acute resilience. As outrageous as his claim to be a former president is, there really isn't much distinction between his far-fetched tale and Elvis'. Even The King himself isn't quite sure whether or not JFK is on the level. Davis is both soulful and regal in the role, becoming the perfect partner for Elvis to team up with for a backyard brawl against the undead.

Coscarelli has teased a sequel to this film ever since it came out. The end card promising Elvis' return was meant as more of a joke than anything but in the ensuing fourteen years there have been casting rumblings and suggestions that a sequel could be coming together. Problem is it won't be with Campbell since he's made it clear he and Coscarelli weren't seeing eye-to-eye on the direction and, frankly, without Campbell I can't see any point in making that film. There was a notion that Ron Perlman could take over as Elvis but, honestly, nobody else could do The King justice like "The Chin".

Video


The 1.85:1 1080p 24/fps AVC MPEG-4 encoded image shows signs of being an older master, lacking the tightness and sharpness that a newer transfer might have provided. Scream Factory doesn't mention any restoration work, so this is likely whatever MGM had lying around for the past decade or so. Still, the image isn't without merit. Colors appear natural and nicely saturated, though the image does look a little warm in some scenes. Grain structure is variable, with some scenes looking "chunkier" than others. Definition is average, as is fine detail; never impressive but never problematic, either. Details get a little murky within shadows, most of which can be seen in the third act. With a little bit of polish the image might have looked much stronger; as it is, the picture quality is acceptable.

Audio


There is plenty of activity to be found in the English DTS-HD Master Audio 5.1 surround sound track (or 2.0 stereo track if you prefer). Dialogue comes through clear and clear, no issues there. The moments of mummy action are when things really kick up, with the track searing from loud effects and mummy mayhem. At times it is almost too loud, the levels sounding like they've been maxed out. Composer Brian Tyler's score is the real hero here, perfectly capturing the feel of the picture with a twangy, Southern-fried score that is an ideal complement to the action on screen. Subtitles are included in English for the hearing impaired.

Extras


Now, MGM had previously issued "Bubba Ho-Tep" on DVD with a stacked edition filled with all sorts of bonus goodies. As usual, Scream Factory has one-upped that release by providing all of the prior bonus material here along with a heaping handful of new bits, too.

There are three audio commentary tracks to be found – a new track, featuring writer Joe R. Lansdale; and two legacy audio commentary tracks, one with director Don Coscarelli and Bruce Campbell; one with Campbell in character as "The King".

"The King Lives!" (1080p) is an interview that runs for 22 minutes and 1 second. Bruce Campbell sits down for this new interview to discuss the legacy of his most celebrated non-"Evil Dead" film. He is as informative and entertaining as ever.

"All is Well" (1080p) is an interview that runs for 24 minutes and 2 seconds. Director Don Coscarelli talks about the long, rough road to making Lansdale's story a feature film.

"Mummies and Make-Up" (1080p) is an interview that runs for 8 minutes and 56 seconds, FX artist Robert Kurtzman talks about taking on the job of creating the film's mummy for next to nothing and how they executed his look.

A reel of deleted scenes (1080p), with optional audio commentary by Don Coscarelli and Bruce Campbell, runs for 3 minutes and 16 seconds.

"Footage from the Temple Room Floor" (1080p) is an unedited version of the mummification clips seen spliced in to the film, running for 2 minutes and 9 seconds.

"The Making of Bubba Ho-Tep" (SD) is a featurette that runs for 23 minutes and 34 seconds. Expect to see the usual talking heads and behind-the-scenes footage of the film being made.

"To Make a Mummy – Makeup and Effects" (SD) is a featurette that runs for 5 minutes and 2 seconds. This is another piece covering the making of the titular mummy.

"Fit for a King: Elvis Costuming" (SD) is a featurette that runs for 6 minutes and 46 seconds. There is one company that makes authentic replica Elvis jumpsuits, and they take their position very seriously.

"Rock Like an Egyptian: Featurette about the Music of Bubba Ho-Tep" (SD) featurette runs for 12 minutes and 42 seconds. As the title clearly suggests, this is a look at composer Brian Tyler's work on the film.

"Joe R. Lansdale Reads from Bubba Ho-Tep" (1080p) featurette runs for 7 minutes and 58 seconds. The author reads an excerpt from his short story.

"Archival Bruce Campbell Interviews" (SD) This interview runs for 34 minutes and 41 seconds. Just in case you haven't had enough of the man, here is some more.

A music video (1080p) runs for 2 minutes and 19 seconds.

There is also a photo gallery (1080p) featuring 51 images, running for 4 minutes and 17 seconds.

The film's theatrical trailer (1080p) runs for 2 minutes and 16 seconds.

A TV spot (1080p) runs for 32 seconds.

Packaging


The single disc comes housed in a standard Blu-ray keep case. The cover art is reversible, allowing for display of either the key theatrical art or the new artwork. A slip-cover featuring the new artwork is available on first pressings.

Overall


The story is secondary; watch this one for Campbell's stellar turn as an aging Elvis who summons a power deep within himself to fight one last battle. It's weird, warmly endearing and… weird. So weird. But that's all part of the charm.
| | | | | |
| --- | --- | --- | --- | --- |
| The Film: B- | Video: B- | Audio: B+ | Extras: A- | Overall: B |