The Film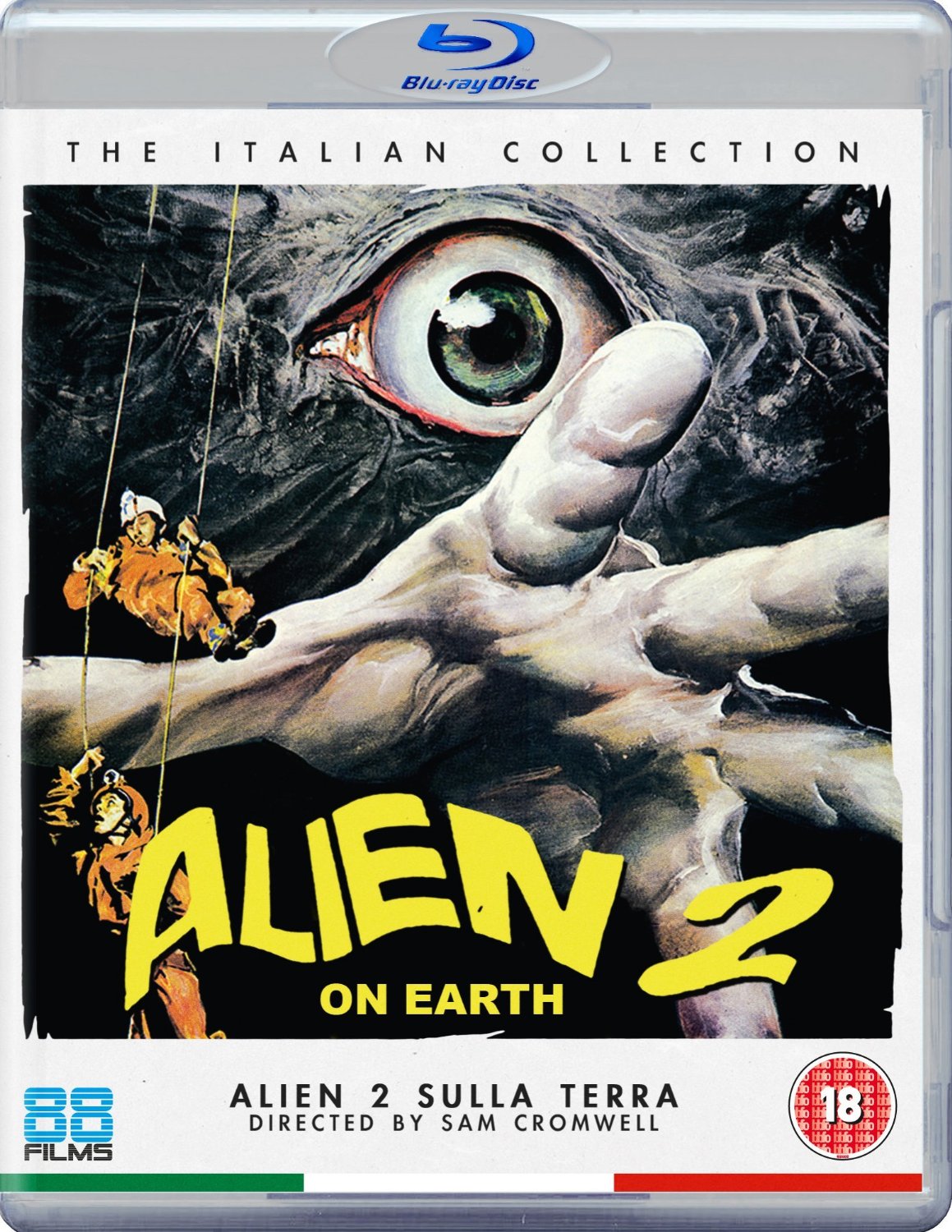 "Alien 2: On Earth" / "Alien 2 - Sulla Terra" (1980)

In 1979, Twentieth Century Fox unleashed the film "Alien" to the world mixing horror with science fiction to a worldwide audience. The film was an instant smash and cemented the careers of actress Sigourney Weaver and director Ridley Scott among others involved in the production. Along with "Star Wars" from a few years prior there was an instant demand for similarly themed science fiction and productions of knockoffs and inspired films followed. Mass mainstream fans were not exactly satisfied and had to wait until 1986 when "Aliens" was released by Fox, and directed by James Cameron. But for some unsuspecting audiences, they had already seen the second Alien film, back in 1980 - "Alien 2: On Earth".

Wait, how was there a second Alien film in 1980 when everyone knows the 1986 film continued the story directly after Ripley's awakening from the end of the 1979 film? Fairly simply, "Alien 2: On Earth" has nothing to do with the Alien franchise. Italian writer and director Ciro Ippolito had written a monster horror script before the first "Alien" film had been released, but seeing a commercial potential to capitalize on the success of the release of "Alien", the script was tweaked to have some extra-terrestrial activity and have bursting-from-the-body effects. A few years prior when George Romero's "Dawn of the Dead" was released in Italy under the title "Zombi", an Italian production team decided to make an unrelated zombie film and title it as "Zombi 2". The only common point was that they were both movies with zombies and basically nothing else. The act of countries making up their own sequels without proper copyright or legal means is quite common. The 2000 film "Happenstance" starring Audrey Tatou was retitled in some markets as "Amelie 2" just because "Amelie" was a huge hit and distributors wanted to capitalize on her sudden stardom. In Japan the 1966 film "Django" was retitled and released as a sequel to "A Fistful of Dollars". But for "Alien 2" this was not a retitling issue - the film was released in Italy as "Alien 2: Sulla Terra" and when distributed in other countries was kept with the number 2 in the title. The legal argument was that the word "Alien" was not a copyright and there was even a novel simply titled "Alien" from years prior and Fox did not secure the rights from the publisher. When the film was released and seen by audiences, they must have been extremely confused and possibly very angry because it was not what they expected to see.

"Alien 2: On Earth" takes place as stated, on earth. Astronauts returning to earth have also brought back alien matter with them. The alien does not have a certain shape and evolution like the creatures in "Alien", but is similar to that of "The Blob" or "The Thing" where it can change shape, infiltrate bodies, and kill. It could be a slime-like creature, a hardened rock, with tentacles for grabbing and suffocating, it evolves and adapts to the environment. Faces are torn off, heads are decapitated, and the body count rises high. Interestingly most of the film's setting does not take place "on" Earth, but takes place underground within the Earth. Centering around a group of scientific cave explorers led by Thelma (played by Belinda Mayne), the team encounter the mysterious creature that starts taking them down slowly one by one in differing ways. And when I say slowly, it really is slow.

It takes some time for the film to get going and it's hampered by unnecessary scenes and plotpoints. The child that gets her face torn off was a bit of a shock, but we barely see that for a second and the audience is never shown anything else of that beach scene. The psychic powers of the Thelma character is there, but for what reason? Seems that it was added to capitalize on the psychic horror craze of films like "Carrie" and "The Fury". The rescuing of the character of Jill who falls down a crevice (played by Judy Perrin) is way too lengthy with nothing much happening and losing all tension halfway through. On positive notes, the film was taking place in California, and was shot in both California and in Italy at Cinecitta Studios, along with cavern shots done on location in Castellana Caves. Possibly some of the cavern shots were redone in studio but there is a surprisingly large amount of really amazing looking scenes underground, and sometimes hard to tell which was in studio and which was not. Also as it is movie magic, the caverns are amazingly well lit for being underground in isolation from light.

The cast was made of both English speaking and Italian speaking actors and they respectively speak their own language which was later dubbed over in post-production as most Italian films were at the time. If the mouths don't match half the time, that is the obvious reason. The performances were nothing extremely special, and the special effects while they were well executed in certain scenes, they were nothing compared to "Alien" in terms of shock value or sudden surprises. Overall it is not that great of a film and for anyone who was looking to see what would happen to Ripley and Jonesy following the first "Alien" movie, they were extremely angry to find that it was an Alien film by name only essentially tricking audiences. At least with Lucio Fulci's "Zombi 2" it was an amazing film on its own. "Alien 2: On Earth" cannot say the same, but for Italian B-grade horror, it's not too bad. Just not too great either.

The film was released theatrically in various countries including the United States but the film was quickly forgotten about and remained in obscurity for a very long time. Interestingly in Japan, "Aliens" was titled "Alien 2" for release, and when a company decided to release "Alien 2: On Earth" in Japan, the film was retitled to "Aliens" Yes, it is even more confusing in Japan. Years down the line it was a myth to many that there was an unauthorized "Alien" sequel produced in Italy, and soonafter shoddy video releases were distributed in different regions. It was in 2011 that a high definition remastered edition Blu-ray was issued by Midnight Legacy in the United States. For the UK, 88 Films has obtained the rights, and also released the film on Blu-ray as reviewed here.

Note this is a region ALL Blu-ray which can be played back on any Blu-ray player worldwide

Video


88 Films presents the film in 1080p in the AVC MPEG-4 codec, in the theatrical 1.85:1 aspect ratio. Being touted as a high definition restoration from the original negative, the opening shots were jaw-dropping - not in a good way but because it looked extremely bad. But! That was because it was all stock footage for the opening. Once it came to the television studio scene, the picture looked stunningly good. Colors looked great with depth (because they were underground?), damage was incredibly minor with film grain still visible, and no issues of errors to speak of. The credits are in the original Italian rather than the English version as it is coming from the Italian version of the negative.

The film is uncut with a runtime of 84:33.

Audio


English LPCM 2.0 mono
The English track is offered in lossless mono. Unfortunately the Italian track is not offered here. The English track is fine for the most part with dialogue and music balanced, as it was entirely done in post-production. The Angelis Brothers music score (going under the pseudonym Oliver Onions) sounds good but it's not one of their more memorable scores. There are some portions where the audio sounds incredibly weak as they supposedly came from less than ideal sources around the 73 minute mark for example, but the strangest issue is around the 20:30 mark where a sudden buzz comes from the left speaker for no apparent reason. Now THAT was a jump scare!

There are no subtitles offered for the film. Because of that, the ending on screen text of "... Ora Puo Colpire Anche Te" is left as a mystery to non-Italian speaking audiences.

Extras


"Special Effects Test" featurette (12:29)
Presented here is raw footage of outtakes and test footage of some of the alien effects seen in the movie. They are without sound or commentary and not exactly edited, so there are a few minutes of completely nothing on screen which is a bit of a waste. The quality of the film is surprisingly good - possibly as good as the main feature so we should assume they were stored in very good conditions.
in 1080p AVC MPEG-4, in 1.85:1

"Franchised Terrorist" an interview with Eli Roth (11:28)
Film director and horror aficionado Eli Roth gives his thoughts as a huge fan of the film, commenting on the film in its place in Italian horror cinema, how ballsy it was to make it as a sequel to the hugely popular "Alien", about the soundtrack, and how racially weird it was with the dubbing on the black guy at the bowling alley. He also says that he wants to send Ridley Scott the Blu-ray once it's released to hear his reaction to the film as well. The interview was filmed before Roth was able to see a remastered version and so he talks about only being familiar with the cruddy YouTube video rip. Would love to hear what he thinks of the HD restoration presented on the disc.
in 1080p AVC MPEG-4, in 1.78:1, in English Dolby Digital 2.0 with no subtitles

Trailer (3:19)
Presented here is the English trailer with crackly audio like it was taken from a beat up vinyl record. The director is credited as the American sounding "Sam Cromwell" and with the simple title of "Alien 2".
in 1080p AVC MPEG-4, in 1.85:1, in English Dolby Digital 2.0 with no subtitles

88 Films Trailer Reel (17:23)
Original theatrical trailers for "Creepshow 2", "Invasion USA", "River of Death", "Graduation Day", "Sleepaway Camp 2", "Sleepaway Camp 3", "The Couch Trip", "Cuba", and "Messenger of Death" are presented back to back, along with a newly created trailer for "The Dead Next Door".
in 1080p AVC MPEG-4, in 1.78:1 and 1.85:1, in English Dolby Digital 2.0 with no subtitles

As stated before, the US label Midnight Legacy released the film on Blu-ray previously with the same effects featurette and a Dutch VHS trailer of the film. The UK release has the additional interview which makes it the better release of the two, but one would have liked to hear the thoughts from the makers or stars as well.

Packaging


As part of 88 Films' ongoing series of The Italian Collection, this release is spine #15.
For artwork there is reversible alternate artwork with the Italian title. In addition, the case states "region B" for the film though note the disc is in fact region ALL.

Overall


"Alien 2: On Earth" is a terrible sequel to "Alien" but on its own, it's a just below average sci-fi horror. It's not a lost classic but there are some nice nasty effects here and there to make Italian gore fans satisfied. A curiosity piece is a better label for the film. 88 Films gives the film a good release with the excellent picture, but if only the audio could've had as much care it would have raised the score a bit more.
| | | | | |
| --- | --- | --- | --- | --- |
| The Film: C- | Video: A- | Audio: B- | Extras: C- | Overall: B- |