The Film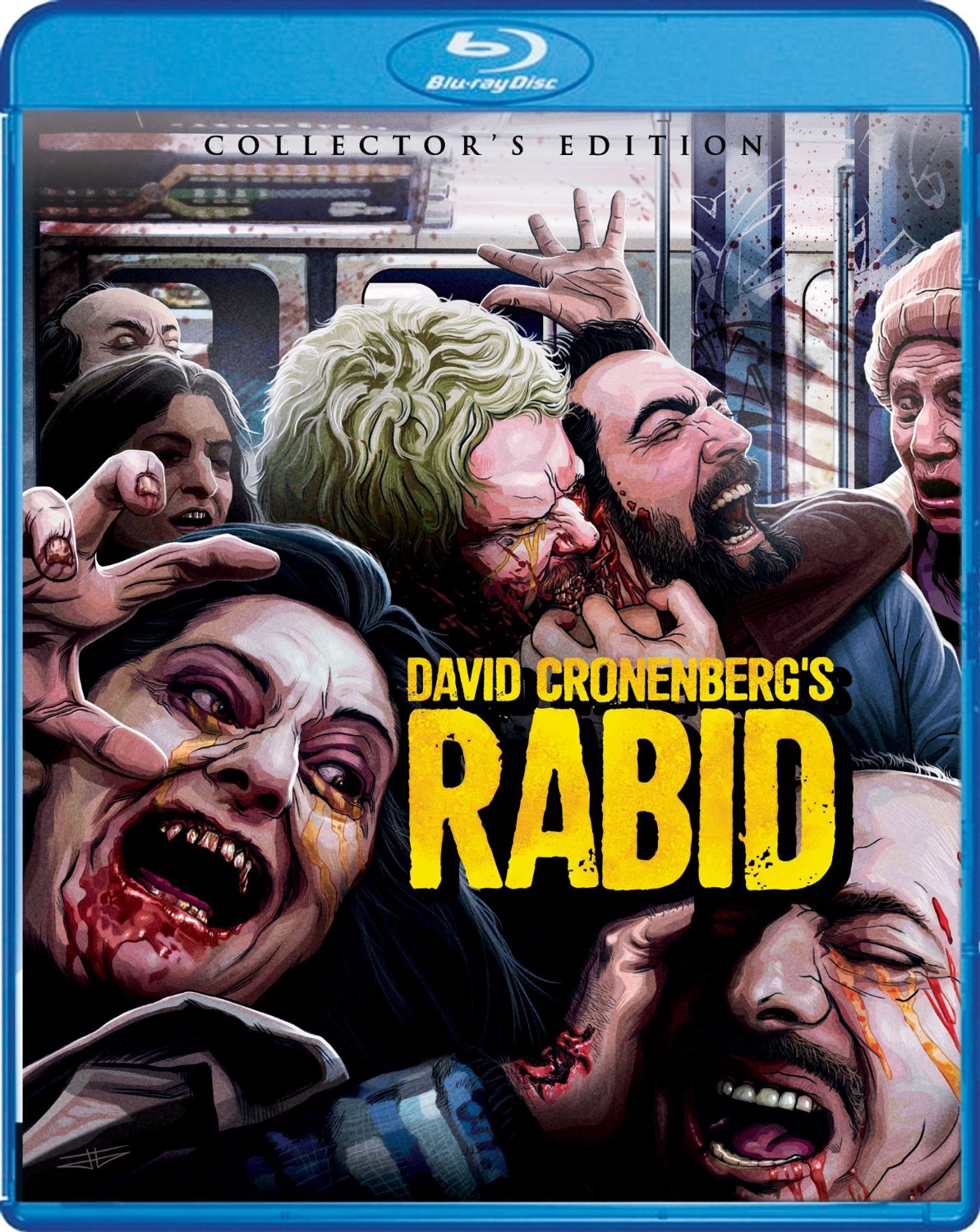 Is it just me or does anyone else feel a twinge of embarrassment when you have a favorite director, someone you fervently follow, yet you haven't watched all of their films? Maybe it's the OCD in me but if I am passionate about a director's work then I want to see everything they have made. Who knows what little-seen gems are lurking in their back catalog? David Cronenberg has been one of my top must-see directors for a very long time yet recently, with the arrival of Scream Factory's glorious new Blu-ray, I was forced to come to the realization that I had not seen "Rabid" (1977) – this despite owning a copy on DVD for the better part of a decade. Cronenberg is the king of body horror, and his early work is among his most celebrated (because it's f**king awesome), so I have no legitimate excuse for snoozing on this one. Having now seen the film – in a stunning 2K remaster – that embarrassment is only compounded because, of course, it's another early achievement in his long career. If there's any silver lining, it's that my delayed gratification made the eventual viewing that much sweeter being able to experience old Cronenberg like it was new again. It's like being a fan of Metallica for twenty years but only now hearing "Ride the Lightning".

On an otherwise idyllic afternoon, Hart (Frank Moore) and his girlfriend, Rose (Marilyn Chambers), are taking a motorcycle ride through the Canadian countryside when a stalled van causes them to crash in a nearby field. Hart receives minor wounds but Rose, pinned beneath the burning motorcycle, is badly injured. Both are taken to the Keloid Clinic, where Rose undergoes a radical new form of plastic surgery using skin grafts designed to adapt to surrounding tissue. She awakens from her coma a few days later, screaming in the night. Lloyd (Roger Periard), another patient, tries to calm her down but only winds up getting stuck with… something for his troubles. The next day Lloyd sees Dr. Keloid (Howard Ryshpan), who is perplexed to find the wound will not clot and Lloyd's right side is numb. Dr. Keloid sends him off for further testing.

Rose may have survived the accident, but the surgery done by Dr. Keloid has caused a strange reaction within her body – she now craves and subsists on blood, the procurement of which comes from a red stinger that retracts into her armpit. Her nightly feedings see Rose attack anything with a pulse, man and beast alike. Unbeknownst to Rose is the aftermath of her assaults, with the newly infected persons exhibiting rabies-like behavior and viciously biting anyone nearby. After only a few days Rose has managed to cause a minor epidemic, serious enough for the Canadian authorities to bring in the military and public health officials. The only person who recognizes the one responsible and wants to help is Hart, but he's having a hard time determining where Rose is since she left the hospital and has been hitchhiking her way to a major metropolitan area.

This was only Cronenberg's second feature but, just as he displayed with his first, "Shivers" (1975), his thematic content and style were already firmly in place. Few filmmakers have captured not only the visualization of bodily horrors but the mental toll it takes on the person, too. Rose's abnormality is an aberration of her person, a grotesque deformity that is both vital and revolting. Rose needs this phallic probe to sustain her life, even though it means she has to "kill" others to satisfy her craving for blood. There is no control over her needs, with her unwelcome evolution taking the reins. Additionally, being Cronenberg, there is a ton of sexual subtext and Freudian undertones. Hell, at one point a character is holding up a book by Freud and discussing his work. And Rose's underarm people poker isn't exactly subtle… Despite the sexual subtext there is nothing sexy about what Rose does to people. Her method of quenching that hunger is disturbing and just plain gross, two things Cronenberg does well.

Credit is due to Marilyn Chambers, former adult actress who used this film as a hopeful springboard to a more mainstream career. Sissy Spacek was originally considered for the lead but she got shot down for a couple of possible reasons, one being her thick Texas accent. Knowing Spacek's work during this time, and having seen Chambers in her most well known "legit" role, it is clear the producers made the right call. Spacek is too bookish, whereas Chambers just oozes sexuality and confidence. This is important for the character of Rose because she needs to be able to seduce (mostly) men very easily to allow her to feed. Chambers really sells the confusion, disgust, eroticism, and frustration required of the role. This is not Bad Porno 101 acting.

At present there are plans for Jen & Sylvia Soska (AKA The Soska Sisters) to remake the film, with a possible TV series to follow. Remaking Cronenberg sounds like a fool's errand – and it generally is – but of all his works I'd say "Rabid" is one of the few that could potentially benefit from an update. I say "potentially" because it would require a strong filmmaker with a fresh take on the material, giving it some valid reason for existing. I don't think the Soskas are the right fit for that criterion – maybe they'll prove me wrong? – but the vision I have in my head of what will likely be delivered can't hold a candle to the mastered subtlety of Cronenberg. "Rabid" does feel like it's spinning its wheels a bit during the second act (when Rose is simply continuing her feedings while important people try to figure this mess out – part of why I agree someone could improve upon the original) but through and through this is classic Cronenberg that all fans of his early works will eat right up.

Video


For this release, Scream Factory commissioned a new 2K scan from the negative at David Cronenberg's preferred aspect ratio of 1.66:1. Right away, it is apparent (even to a first-time viewer) that the 1080p/24fps AVC MPEG-4 encoded image is newly minted and very clean. There are very few visible signs of damage and dirt, and the overall picture quality is rather impressive for a low-budget feature. That isn't to say fine details are leaping off the screen, because there are still inherent limitations to the source, but there are many moments when the picture looks pristine. Colors and contrast and all that other fun stuff look just fine; even the film grain is smooth and doesn't clump up much during darker scenes.

Audio


Enjoy all of music supervisor Ivan Reitman's (yes, the only one) selections with an English DTS-HD Master Audio 2.0 mono track that does little more than get the job done. To be fair, there isn't a whole lot of score to this picture, with most of the work being done by dialogue. Speaking of which, the sound quality is a little shoddy at times, with some lines coming through a bit muffled. Again, likely a source issue that can't be fixed. The track is narrow and limited in scope and ambition, though on a purely technical level, yes, it is totally fine and listeners won't hear any major flaws. Subtitles are available in English.

Extras


There are a number of new extras on this release, some of which were produced for Arrow's overseas edition, as well as a couple vintage features. There are three audio commentary tracks, numerous interviews, and the usual promotional materials.

There are three audio commentary tracks here – director David Cronenberg (always a must-listen); a new track with author Jill Nelson and Chambers' personal appearance manager Ken Leicht; and, film historian William Beard.

"Young and Rabid" (1080p) is an interview that runs for 33 minutes and 5 seconds. Actress Susan Roman, who plays Rose's friend Mindy in the film, has quite a lot to say despite her smaller role.

"Interview with Director David Cronenberg" (SD) interview runs for 20 minutes and 36 seconds. This looks to have been shot sometime around 2001 or so, with Cronenberg discussing his legacy up to that point.

"Interview with Producer Ivan Reitman" (1080p) interview runs for 12 minutes and 28 seconds. This is a newer interview, produced for Arrow, featuring the legendary comedy producer discussing his early days with Cronenberg and dealing with the Canadian film business.

"Interview with Co-Producer Don Carmody" (1080p) interview runs for 15 minutes and 37 seconds. Again, this is a newer piece produced for Arrow, with another one of the film's producers discussing the making of the film.

"From Stereo to Video" (1080p) is a featurette that runs for 26 minutes and 23 seconds. Be sure to watch this piece that focuses exclusively on Cronenberg's early days, beginning with his short films and wrapping up around "Videodrome" (1983).

A theatrical trailer (1080p) runs for 2 minutes and 9 seconds.

A TV spot (1080p) runs for 32 seconds.

There are some radio spots included, running for 1 minute and 38 seconds.

Finally, a photo gallery (1080p) runs for 5 minutes and 49 seconds.

Packaging


The single disc comes housed in a standard Blu-ray keep case. As per most collector's editions, the cover art is reversible allowing for display of the new art or the original key art. The slip-cover on first pressings features the new artwork.

Overall


Fans of early Cronenberg, this is a must buy situation. I don't want to say this film will only appeal to his fans because devotees of low-budget 70's horror filmmaking will definitely dig on this as well. Scream Factory has finally given this early gem the treatment is deserves, with this new edition being an excellent start (hopefully?) to more Cronenberg in the future.
| | | | | |
| --- | --- | --- | --- | --- |
| The Film: B- | Video: B | Audio: B- | Extras: B | Overall: B |