The Film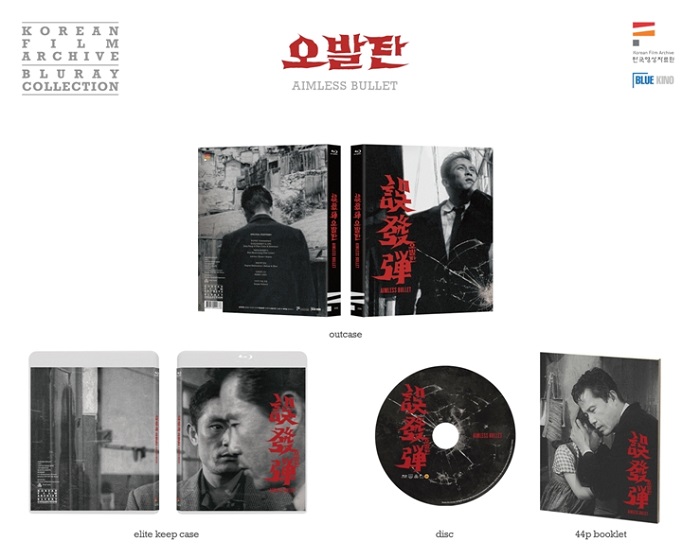 "Aimless Bullet" <오발탄 / 誤發彈> (1961)

Cheolho (played by Kim Jin-kyu) has an extremely difficult life. His job as an accountant is not enough to pay the bills for his household. His mother (played by Noh Jae-sin) is mentally suffering from delusions of post war stress, he has two young children who are not getting proper education, and a pregnant wife (played by Moon Jung-suk), and they are all living in a dilapidated house in the ghetto. On top of that, his younger sister Myeongsuk (played by Seo Ae-ja) and his younger brother Yeongho (played by Choi Moo-ryung) are also having problems. Myeonsuk is having difficulty making ends meet and starts looking toward prostitution to catch the eyes of American GIs. Yeongho is a Korean War vet, who along with his old platoon members is having difficulty finding work in the new South Korea. Cheolho's mental anguish of trying to take care of his family members is compounded with physical pain, as a toothache is giving him constant pain but he does not want to use his little money for a dental appointment.

Yeongho one day runs into Seoulhi (played by Mun Hye-ran) who was a lieutenant in the military. She also recognizes him and the two of them start to become more than just old friends, but that does not impress her next door neighbor - a young man that she considers a stalker, and to protect herself she carries a loaded gun.

"Aimless Bullet" is a tragic film that mirrored the harsh realities of postwar South Korea. People living in poverty, displaced families, wandering former soldiers, and overall poor living conditions. Like many other nations, the films made in a postwar environment clearly reflect the place and time. The neo-realist films from Italy such as "The Bicycle Thieves" and "Rome Open City", the postwar occupation films of Japan such as "Stray Dog", or the countless movies in the Film Noir genre made in Hollywood in the late 40s. For South Korea the post WWII films were more of a celebratory time with films such as "Hurrah! For Freedom", but with the Korean War emerging very quickly after WWII, filmmaking was almost entirely placed on hold during the war. South Korean president Rhee Syngman placed a lot of emphasis on rejuvenating the Korean film industry and the late 1950s showed a huge boom in Korean cinema. But due to political scandal of a possibly rigged election in 1960, the conservative Park Chung-hee would official take control one year later leading to many creative restrictions in the arts and media. "Aimless Bullet" was produced prior to the changes, and was able to slip by the later strict censorship departments but it did have controversy when first released.

"Aimless Bullet" did not sugarcoat anything or try to place positive spins on the economic situations. It was 7 years after the end of the Korean War (although technically it still hasn't ended), but people were still feeling the effects of postwar life. Cheolho may have an office job, but it's not enough. Yeongho and his former troop members have a hard time with employment. Yeongho may be in his twenties and physically fit, but that does not mean anything in the unemployment lines. It is far worse for people like his former crippled commander who cannot get around without his crutches. Cheolho's children cannot see the full effect of the war, being born during and/or after the war. The kids don't have shoes that fit, and the son is more interested in selling newspapers for money rather than getting an education. Prostitution was on the rise and with American GIs at military bases around South Korea meant good business for the women, but causing terrible social and moral issues. The most terrible issue of suicide comes in a scene that lasts for only a few seconds, with Yeongho encountering a mother that has hanged herself but with her toddler on her back still crying - one that has nothing to do with a plotpoint or any specific character, but happenstance. With all the issues and characters shown in "Aimless Bullet", there does not seem to be any positive outcome for anyone. Murder, crime, suicide, mental pain, physical pain. There are no smiles, no signs of high hope, it is truly one of the bleakest films to come from South Korea.

Yu Hyon-mok was a relatively new filmmaker who debuted 5 years prior to "Aimless Bullet", and was clearly influenced by Italian neo-realist filmmakers such as Vittorio De Sica and Roberto Rossellini, who used modern settings, non professional actors, and a harsh look at reality through the camera to tell stories. "Forever with You" in 1958 showed the postwar life and the consequences of leading a life towards crime - a theme commonly found in late 40s Hollywood Film Noir. "Aimless Bullet" was the ultimate neo-realist film but it was not only pointing a camera as a docu-drama. Artistically it is a marvel. The camera always seems to be moving with tracking shots, semi-circles through rooms to give depth of the spaces shown. From interiors such as the nearly condemned home of Cheolho, the flashy café where the men hang out, and the home of Seoulho to name a few, the exterior shots are also wonderfully shot. There are great uses of shadows in the black and white film, such as the first love scene between Yeongho and Seoulho, or the many outdoor scenes at night making it truly an echo of American Film Noir. Director Yu would later not have the artistic freedom as had in making "Aimless Bullet" due to the change in government restrictions and censorship, but would still have a successful career directing films such as "The Daughters of Kim's Pharmacy" (1963), "Rainy Days" (1979), and up to his final film "Mom, the Star, and the Sea Anemone" (1995). He passed away in June 28th 2009 from a stroke at the age of 83.

Kim Jin-kyu who played Cheolhu was a veteran actor debuting in the 1955 film "Piagol". He also appeared in films such as "The Money" (1958), "Dongshimcho" (1959), "Housemaid" (1960), "Drifting Island" (1960), "Goryeojang (1963), "Confession of an Actress" (1967), "Homebound" (1967), "The Road to Sampo" (1975), and hundreds more. He still continues in film and television with his last credit being 2014's "We Are Brothers".
Choi Moo-ryung who played the younger brother Yeongho was also a veteran actor and also a film maker. His credits in acting include "The Box of Death" (1955), "Rhee Syngman and the Independence Movement" (1959), "Drifting Island" (1960), "Five Marines" (1961), "The Marines Who Never Returned" (1963), "Bloodline" (1963), "North and South" (1965), and many more.
Mun Jeong-suk who played the malnourished wife of Cheolho had a very limited role in this film but had quite a distinguished resume, debuting in Korean cinema in director Shin Sang-ok's "The Youth" in 1955. She has also appeared in films such as "Holiday in Seoul" (1956), "The Bell Tower" (1958), "Drifting Island" (1960), "Black Hair" (1964) and many more, up to the 2000s.

While the film was commercially released in South Korea in 1961, it was pulled from theaters quite quickly due to political reasons. Fortunately an American consultant caught the film while it was playing theatrically and urged for the film to be exported for foreign film festivals. An English subtitled print was made and screened at the San Francisco International Film Festival in 1963 where it did not win any awards but was met with critical praise. In 1975 when the film was screened in South Korea again, it was made from this international film festival print with the burned-in English subtitles. Over the years the film has gained critical praise with the 2014 Korean Film Archive poll of the greatest Korean film of all time had "Aimless Bullet" top the list, sharing the #1 spot with "Housemaid" (1960) and "The March of Fools" (1975). With the original negative lost, the best existing copy was a print obtained by the Korean Film Archive in 1986, but with damage all over and the burned-in English subtitles it was clearly in need of restoration. There was rust damage with portions of the frame completely missing, there were missing frames here and there, and the usual dust and scratches from years of projected screenings.

Previously the Korean Film Archive encountered the issue of rust damage with "The Black Hair" (1964), where in the opening reel every few frames had some image completely missing from the left and right sides of the 2.35:1 frame. With digital restoration, they were able to "fill in" the missing images with previous frames that had the image information. While it was restored, the biggest issue was that everything looked extremely jittery. It was far from perfect but compared to what it looked like before restoration it was night and day of a difference, but still distracting. With the issue of removing burned-in subtitles, KOFA had the issue with the restoration of "Housemaid" which had 2 reels missing from the original print, and the next available source was a lower quality print with burned-in subtitles. With restoration tools the subtitles were removed in a similar method to the rust damage in "The Black Hair", but again, there were some imperfections that remained in the finished restoration. With these previous restorations in mind, the restoration team had to step up their game to remove the subtitles along with the damaged portions from the ENTIRE print of "Aimless Bullet" - which totaled 534 subtitles or 56,827 frames which included burned-in subtitles. The restoration cost was much higher than their previous efforts and the amount paid off. The film has been digitally restored to magnificent glory and for the first time since the very short theatrical screening in 1961, can audiences see the film very close to how it was projected at that time. As previous DVD editions used the older master with burned-in subtitles, this Korean Film Archive/Blue Kino Blu-ray is the first time the film has been released on any home video format with the 2015 restoration.

Note this is a region ALL Blu-ray which can be played on any Blu-ray player worldwide

Video


The Korean Film Archive/Blue Kino presents the film in 1080p in the AVC MPEG-4 codec, in the original theatrical aspect ratio of 1.33:1. As stated, the film print that KOFA collected in 1986 had rust damage, burned-in English subtitles, other wear and tear, and missing frames. For the missing frames, some lesser quality prints were used to fill in the occasional missing gaps, but not everything could be salvaged. There are still some issues of jump cuts here and there that are noticeable but nothing to disrupt the narrative. The digital restoration cost was 3.5 times that of the average KOFA restoration and the film has gotten a complete makeover, and for the better. The damage and burned-in subtitles have been almost entirely removed, giving an extremely clean and beautiful looking transfer. The frame has been stabilized so there are no wobbly telecine issues, the black and white has been color corrected for stable greys, and most importantly, film grain is still visible. Black levels are a little on the light side not looking truly black, but a dark grey instead. There are a few sequences that are slightly narrower than the 1.33:1 - close to 1.30:1 where there are very slim black bars on the sides. Why the framing was slightly off on certain scenes is a mystery, and with the slim black bars being a different tone of dark grey, it is slightly distracting. Overall this is very close to how the film looked in 1960 and until the few frames of missing footage can be found somehow, this is an impressive restoration and the best the film will look for audiences from now on.

The restored film has a runtime of 109:12 which includes the restoration credits.

Audio


Korean DTS-HD Master Audio 2.0 mono
The Korean audio track is presented in lossless mono and also has been digitally restored. As will almost all Korean productions at the time, the dialogue was synched in post production rather than on set recording. Dialogue has been synched accordingly and the track has been restored to remove hisses, crackles, and other damage, sounding great. Music and dialogue are clear and easy to understand with no major issues of damage remaining. Another great job on the restoration.

As stated the previously burned-in English subtitles have been completely removed. For the Blu-ray there are now optional English, Japanese, and Korean subtitles for the main feature in a white font. The subtitles are easy to read and have been fully retranslated - where the old burned-in subtitles had timing, spelling, and grammar errors.

Extras


Audio commentary by film critic/director Jung Sung-il and film critic Huh Moon-yung
Film critic and director of "Café Noir" (2009) Jung Sung-il is joined by fellow critic Huh Moon-yung on a discussion about the film. The two talk about their first encounter with the film, comparisons to the films of Mikio Naruse, Jacques Becker, and Vittorio De Sica, its placement in Korean film history, and more. Their talk is very analytical with discussion on post-war life and the film reflecting it as well as the framing of shots and use of space. Sadly the aspects they do not go into are notes about the cast and crew and the actual making of the film.
in Korean Dolby Digital 2.0 with optional English, Korean subtitles

"Digital Restoration: Before/After" featurette (2:03)
As stated the preserved film prints had burned in English subtitles which had to be completely removed, in addition to lots of wear and tear. This featurette shows side by side comparison shots between the original film and the digitally restored version, along with text explanations. It's too bad the featurette wasn't longer with explanations on the history of the film print and interviews with the restoration team.
in 1080p AVC MPEG-4, in 1.78:1, in English and Korean text

"Hand" 1967 short film by Yu Hyun-mok (0:55)
This (very) short film was originally presented at the Montreal Expo in 1967 in a 1-minute short film competition. Using extreme close-ups and rapid cuts of human hands, the English narrated film showcases how human hands were made to help and also destroy humans over time. The film did not win the prize and was considered lost until it was collected by the Korean Film Archive in 2015 from Canada. The picture has its defects with scratches and damage while the soundtrack also has some distortion to it. But overall it is in a very watchable state and the audio is easy to understand. Strangely, the booklet or the disc does not give much information about the film so I was quite confused the first time I had watched it. Director Yu's name is not attached to the print and there is no other information except the title and the year.
in 1080p AVC MPEG-4, in 1.33:1, in English LPCM 2.0 mono with optional English and Korean subtitles

Image Gallery
A collection of posters and behind the scenes stills from the film.

42-Page Book
As with all Korean Film Archive DVDs and Blu-rays, there is a lengthy booklet included. The 42 page book is nearly half in Korean and half in English with identical content. First is production notes which includes a cast and crew listing along with an explanation for the title. Next is a brief synopsis of the film that doesn't go into deep detail but gives away much of the plot including the ending. The essay "Yu Hyon-mok and Realism and Film History" by film critic Kim Jong-won is a brief overview of director Yu's life and contribution to Korean cinema. In the next essay "On Director Yu Hyon-mok's Aimless Bullet" by Japanese film critic Tadao Sato, he talks about the importance of the film and his view of seeing it as a view of South Korean life that was unknown to most people in the world. He also briefly talks about meeting with director Yu and discussing the film. As Sato is probably the most knowledgeable film critic of Japanese cinema, it was interesting to see his recollection on a non-Japanese film. The next essay is "Aimless Bullet: A Portrait of Postwar South Korea" by film critic Kim Kyoung-wook which is a great essay deconstructing the film. Last is "The Digital Restoration of Aimless Bullet" which explains the history of the film prints, the undertaking of the restoration, and the final result which is a very interesting read.
All the content above is available in Korean and in English. In addition, the essay by Tadao Sato is also printed in Japanese - as that was how he had written it in the first place which is a nice addition. For KOFA releases, main features mostly offer Japanese subtitles but extras and booklet content do not. For people (like myself) that can read Japanese, reading the essay in its original language is a small added bonus. In addition, the booklet contains stills from the film.

The previous South Korean DVD had a 30 minute interview with director Yu Hyon-mok which has sadly not been carried over to the Blu-ray release. There are no interviews with the surviving cast or crew and the restoration featurette was way too short. These are minor qualms over a release with very good quality extras, but shows that it could have been better.

Packaging


Packaged in a standard size clear Blu-ray keep case, it is housed in a sturdy slipcase which holds the keep case and the 42-page booklet. The slipcase, is labeled "006" on the spine.

Overall


"Aimless Bullet" has been called one of the most important Korean films of all time and one of the best Korean films of all time. The bleakness and downbeat attitude is not to be watched casually but is one to be seen as a reflection of the harsh reality of people in a postwar environment looking for hope and not being able to reach their supposedly realistic dreams. The Korean Film Archive/Blue Kino Blu-ray presents the meticulously restored film in a wonderful transfer with very good extras. One of the best and most important releases of the year comes highly recommended.
| | | | | |
| --- | --- | --- | --- | --- |
| The Film: A | Video: A | Audio: A | Extras: B | Overall: A- |