The Film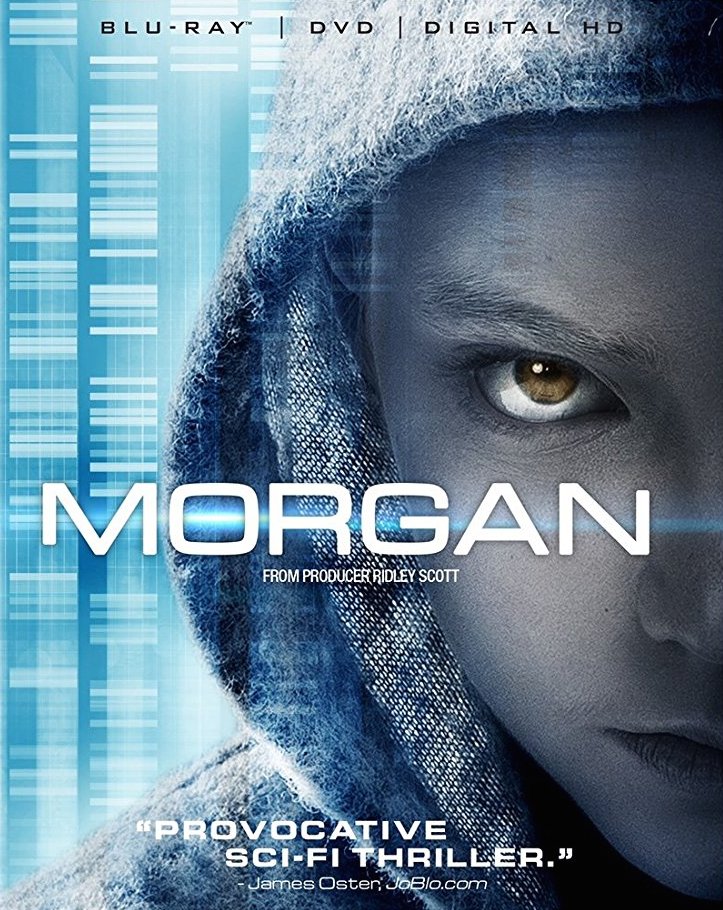 As science begins to creep ever closer to a future where sentient A.I., cloned humans, and weaponized bio-subjects are a thing of reality, so, too, does the film world continue to explore the potential ramifications of those advancements. Movies wherein a single test subject is created by a room of lab coats, only to then turn on its maker(s) and show the downside to playing god by annihilating everyone have been a popular sci-fi subject for some time. The latest in this exploratory subgenre comes from Luke Scott, son of famed director Ridley Scott. No doubt making full use of his father's clout, the younger Scott has the coffers of Fox Studios at his disposal to make his feature debut. Given his father's prestige it would be reasonable to expect something within the trademark Ridley Scott wheelhouse, though the reality is this is yet another slick, well-produced dud that limps along thanks to a story that hardly gets going before it's finished.

After an accident involving a test subject at a high-end research facility, the company in charge of the experiment sends in risk assessment specialist Lee Weathers (Kate Mara). While there, it is her job to observe the staff and their work, as well as the viability of Morgan (Anya Taylor-Joy), a weaponized female who was grown in a lab. Although she looks like a young adult, Morgan is actually just five years old thanks to the rapid growth abilities ascribed to her during conception. Morgan is currently grounded, for lack of a better word, after she gouged out the eye of Dr. Grieff (Jennifer Jason Leigh) for a perceived slight.

There is a lot of exposition regarding the program to create Morgan, as well as the permutations it had gone through to get to this point. Plenty of smart-looking people in white coats sit around discussing ethics and morals while also remaining incredibly vague as to what, exactly, Morgan was created for and what she is capable of doing. When a very personal probing of Morgan's concept of love and hate by a visiting doctor (Paul Giamatti) goes horribly awry, the team working on Morgan is tested as Ms. Weathers recommends the subject be terminated at once.

This is a film that wants to play with some big ideas and discuss the grand design and potential grand failures surrounding such endeavors, yet it never wants to do the thing viewers want most: show us. Morgan's abilities that are explicitly shown mostly involve hand-to-hand combat training and her penchant for damaging the human head. But then there are moments when it is heavily implied she is able to turn off lights in the facility at will, or control certain objects with her mind. These notions are suggested but never fully realized, just as the film never gives viewers a comprehensive look at what she is able to do. It's all a lot of dinner table discussions and solemn monologues about what it means to be human and whether or not something that has been created and caged for all of its life has any rights to live as people do.

It's nearly a full hour into the film before anything of substance happens and by that point viewers will likely surmise not a lot is going to happen. And they would be right. All of this endless chatter winds up culminating in another stereotypical fight scene – this one with one of the most predictable twists in cinema. It should be clear as day to anyone watching the film how events are going to play out. I nearly let out an audible groan when the major reveal was made. Even worse, it basically negated the entire film and made me feel like I had wasted even more of my own time. This is undoubtedly a good-looking film but that doesn't matter for squat when your movie is a slow bore.

Video


The 2.39:1 1080p 24/fps AVC MPEG-4 encoded image is a beauty, no question. The razor sharp image showcases a plethora of details, appearing just as lifelike as any Blu-ray I've seen. Colors are natural and excellently saturated. For a futuristic film the palette and aesthetics here are surprisingly muted and simple, favoring minimalism over flash. Black levels appear rich and inky. This isn't an image that will amaze any videophiles with impressive aspects though it is certainly a proficient transfer with few, if any, real deficiencies.

Audio


The English DTS-HD Master Audio 7.1 surround sound track sounds fantastic, with strong clarity and many moments of deep immersion that help to place viewers within the film's universe. The scoring is minimal, with the few moments of music featuring electronic cues and deep resonating bass. Dialogue is balanced nicely and comes through clean and clear. The disc also includes DTS-HD 5.1 surround sound tracks in Spanish, French, Czech, Hindi, Urdu, Hungarian, Thai, and Turkish. Subtitles are available in English for the hearing impaired, French, Portuguese, Spanish, Bulgarian, Cantonese, Croatian, Czech for the hearing impaired, Greek, Hebrew, Hindi, Hungarian, Icelandic, Indonesian, Korean, Malay, Mandarin (Simplified), Romanian, Serbian, Slovak, Slovenian, Thai, Turkish, and Vietnamese.

Extras


Fox has included some extras in the form of an audio commentary, a featurette, a collection of deleted scenes, a short film, a gallery, plus a collection of trailers as well as a DVD copy of the film. Below is a closer look at these supplements.

DISC ONE: BLU-RAY

An audio commentary track with director Luke Scott is included.

"Modified Organism: The Science Behind Morgan" (1080p) is a featurette that runs for 19 minutes and 40 seconds. Real-world scientists discuss the potential for test subjects like Morgan.

A handful of deleted scenes (1080p) with optional audio commentary by Luke Scott are available:

- "It Is Not a Child" runs for 2 minutes and 8 seconds.
- "This is a Beech" runs for 43 seconds.
- "A Friend?" runs for 46 seconds.
- "Face on a Fork" runs for 49 seconds.
- "Extended Study Fight" runs for 1 minute and 23 seconds.

"Loom" (1080p) is a short film directed by Luke Scott, running for 20 minutes and 27 seconds.

A gallery (1080p) contains 44 images.

Trailers contains the following:

- Teaser trailer runs for 1 minute and 43 seconds.
- Theatrical trailer runs for 2 minutes and 24 seconds.

DISC TWO: DVD

This is a DVD copy of the feature film.

A digital copy is also available on the included insert.

Packaging


The two-disc set comes housed in an eco-case. There is a slip-cover.

Overall


While the concept isn't anything new, by not even trying to make the film interesting "Morgan" becomes nothing more than a pretty bore.
| | | | | |
| --- | --- | --- | --- | --- |
| The Film: D+ | Video: A- | Audio: B+ | Extras: C | Overall: C+ |