The Show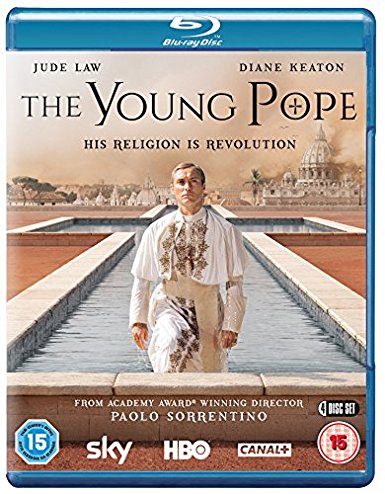 ***This is an A/V and Extras review only. For reviews on the show from various critics, we recommend visiting HERE.***

His religion is revolution.

Lenny Belardo, aka Pius XIII, is the first American Pope in history. Young and charming, his election might seem the result of a simple and effective media strategy by the College of Cardinals. But, as we know, appearances can be deceptive. Especially in the place and among the people who have chosen the great mystery of God as the guiding light of their existence. That place is the Vatican and those people are the leaders of the Catholic Church. And the most mysterious and contradictory figure of all turns out to be Pius XIII himself. Shrewd and naive, old-fashioned and very modern, doubtful and resolute, ironic, pedantic, hurt and ruthless, Pius XIII tries to walk the long path of human loneliness to find a God for mankind. And for himself.

Video


Independent British distributor Dazzler Media have released "The Young Pope" on to Blu-ray in the original aspect ratio of 1.78:1. The transfer uses an AVC MPEG-4 encode, and is 1080/50i. As to be expected for such a new show, there are no underlying issues here.

If you're like me, when you think of the Catholic church, you think of large intricate places of worship and lots of white clothing, and this is one of the first things that struck me with this show. For the most part, it uses a very bright lighting set-up, especially in external scenes, which can cause some minor blooming (which does occasionally appear to be intentional) and banding but nothing worth actually complaining about. Skin tones are generally natural, if perhaps a little light at times, and splashes of colour add depth and pop nicely. As you would presuppose for a show with large production values, the sets are often spectacular and this Blu-ray release does a great job of picking up on the many fine details and intricacies of the internal locations. Shadow details are also fine, and I didn't notice any discernible crush. There are no issues with aliasing, edge enhancement, digital noise reduction or damage. This is a solid transfer, but not reference quality. There are ten episodes included which have been kindly spread out over four discs instead of crammed on to two or three. I certainly didn't notice any problems with compression.

The show is uncut with three episodes each on discs one and two, and two episodes on both discs three and four. The release is region free.

Audio


Two audio options have been included:
- English/Italian DTS-HD Master Audio 5.1
- English/Italian LPCM 2.0 Stereo

For my viewing, I generally opted for the DTS-HD Master Audio 5.1 track, though I did flick to the original LPCM stereo mix a couple of times each episode. Both tracks are actually pretty similar, with the 5.1 track just adding a little more depth with some occasional moments spreading to the rear surrounds where required, though the LFE rarely gets a look in. This is very much a dialogue driven affair, and all speech is clear and concise. Volume levels are at a consistent level throughout, though I did find that dialogue was perhaps slightly loud in comparison to environmental sounds. There are no issues to be found when it comes to scratches, drop outs, or background hiss.

Optional English subtitles are available for the English dialogue, whilst all Italian dialogue features forced English subtitles whether you have the subtitles turned on or not.

Extras


Unfortunately, nothing at all.

Overall


I'm not a fan of Jude Law, but he was fantastic here and it is hard to imagine anyone else in the role. There are a number of loose ends with sub-plots, but it has been confirmed a second season will be coming that will hopefully tie a couple of these up. The audio/visual quality is very good, but I was really surprised that a show that caused such a stir received zero extras. Still, if you like slow burning TV shows, I recommend this one for sure.
| | | | | |
| --- | --- | --- | --- | --- |
| The Show: B+ | Video: B+ | Audio: B+ | Extras: F | Overall: B |