The Film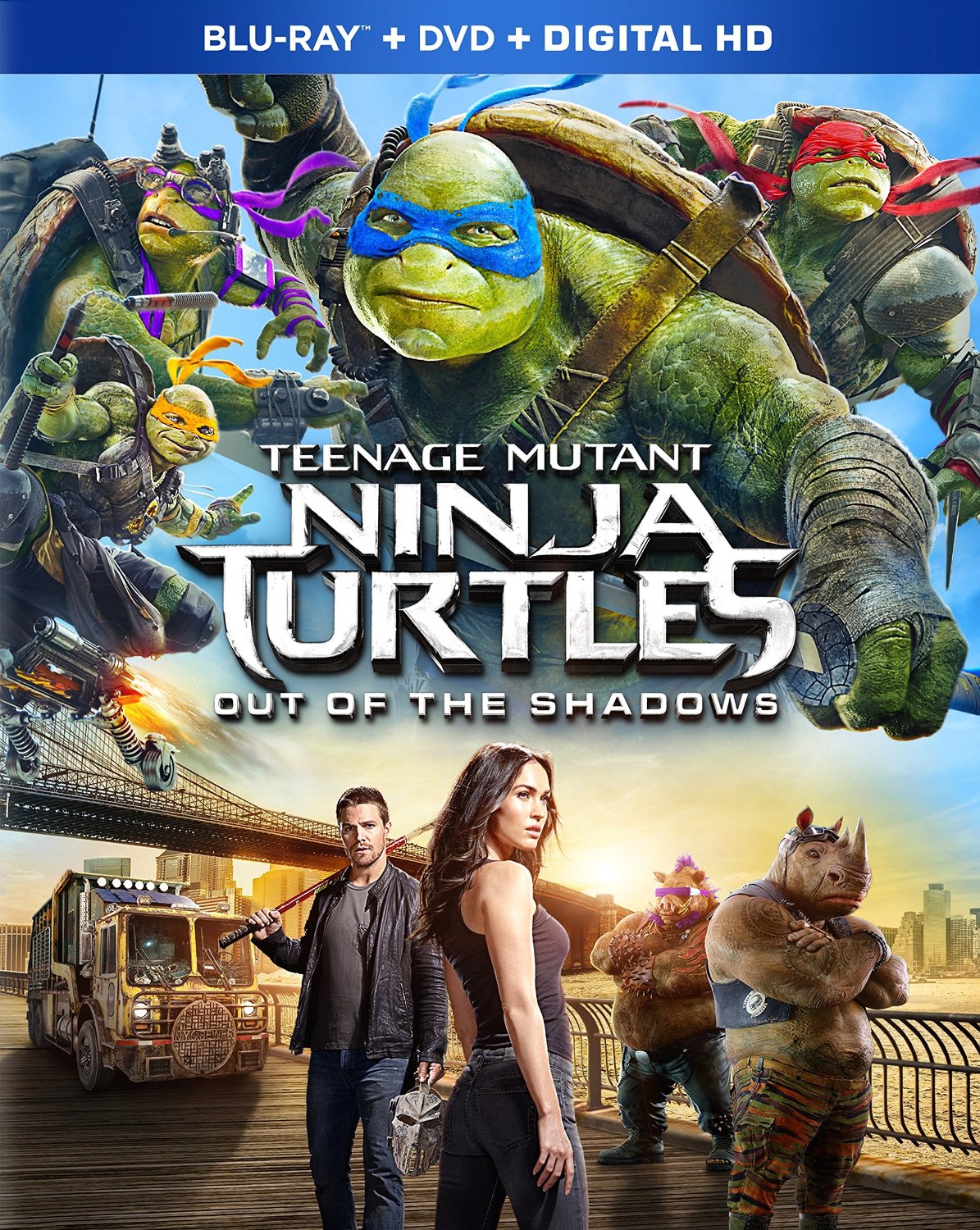 When it was announced back in 2013 that Michael Bay was producing a new live action film based on Kevin Eastman and Peter Laird's popular comic book "Teenage Mutant Ninja Turtles" there was almost a universal sigh of defeat. Fans of the turtles where certainly ready for a new movie, just not one that involves Michael Bay. Director Jonathan Liebesman was attached and the project got somewhat palatable, not not by much. Images started to leak of the newly designed teenagers, some fans liked it while others thought it over-designed and too busy. I'm in the latter camp. The trailer didn't do much to satiate fans, but upon release the film certainly had a fun feel to it. It was very flawed, too slick in its music video-esque execution. It was a new extreme turtles for a newer, younger fan base. I challenge anyone to find an original fan that actually loved it. It was passable at best and the film did well enough to at least warrant a sequel and "Teenage Mutant Ninja Turtles: Out of the Shadows" was put into production.

Liebesman decided to opt out of a sequel and Dave Green was hired to helm the sequel, a director whose only other feature was the universally average "Earth to Echo" (2014). Taking place right after the first film, the Turtles have successfully taken down Shredder (Brian Tee), but they are still hiding in the shadows. The city still doesn't know they exist and loquacious cameraman Vernon Fenwick (Will Arnett) has taken credit for saving the city. But Shredder has many ninja loyal to him, the Foot Clan will not rest until their leader is freed. In a daring escape Shredder ends up in another dimension, and Casey Jones (Stephen Amell) of the New York Police department failed to successfully transport his prisoner gets suspended from duty. Shredder finds himself at the prescience of Krang (Brad Garrett), an inter-dementional tentacle-brain alien bent on dominating Earth with his Technodrome. But he needs Shredder's help to track down three integral parts that will allow him to open a doorway to Earth. He agrees to help and enlist the help of two hapless idiot convicts newly mutated into animal form, Bebop (Gary Anthony Williams) and Rocksteady (Stephen Farrelly). The Turtles Leonardo (Pete Ploszek), Donatello (Jeremy Howard), Raphael (Alan Ritchson) and Michelangelo (Noel Fisher) along with their fearless reporter friend April O'Neil (Megan Fox) and new cop-turned-vigilante Casey Jones must take down Shredder and Krang and save the world... again.

This film suffers from similar sequel problems, they certainly went bigger, added many more characters, bigger set pieces, and much more ambitious special effects. But the problem is that it's just too much to cram into one movie and the whole thing crumbles under its own weight. The films story seems to be made up on the spot, there doesn't seem to be much coherence to the script. Things kind of just happen and characters are thrown into the mix for the sake of it. To be honest there's no real need to even have Shredder in this movie other than to have Casey Jones disgraced at work which leads to his vigilantism. It all seemed like a plotting for convenience more than anything else. Shredder's quick acceptance to help and essentially be the pawn of Krang was out of character, but necessitated the need for a human to search for the three devices to open the portal. Even still he used Bebop and Rocksteady, two of the dumbest criminals on the planet. Why? It seems like a foolish thing to do, but once again it necessitates the introduction and use of two beloved characters. The problem here is that the filmmakers didn't really know how to use these characters properly.

That leads us to our next black mark, the characters. The Turtles to start with are annoying. Much more so than their 90's cartoon versions. These ones take all the worst things about modern millennial kids and group them together to create memorably irritating iterations. Shredder is, for the most part, spineless in this film. They managed to make the baddest, most intimidating character in the Turtleverse seem petty and immediately influenced by others (namely Krang). Bebop, Rocksteady, Casey Jones and even Krang were thrown in simply for fan service and that's about it. The less said about Megan Fox the better and Will Arnett is wasting his time here, that or he's cashing a pretty big paycheck.

The film is big and flashy, maintaining its fast-cutting music video style of the first film, everything is shiny and glimmers, there's lens flares where there shouldn't be lens flares but the saving grace here is at least ILM's impressive visual effects. I have to say, I was glad to see Krang and they created a disgusting character that maintained the essence and spirit of the animated version from the cartoon. The sequence in the Amazon (although totally unnecessary) was awesome in its execution, even though it was over-the-top in its sheer lunacy. There are flashes of fun, kids will certainly enjoy it, but as someone that grew up with the cartoon series and later as an adult read the comics, I was severely let down by it.

Video


Presented in the film's original theatrical ratio of 2.40:1 mastered in HD 1080p 24/fps using AVC MPEG-4 compression. This transfer accurately represents the aesthetic of this film, it's bright and flashy. Detail is excellent, especially the CG elements. Blacks are deep and inky, skin tones look decent, the overall picture is nice and crisp with no noticeable flaws. This is terrific 2D HD image. Note that Paramount has also released this film with a 3D transfer and also in 4K UHD.

Audio


Five audio tracks are included in English Dolby Atmos 7.1 surround, French Dolby Digital 5.1 surround, Portuguese (Brazilian) Dolby Digital 5.1 surround, Spanish (Latin) Dolby Digital 5.1 surround and an English Audio Descriptive Dolby Digital 5.1 surround. For the purposes of this review I chose to view the film with its Atmos 7.1 audio. This is about as good as an audio mix can possibly sound. The mis is complex, rich, active and completely bombastic. The dialogue is clear and distortion free, the surround channels are incredibly active, action scenes, directional effects, ambient sounds, and score all work well to immerse the viewer. Optional subtitles are included in English for the hearing impaired, French, Portuguese (Brazilian), and Spanish (Latin).

Extras


Paramount has included a collection of promotional supplements, they include a collection of six featurettes, and a series of deleted scenes, a second disc is included with a DVD copy of the film as well as a download code for a digital copy version of the film. Below is a closer look at these extras.

DISC ONE: BLU-RAY

"We Are Family" is a featurette which runs for 8 minutes 15 seconds, this clip takes a closer look at the brothers and the actors that play them.

"Whoa! Expanding the Turtleverse" is a featurette which runs for 14 minutes 19 seconds, this clip takes a look at where we are narratively since the previous film and an exploration of the new characters featured in the sequel.

"House Party" is a featurette which runs for 6 minutes 18 seconds, this clip takes a look at the production design of the Turtle lair underground.

"It's Tricky: Inside the Van" is a featurette which runs for 4 minutes 8 seconds, this clip explores the design and introduction of the Turtles' latest toy used to fight crime, the Turtle Van!

"ILM: The Effects Beneath the Shell" is a featurette which runs for 3 minutes 4 seconds, this is basically a progression reel of the visual effects.

"Did You Catch That? Turtle Eggs!" is a featurette which runs for 3 minutes 2 seconds, the film's director and some key crew talk about the cool Easter eggs they peppered around in the film.

A series of three deleted scenes are featured and they include:

- "Promotion" which runs for 2 minutes 56 seconds.
- "Career Opportunities" which runs for 1 minute 10 seconds.
- "Kiss Me" which runs for 54 seconds.

DISC TWO: DVD

This is a DVD copy of the film.

Also included in the package is a download load for a digital copy version of the film.

Packaging


Packaged in a 2-disc keep case housed in a cardboard slip-case for first pressings.

Overall


Probably worth a rental at best.
| | | | | |
| --- | --- | --- | --- | --- |
| The Film: D- | Video: A+ | Audio: A+ | Extras: C | Overall: C+ |