The Film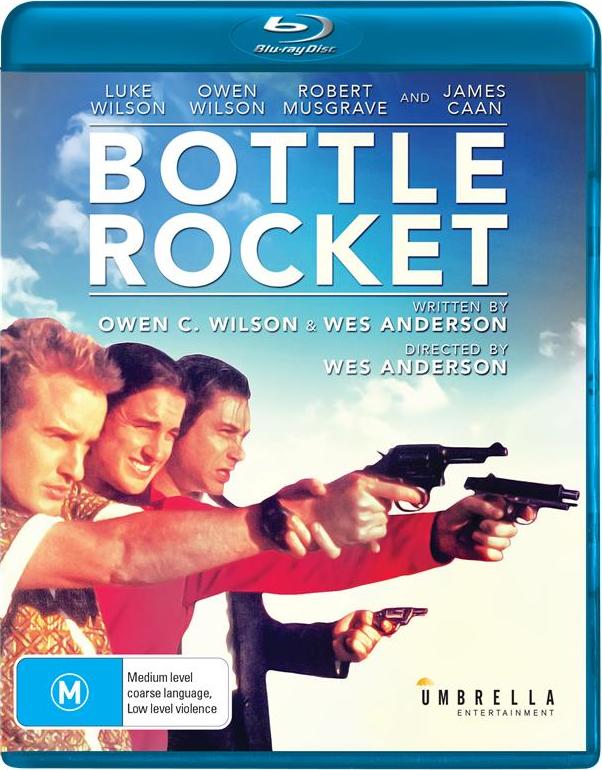 "Bottle Rocket" (1996)

Wes Anderson has been a critical darling and a star of having a truly independent voice within the studio system with his films. 2014's "The Grand Budapest Hotel" was a huge success commercially grossing more than 174 million dollars worldwide and being one of the most original films of the year with its style and its storytelling. 9 Oscar nominations and 4 wins cemented Anderson as one of the most creative and also powerful figures in Hollywood, but his start as a critical darling came just over 20 years ago with his debut feature film "Bottle Rocket".

Anthony, Dignan, and Bob are a group of guys in their mid 20s that are seemingly going through very differing directions in their lives. Anthony (played by Luke Wilson) has just checked himself out of a mental clinic where he was staying. He had an epiphany a while back where he just decided that he didn't want to be doing what he was doing or talk to the people he was talking to anymore. From there, whether it was a nervous breakdown, depression or "exhaustion" as he called it, he seemingly has come out of the clinic with a very calming attitude towards life, but completely directionless. Dignan (played by Owen Wilson) on the other hand has the directions and the plans. With a notebook chronicling a 75 year plan of his life and the basic details, he is a man of brains and action but not using it for the best of reasons. Dignan wants to recruit Anthony for the heist job and if all goes well, they will be able to get a bigger job with a team by the big guy Mr. Henry (played by James Caan). But as Dignan's plan suggests, they need a getaway driver to be successful. Bob (played by Robert Musgrave) comes from a rich family but is not the most confident guy. Even as an adult he is frequently bullied by his jock older brother Jon (played by Andrew Wilson), and is also quite directionless in his life. But he has a car, and that's part of the plan! But with precision planning by Dignan, what could possibly go wrong?

"Bottle Rocket" was originally filmed as a short by Anderson and starring the Wilson brothers and Musgrave, filmed in 1992 and released in 1994. The short gained the attention of screenwriter L.M. Kit Carson who recommended the film to producer James L. Brooks. This led to Brooks' Gracie Films and Columbia Pictures opting to produce a feature length version of the film. Anderson and Owen Wilson rewrote and expanded the original short but there were problems through and through. Rewrites and changes were suggested but Anderson and Wilson stood their ground and made the film on their terms. The cast was the same as the short - with Luke Wilson, Owen Wilson, and Robert Musgrave reprising their roles from the short, which for all three was their debut. For the feature length version, this was Luke and Owen Wilson's feature debut. Musgrave starred in one film in 1995 to his credit. With the group of newcomers making a quirky and mostly straightfaced comedy film and given creative control, it did not bode well with test screenings. The test scores in previews were terrible - some of the worst Columbia Pictures had ever seen. The characters did not click, the plot seemed drawn out with very little emphasis on the heist, too little of the biggest star - James Caan, etc. Even with some minor reshoots including the opening, Columbia Pictures was not too excited about the release.

The film was released on February 21st 1994 - post awards season as they did not see the film as having much potential for awards. The film was unable to recoup the 7 million dollar production cost - grossing just over a 500,000 dollars theatrically. That may be no surprise since the film never opened in more than 50 theaters in America, but Columbia did not see a bigger market for the film and there was very little word of mouth on the film. For foreign markets most countries released it straight to video with little or no promotion. While the public and Columbia did not know what to make of it, the film did find critical praise and some audiences that connected with the very different sense of humor. Martin Scorsese placed it in one of his favorite films of the 90s. Many other critics listed it in their top 10 films of 1996, praising the direction and the completely different style of filmmaking and humor unseen in modern American films.

Wes Anderson's films are filled with geometric compositions in the frame and there are many early instances found in "Bottle Rocket" but with all first-timers, audiences who are familiar with Anderson's later work will find traces of the director finding his craft but not exactly there yet. The film's cinematographer Robert Yeoman would later become Anderson's main cinematographer who helped create the world of "Wes Anderson" vividly, and while the screen in "Bottle Rocket" certainly looks good, many of the shots are not a typical Wes Anderson shot nor is it entirely special, with handheld shots and asymmetrical placements. What also makes an Anderson film is the dialogue - and while "Bottle Rocket" has its weird quirks in characterizations, the characters as a whole are very underexplained compared to later films by the director. The whip-pans, the quick flashbacks, the Ozu-style shots, the intricate designs in clothes and costumes - these are yet to be found in "Bottle Rocket". To some it is an early masterpiece, but "Bottle Rocket" comes off as a master's work before he became a master - a "Pablo Honey" if you will. The ideas are in their infancy, just not yet fully realized.

Note this is a region ALL Blu-ray which can play back on any Blu-ray player worldwide

Video


Umbrella Entertainment presents the film in 1080p in the AVC MPEG-4 codec in the theatrical 1.85:1 aspect ratio. "Bottle Rocket" made its Blu-ray debut in 2008 from The Criterion Collection in America - as one their first Blu-ray discs. Surprisingly this Australian disc opens with The Criterion Collection logo at the start of the film - something I have never seen on a non-Criterion release. The transfer is identical to the US release from 2008 and that is a good thing - as Criterion's standards are almost always on the highest level. Criterion transferred the film in high definition from a 35mm interpositive element, with supervision by director Anderson and cinematographer Yeoman. Colors are bright and bold, blacks are deep, and it is framed in the correct ratio - as many of the older DVDs were slightly off at 1.78:1. Even though the film has been restored and cleaned there are a few specs here and there if you look extremely carefully. While it is not a recent 4K or 2K master, it still looks fantastic.

The film with the Criterion logo at the start runs 91:43.

Audio


English DTS-HD Master Audio 5.1
The 5.1 soundtrack is presented in lossless audio and is also identical to the audio on the Criterion Blu-ray. Hisses and other audio errors have been removed and it sounds pure and clean. Music is frequently used for the surround channels but for the most part it is a center and front heavy film.

There are optional English HoH subtitles in a yellow font for the film. This is also identical to the Criterion disc which also for some reason used an awful yellow subtitle font. The Australian disc seems to have copied and pasted the subtitles too, as it uses American spelling.

Extras


There are NO EXTRAS on the Umbrella release.

While the US Criterion was loaded with extras including a commentary, the original short, a retrospective documentary, deleted scenes and more, the Australian Umbrella Entertainment disc has none. While it was great that they could port over the transfer of the film, it's a shame that could not be done for the extras as anyone who has seen a Criterion Wes Anderson title (which they have done almost all), they are excellent in the extras and packaging department.

Packaging


On the back of the case it states "Region B" but the Blu-ray is in fact region ALL.

Overall


"Bottle Rocket" is Wes Anderson in his infancy. The ideas are starting to come to place but it is a few years away until he is able to firmly place a mark on his style and vision back in 1996. The film is still fun and enjoyable to watch but it has its flaws in pacing and plot at times. The Umbrella Entertainment Blu-ray features the same transfer as the US Criterion Collection Blu-ray but unfortunately drops all the extras making it a bit hard to recommend as a purchase though it does have good replay value for the film itself!
| | | | | |
| --- | --- | --- | --- | --- |
| The Film: B | Video: A | Audio: A | | Overall: C |