The Film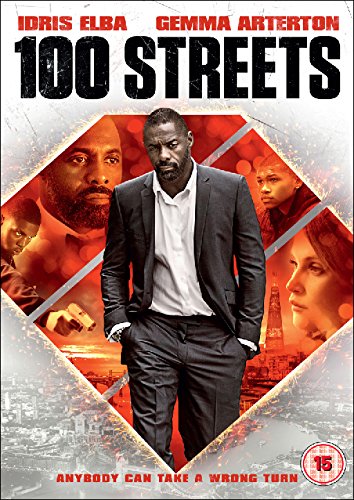 ***This is an A/V and Extras review only. For reviews on the movie from various critics, we recommend visiting HERE***

Three people, three extraordinary stories. All lived out within a hundred London streets.

Directed by Emmy and Golden Globe-nominated Jim O'Hanlon, 100 STREETS is a layered and gripping drama, with an original screenplay by Leon F Butler. It takes a compelling look at the vibrant and complicated life of a group of individuals in contemporary London – destination capital of the world.

100 STREETS intersect the film's setting. Chelsea is just down the road from high-rise estates, riverside opulence contrasts with the day-to-day grind. It's in these streets that the characters face major choices and fundamental change in their separate lives, as they negotiate their paths through life - through those hundred streets.

Video


Signature Entertainment. Two words that have been known to strike fear into home media fans over the last couple of years due to their random title changes, ridiculous cropping, and general inability to release a movie as intended to be seen. However, last year saw them take a turn for the better, and recently they have churned out some great discs. They have released "100 Streets" as part of their distribution deal with Vertigo, and have kept the original aspect ratio of 2.35:1 for this release (anamorphically enhanced).

As expected for such a new feature with a reasonable budget for a relatively small Brit Flick, the transfer here is pretty darn good throughout. With many panning shots across the London skyline, one may expect some banding issues to occur, but they are almost non-existent here. Colours appear natural if perhaps slightly light at times, and the multitude of London skin tones are strong. Blacks are deep and inky, but can exhibit some minor crush within the shadows from time to time, and can lack some more minute details (Idris Elba's suit). Details do fare much better in lighter scenes though with exterior shots showcasing some decent mid-level background detail (cemetery at 43 minutes). Facial close-ups also look fine. Apart from the aforementioned crush, I don't really have any problems with this transfer. Although it is far from reference quality, it is a solid looking disc. There are no issues with digital noise reduction, edge enhancement, or aliasing, and I noticed no signs of damage. Also, there are no issues with compression.

The feature is uncut and runs 89:52 PAL.

Audio


Two audio options are included:
- English Dolby Digital 5.1
- English Dolby Digital 2.0 Stereo

For my viewing I opted for the English Dolby Digital 5.1 track which was relatively uneventful considering the fact this is a dialogue driven film, but certainly more than acceptable. The surrounds make good use of the rather formulaic score by Paul Sanderson (Chris Ryan's Strike Back, The Shannara Chronicles), and some subtle effects such as a dog barking are also well directed. There are some occasional mildly violent scenes where people are getting beaten up in the street, and the LFE gets a little boost here with each kick. As far as issues go, there aren't any. Channel separation is good and volume levels are consistent throughout. There's no drop outs, crackles, or background hiss.

No subtitles are included.

Extras


Unfortunately nothing.

Overall


The film is just about held together by a cast who are deserving of better material, but the A/V presentation is decent. Shame there are no extras, but the very low price point upon release reflects this.
| | | | | |
| --- | --- | --- | --- | --- |
| The Film: C | Video: B+ | Audio: B+ | Extras: F | Overall: C+ |