The Film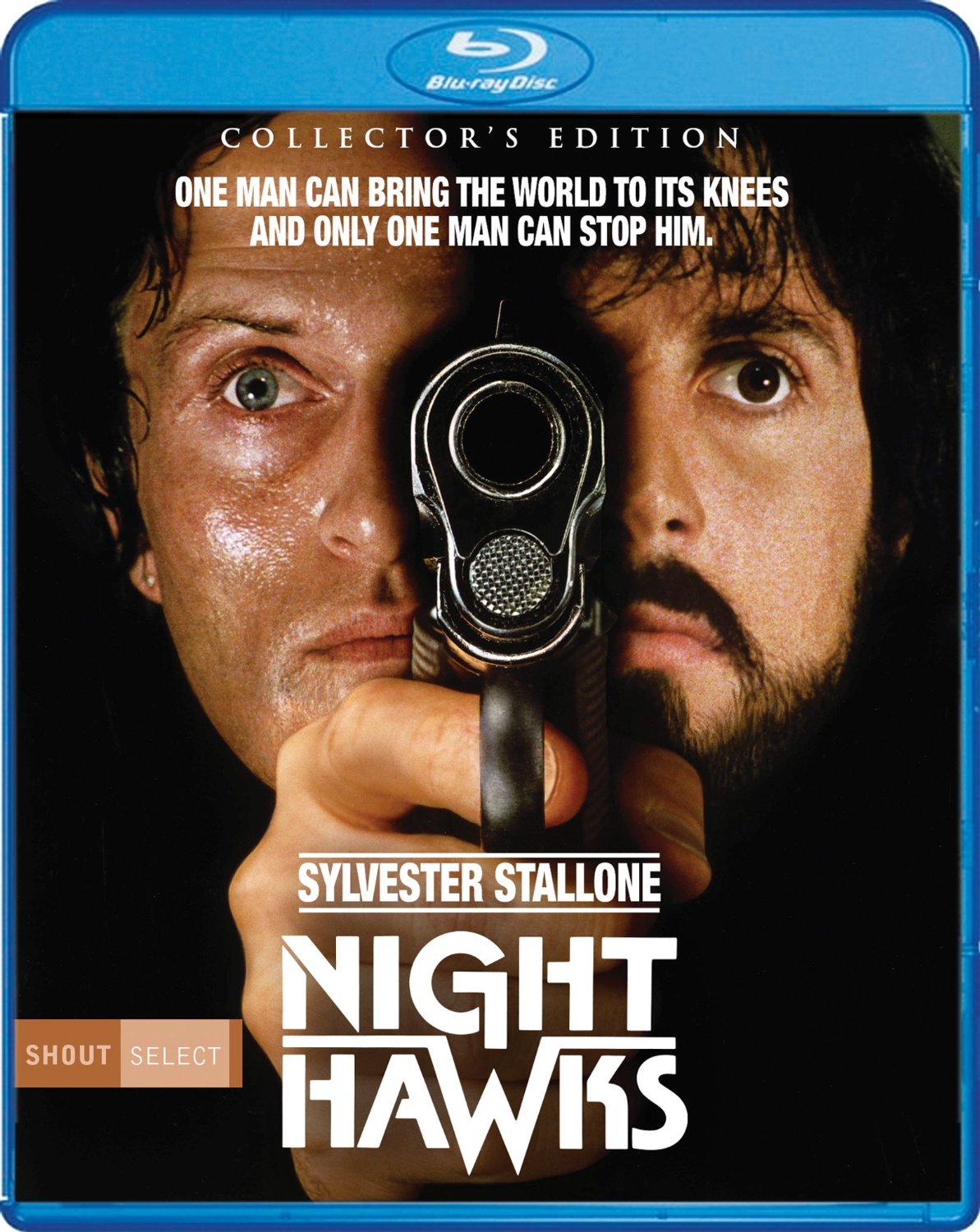 Watching director Bruce Malmuth's "Nighthawks" (1981) for the first time, I was struck by the similarities between it and William Friedkin's "The French Connection" (1971). Both are New York-set tales about two beat cops working together to bring down an international criminal, who manages to elude them every step of the way. The style, era, chases, and even the casting felt very much like kin to Friedkin's masterpiece. And then, after the film was over I checked out the production history (as I do with every film) and was none too surprised to learn this film started life as a proposed third entry in the "French Connection" series. The plan was scrapped when Gene Hackman bowed out, having no interest in doing another sequel as "Popeye" Doyle.

The rights shifted over to Universal, the script received rewrites, and it started anew as a vehicle for Sylvester Stallone and Billy Dee Williams. Even with a new script and cast in place, the picture went through two directors and spent a considerable length of time in the editing room, finally getting a release over a year after production wrapped. That's quite a history indeed. This story may not have fared so well as another "French Connection" film – it would have definitely felt like a retread of the first film – but as another picture altogether this one works despite some plotting that prevents it from being great.

Detective Sgt. Deke DaSilva (Sylvester Stallone) and his partner, Det. Sgt. Matthew Fox (Billy Dee Williams), are a couple of undercover cops working the streets, with DaSilva dressed up in drag to catch muggers. The two men are fierce in their capacity, chasing down thugs and arresting them with extreme prejudice. In Europe, international terrorist Wulfgar (Rutger Hauer) is making his own name known, bombing a department store for unseen benefactors. His big stunt makes them nervous after children are killed, but Wulfgar remains steadfast in his desire to spread a global panic. After killing a courier who, unbeknownst to him, had his passport Wulfgar undergoes plastic surgery in Paris due to Interpol agents now knowing what he looks like. He then kills the doctor and moves his efforts to New York City.

DaSilva and Fox, meanwhile, are brought in to the Anti-terrorist Action Command (ATAC) squad, where Inspector Hartman (Nigel Davenport) schools them on Wulfgar's recent activity as well as what it is going to take to bring down a man of his determination and skill. DaSilva, who is more interested in bringing perps in alive than dead, studies Hartman's words but takes offense to his unorthodox method of galvanizing the "weak" NYC officers. Wulfgar sends a warning to the city by bombing an office on Wall St. during off hours. After the flight attendant Wulfgar had been staying with is found dead, police piece together she knew the terrorist and DaSilva and Fox hit the club scene, which Wulfgar is known to frequent. Amazingly, DaSilva spots Wulfgar and a chase ensues, with Wulfgar getting the upper hand after DaSilva hesitates to shoot when a hostage is taken. Wulfgar has big plans for an attack on U.N. officials during an upcoming conference, giving DaSilva and Fox precious little time to get their man before he commits another heinous act.

Despite the apparent clashes behind the scenes – between Sly and Rutger, Sly and the directors, etc. – "Nighthawks" manages to be a taut, suspenseful thriller packed with searing performances and perfectly scored by Keith Emerson. Sly can turn his intensity up to 11 when he has to, so it should come as no surprise to viewers that he is a force to be reckoned with as Deke, but it was Billy Dee Williams as his partner who caught me off guard. Lando he most certainly is not; Fox is a wild animal, practically frothing at the mouth when he and Deke are making a bust. DaSilva and Fox both go hard but there is reserve within DaSilva; he's more hesitant to use violence as a means to an end, whereas Fox is just ruthless. This was Rutger Hauer's first American film and he makes quite the impression right out of the gate by portraying this icy international pot-stirrer who has grand ideas for how to disrupt the world stage. Hauer's Wulfgar is a man who is steadfast in his action, despite being outright rejected by his peers almost immediately after his first attack. Still, he presses on and demands to upset global politics even though he lacks a clear agenda.

That may be one of the film's biggest faults: Wulfgar's motivation. He's basically a disruptor-for-hire, someone carrying out the dirty work of an elite group we never see. But once the group disavows him Wulfgar just keeps right on making a mess around the globe. His plan to cause chaos within the U.N. seems awfully poor, especially when his biggest moment comes on the Roosevelt Island tramway, where he is essentially trapped in a cable car. I found it very hard to believe a well-placed sniper couldn't have taken out Wulfgar and Shakka (Persis Khambatta), his assistant, with relative ease while minimizing any casualties. Of course, had that happened we wouldn't have gotten the great ending with DaSilva and Wulfgar facing off, mirroring DaSilva's opening scene.

The best moment of the picture comes during the second act, when DaSilva and Fox are lead on a wild chase through the streets and subways of NYC by Wulfgar. Similar to the intensity of the "French Connection" car chase, this foot race is no less thrilling as DaSilva and Fox are right on Wulfgar's heels every step of the way and it is only through brazen, ruthless action that Wulfgar is able to evade the two insatiable detectives. The editing and direction of this sequence really takes your breath away.

Video


This is a gritty, grimy NYC-set film made just outside the golden age of 70's cinema, but the 1.85:1 1080p 24/fps AVC MPEG-4 encoded image still retains that same roughshod aesthetic that will make viewers feel like they're right there in the action of those mean streets. No mention of a new transfer is stated, leading me to believe this is an older master from Universal's vaults. Color reproduction is accurate, contrast handles nicely, and there is very little damage to the print. Grain can be clumpy at times but it looks natural more often than not. At the very least you can be sure no DNR was applied to the image.

Audio


An English DTS-HD Master Audio 2.0 mono track capably carries the audio side of things. The track is limited and fairly narrow in scope, though it does still present Keith Emerson's funky & fitting score with great fidelity. Dialogue and sound effects are clear and presented with problem. Subtitles are available in English SDH.

Extras


Although none of the film's "big guns" of acting show up here to reminisce about the movie, there are a number of interviews present to help paint a clearer picture of how the production went.

"Lights, Camera, Action! is an interview featurette with producer Herb Nanas, conducted by phone, which runs for 16 minutes and 10 seconds.

"We Gotta Shoot This" (1080p) is an interview featurette that runs for 24 minutes and 37 seconds, with director of photography James Contner.

"A Sign of the Times" (1080p) is an interview featurette that runs for 10 minutes and 29 seconds, with actress Lindsay Wagner.

"Not the Other Girls" (1080p) is an interview featurette that runs for 4 minutes and 24 seconds, with Catherine Mary Stewart, who has a very small role as a counter girl in the opening.

"Nighthawks: The First Draft" (1080p) is an interview featurette that runs for 9 minutes and 49 seconds, with writer Paul Sylbert, who has plenty to say about his scripts changes.

"It was Hell" (1080p) is an interview featurette that runs for 10 minutes and 50 seconds, with technical adviser Randy Jurgensen.

A theatrical trailer (1080p) runs for 1 minute and 43 seconds.

Three radio spots run for 1 minute and 35 seconds.

A still gallery (1080p) contains 80 images, running for 6 minutes and 42 seconds.

Packaging


The single disc comes housed in a standard Blu-ray keep case.

Overall


Intense, strongly acted, and perhaps more relevant than ever before "Nighthawks" is an excellent early 80's thrill ride that feels like it would be right at home with the dirty NYC street pictures of the 70's.
| | | | | |
| --- | --- | --- | --- | --- |
| The Film: B+ | Video: B | Audio: B- | Extras: B- | Overall: B |