The Film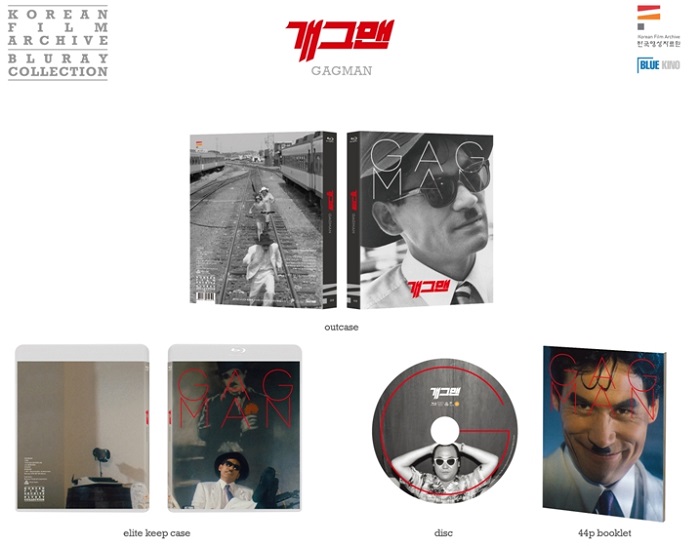 "Gagman" <개그맨> (1989)

Lee Jong-sae (played by Ahn Sung-ki) gets his usual trim at the local barbershop where the barber Moon Do-suk (played by Bae Chang-ho ) cuts the Chaplin-esque mustache and shaves the perfectly set hairline for Jong-sae. Do-suk talks endlessly about movies - Kirk Douglas in "The Vikings", quoting James Bond, and wishing to be part of the movie business himself one day. Jong-sae is a man in show business. Though not in the movies - as of yet, he is a comedian who performs in nightclubs as a one man act. But he is no Charlie Chaplin. There are empty seats as he is just background to small crowds that are not there particularly for the stage acts. But he does have a dream of one day becoming a figure in the movie business. Not as an actor but as a director - just as Chaplin was.

Jong-sae goes to a film set to talk to a movie director in person, budging his way on set and ruining takes asking if the director was interested in adapting the script he sent a while back. Obviously Jong-sae gets pushed aside and kicked off the set. While at a movie theater, he meets Oh Sun-young (played by Hwang Cine) who finds his looks quite funny but is intrigued when he introduces himself as a man in show business getting ready to direct a film. Through circumstances Jong-sae is able to get both Do-suk and Sun-young to help him on a quest to make a movie together. But the biggest problem of all is that none of them have the financial means to do anything. But then the three come up with a not-so-good solution to solve the money problem - robbing a bank…

During the time "Gagman" was made in South Korea it was a very unique time in Korean society. The country was still under a strict military regime with censorship issues but at the same time the 1988 Seoul Olympics lifted some of the restrictions to make the country seem more "open" to the eyes of foreigners looking in. This resulted in a resurgence of "art" with artists including filmmakers being able to experience and create things in a whole new light. "Gagman" was the directorial debut of 31 year old Lee Myung-se who previously had experience as an assistant director on various South Korean productions. Taking both writing and directing duties for "Gagman", the film was very different from the standard melodramas and comedies dominating the South Korean cinemas. The film was an ode to cinema, with references to cinema of the present and past. Do-suk repeats movie quotes such as "I'm Bond… James Bond" in English, talks about and references various movies in conversation. The biggest and unusual reference is when he suddenly appears with bandages over his eyelids saying he got surgery to make his eyes look bigger. This is not referring to a movie, but to a real life incident with a Korean movie star who did that to further his career in the 1980s. Jong-sae's apartment is filled with various movie posters on the walls. A large Chaplin poster, "Gone with the Wind", "E.T." and more are plastered throughout along with unusual collectibles and furniture placed around. For music, the originally commissioned scored was scrapped and instead various music from Hollywood films were used. Tracks from "The Kid", "The Godfather", "Purple Noon" and more are heard throughout the film. Thematically the film also sees connection with Jean-Luc Godard's "Band of Outsiders" with the 2 men / 1 woman robbery plotline, the slightly crazed and within-his-own-world comedian with Martin Scorsese's "The King of Comedy", and the 1950 cult film noir "Gun Crazy" with the action and consequences of having guns and an ambition in the wrong direction. Strangely the film doesn't feel as clichéd as it could have been, having a meld of ideas rather than copying and pasting what was done before.

The title being "Gagman" might prepare audiences to laugh hysterically again and again but surprisingly this is not a film with gags as expected. Sure there are Looney Tunes like events such as peeping through a newspaper with a little hole cut out or the amusing dress-up during their getaway at the train station. But most of the laughs come from the uncomfortable and awkward moments, such as Jong-sae not knowing what to do when Young-sun comes over or Do-suk asking the bank tellers about the alarm system and what it takes for the police to arrive. And yet it is a film that is not only comedy. There are references to the military and its effect on society, suicide, and murder - themes not on the laughing side.

Actor Ahn Sung-ki made an interestingly awkward and silly character with Lee Jong-sae, with his bumbling mannerisms contrasted with the slick white suit and perfectly trimmed hairline and mustache. He's not the sharpest man out there, but like directors such as Ed Wood, his talent is the opposite of his aspirations and the role is played in a comically fun and weird way. Ahn started as a child actor in the 1950s and still continues to act through the 2010s. His past credits include "Mandala" (1981), "Chilsu and Mansu" (1988) - which was released on Blu-ray by the Korean Film Archive in 2015, "Nowhere to Hide" (1999), "Silmido" (2003), "Arahan" (2004), and "The Tower" (2012) to name a few. The role of Moon Do-suk was played by Bae Chang-ho in his acting debut, though not his cinematic debut. Bae was already an accomplished director in the 1980s making films such as "Whale Hunting" (1984) and "Whale Hunting 2", and having director Lee Myung-se under his wing as an assistant. For "Gagman", the role was specifically made with Bae in mind and surprisingly is a great comedic performance that is surprising to think was done by a director rather than an actor or comedian. Hwang Cine who played the femme fatale Sun-young was once tagged as "the most perfect face in Korea", is more familiar to television since debuting on TV screens in the early 80s and to this day. Her feature film credits are quite small but she did make an impact in the indie drama film "301 /302" released in 1995.

"Gagman" was produced by Taehung Pictures and was slated for a release in the summer of 1988, but the release date was postponed due to the massive success of "Die Hard" that summer, which distributor Taehung Pictures extended the theatrical run. "Gagman" was pushed and pushed with no release scheduled, disappointing the director. There was a supposed one-off screening in Busan at the end of 1988 but even the director was unaware until after it supposedly happened. While Lee was negotiating with Taehung Pictures for an upcoming film, a deal was made to theatrically release "Gagman" with marketing and promotion, and that finally happened on June 24th 1989 in Seoul. Critics were not sure what to make of the film and for public reaction, 50,000 tickets were sold which was good but not great - compared to the 700,000 tickets sold for "Die Hard" the previous year. While it came and went from cinemas, television showings and VHS rentals lifted the film from average box office draw to a film with a cult following. A DVD was released in 2006 and now the Korean Film Archive/Blue Kino presents the film on Blu-ray for the first time.

Note this is a region ALL Blu-ray which can be played back on any Blu-ray player worldwide

Video


The Korean Film Archive/Blue Kino presents the film in 1080p in the AVC MPEG-4 codec, in the 1.78:1 aspect ratio. The aspect ratio slightly differs from the theatrical 1.85:1 ratio. There are good and bad parts to this video transfer. The film was remastered from the best available film elements, so colors are quite bold and deep with blacks being deep and skin tones being slightly dark. There is a slightly hazy filter for a dreamy effect in some scenes, and this is an intentional look. The picture is stable with no problems of a wobbly telecine transfer or shakiness. There are minor specs and dust at times on screen but nothing too distracting from viewing pleasure. There seems to be some digital manipulation on stabilizing colors so there are some issues of an overly digital look to some areas of the frame. On very close inspection it does look distracting, but from a distance it is not much of a problem. This is not one of the better KOFA title transfers but it is fair.

The film is uncut and runs 124:01 including the restoration credits.

Audio


Korean DTS-HD Master Audio 2.0 mono
The film is presented in its original mono in lossless sound. What happened here? Someone was not monitoring the audio levels correctly. Music, effects, and dialogue all sound overly distorted throughout the entire film. The Chaplin song that plays in the main menu sounds distorted and this is exactly how it sounds during the film as well. To make things confusing, the theatrical trailer included on the disc and the YouTube upload by Korean Film Archive do not sound distorted like the Blu-ray. I also thought this might have been an issue with my receiver or speakers. But changing to the audio commentary track, it sounded clear and clean. Definitely the audio track on the disc is the issue. On a more positive note, pops, hisses, and other damage to the original track have been removed. But then they were only to be replaced with speaker buzz, crackle, and distortion.

There are optional English, Japanese, Korean subtitles for the main feature in a white font. The subtitles are timed well, easy to read, and included no spelling errors (although for the extras there were a few).

Extras


Audio commentary by director Lee Myung-se and film director Kim Hong-joon
Kim Hong-joon, professor of filmmaking at Korean National University of Arts moderates the commentary with director Lee who are watching the 2016 Blu-ray edition together. They comment on the references frequently made, how the cast was assembled together, the use of Kodak film stock, the music choices and working with the limitations of mono audio, the locations, the release/reception and much more. Lee also talks about one minor change he would have made at the final shot of the film and yes it would be easy to correct in digital, but is left untouched here.
As stated before the audio level on the commentary is fine with no distortion or other trouble, but with the English subtitles there were some very minor mistakes such as "Diappear", "Tolilet", and "Edting".
in Korean Dolby Digital 2.0 with optional English, Korean subtitles

Image Gallery
Presented are 9 color and black & white stills plus 2 posters in a manual gallery
in 1080p

Trailer (2:39)
The trailer shows no scenes from the movie, but only photos in a slideshow with music and text.
in 480i AVC-MPEG-4, in 1.33:1 and windowboxed 1.78:1, LPCM 2.0 with Korean text

42 page Booklet
As with all other Korean Film Archive releases, this comes with a 42-page book containing photos and liner notes, both in Korean and English. The essay "Lee Myung-se: A Creative Cineaste in Korean Cinema History" by film critic So-jin Maeng is an overview of Lee's career as a director who has only made 8 films since 1989. The next essay is "Lee Myung-se's Gagman" by English film critic and festival programmer Tony Rayns. The essay discusses mostly about the film's place in Korean cinema and society. Both essays are fine reading and the Korean essay's English translation is fine with no problems of grammar or spelling errors. Again, all the content is in Korean and in English.

While the commentary and booklet provide good information it would have been nice to hear reflections in interview form from the three main leads and how they feel about the film all these years later. There are no interviews, featurettes, or documentaries to be had on this Blu-ray edition.

Packaging


The disc is packaged in a clear keep case which is housed in an outer slipcase, as spine #006 in the Korean Film Archive Blu-ray series. The booklet is also housed in the slipcase. The outer slipcase uses black and white still photos while the inner artwork and booklet use color stills which is a strange choice. The packaging makes it look like an old black and white film when in reality it is a very colorful one.

Overall


"Gagman" is still a highly regarded cult classic in South Korea with its homages to the Hollywood films of yesteryear while playing against audience expectations. The Blu-ray from Korean Film Archive has a fair video transfer but sad to say the audio sounds pretty awful. The film is still available to watch for free on the Korean Film Archive YouTube channel with optional English subtitles for those interested.
| | | | | |
| --- | --- | --- | --- | --- |
| The Film: B+ | Video: B | Audio: D | Extras: B- | Overall: C |