New Centurions (The) AKA Precinct 45: Los Angeles Police [Blu-ray]
Blu-ray ALL - United Kingdom - Powerhouse Films
Review written by and copyright: Chris Gould (1st February 2017).
The Film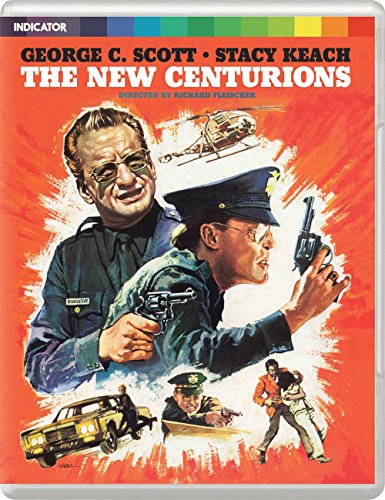 * Note - The following review references not having the booklet to hand. We have now received the booklet from Powerhouse and the review will be updated very soon.

***This is an A/V and Extras review only. For reviews on the movie from various critics, we recommend visiting HERE***

Richard Fleischer's gritty and fateful portrait of LA cops adapted from Joseph Wambaugh's autobiographical best-seller, is anchored by superb performances from George C. Scott as a world-weary older cop who quietly fears becoming obsolete, and Stacy Keach as the young rookie he takes under his wing.

Video


I can't be completely sure of the source for this transfer, as I don't have access to the booklet that is included with the retail release. As best I can tell it is derived from the same Sony master as the Carlotta Films' release, which I'm assuming to be an older effort given that the quality isn't up there with some of Sony's new 4K restorations. That's not to say it's bad though. Grain isn't as finely resolved as it would be if the film had received the sort of treatment afforded to titles such as [i]Body Double[/i] and [i]Christine[/i], but the image is still reasonably detailed. The colour palette is generally natural and blacks are deep without sacrificing shadow detail. On the downside, there is some obvious pulsing during a number of scenes, but this looks to be inherent to the original photography. There are also some minor film artefacts present throughout, although nothing I'd call particularly obtrusive. It's a perfectly respectable presentation that looks very much of its time.

For the technically minded among you, the 2.35:1, 1080/24p transfer is AVC encoded. Without the benefit of the booklet I can't be sure who authored the disc, but given that David McKenzie has so far been responsible for the other Powerhouse releases there's every reason to believe that this is his handiwork.

Audio


The disc includes a solitary LPCM 1.0 Mono track, along with optional English HoH subtitles. The track is obviously limited by its very nature, but it presents clean dialogue and effects with no discernible anomalies (hiss, drop-outs, distortion etc.). The various elements are also well balanced. Beyond that, well there's not a lot to say. It's obviously not the most engaging or dynamic aural presentation, but one imagines it to be an authentic representation of the original soundtrack.

Extras


Cop Stories: The Making of Richard Fleischer's 'The New Centurions' (44:06): This new documentary features writer Joseph Wambaugh, actors Stacey Keach and Richard E. Kalk, and first assistant camera operator Ronald Vidor sharing their recollections of making The New Centurions. It's a fairly comprehensive piece that provides a lot of background information on the production.

Theatrical Trailer (2:13): The original theatrical trailer is presented in high-definition.

Super 8mm Version (16:53): The cut-down version of the film is presented here in what can charitably be described as 'vintage' quality. A more accurate description would be a very poor pan and scan 4:3 image with major stabilisation issue and film artefacts, and an audio track that frequently distorts and cuts out. I can't see anyone choosing to watch this more than once, and then only out of curiosity. Still, it does make you appreciate how good the main feature looks and sounds by comparison.

Booklet: The limited edition dual format release of the film (3000 units) includes a 20-page new booklet with an essay by Nick Pinkerton, the new piece 'Critical Response: From Page to Screen' by Jeff Billington, and Production Notes. Unfortunately it wasn't available for the purposes of this review.

Overall


Powerhouse's dual format release of The New Centurions offers a pleasing audio-visual experience that does justice to the film's gritty aesthetic, along with a small but fairly satisfying collection of bonus material. As such, it comes recommended.

View screenshots via the following links:
Image 1
Image 2
Image 3
Image 4
Image 5
Image 6
Image 7
Image 8

---
DVD Compare is a participant in the Amazon Services LLC Associates Program and the Amazon Europe S.a.r.l. Associates Programme, an affiliate advertising program designed to provide a means for sites to earn advertising fees by advertising and linking to amazon.co.uk, amazon.com, amazon.ca, amazon.fr, and amazon.de.