The Film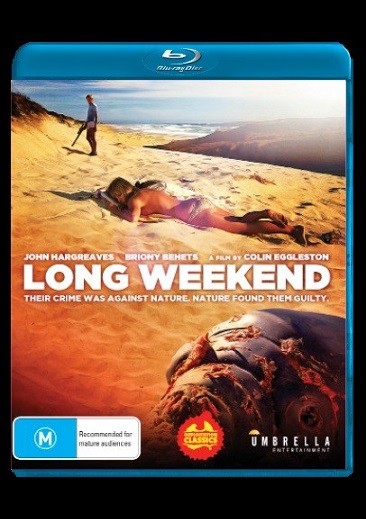 "Long Weekend" (1978)

Peter (played by John Hargreaves) and Marcia (played by Briony Behets) are a couple going through a rough patch in their marriage. To try to rekindle their relationship they decide to take a trip to the beach for the weekend. Their dog Cricket is also along for the ride - which Peter insists on taking while Marcia is clearly against having the dog come along. Not for the additional trouble but because she has no love for Peter's dog. Driving along they have their share of arguments - from the choice of music on the stereo to getting directions. Arriving at the beach looks like paradise for them. The beautiful blue sea, the sunny skies, and away from civilization without a soul around them. They start joking around, having a good time together, but things start taking a darker turn from their natural surroundings.

They start hearing sounds of crying or bellowing in the distance. Tame animals like possums and birds start biting or flying into their camp area. Ants swarm their picnic area aggressively. While the couple first think that these are coincidences, Marcia starts getting worried. But leaving the area turns out to be another nightmare for them…

"Long Weekend" is credibly lumped in the horror subgenre of "animals attack" along with genre classics such as "Jaws" (1975), "Grizzly" (1976), "Day of the Animals" (1977), and "Piranha" (1978). Unlike those which the attacks and horror of specific animals, "Long Weekend" was more of a study of a marriage falling apart and also happening to have a plot of animal attacks. In "animals attack" films it is almost always unexplained as to why the attacks occur. "Long Weekend" never gives an explanation but there is a lot of subtext on the relationship between man and nature falling apart. There are many Australian Aborigine beliefs regarding the balance of nature and man which is common with many other cultures and religions including Native America Indian beliefs, Buddhism, and Hinduism. In contrast, many European and Caucasian cultures never had such a look at life and the view of the world historically, with an idea of "conquering" lands and people with little or no respect toward nature. It can be said that the animals torturing the characters of Peter and Marcia are punishments - punishments for their lack of caring for nature and for the "white man's" disregard in general. In addition their quarreling fuels the fire for the hate. Marcia has no care towards Cricket the dog. Peter hits and kills a kangaroo with the jeep but disregards it. Peter shoots and kills a harmless bunyip. The couple eat meat and eggs. The only example of love between man and nature seen is Peter and his relationship to Cricket, but that is not enough from the animals to take revenge.

The film indicates that Peter and Marcia are not the only victims. There are things they encounter that shows others were there and possibly met the same fate. A Barbie doll in the sand, a picnic area and tent still pitched, an abandoned car, and also an abandoned rabid dog. Making things worse is a "Twilight Zone" like vortex they seemed to be trapped in - as they keep driving in circles with the road to the civilized world suddenly being cut off. "Long Weekend" is a suspenseful film in which you are grabbed in and go along for the ride, but the contrast of characters and location cannot be denied. The beach is absolutely beautiful, with no one around and a place many could call a paradise. The couple on the other hand are strangely quite unlikable being disrespectful to each other and to nature - and they are basically the only two people seen on screen apart from a few minor scenes in town or near the end. The audience are almost like the animals looking on and cheering for the animals in a subconscious way. It's a brilliant piece of work that goes against many horror film conventions and stands on its own.

Colin Eggleston directed the script which was written by American writer Everett De Roche, writer of "Patrick" and "Road Games". John Hargreaves' role of Peter was great in both the lengthy dialogue scenes as well as the silent scenes - in which he is along when he gets separated. His performance won the Best Actor award at the Catalonian International Film Festival. Actress Briony Behets was in a relationship with the director but actually wasn't the first choice to play Marcia, but gladly she did. The way she played both for and against the character of Peter was also an excellent one.

"Long Weekend" was filmed in 1977 and was first screened at the Catalonian International Film Festival in late 1978. March 29th 1979 marked the Australian premiere, but it was a box office failure and critical failure in Australia having little or no notice. It was later shown at other festivals including Cannes where it gained more international praise. European critics were much more kind and hailing it as part of the Australian New Wave along with "Mad Max" which was also released in 1979. It was following the international praise that the film started to gain a cult momentum in its native country, but for many years the original widescreen version was not available. 2004's DVD release from Umbrella Entertainment was the first time the 2.35:1 widescreen version became available on home video which was followed by international releases. While the Synapse Films in the United States was the first to release the film on Blu-ray, Umbrella Entertainment now makes the now-classic film available in high-def in its home country of Australia.

Note this is a region ALL Blu-ray which can play back on any Blu-ray player worldwide

Video


Umbrella Entertainment presents the film in 1080p in the AVC MPEG- 4 codec, in the original theatrical 2.35:1 aspect ratio. The film has been remastered and the transfer looks excellent. The framing is in the correct ratio, colors are bold, the image is pin sharp, and film grain is kept. The print is relatively clean but there are minor specs and dust here and there and minor damage but nothing to completely distract from the viewing. The only trouble seems to be when deep blue skies are shown in the frame which looks a little blotchy and pixelated. Otherwise this is a stellar transfer.

The film's runtime on the Blu-ray is 95:09

Audio


English DTS-HD Master Audio 5.1
The audio has been remastered and remixed as a 5.1 lossless track. The film was originally released in mono and it's a shame that the mono track was not included, but the 5.1 track is actually quite good. Dialogue is mostly centered while creepy sound effects and music are placed in the surround fields. None of the music or effects have been re-recorded so the sound does not feel necessarily out of place. There are no problems of audio pops, cracks, dropouts, or other errors sounding very clean and dialogue being easy to understand.

There are optional English HoH subtitles in a white font for the main feature. The subtitles are well timed and easy to read.

Extras


Audio Commentary by producer Richard Brennan and cinematographer Vincent Monton
The producer and cinematographer discuss a range of topics on the making of the film, including the use of 2.35:1 anamorphic lenses, the location shooting on a miniscule budget, and remembering the late Colin Eggleston and John Hargreaves. They also talk about why they think the film didn't click with audiences in Australia and did with international audiences. This commentary was previously recorded for the 2004 DVD release.
in English DTS-HD Master Audio 2.0 with no subtitles

Stills Gallery and Audio Interview with Actor John Hargreaves (4:43)
This audio interview with Hargreaves was conducted on August 3rd 1995 by critic Tony Watts, where Hargreaves briefly discusses about acting. It is accompanied by still photos and poster ads. This interview and gallery was previously available on the 2004 DVD release.
in 480i AVC MPEG-4, in 1.78:1, in English DTS-HD Master Audio 2.0 with no subtitles

Uncut "Not Quite Hollywood" Interviews with cinematographer Vincent Monton, writer Everett De Roche, and actor Briony Behets (18:31)
The 2008 documentary "Not Quite Hollywood" included interviews with a variety of people who worked in the Australian film industry of the 70s and 80s. Included here are the uncut interviews with the staff of "Long Weekend" and their experience making the film.
in 1080i 60hz AVC MPEG-4, in 1.78:1, in English DTS-HD Master Audio 2.0 with no subtitles

"Nature Found Them Guilty: Examining Long Weekend Panel Discussion" featurette (24:23)
In this newly recorded featurette, film critics Sally Christie, Emma Westwood, Lee Gambin, and Alexandra Heller-Nicholas sit and have a roundtable discussion on the film. They talk about the unlikable characters, the symbolisms, nature's balance, the subplots, and their interpretation and experience watching the film over time.
in 1080p AVC MPEG-4, in 1.78:1, in English DTS-HD Master Audio 2.0 with no subtitles

Theatrical Trailer (2:05)
The original trailer has also been remastered and looks good but there are some shots in which color correction has not been applied looking a little faded.
in 1080p AVC MPEG-4, in 2.35:1, in English DTS-HD Master Audio 2.0 with no subtitles

Umbrella Entertainment has put together a great selection of extras, by including all the extras from the 2004 DVD release and adding a few new extras.

Packaging


The inlay is reversible, with the reverse side having the identical cover art minus the "M" classification rating logo, but on the back side there is a reprinted review of the film from Variety published in 1978.

Overall


While it took a while to find an audience in its native Australia, "Long Weekend" has been a certified cult classic of Australian cinema internationally for decades. The Australian Umbrella Entertainment Blu-ray has a great transfer in video and audio (though missing the original mono track) with a great selection of extras both new and old. Highly recommended.
| | | | | |
| --- | --- | --- | --- | --- |
| The Film: A- | Video: A- | Audio: A- | Extras: A | Overall: A- |