The Film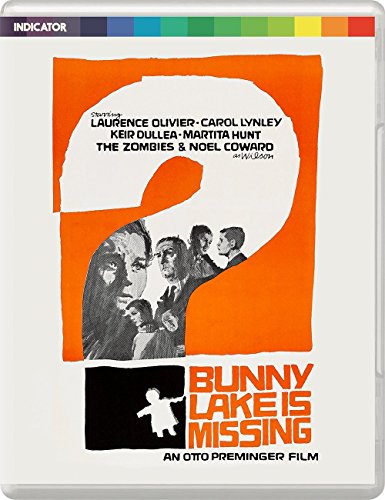 ***This is an A/V and Extras review only. For reviews on the movie from various critics, we recommend visiting HERE***

Definitely – no clues!

In this suspense film even one clue might tell all!

THE SEARCH FOR 'BUNNY LAKE' IS ON!

When Ann Lake (Carol Lynley) arrives to collect her four-year-old daughter, Bunny, from nursery, she is told that no child of that name is enrolled there. Superintendent Newhouse (Lawrence Olivier) is assigned to the case, and before long a number of people are under suspicion, including the child's protective uncle (Keir Dullea), the Lake's eccentric landlord (Noël Coward) and the school's eccentric ex-headmistress (Martita Hunt). However, when he learns that no-one has actually ever seen the child, Newhouse begins to suspect that the young woman may be unbalanced.

Video


Bunny Lake Is Missing has previously been released on DVD in the United Kingdom, by both DD Home Entertainment in 2007 (just before their unfortunate demise), and by Sony in 2008. This new Powerhouse release signifies the first time the feature has been available in the UK on Blu-ray, and it is difficult to imagine it looking any better on the format.

Presented in the original aspect ratio of 2.35:1, this 1080p AVC MPEG-4 transfer is sourced from a recent 4K scan of the original negative, performed by Sony and supervised by Grover Crisp. To be blunt, it looks stunning - Sony's restoration team again proving to currently be the best of the major studios when it comes to how they look after their back catalogue. In black and white, the clarity of the various shades are superb. Shadow detail is excellent, and close-ups look phenomenal. Minor details on background items (tapestry/rug on the wall at 39:45) show distinct clarity and sharpness, and external shots really show off minute details in buildings, roads and cars (41:22). Blacks are deep with no signs of crush and the rare sunlight that seeps through the windows are void of blooming. There is a consistent natural layer of film grain running throughout, and contrast levels are first-rate. There is no digital noise reduction, aliasing, edge enhancement, haloing, banding, or any other such issues. This is an exceptionally clean print with no noticeable elements of damage, and there are no problems with compression. It would be fantastic if license holders had the financial ability to treat every film to this high standard, though of course this is a pipe dream. We have to take these wins as we get them, but at least they are happening more frequently of late.

The feature is uncut and runs 107:11.

Audio


Powerhouse Films have provided a single audio track for the main feature; the original English LPCM 1.0 track which according to the booklet was restored at the same time as the transfer. Despite the obvious limitations of a mono track, there is plenty of depth to be found here. Whether it be the haunting score, the subtle environmental effects, or dialogue, everything is clear. Volume levels are consistent throughout. As to be expected when you consider how strong the transfer restoration is, there are no issues to be found here. I noticed no signs of damage such as drop outs, scratches, or pops, and no background hiss. This track does the job needed, and it does it perfectly well.

Optional English subtitles for the hard-of-hearing are also included.

Extras


The on-disc extras start with an audio commentary with film historians Lem Dobbs, Julie Kirgo, and Nick Redman licensed from Twilight Time. If you've ever heard a Redman and Kirgo commentary before, then you'll know exactly what to expect - and Dobbs is a great addition to the pairing. Between them, they are a fountain of knowledge with so much intriguing information about the film and the cast/crew. Whether it be Preminger's history of 'breaking' his cast members, or how he tackles taboo subjects, this is an essential listen not only for those who enjoyed the film, but for those with an interest in cinema at the time of Bunny Lake Is Missing's release. They never talk over each other, and the rapore between them gives an enthusiasm that is catching.

Next up, we have an isolated score presented in LPCM 2.0. I only dipped into this extra as quite simply I'm not much of an isolated score person, but it is certainly a welcome addition to the disc. Paul Glass' score is definitely haunting and adds a lot of tenseness to the proceedings, and there are occasional performances by The Zombies on a background TV and radio too (despite the advertising - including a trailer featured on the disc - they are not a big part of the feature at all).

"Carol Lynley Remembers" interview (27:00) - Produced by Fiction Factory, this interview with actress Carol Lynley - who plays the role of single American mother Ann Lake - covers a lot of ground in its extensive run time for an interview. She talks about her experiences with director Otto Preminger, various aspects of her career in general starting with The Cardinal (also directed by Preminger), working with Laurence Olivier, and so much more. Lynley still has that Hollywood starlet sparkle and she is very interesting to listen to. I quite enjoyed her occasional anecdote, even telling us how Preminger thought it would be funny to shout in people's ears to relax when he knew he had come close to breaking them.

"Clive Revill Remembers" interview (13:30) - As per the Lynley interview, this is produced by Fiction Faction. In the interview, Clive Revill - who plays Sergeant Andrews - first tells us how he had been invited to Broadway after attending a theatre school in London (he is from New Zealand), and this was his first chance in show-business. This gave him the experience to act in The Tempest in London on Drury Lane to great success, and helped him kick-start his career. He then of course delves into his time on Bunny Lake and the story.

The rest of the on-disc extras are self-explanatory:
Image Gallery (30 pages)
Theatrical Trailer 1 (3:25)
Theatrical Trailer 2 (2:22)
Theatrical Trailer 3 (2:54)

The first 3000 copies also include a DVD copy and a 24-page booklet with a new essay by Chris Fujiwara, archival interview material with Otto Preminger, rare colour on-set photography, and a selection of contemporary reviews.

Overall


A top-tier Preminger film is given the top-tier treatment, with reference quality A/V and a great selection of extras.
| | | | | |
| --- | --- | --- | --- | --- |
| The Film: B+ | Video: A+ | Audio: A+ | Extras: B+ | Overall: A- |