Shadow of the Noose: The Complete Series (TV)
R2 - United Kingdom - Simply Media
Review written by and copyright: Rick Curzon (13th February 2017).
The Show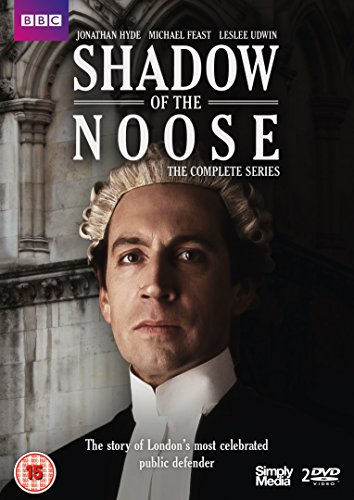 ***This is an A/V and Extras review only. For reviews on the show from various critics, we recommend visiting HERE.***

Directed by BAFTA-winner Matthew Robinson (Byker Grove / Eastenders) and Sebastian Graham Jones (Mystery!: Cadfael), Shadow of the Noose tells the true story of the career and personal life of "The Great Defender" Sir Edward Marshall Hall. He was London's most celebrated barrister and the first world-famous legal celebrity, whose gripping cases consistently made news headlines and drew crowds in to the public gallery of the Old Bailey during the late Victorian era and early Edwardian era.

Jonathan Hyde (Titanic) brings Marshall Hallís style and personality to life on screen in an outstanding performance. Marshall Hall was known for his theatrics as he argued his cases with gusto and determination, keeping the Court audience on the edge of their seat, particularly at a time when a guilty verdict meant facing the rope.

Throughout the series, which is based on true cases, Marshall Hall tackles a variety of seemingly impossible and controversial cases, and defends a colourful array of characters. Whether championing a lowly German prostitute accused of murdering a client, dissecting an ugly libel battle surrounding accusations of homosexuality within an aristocratic family, or defending the accused in the infamous Camden Town Murder...it's all in a day's work for Sir Edward Marshall Hall! But when a maid is accused of killing her illegitimate baby Marshall Hall is forced to face his own personal demons when it brings back unhappy memories of his first marriage...

Video


Simply Media in the UK are releasing this fondly remembered historical-legal drama series on a complete series 2-disc set. It tells the story of eight famous legal cases fought by the celebrated barrister and orator Sir Edward Marshall Hall (1858-1927) who became known as "The Great Defender"; here ably portrayed by Jonathan Hyde (Jumanji). A classic 8-part series that emphasises performance, and what performances! Many electric legal confrontations and involving personal drama.

Typical of many BBC series made by the late 1980s this was produced entirely on PAL 625 line broadcast standard video tape for all interior and exterior sequences. It was still common for some programmes to have 16mm filmed inserts but it was becoming rarer and rarer. Some prestigious programmes like Miss Marple (1984-92) were made entirely on film, but for some reason this wasn't; perhaps due to its largely interior bias.

Anyone familiar with DVD releases of vintage UK television from this era will know what to expect: Soft, fluid 40 fields per second videotape usually shot under fairly bright lighting and outdoor scenes are similar; usually accomplished by OB (Outdoor Broadcast) units.

The masters have had little or no restoration applied but they are generally in good shape with only the very odd dropout or shimmer. Encoding is reasonable; I did notice some macro blocking in dark scenes. However, colours are palid and black levels very poor; the brightness levels seem to have been left rather high in the transfer of the elements. This can be compensated for by lowering the brightness on the TV but it really should not have to be so.

It's a shame the series lacks commercial cache because The Doctor Who Restoration Team would have worked their usual magic with the elements, which are much the same for the classic series of Doctor Who; particularly for the episodes from 1986 onwards which also used video for both interiors and exteriors. In any case fans can breathe a sigh of relief that their vintage favourite looks as good as it can under the circumstances given the commercial realities of today's market. That said, the colour levels are far too low and the image up close is noisy, but if viewed from a distance the image is more than acceptable if dull and a bit flat when compared to the restored versions of the 1986-89 Doctor Who episodes which had identical technical production values.

Short of presenting these episodes uncompressed on Blu-ray and spending a lot more money on the restoration this is as good as we can realistically expect.

Audio


English Dolby Digital 2.0 Surround

Nothing remarkable but it gets the job done; nice clear dialogue, and robust for what it is: a vintage surround soundtrack mainly sent to the front left and right speakers, although music makes some fairly loud appearances in the rear speakers. I didn't detect any distortions, dropouts or sibilant issues.

Optional English subtitles are included.

Extras


Nothing; very disappointing. This was a prestigious production screened over Wednesdays in March-April 1989 and I'm certain that in the BBC vaults there will be trailers, promotional interviews (Wogan etc), and other ephemera that could have been included.

Overall


We have an acceptable if far from definitive release of this well-regarded BBC drama series telling in detail eight of The Great Defender's celebrated cases. First rate performances and good production values aren't helped by the soft, palid rather dull unrestored transfer; sound is better than the image. And, again no extras; a sign of the times, alas.
| | | | | |
| --- | --- | --- | --- | --- |
| The Show: B+ | Video: C- | Audio: B | Extras: F | Overall: B- |

---
DVD Compare is a participant in the Amazon Services LLC Associates Program and the Amazon Europe S.a.r.l. Associates Programme, an affiliate advertising program designed to provide a means for sites to earn advertising fees by advertising and linking to amazon.co.uk, amazon.com, amazon.ca, amazon.fr, and amazon.de.