Apple Tree Yard (TV) [Blu-ray]
Blu-ray B - United Kingdom - Arrow Films
Review written by and copyright: Rick Curzon (14th February 2017).
The Show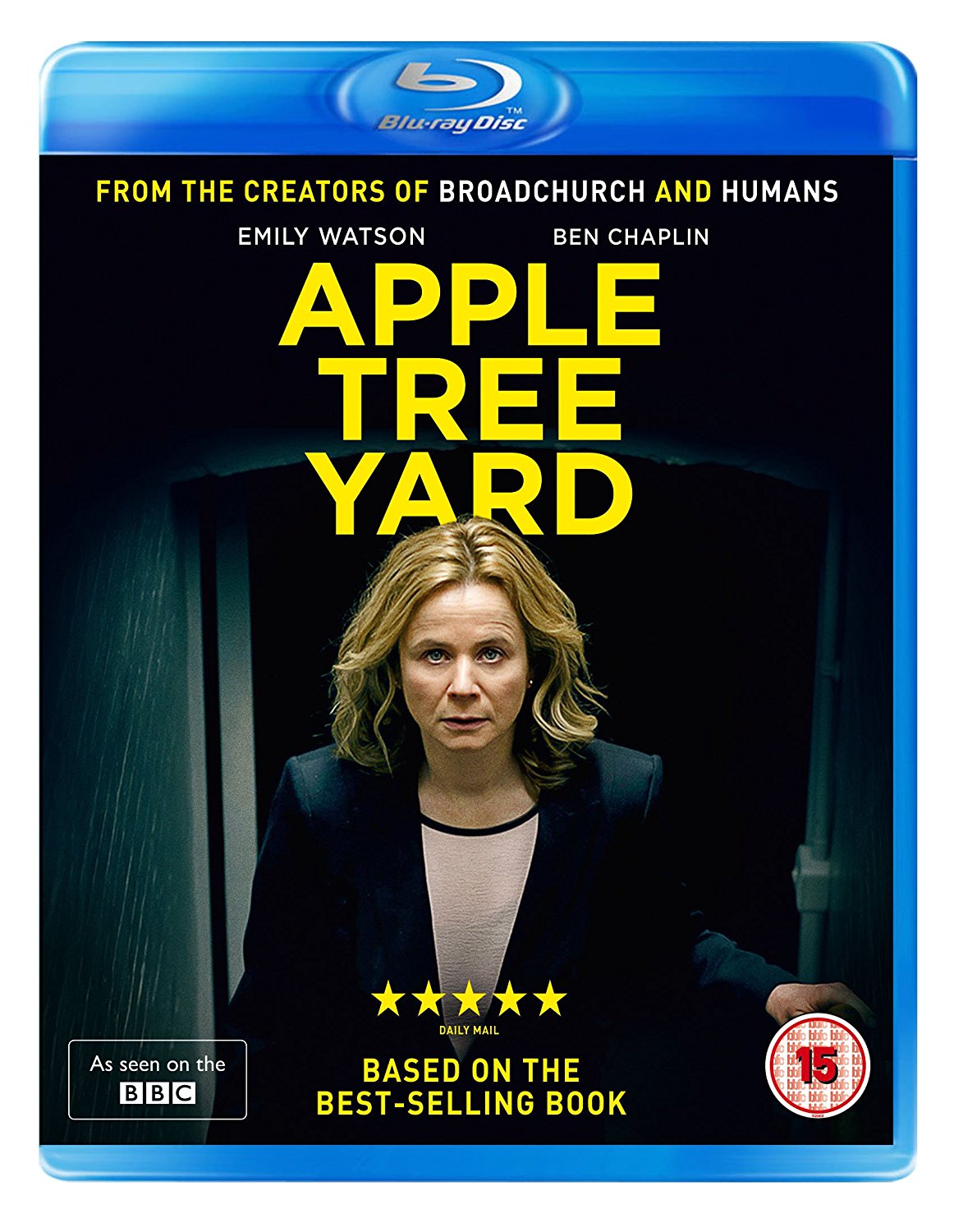 ***This is an A/V and Extras review only. For reviews on the show from various critics, we recommend visiting HERE.***

Emily Watson stars as Yvonne Carmichael, a married woman living a quiet life with her husband and two children. Her world is turned upside down however, when a chance meeting with alluring stranger Mark Costley (Ben Chaplin) leads to a passionate affair. Despite her best attempts to keep her home life and career separate from her affair, Yvonne begins to lose control as a series of bad decisions soon leave her facing a court trial.

Video


Arrow in the UK Have released this prestigious and much anticipated adaptation of Louise Doughty's best selling novel (2013) that tells of an illicit affair between a high-flying scientist (Emily Watson) and a mysterious man (Ben Chaplin) she's only just met. It all gets very heated with murder, nookie in closets (whilst fully clothed - ?!) and lots of pregnant looks. Not the most exciting production but it's largely been well received.

The image on this HD production is largely good as one would expect from a newly made production. There is the usual mild softness with pleasing amounts of detail in both exterior and interior scenes; all shot using a single camera and with the odd trace of that modern edginess where the camera is moving slightly to accentuate the drama. The palette is actually surprisingly colourful although it's not a hot one ala Pedro Almodovar's work and at times director Jessica Hobbs has gone for a deep sense of melancholy - and the low-key lighting emphasises this.

I noticed no artefacts or other distractions but obviously these programmes should be seen in 1080/50i to replicate the original UK broadcasts, however the versions on this disc are 1080/24p probably to make it easier to create a worldwide master. Detail is mostly acceptable, especially in bright, well-lit sequences but does suffer in some of the more softer lit moments; with no signs of aliasing or mosquito noise. Black levels are good with no signs of crush and I couldn't detect any evidence of poor encoding.

1.78:1 / 1080/24p

Audio


English DTS-HD Master Audio 5.1
No subtitles

The soundtrack has been granted a major upgrade to 5.1 which is odd considering the nature of the type of story being told; a drama about people in rooms talking and emoting. There's not much by way of action and dialogue is very clear and easy to follow and is never overshadowed by ambient sounds or score, the latter being a very low-key affair beyond the opening and closing theme.

The surround channels are only really used for ambient sound and score and are barely engaged for narrative purposes; don't expect Doctor Who or Hollywood feature-film level of usage, these tracks are very much focused front and centre. This is not surprising given the nature of this heavy drama.

Extras


Aside from start-up trailers? Nothing; no contextual material, no behind the scenes documentaries, nothing. Disappointing if not surprising; I'm sure that there would have been TV spots, deleted scenes and promotional materials available and ready to go.

Overall


This is a very recent BBC production and it looks and sounds more than acceptable on this Blu-ray, but it's not demonstration material. This is a basic, barebones release and hopefully the price will be set accordingly. Drama and intrigue ladled on with a trowel for those who like this kind of thing.
| | | | | |
| --- | --- | --- | --- | --- |
| The Show: C+ | Video: A | Audio: A | Extras: F | Overall: B |

---
DVD Compare is a participant in the Amazon Services LLC Associates Program and the Amazon Europe S.a.r.l. Associates Programme, an affiliate advertising program designed to provide a means for sites to earn advertising fees by advertising and linking to amazon.co.uk, amazon.com, amazon.ca, amazon.fr, and amazon.de.