Contract to Kill [Blu-ray]
Blu-ray A - America - Lions Gate Home Entertainment
Review written by and copyright: Eric Cotenas (10th March 2017).
The Film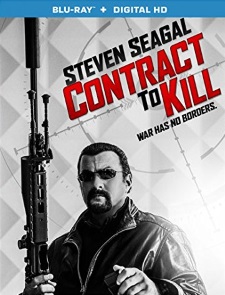 The nth Steven Seagal vehicle to come out of the inexhaustible Grindstone Entertainment – they of such "notable" titles like Heist, Misconduct, Extraction, and the butchered Exposed showcasing the respective phoned-in performances of Robert De Niro, Anthony Hopkins, Al Pacino, Bruce Willis, and Keanu Reeves – Contract to Kill casts the eighties action superstar as John Harmon, soldier of fortune with CIA, DEA, and FBI connections who has just taken out the latest kingpin of a Mexican drug cartel when he is contacted by DEA agent Beck (Andrei Stanciu) who reveals to him that two men recently captured attempting to cross the Mexican-American boarder turned out not to be drug traffickers but Islamic terrorists from a group responsible for downing a plane with many casualties from the passengers, crew, and on the ground. Harmon is sent to question them to discover which cartel's drug trafficking routes the terrorists used to travel through South America and Mexico only to realize that they were actually crossing from America to Mexico when they were stopped. Harmon is able to get the name Jose Rivera (Mircea Drambareanu) out of one of the detainees and determines that a deal is yet to be made for the terrorists to utilize Rivera's land, sea, and air routes to pass into the United States, and that the likely meeting place will be in Turkey where Rivera is currently muscling out the local drug trade in exchange for a new drug supply line. Since the FBI and DEA cannot act on his theory due to jurisdictions, Beck hires Harmon to assemble his own team to go to Turkey and find out the location of the meeting. Harmon reconnects with old (actually, very young) flame Zara (I Spit on Your Grave 2's Jemma Dallender) and she in turn recruits drone weapons operator Sharp (Romeo Must Die's Russell Wong). They covertly observe the initial meeting between Rivera and terrorist Ayan Al-Mujahid (Eastern Business' Sergiu Costache) and also discover a heretofore unexpected presence in the plane bombing mastermind Abdul Rauf (Ghassan Bouz). As soon as they relay the information of the upcoming meeting to finalizae the deal, Beck tells them that their assignment is completed and he will send in a team to take care of things. Harmon, however, takes advantage of Al-Mujahid's sighting of Sharp's drone to sew some Yojimbo-style distrust between Al-Mujahid and Rivera.

Endlessly talky with plenty of exposition that makes the plot seem more complex than it really is, and a lot more discussion about what they characters are going to do than they actually spend doing it, Contract to Kill may not be the worst of the latest Seagal vehicles but it is the least entertaining. Seagal is all but immobile during his fight scenes which make use of his hand movements, editing, and the pratfalls of stunt performers to suggest violence. Wong is a bit more mobile but even he spends much of his time pretending to control drones and delivering cliché dialogue in a stoic manner (Dallender seems to be the only one really having fun playing Bond-girl type kickass spy in flashy evening wear) while other action scenes are strictly second unit. Tax credit incentive Bulgaria (following Romania from the nineties and Hungary in the eighties) fails to convince for either Mexico or Turkey, while Bulgarian accents and actors are meant to pass for Mexicans, Turks, Americans (it is difficult to determine if Stanciu is simply a terrible actor or just completely ill-at-ease with delivering English dialogue), and the like (Costache had already played "The Afghani" in another Grindstone Seagal vehicle Mercenary: Absolution) to the point where it would be offensive if it were not just so downright silly (minus the so-bad-its-good sincerity of similar Cannon quickies of the nineties).

Video


Lionsgate provides a serviceable 1080p24 MPEG-4 AVC 2.40:1 widescreen encode of a not particularly dazzling film with cheap CGI

Audio


The DTS-HD Master Audio 5.1 track does what it can with an uninvolving surround mix that comes to life infrequently. Optional English, English SDH and Spanish subtitles are included (the English ones refer to a character as "Mini Oso" even though

Extras


The Making-of (14:44) finds writer/director Keoni Waxman (Almost Blue) discussing how he and Seagal endeavored to channel old school Seagal with the story while Seagal (almost in silhouette) noting how his real-life experience with various law enforcement agencies contributed to his character. Wong and Dallenger wax over the non-existent complexities of the script and depth of character. The film's trailer (2:04) is also included along with previews for three other recent DTV Seagal films in which he looks exactly the same and delivers his dialogue in the same monotone.

Overall




---
DVD Compare is a participant in the Amazon Services LLC Associates Program and the Amazon Europe S.a.r.l. Associates Programme, an affiliate advertising program designed to provide a means for sites to earn advertising fees by advertising and linking to amazon.co.uk, amazon.com, amazon.ca, amazon.fr, and amazon.de.