The Film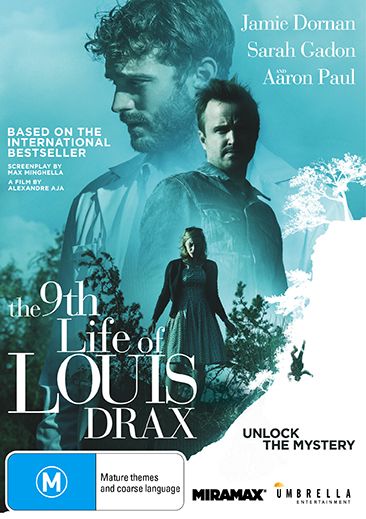 "The 9th Life of Louis Drax" (2016)

9 year old Louis Drax (played by Aiden Longworth) has had so many near death experiences throughout his young life that it's a miracle he's still alive, but the latest incident has left Louis in a serious coma. After falling off a cliff into the ocean during a birthday picnic, he was presumed dead at the hospital until a miraculous sign of life in the morgue. His mother Natalie (played by Sarah Gadon) is distraught and his father Peter (played by Aaron Paul) has disappeared and has become a suspect in attempted murder of Louis. Neurologist Dr. Pascal (played by Jamie Dornan) is doing everything possible for the comatose child from comforting Natalie to taking care of Louis.

Louis has always been a slightly unusual child besides being accident prone. He does not have friends at school and is thought of as "Wacko Boy" by classmates. He speaks his mind openly without much care rather than keeping to himself. Psychiatrist Dr. Perez (played by Oliver Platt) talked to Louis in various sessions scheduled by his parents and their conversations ranged from why Perez is fat, about aging, and also about life and death - all in unconventional matters which Perez finds both funny and fascinating.

Through flashbacks the life and people around Louis starts to become clearer, but also many questions unfold. Why is Peter's mother not fond of Natalie? Who is sending the mysterious letters? Why is Dr. Pascal having nightmares? What really happened at the edge of the cliff on that fateful day?

"The 9th Life of Louis Drax" is an adaptation of Liz Jensen's novel of the same name. Written for the screen by Max Minghella, the story delves into the supernatural, includes Hitchcockian suspense and references, and a slowly unfolding mystery, and was in fact originally planned as a film by Max's father Anthony Minghella prior to his death. Alexandre Aja took the director's chair, which was an unusual choice as his filmography consists of bloody horror films such as "High Tension" and "Piranha 3D". "The 9th Life of Louis Drax" has a few minor horror elements such as the sea monster that appears in the comatose title character's mind and eventually crosses over to the doctor's, but besides that there are very few elements that are reminiscent of Aja's prior works. That is not necessarily a bad thing, as Aja is an adept director and it is refreshing to see something different, as was his mixed-reaction film "Horns" a few years prior.

To say "The 9th Life of Louis Drax" succeeds by being different is not exactly a truthful statement. The major issue with the film is that it is not clear who the main character is and whose narrative should be followed. As the opening and throughout the film includes a voice over narrative by the Louis character, it seems obvious that he is the lead. But there are plenty of scenes that have the plot move away from him such as the relationship that starts between Natalie and Dr. Pascal, the flashbacks of Natalie's relationship with Peter, and others. In addition there are scenes of Louis in his comatose mind reliving or imagining a dreamworld/nightmare world with no intention of wanting to go back to the real world. The film is non-linear jumping from flashbacks to present to dream to reality that it is sometimes a chore to keep track. Another issue is with the character of Louis. Usually stories with weird and quirky kids are entertaining rom comedies such as "Rushmore" and "Super 8" or weirder ones such as "Donnie Darko" and "Kick Ass", they are likeable for their differing characteristics. In many instances Louis Drax said some hilarious things. But overall, he is insensitive to others such as making his mother cry following the zoo encounter, uncaring about animals such as the killing of the hamster, and not giving a damn about anything. Whether this is a satirical look at modern parenting or not, he is absolutely the assholiest main child character in any recent movie. Even bullies in kids' films show a little heart in their characterizations but not with Louis. He is straight up a kid you would not want at your kid's birthday party. Aiden Longworthplays the role fine but since his character is not one of emotional depth, it's seemingly not a great use in skills.

With Sarah Gadon as Natalie Drax she is straight out of an Alfred Hitchcock femme fatale role, with the looks and the character's change from traumatic collapse at the start turning into something completely different with the unfolding backstory. Unlike Louis, her character starts as an uninteresting character to becoming something more intriguing. Aaron Paul as Peter Drax is underused as he is basically almost entirely in flashback form, but he leaves an indelible mark on Louis' character and to the audience, and his character also goes through a serious image transformation with more details emerged. Jamie Dornan as Dr. Pascal is also fine in his role but some of the things he goes through are plainly hard to fathom would be from an intelligent man in his right mind. Sure he's a neurologist famous enough to give a TED talk, but how he starts a relationship with Natalie Drax so quickly to the weird nightmares he starts to have are a little far-fetched.

While it has a few laughs, has some interesting visuals, and has cinematic echoes of "The Lovely Bones", "Donnie Darko", and "Marnie", "The 9th Life of Louis Drax" does not live up to any of those films as it cannot chose a tone or consistent narrative and those are the biggest problems. There will be some people that will become absorbed in the mystery and how it will unfold, but for many the outcomes and the twists may be too far-fetched or too little too late.

Note this is a region 0 NTSC DVD which can play back on any DVD or Blu-ray player worldwide

Video


Umbrella Entertainment presents the film in the original theatrical ratio in anamorphic 2.35:1 in the 480i NTSC format. The film is colorful but the main colors that stand out are the blown out whites and the blue hues. Colors are well produced but would obviously look better in high definition, but Umbrella has decided to release the film on DVD only. There are no issues of damage or errors within the image transfer.

The film has a runtime of 107:55 on the DVD.

Audio


English Dolby Digital 5.1
There is only one audio track and it's the original English track in 5.1. Directional speakers are used for music and effects consistently and so is the mysterious sea monster's voice. Dialogue is almost always center based and there are troubling issues to speak of. It is not a 5.1 track that will blow you away but it is average in its effectiveness.

There are optional English HoH subtitles available in an off-yellow colored font. They are almost always well timed with one instance near the beginning of the film where the subtitled lines came before the audio, but other than that, they were fine. The subtitles can only be accessed with the remote control subtitle button.

Extras


Umbrella Entertainment has not included any extras on the DVD. Not even a menu. When the disc is inserted it automatically plays and when the film ends the disc automatically stops. And with that the disc gets a much lower score in the overall.

There is a US Blu-ray and DVD which has a 3 minute EPK featurette, but that's all. It would have been nice to have interviews with the author and also the cast and crew or a commentary by Aja as he is very talkative in previous audio commentaries both in English and French. While the film was a disappointment, it would have been nice to hear about the adaptation and other thoughts.

Packaging


The packaging has a "region 4" symbol on the rear, but the disc is in fact region 0.

Overall


"The 9th Life of Louis Drax" is a disappointment. Fans of Alexandre Aja's gore filled horror films will be disappointed with the drama and mystery plot, and others will most likely not have much care for the main character even if he is in a coma. The Umbrella Entertainment DVD gives fine video and audio, but with no extras it is a hard one to recommend.
| | | | | |
| --- | --- | --- | --- | --- |
| The Film: D+ | Video: B | Audio: B | | Overall: D |