The Film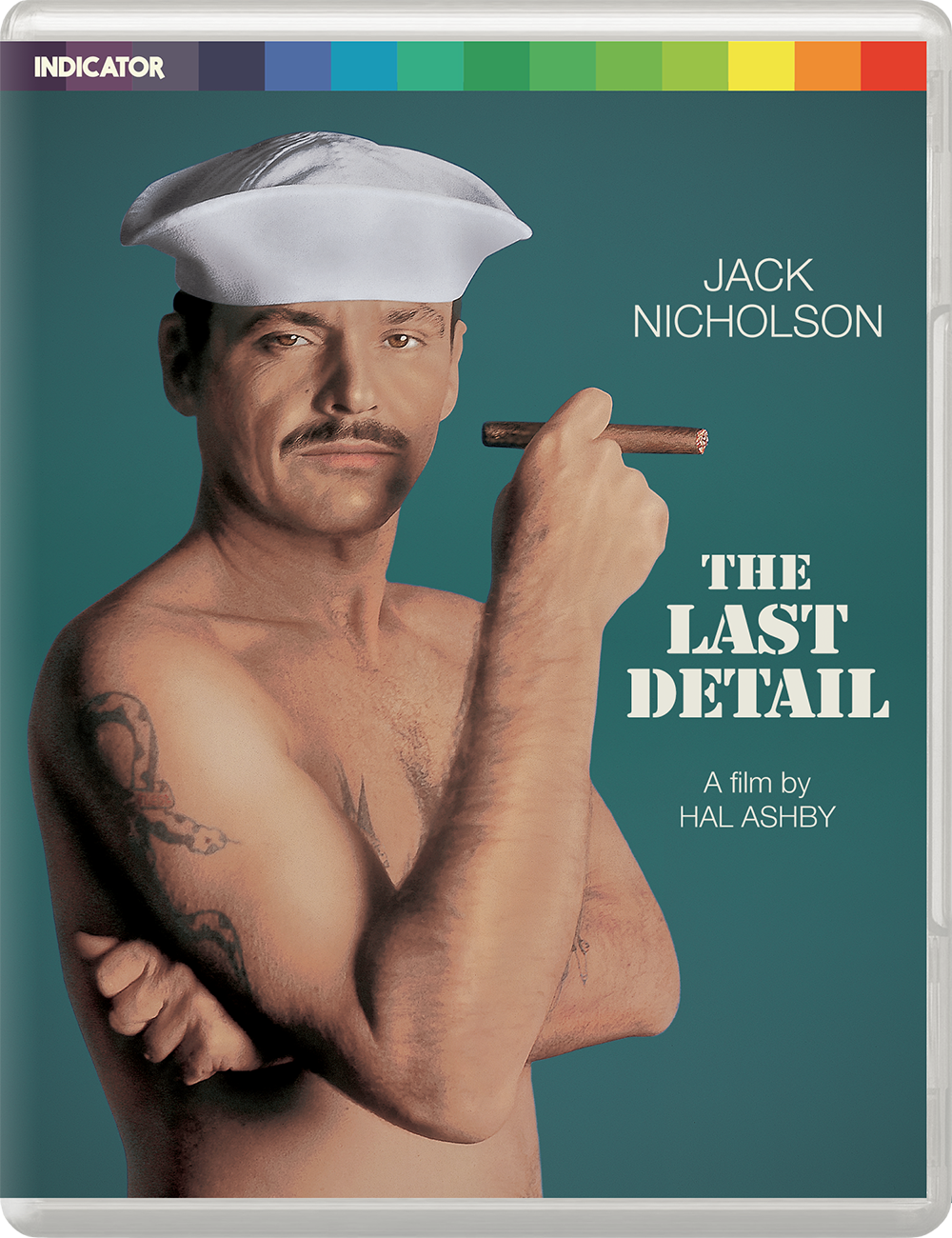 ***This is an A/V and Extras review only. For reviews on the movie from various critics, we recommend visiting HERE***

"No *#@!!* Navy's going to give some poor *!!@ kid eight years in the #@!* brig without me taking him out for the time of his *#@!!* life."

When Buddusky (Jack Nicholson) and Mulhall (Otis Young) are detailed to take a young sailor, Meadows (Randy Quaid), from a Virginia Naval Base to a New Hampshire Naval Prison to serve an eight-year sentence for a trivial offense they decide to show him a good time on their journey north...

Video


Powerhouse Films have gone one better than Twilight Time with their release of Hal Ashby's The Last Detail in that not only have they included the theatrical cut of the feature, but they have also chucked in the TV syndicated version of the film for good measure too (albeit in standard definition). For the purposes of this review, I opted for the theatrical version for my viewing, presented in 1080p in the original 1.85:1 aspect ratio using an AVC MPEG-4 encode.

The source for the theatrical transfer has been provided by Sony, whose in-house restoration team lead by Grover Crisp gave the film a 4K scan from the original negative. I'm sure some may pick fault with the cinematography and Hal Ashby's style of off-the-cuff direction, but when it comes to the actual transfer itself, this is another very good job from Crisp's team. As natural lighting is often used throughout the feature, there are some fairly dark elements in the picture, but there is no objectionable crush (the peabody suits do on occasion blend a little easily into the background) and the shadow details are good, even if minimal. External scenes come across much nicer than the enclosed scenes on the train or of the booth as they stop for burgers, with 23:58 in the alley a good example as it shows great detail in the flickering yellow bag of the street trash and the brickwork along the side of the buildings. The film has a heavy consistent natural grain structure throughout, and contrast levels are fine. The film utilises a grubby palette with rarely a splash of vivid colour which fits the flat look and intended drab tone of the feature perfectly. There are no issues with print damage, and I noticed no signs of aliasing, edge enhancement, digital noise reduction, haloing, or any other anomalies. This isn't Sony's best 4K restoration, but it is still very good, and fans will be over the moon.

The feature is uncut and runs 104:00 for the 1080p theatrical version, and 95:23 for the standard definition syndicated TV version.

Audio


Powerhouse Films have provided a single audio track on this release; English LPCM in the original single track 1.0 mono. As to be expected for a mono track, it isn't the most involving, but it still manages to show depth in scenes which has a few things going on, whether it be background chatter, or Johnny Mandel's score. Dialogue is clear at all times, but on occasion feels a little flat. I'm assuming the audio was restored at the same time as the transfer, though the booklet does not confirm this. There are no issues with damage to the track. No scratches, no drop outs, no background hiss, and no pops. It's a solid mono track that is faithful to the film.

Optional English subtitles are available for the hard-of-hearing.

Extras


Note: The syndicated TV version also included is found under extras, but I have noted it in the video section of this review.

We start the extras with an Isolated Score in LPCM 2.0 available on the 1080p Theatrical Cut only. As I seem to state in every review I do which holds an isolated score, this sort of extra is of little interest to me, but I know I am in the minority among film fans and it will be welcomed with open arms as an extra. I did sample a couple of scenes though, and the music does fit the tone of the film and the era perfectly, and it is nice to get it pushed up to lossless 2.0.

Next up, we have a new Introduction by Alexander Payne (5:11). Shot by Fiction Factory, this short introduction has Alexander Payne read out some notes he made some years ago. These notes give a brief history of Ashby's career and how he started in directing with The Landlord. He talks about how Ashby's films have a humanist aspect and how they chronicle the seventies which he helped define. Payne himself tends to direct films with similar dark humour tones to Ashby, and his connection to Ashby's work as filmmaker is clear to see.

Next, an Interview with Michael Chapman (3:55) who was the director of photography on the film, filmed by Web of Stories in 2004. In this all to short interview, Chapman talks about his experience working on the feature and with Ashby, location scouting, filming in a way to capture emotional content, and more. He also tells us why he thinks the film was a success, and even gives the infamous shore patrol line! I just wish this was longer.

"About a Trip" is a newly filmed featurette running 16:26, filmed by Fiction Factory. Unfortunately, with Ashby and Young no longer with us, Nicholson likely very expensive, and Randy Quaid likely difficult to track down and get any sense from (google him), we don't get much thought from people actually involved with the feature, but don't let this put you off as Payne is again involved with doling out some solid information about many aspects of the feature which makes this a very enjoyable watch.

The last of the extras to come from Fiction Factory is the "A Search for Truth" featurette (20:35). This was easily my favourite extra on the disc, and has editor Robert C. Jones talk about his experiences in cinema and with The Last Detail. Receiving the American Cinema Editor's career achievement award in 2014, Jones was a frequent collaborator with director Hal Ashby, working on four of his films in total. With The Last Detail being his first time working with the director, he tells us about their first meeting, and a few other anecdotes, whilst also also going into details of some of the shots (the long shots used in the fight between Nicholson and Quaid). He also talks about his love of dissolves and how he used them to shorten a lengthy dialogue scene. Very interesting stuff.

The on-disc extras end with a Promotional Material Image Gallery and a Trailer (2:58).

The initial 5000 copies also receive a DVD Copy and an informative 28-page booklet with a new essay by Michael Pattison entitled Bad Ass Blues, and an examination of the 1976 TV cut by Jeff Billington.

Overall


Powerhouse Films continue to go from strength to strength with yet another impressive release. The 4K transfer and original audio offer a strong technical presentation, and the extras package includes an additional cut of the film and some brand new featurettes. Fans of the film will be very happy indeed.
| | | | | |
| --- | --- | --- | --- | --- |
| The Film: B+ | Video: B+ | Audio: B+ | Extras: B+ | Overall: B+ |