The Angry Video Game Nerd: Season 8
R0 - America - Cinemassacre/Screenwave Media
Review written by and copyright: James-Masaki Ryan (26th February 2017).
The Show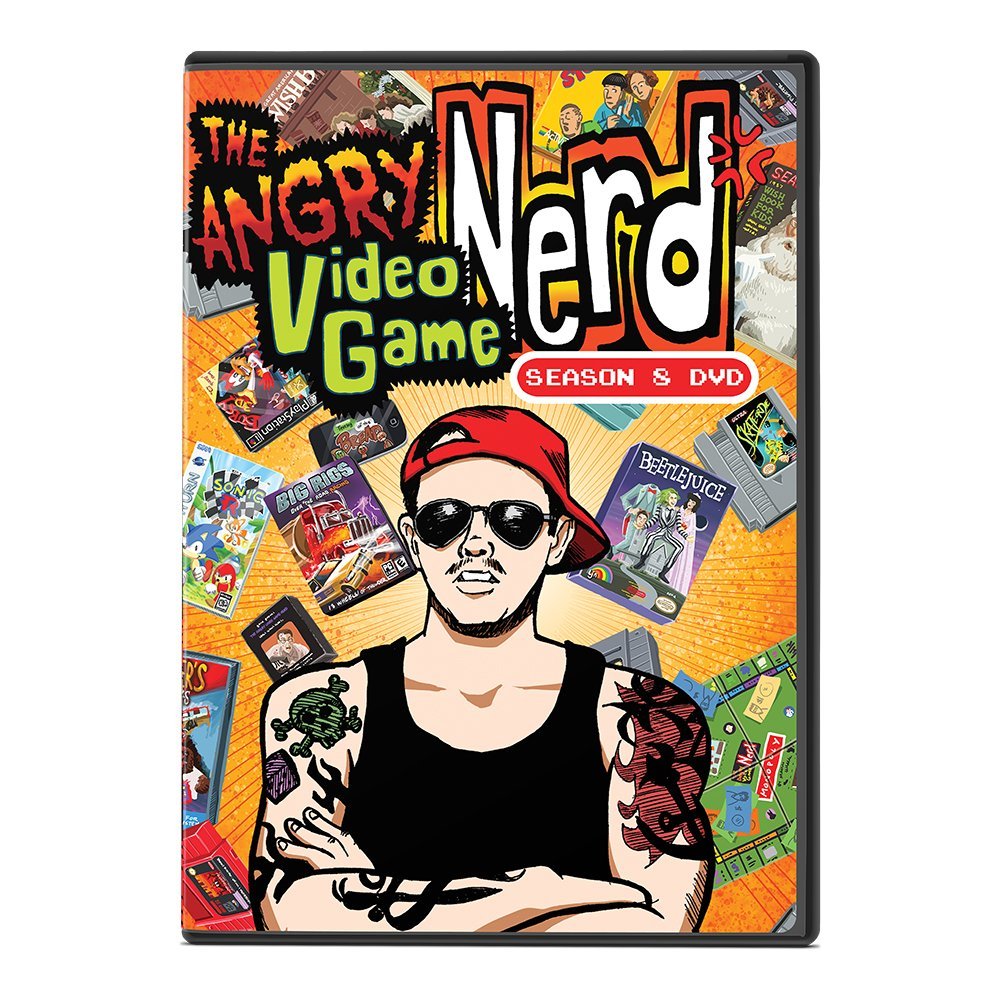 "The Angry Video Game Nerd: Season 8" (2013-2014)

The web series "Angry Video Game Nerd" has been a continuous mainstay on YouTube for over 10 years now - a lone white button-up shirt wearing nerd that plays terrible retro games and takes out his frustration with Rolling Rock beer and loud outbursts of obscenities. Conceptually it sounds like many other YouTube channels of useless videos of so called critics commenting haphazardly and without merit, but writer/director/star James Rolfe sets his show apart from others with creative production work, witty scriptwriting, great editing, and rewatchability. While episodes used to come every two weeks, Rolfe started to slow down the pace of AVGN episodes to concentrate on other work - other web series such as "Board James" and "James & Mike Mondays", and the theatrical feature film "Angry Video Game Nerd: The Movie".

The AVGN web series had been released on the DVD format in separate volumes 1-8. Recently, they have been re-released with new artwork and newly remastered discs along with the release of the 9th collection. The re-released collections are now labeled "Season" rather than "Volume" and the latest release is coined "Season 9".

For all the re-released seasons, the discs have been re-authored completely. "Volume 8" had one dual-layer DVD with the episodes and extras on the disc. The reissued "Season 8" also has all the content on one dual-layer DVD. The menu screen on the left is for the older DVD release. The one on the right is the reissued DVD release.




Both releases contain the same following episodes.

- "Wish List - Part 1" (15:05)
- "Wish List - Part 2" (15:26)
- "Big Rigs" (15:44)
- "Desert Bus" (15:28)
- "Beetlejuice" (13:53)

Video


All episodes moved to being shot in high definition in widescreen from the last DVD set onward. The episodes are presented in anamorphic 1.75:1. The menus are also presented in widescreen. Unlike the previous DVD Volume/Season comparisons, the "8" volume/season releases are almost identical in terms of video quality.

For the following screenshots the original "Volume" release is first, the reissued "Season" release is second:




The framing is identical on both releases. There may be a slight better sharpness to the "Season 8" set but just barely.

Audio


English Dolby Digital 2.0 stereo
Both releases offer the same Dolby Digital track. Both use stereo separation for the background music, effects, and introduction while almost all the video game music and dialogue is center based. There are no issues to speak of except in terms of original source material fidelity.

There are no subtitles offered.

Extras


The extras are slightly titled and ordered differently on the releases. All content that is in widescreen is presented in anamorphic widescreen.

"Volume 8"
Volume 8 Commentary of the Year (27:40)
Outtakes (11:29)
Mike: Game Gear Review (11:16)
Mike: Ghostbusters Leftovers Review (8:46)
SGC Panel 2014 (35:28)
TMG Panel 2014 (19:28)
TMG After Midnight: AVGN 10 Year Anniversary Speeches (33:24)

"Season 8"
"Season 8 Commentary" featurette (27:40)
Season 8 Outtakes (11:29)
Mike: Game Gear Review (11:16)
Mike: Ghostbusters Leftovers Review (8:46)
SGC 2014 Panel (35:27)
Too Many Games 2014 Panel (19:28)
TMG After Midnight: AVGN 10 Year Anniversary Speeches (33:23)

The content of the extras are identical on the two releases. The only difference is that the old "Volume" release has a "play all" function for the extras while on the new "Season" release they can only be played back individually.

Packaging


Both releases have differing artwork, done by Cinemassacre's Mike Matei.

The re-released season sets 1-8 and season 9 have continuous spines which if lined up create the full artwork, similar to that of "Dragon Ball" comics, Oscilloscope Laboratories DVDs, and the "Star Trek" I-VI VHS boxset.


Overall


"The Angry Video Game Nerd: Season 8" is basically a port of the previous release with marginally sharper video. As it carries all the older release's extras there is definitely nothing to complain about. The older DVDs are out of print and harder to come by, so for fans wanting a physical media release on DVD the reissued "Season 7" set is still recommended for hours of anger filled retro gaming fun.
| | | | | |
| --- | --- | --- | --- | --- |
| The Show: A | Video: A | Audio: B | Extras: A | Overall: A |

---
DVD Compare is a participant in the Amazon Services LLC Associates Program and the Amazon Europe S.a.r.l. Associates Programme, an affiliate advertising program designed to provide a means for sites to earn advertising fees by advertising and linking to amazon.co.uk, amazon.com, amazon.ca, amazon.fr, and amazon.de.