The Show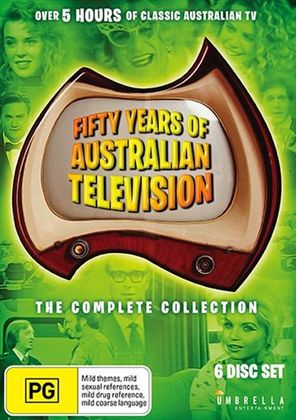 "Fifty Years of Australian Television"

On the 16th of September 1956 Bruce Gyngell became the first person to appear on commercial Australian television with the program "This Is Television", and TCN Channel 9 became the first television station in Australia to begin regular broadcast transmissions. It was soon followed by a few other stations, just in time for the Melbourne Summer Olympics which took place in November and December of 1956. "Fifty Years of Australian Television" is a 6 disc DVD set which goes through the archives of TCN 9 presenting a variety of programming that was shown to Australian audiences through half a century. Clips of Logie Award shows, variety shows, music shows, news programs, and much more are offered in the set, with many famous stars of the past and present seen in segment after segment. And not only Australian stars but also famous stars from around the world for interviews and performances. Australian stars such Dame Edna, Paul Hogan, Steve Irwin, Mel Gibson, Kylie Minogue, Russell Crowe, and Nicole Kidman made their names even greater outside their home country and are featured, but the archives also include TV stars of Australia such as Graham Kennedy, Norman Gunston, Daryl Somers, and Don Lane to name a few.

The discs are divided as follows:

DISC ONE
* "The Fabulous Fifties" (45:03)

DISC TWO
* "The Swinging Sixties" (56:26)

DISC THREE
* "The Sexy Seventies" (56:54)

DISC FOUR
* "The Exciting Eighties" (45:20)

DISC FIVE
* "The Nineties to Now" (62:13)

DISC SIX
* "Five Fantastic Decades" (47:30)

The DVDs have previously been released individually, and this collection collects all six discs into a single package. The discs are divided by decade, and the last disc is basically a "best of" with some repeated footage and some exclusive to the final disc. The wealth of information in the 6 discs lies mostly on the surface and not much with substance. There are no talking heads to describe the start of television in Australia and the obstacles it had to go through, as history is told through the archival clips instead. There are a few moments with Paul Hogan and also with cricket players that are retrospective interviews, but it's very far and few between. Also, this set only includes selections from the archives of TCN-9 (sorry "Neighbours" fans!), and it only gives only a single channel view of Australian television. Also as seen in the runtimes of each disc, it is not a lot - with only 45 minutes to an hour given for each decade. There are treasured moments including footage of "The Tonight Show", "In Melbourne Tonight", and "60 Minutes", newsreel of the arrival of The Beatles in Australia, footage of millennium celebration, music performances of various artists throughout the decades, bloopers, interviews that get cut off by angry interviewees, and even fistfights breaking out from arguments. But the biggest argument of all is why the clips are so short. Some of them last for a very short time and jump from segment to segment very quickly. Also, comedy and news are the main focus and strangely no dramatic work or sitcoms were presented in the set. Possibly rights issues with show producers since those shows are not "owned" by the channel? At least the "best of the best" was chosen for the set but I believe it could have been so much more. But for fans of nostalgic television, it's an absolute blast to see.

Note this is a region 0 PAL encoded DVD set which can be played back on any DVD or Blu-ray player with PAL capability

Video


Umbrella Entertainment presents the footage in the original 1.33:1 (non-anamorphic) aspect ratio in the PAL format. The very early 1950s footage was not preserved on film but on Kinescope like many early American TV programs - shooting directly at a TV screen, so the image quality is weak with distorted image but still watchable. The 1960s are preserved on film and tape and look much better but there are dust, scratches, and some video damage in certain segments. Australia didn't fully go to color television until 1975 and from there the footage does look better. The 1980s and 1990s are basically entirely preserved on videotape and there are minor instances of tracking errors but it's very minor to say the least. Interlaced ghosting is prevalent but not too distracting in motion.

Here are some example screencaps with more to follow at the end of the review.


Audio


English Dolby Digital 2.0 stereo/mono
The audio is presented in its original source, with mono or stereo separation depending on the sources. Obviously the earlier the footage the worse the sound is, especially with music but there are no major issues of dropouts or bad audio. Sounds pretty good overall.

There are no subtitles offered on the discs.

Extras


The discs have no menus and no extras. Putting in the disc automatically starts the program after the Umbrella Entertainment logo, and at the end of the program the disc stops. It almost seems the sixth disc is really the bonus, although it is a shame that so much of the footage was recycled from the first five discs, and so the overall score is lowered.

Overall


"Fifty Years of Australian Television" presents over 5 hours of classic clips from the TCN-9 archives but is only a small sliver of what Australian television had to offer throughout the decades. It's a "best of" collection that offers a lot but substance-wise it's a shame there were no additional info on the history of TV in Australia or the channel in particular. The image and sound are adequate for the source material so people interested will be satisfied with the presentation by Umbrella Entertainment.

More screencaps are available below:


| | | | | |
| --- | --- | --- | --- | --- |
| The Show: B | Video: B | Audio: B | | Overall: C- |