The Film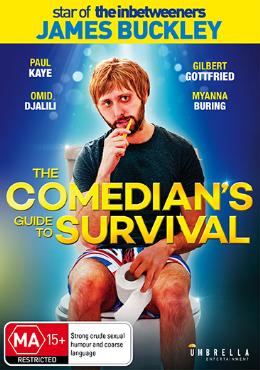 "The Comedian's Guide to Survival" (2016)

James Mullinger (played by James Buckley) is a struggling stand-up comedian. That should be rephrased. James Mullinger is struggling as a stand-up comedian. He has gone through disaster after disaster at various gigs, from jokes not working, losing the way to the venue, getting underpaid, no one showing up, and even the worst of the worst - peeing his pants through nervousness onstage. And to make that even worse, it became a viral video. James is not a comedian by career as he does hold a nine to five job as a magazine editor and the comedy is a hobby on the side. His wife (played by Clair Buckley) is not happy with his choice to do comedy as there is no additional income, and frankly she does not think his jokes are funny. Neither does his boss (played by Paul Kaye), who gives James an ultimatum - a promotion to deputy editor which would kill his time doing stand-up comedy or simply being fired.

James reluctantly takes the promotion with his first project being an article about comedy, which includes a trip to Los Angeles to try to get comedian Dustin Stratford (played by Vas Blackwood) for an interview and a covershot for the magazine. While interviewing a slew of big time stand-up comics including, Gilbert Gottfried, Mike Ward, Leunell and more, he realizes that he's the one that wants to be interviewed, not being the interviewee. Will James' unfunny and unlucky happenings find an audience?

The real stand-up comedian James Mullinger co-wrote the screenplay based on many of his worst experiences as an amateur comedian while working for GQ magazine as an editor, along with childhood friend and co-writer Mark Murphy who also directed the film. Many of the setpieces are too sad to be true but as stated, there is a lot of truth to the embarrassing and terrible episodes through the film. Though I hope certain points like the pants pissing and the sexual assault by a redneck truck driver were fictional… While the real James Mullinger is very funny and is a talented stand-up, the fictional James is awkwardly and terribly unfunny. Most of the time you like the audience in attendance is laughing at rather than laughing for him, as jokes fall flat, timing it off, and generally not being anywhere being good. This makes his character a little hard to believe. Actor James Buckley is funny as seen in "The Inbetweeners", but his character just doesn't have the good jokes or the good persona to believe he could actually make it. There are the talented comedians who are never given a chance, but the character is not talented at all. Maybe if they had given better joke material it would have been a character the audience could have cheered for.

James constantly breaks the fourth wall ala "High Fidelity" (2000) but instead of a top 5 list, he gives a list of, as the title says "The Comedian's Guide to Survival". There are movies about stand-up comedy such as "Funny People" (2009) which looked at a comedian that was past his prime and needed a personal resurgence going back to doing what he loved. "The King of Comedy" (1982) was a delusional man who imagined himself to be a funny comedian. For "The Comedian's Guide to Survival" it was made to show the struggles of a comedian starting out and going through all the major pitfalls. What doesn't work well is the overall structure of the film. There are a lot of jumps back and forth in time and the scenes are too episodic rather than having a consistent tone. What does work are many of the cast in their supporting roles. Paul Kaye is hilarious as the angry yet weird boss, MyAnna Buring as the very uptight manager Nell, Mark Heap as the redneck truck driver, and Kevin Eldon as the limo driver all give a good quirky performance to the characters. Also Clair Buckley's character seems spot on as she is the real life wife of James Buckley. And the array of real life comedians interviewed during the film are a highlight of the film and that itself could have been a film on its own.

"The Comedian's Guide to Survival" has its moments but fails to provide a consistent narrative and also fails to give an interesting lead - one that you want to root for but hard to do so. It has its hilarious moments but for a movie about comedy, it falls short on the laughter.

Note this is a region 0 PAL DVD which can be played back on any DVD or Blu-ray player worldwide with PAL capability

Video


Umbrella Entertainment presents the film in the 1.78:1 (anamorphic) aspect ratio in the PAL format. First of all, as the trailers and promotional footage shows the film in the 2.35:1 aspect ratio. Below is an example between the two aspect ratios, with the 1.78:1 ratio first and the 2.35:1 ratio second:




Shot in HD, the 1.78:1 ratio shows more on the top and bottom of the screen and the 2.35:1 ratio shows more on the left and right. While the DVD only offers the 1.78:1 option, nothing is sorely missed but it is unusual that they chose to release it in this alternative aspect ratio rather than the original. As for the transfer, coming from the HD source it looks strong with good colors for both light and dark scenes with good depth.

The film's runtime on the DVD is 91:35.

Audio


English Dolby Digital 5.1
The 5.1 track is a lively one with audience laughter, background music, and effects coming through all the surrounding speakers while dialogue is kept centered with microphone echo going to the sides. For a talky film, it does a good job with the 5.1 audio track.

There are no subtitles for the feature.

Extras


"City on Fire" documentary (43:14)
The real life James Mullinger moved from London, England to the coastal town of Saint John, New Brunswick, Canada a few years ago with his family. This documentary is both a tourism short for Saint John with information about its history, its current growing economy, its friendly hospitality, and overall nice place to live with interviews by Mullinger with local townsfolk. In addition it is a documentary on Mullinger ready to perform his first arena stand-up show in New Brunswick with interviews about his career and how and why he chose Saint John as his new home. Directed by Lauchlan Ouge for CBC television, this is an excellent TV documentary that is well paced, well edited, and very fun.
in anamorphic 1.78:1, in English Dolby Digital 2.0 with no subtitles

"The Making of The Comedian's Guide to Survival" featurette (15:09)
Featuring interviews with James Mullinger and Mark Murphy, they talk about the autobiographical nature of the film and getting the film made. It also includes behind the scenes footage and outtakes of the interview scenes in the film.
in anamorphic 2.35:1, in English Dolby Digital 2.0 with no subtitles

Comedians' Interviews (2:31)
This featurette is a montage of the real life comedians seen in the film - Brad Williams, Brendan Burns, Derek Seguin, Gilbert Gottfried, Gina Yashere, Luenell, Mike Ward, and Mike Wilmot - all talking directly to the audience on what they think is "The Comedian's Guide to Survival". Some are helpful. Most are not.
in anamorphic 2.35:1, in English Dolby Digital 2.0 with no subtitles

Trailer (2:29)
The original trailer in its original aspect ratio is presented here. Also it is embedded below.
in anamorphic 2.35:1, in English Dolby Digital 2.0 with no subtitles



No commentary offered for the film nor were there extended and uncut interviews with the real-life comedians, but the documentary and the making of material are very worthwhile.

Packaging


Note that the rear case has a "region 4" symbol this is in fact a region 0 DVD.

Overall


"The Comedian's Guide to Survival" is an uneven film with many unfunny moments that outweigh the funny ones. There are some standout scenes and performances but as a whole it could have been much more. Umbrella Entertainment's DVD gives great video and audio with supplements including the excellent CBC documentary.
| | | | | |
| --- | --- | --- | --- | --- |
| The Film: C- | Video: A | Audio: A | Extras: B | Overall: B |