The Film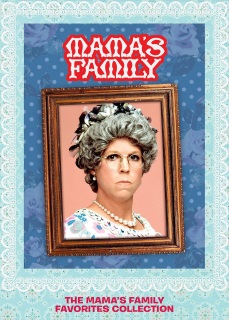 The household of elderly, widowed Thelma Harper (Vicki Lawrence) – who lives with her younger spinster sister Fran (Maude's Rue McClanahan) – upset when her doltish Kwik Keys locksmith son Vint (F-Troop's Ken Berry) is forced to move himself and his children Buzz (Waxwork' Eric Brown) and Sonia (Killer Tomatoes Eat France!'s Karen Argoud) back in after his wife runs off to be a Vegas showgirl and he loses his savings investing in chinchillas with manipulative school chum Claude Cainmaker (Salem's Lot's Geoffrey Lewis). Thelma is not all that pleased at having more mouths to feed and people to clean up after, but Fran is especially incensed when she learns that she will have to give up her studio where she works on her column and her book ("For twenty years you've been sitting on that book like a hen trying to lay an egg!"). Thelma violently disapproves when Vint gets hitched to high school crush turned twice-divorced "wild woman next door" Naomi Oats (Night of the Juggler's Dorothy Lyman), and their plans to move with the kids to manage a trailer park in Arizona fall through and the couple makes their love nest in the basement. As Thelma's extended family try to adjust to crowded circumstances, visits from Thelma's snobby, social-climbing eldest daughter Ellen (The Mary Tyler Moore Show's Betty White) and delusional middle child Eunice (Annie's Carol Burnett) – along with her browbeaten husband Ed (Blazing Saddles' Harvey Korman who would also introduce most of the season one and two episodes as an Alistair Cooke-type in a parody of Masterpiece Theatre) stir up more family histrionics. A spin-off of popular recurring The Carol Burnett Show sketch "The Family" from show executive producer Joe Hamilton (Once Upon a Mattress), Mama's Family shifted the focus of the sketches from Eunice (who had already taken center stage in the TV movie spin-off Eunice which netted Lawrence an Emmy nomination) to mother Thelma, also shifting sympathy to Thelma who retained her bitter cattiness but was now suffering the fools that were her ungrateful children , slatternly daughter-in-law, and melodramatic sister. Mama's Family had a two season run on NBC from 1983 to 1984 but was cancelled after a number of time-slot changes due to low ratings. Hamilton revived the show for the 1986 season as a first-run syndication series which performed better throughout its four-season run. While Buzz, Sonia, and Ellen disappeared inexplicably without explanation, the first episode of the third season opens with Fran's funeral (McClanahan and White had both landed lead roles on The Golden Girls for the 1985 season) while nephew Bubba (Night of the Creeps' Allan Kayser) is introduced fresh out of reform school only to discover that mother Eunice and father Ed have run off to Florida with no plans to send for him after his probation ends (Burnett having declined to return after her divorce from Hamilton). Busybody neighbor Iola (Major Dad's Beverly Archer) was added as the new spinster who channels her sexual frustration and pining for Vint into obsessive craft-making. The tone moved away from occasionally biting "The Family"-type bickering to more conventional sitcom plots (the family goes to Hawaii, Thelma goes back to college, Vint and Naomi try to conceive a child, Naomi goes into labor at an inconvenient time) that succeeded more often than not due to the performances.

The six disc, thirty-seven episode The Mama's Family Favorites Collection may be of less interest to fans who already forked out for the twenty-four disc complete series set or the individual season sets being sold separately and then packaged in a set for Time Life paid commercial programming impulse buyers. It does provide, however, an opportunity to for those familiar with the series from its original run and for whom the series is not currently available in syndication to revisit highlights from the series. Each episode is chosen by Lawrence herself with brief introductions on the first two season discs highlighting appearances of series regulars and notable performers. The memorable episodes are all there although there are some bewildering omissions ("Fran's Dress" and "Mama's Silver" seem like they would have been better choices than "Mama's Boyfriend" for the first season while "Black Belt Mama" and "Mama's Birthday" in which Burnett plays a youth Thelma and Lawrence Thelma's own domineering mother are odd omissions from the second season), and the introductions by Burnett do not always note why they are favorites.


Mama's Favorites Season 1 Breakdown:

1.01: "Vint and the Kids Move In" (24:59) – Thelma's doltish son Vint moves back in with his son Buzz and daughter Sonia after his wife leaves him and they are evicted from their home.

1.03: "The Wedding: Part 1" (24:59) – While Vint and Buzz are away at his bachelor party, the women's wedding preparations take a disastrous turn when Eunice lets slip that the rumor that Fran's husband is cheating on her with his secretary.

1.04: "The Wedding: Part 2" (24:59) – A drunken Eunice crashes the wedding when she discovers that Thelma has given her late husband's precious sapphire ring to Vint.

1.06: "Cellmates" (21:23) – Thelma and Eunice wind up in the slammer after an argument at The Bigger Jigger turns into a brawl. Yvonne Wilder (West Side Story) guest stars.

1.12: "Positive Thinking" (24:57) – Eunice adopts a new attitude after listening to a positive thinking tape and lands a role in a community theater play, but Thelma thinks her daughter is becoming a doormat when the lead actress (Summer Holiday's Gloria DeHaven) steals her lines.

1.09: "Mama's Boyfriend" (21:24) – Thelma's old flame (To Kill a Mockingbird's William Windom) comes back to town, but will their weekend in a rustic cabin go any differently than it did when they were teenagers?

1.05: "Family Feud" (25:03) – Vint convinces Thelma, Fran, and Naomi to appear with him on the gameshow Family Feud where they square off against stuffy intellectual rivals. Host Richard Dawson (Hogan's Heroes) guest stars.

Mama's Favorites Season 2 Breakdown:

2.03: "Country Club" (24:04) – Ellen is embarrassed when Thelma, Vint, Naomi, and Fran show up as invited guests at the country club when she is to be awarded the "Woman of the Year" honor by Mayor Tutweiler Westworld (Alan Oppenheimer).

2.05: "Rashomama" (24:03) – In the tried-and-true sitcom trope of parodying Akira Kurosawa's Rashomon, Ellen, Naomi, and Eunice each offer Vinton differing accounts as to how Thelma wound up in the hospital with a concussion.

2.08: "Aunt Gert Rides Again" (22:45) – When Thelma discovers that her cousin Gert is miserable in a retirement home, she tries to help the woman recover her spark which includes a romance with fellow residence Jack Gilford (Cocoon).

2.11: "Mama Learns to Drive" (24:05) – When her relatives are fed up with driving Thelma around town, they each try to help her prepare for the driving test with comical results.

2.13: "Mama Buys a Car" (24:01) – When Thelma spends her "mad money" on a used car that turns out to be a lemon, she turns the tables on the dealer (Roxanne's Fred Willard) when he refuses to give her money back.

2.21: "Ask Aunt Fran" (23:58) – When Fran takes over her paper's advice column, she is appalled that Thelma's homespun wisdom is preferred over her "psychological" approach. Mork & Mindy's Conrad Janis.

Mama's Favorites Season 3 Breakdown:

3.05: "Soup to Nuts" (21:21) – Thelma, Iola, and Naomi put Vint in the unenviable position of judging which of them makes the best chili.

3.07: "Cat's Meow" (21:24) – Vint, Naomi, and Bubba try to hid the evidence when they believe they have accidentally killed Iola's ill-tempered black cat Midnight.

3.10: "Steal One, Pearl TWo" (21:22) – Suspicion falls on Bubba when Iola's pearl necklace disappears and he suddenly has enough money to buy a drum set.

3.11: "Where There's Smoke" (21:25) – Thelma's plans to butter up the Reverend Meechum (The Terminator's Earl Boen) and his wife (The Osterman Weekend's Anne Haney) are jeopardized when a reform school escapee (The Simpons' Yeardley Smith) shows up demanding Bubba's help.

3.17: "Birthright" (21:26) – A series of misapprehensions lead Vint to suspect that he was adopted and he arranges to meet a woman he believes to be his birth mother (A Fine Madness' Bibi Osterwald) on Mother's Day.

3.22: "It Takes Two to Watusi" (21:21) – Thelma is concerned when Bubba becomes infatuated with Naomi's bubbly divorcee friend (TerrorVision's Jennifer Richards).


Mama's Favorites Season 4 Breakdown:

4.01: "Educating Mama" (21:21) – When Thelma reveals that she never finished high school, Bubba challenges her to go night school and they wind up in the same class. John Ingle (Amazon Women on the Moon) guest stars.

4.02: "Zirconias Are A Girl's Best Friend" (21:06) – Thelma becomes addicted to the home shopping network and must quit cold turkey after the credit card bill arrives.

4.14: "The Sins of the Mother" (21:25) – Thelma punishes Bubba when he comes home drunk one night, reminding her of an embarrassing incident involving his mother Eunice when she was a teenager.

4.19: "Mama on Jeopardy!" (21:25) – Thelma is chosen to appear on Jeopardy! when she accompanies Iola on a local audition.

4.20: "Mama Goes Hawaiian: Part 1" (21:26) – Thelma wins a consolation prize trip to Hawaii and takes Vint, Naomi, and Bubba while Iola tags along on her own dime. Vint's and Naomi's tropical honeymoon is a disaster, Naomi and Bubba find romance, and Thelma scours the shops for a hula girl lamp while fending off the attentions of a beach bum (Seinfeld's Barney Martin).

4.21: "Mama Goes Hawaiian: Part 2" (21:28) – While Thelma continues to elude her admirer, executives at a golf game are under the misapprehension that Vint is a stock expert after he mentions that his wife is "in the market."

Mama's Favorites Season 5 Breakdown:

5.04: "The Really Loud Family" (21:24) – Bubba brings home a video camera to interview his family and Iola for a cable access class project about his family, but a malfunctioning circuit and some creative license inadvertently turns their testimonials into something more salacious.

5.03: "Naomi's New Position" (21:20) – Thelma goes on the warpath when Food Circus' new manager (Cocktail's Jeff Silverman) offers Naomi an executive position with strings attached.

5.06: "Found Money" (21:06) – Thelma is flush with cash when she causes an ATM to malfunction, and she weighs her conscience against what each member of the family suggests she can do with the money.

5.13: "Mama's Layaway Plan" (21:24) – Thelma alienates her family when she splurges on plans for a deluxe funeral.

5.17: "Mama in One" (20:21) – Thelma regrets her wish for a weekend home alone when boredom quickly sets in.

5.24: "Dependence Day" (21:23) – When Thelma convinces Iola to stand up to her domineering mother, Iola is thrown out and moves in with the Harpers who she proceeds to drive crazy with her approach to household organization.

Mama's Favorites Season 6 Breakdown:

6.06: "Mama Fights Back" (21:26) – Thelma takes to the airwaves as the new consumer affairs radio show host and alienates the station's sponsors. Harry S. Murphy (Internal Affairs) guests stars.

6.10: "Bubba's House Band" (21:23) – Bubba hires punk girl group The Bonecrushers for his school dance and is horrified when Thelma rehabilitates their image to perform at the bake sale.

6.15: "The Big Nap" (21:25) – After an all-night detective movie marathon, Thelma's imagination runs wild when Iola's mother disappears.

6.16: "Pinup Mama" (21:23) – Photography student Bubba's gag photo of Thelma's head on a swimsuit model's body attracts the wrong crowd when it is inadvertently used to promote a senior citizens' dance.

6.18: "Look Who's Breathing" (21:21) – Thelma must substitute for Vint at Naomi's Lamaze class and inadvertently frightens the expectant mothers with the story of her own natural childbirth.

6.20: "Bye-Bye - Baby" (21:22) – In the series finale, Thelma must deliver the baby when Naomi goes into labor and a panicking Vint smashes up the truck and passes out.

Video


The videotaped series frankly looks awful on DVD, but that has to do with the low-definition broadcast video and hot studio lighting with its blown-out highlights, distorted reds, and pink skintones during the first two seasons. The third through six season episodes have more stable colors but still look like eighties broadcast video. Four of the six season one episodes are presented in their original broadcast versions with the introductions by Korman as Alistair Quince while the episodes "Cellmates" and "Mama's Boyfriend" are presented in their syndication versions minus the introductions and replacing the original credits backgrounds with the original Harper family house with the more picturesque one seen in the later seasons.

Audio


The first two seasons are presented with Dolby Digital 2.0 mono audio while the later four are in Dolby Digital 2.0 stereo with the music and audience given the most spread. There are no closed captions.

Extras


There are no extras apart from the brief Lawrence introductions on the first two discs that precede the episodes automatically in "Play All" mode (the individual episodes can be played with or without from the episodes menu).

Overall


The six disc, thirty-seven episode The Mama's Family Favorites Collection may be of less interest to fans who already forked out for the twenty-four disc complete series set or the individual season sets, but it does provide an opportunity to for those familiar with the series from its original run and for whom the series is not currently available in syndication to revisit highlights from the series.