Shackleton (TV)
R2 - United Kingdom - Simply Media
Review written by and copyright: Rick Curzon (13th March 2017).
The Show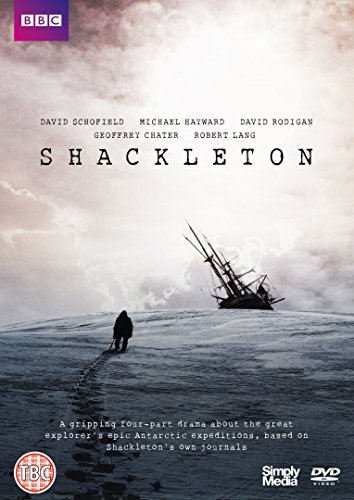 A gripping four-part drama about the great explorer s epic Antarctic expeditions, based on Shackleton s own journals. Having had a taste of Antarctic adventure on Captain Scott s failed 1901 bid to reach the South Pole, seven years later Ernest Shackleton (David Schofield) leads his own expedition. Agonisingly close to reaching the Pole, the men have to pull back in an appalling blizzard to reach their ship before the advancing ice cuts off the passage home. By 1911 Roald Amundsen has reached the Pole and Scott and his men, trailing in the Norwegian s wake, have perished. Undeterred, in 1914 Shackleton and his trusted deputy Frank Wild (David Rodigan) set out their most famous journey aboard Endurance, with the aim of crossing the icy continent from sea to sea. When the ship is trapped and crushed by pack-ice, Shackleton and five of his men embark on a desperate 800-mile journey from Elephant Island to South Georgia in the James Caird, a 20-foot lifeboat pitched against the furious Southern Ocean. Once they hit land, the fastest way to reach help on the other side of the island will be to improvise a route across the treacherous mountain interior. With Wild and the rest of the men left behind with dwindling supplies at their makeshift camp, the survival of them all hinges on this last desperate gamble.

Video


The fondly remembered BBC mini series Shackleton was first broadcast on Wednesday nights in April-May 1983 to much acclaim.  Simply Media have wisely decided to put this all-film 16mm production out on DVD and so finally fans can have a version to call their own.  The series cover from approximately 1908 to 1916 and Shacketon's death.

In this era UK TV was made largely in either 625 line PAL high-band broadcast standard one or two inch video tape or on 16mm film; and mixtures thereof (see Doctor Who 1980-1985).  Prestige productions like Shackleton or Miss Marple (1984-92) were made entirely in film.  35mm film was considered too expensive on TV budgets to was rarely used.

Being set mostly in the Antarctic director Martyn Friend seems to have deliberately chosen a cold colour palette and as a consequence the image is fairly one note.  The four episodes seen here have most likely been taken from vintage broadcast masters created back in the '80s at the time of production or certainly within a few years of broadcast.  Consequently the image is soft, lacking in detail and frankly quite dull.

Vintage television fans who own Newtork's Blu-rays of The Sweeney (Series 1) and The Professionals 1977-81) know how good modern techniques can make 16mm productions look.  This makes it doubly disappointing that the BBC and Simply haven't gone to the expense and trouble of remastering this glossy, expensive series for HD; future-proofing it for broadcast, download etcetera.

In the final analysis we have a dull, low contrast, grey image that is serviceable and probably represents the image quality on first broadcast but today just looks very unimpressive and lacking in punch.  This could be massively improved upon with a new 2K / 4K scan of the OCN and a Blu-ray release.

238:45 / PAL

Audio


Nothing remarkable but it gets the job done; nice clear dialogue, and robust for what it is: a vintage mono soundtrack sent to the front left and right speakers.  I didn't detect any distortions or dropouts or sibilant issues.  The score sounds clear and never overshadows dialogue.  This is likely to only be improved upon by an HD or UHD release with lossless sound; which is to say extremely unlikely outside of the US or German markets which seem big enough to support such releases.  The soundtrack is more impressive than the visuals and could only be improved with the lossless treatment.

English Dolby Digital 2.0 Mono / English subtitles

Extras


Nothing; very disappointing for anyone who knows the wonderful BBC Doctor Who releases which have dug up all sorts of ephemera like talk show interviews, trailers, still galleries and had special retrospectives made and commentaries recorded.  A prestigious production like this which was made by top BBC talents of the era would have had a sizeable amount of promotional material that could have been brought together here.  Talk show appearances on the likes of Wogan are always welcome and being a period production anything of the costumes and the miniature work would have been priceless.

Overall


When have an acceptable bare-bones release of the fondly remembered and much sought after BBC mini-series Shackleton (1983) with passable picture and decent sound; considering the dated sources used. I know from seeing discussions online that this series has been much requested and Simply Media have stepped up to bat, well done.
| | | | | |
| --- | --- | --- | --- | --- |
| The Show: A | Video: C | Audio: B | Extras: F | Overall: B |

---
DVD Compare is a participant in the Amazon Services LLC Associates Program and the Amazon Europe S.a.r.l. Associates Programme, an affiliate advertising program designed to provide a means for sites to earn advertising fees by advertising and linking to amazon.co.uk, amazon.com, amazon.ca, amazon.fr, and amazon.de.